Water is a foodstuff. When it comes out of the tap, it's even very inexpensive, as it costs an average of just 0.2 cents per liter. But there is another way: The most expensive water in the world costs 53,470 euros per bottle and is sold under the name Acqua di Cristoallo Tributo a Modigliani.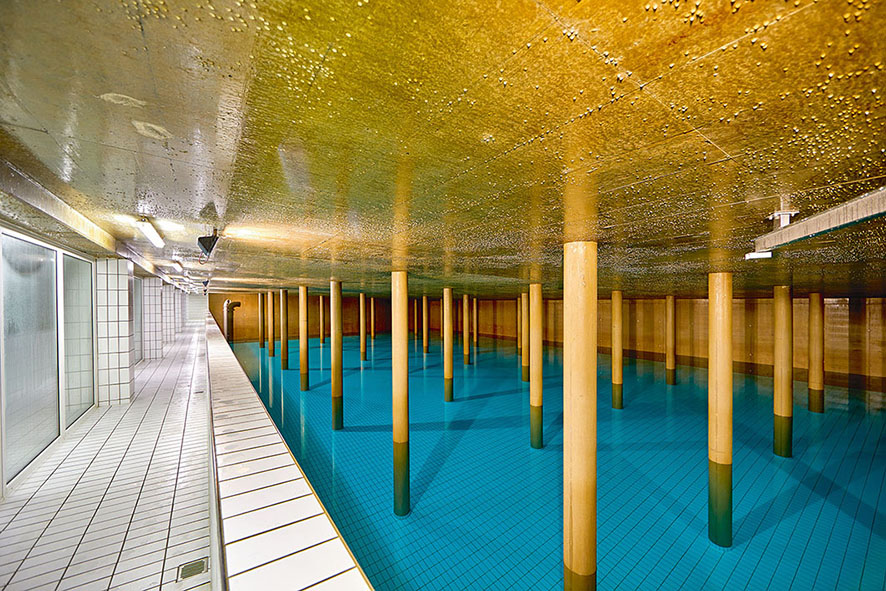 In Bad Kreuznach, near Mainz, no one need be afraid of the water bill. Most of the water required is extracted in the region from the sediments of the red-lying bedrock and in Rheinhessen from the volcanic rhyolite rock and then treated. In total, the municipal utilities have 25 springs and 34 wells as well as 23 tanks with a total capacity of more than 25,000 cubic meters. The municipal utilities of the spa town of Bad Kreuznach, which lies around 30 kilometers southwest of Mainz, supply more than 71,000 inhabitants with drinking water.
To ensure that this supply runs smoothly and is always of impeccable quality, both drinking water production and distribution have to be modernized time and again. This is no easy task, as 4.3 million cubic meters of drinking water are delivered to the connected households and businesses each year via a network of pipes almost 500 kilometers long. To be able to handle volumes and routes, telecontrol systems for monitoring and active intervention are existential.
Old next to new
Gunther Christmann from the water extraction/house technology department of the municipal utility describes the particular challenge: "Since the renewal is to be carried out successively, old and new systems have to work side by side in parallel. And over the years, various automation components from different manufacturers have been used in the plant. Therefore, the new units need open interfaces, must use standard protocols and, of course, be user-friendly in engineering."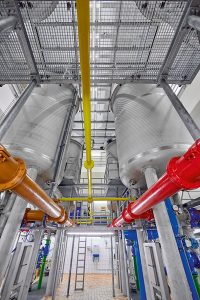 In order to be able to guarantee modern, secure and event-oriented data transmission, Stadtwerke Bad Kreuznach uses the IEC 60870-5-104 telecontrol protocol, which provides the data packets to be transmitted with a time stamp during data transmission. This avoids any transmission errors that may occur as a result of malfunctions. Thanks to archiving in the control room, comprehensive analyses are possible later. In addition, the data volume is kept low. And in the event of a communication interruption, events can be stored temporarily. Because the successor system from the previous manufacturer did not meet the requirements described, the Bad Kreuznach municipal utilities looked for a suitable alternative. In the end, the choice fell on the telecontrol system from Phoenix Contact.
The products from East Westphalia enjoy a very good reputation among waterworks operators. Hauke Abbas, an expert in Industry Management Water and Wastewater, knows exactly why: "Our modular telecontrol stations are based on a combination of one of our application-oriented controllers, in this case the inline controllers, and the Resy+ function block library for telecontrol technology. The combination of the two elements creates a modular solution that not only enables coupling to different control systems, but can also be easily and flexibly adapted to the respective situation on site, even without in-depth programming knowledge."

Direct control
In addition, the control system can take over other control, regulation and monitoring functions besides telecontrol, i.e. it can be used not only for data transmission from sensors, but also for direct intervention by the control center. Gunther Christmann adds: "For example, we have integrated a pump control system via the standard Modbus protocol.
Typical of water utilities is the vastness of their facilities and supply networks. The almost 500 kilometers of supply lines are technologically challenging not only because of their sheer length, but also because of the terrain formation. For beyond the North German Plain, hills and mountains, forests and villages provide potential obstacles. Numerous companies in the water industry rely on company-owned lines and extensive IP networks for remote control. "We have them safely under control with our devices of the Ethernet extender product family," Hauke Abbas describes the situation on site. "Line lengths of up to 20 kilometers are possible, and commissioning of the components is simple due to their plug-and-play functionality."
Radio next to cellular radio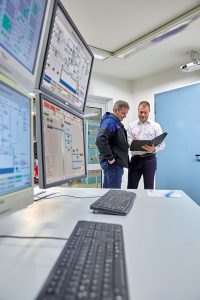 If no fixed signal lines are available, for example in sparsely populated regions or due to unfavorable topography, straightforward alternatives to cable must be found to connect more remote stations to the control room. Abbas explains, "Where there's no other way, we can set up our own radio networks in addition to the classic mobile network."
Phoenix Contact has developed the license-free Trusted Wireless radio technology for this special application. In addition to the robust forwarding of data, it is characterized by flexible network structures thanks to access-proof transmission. The high security standard is achieved by sophisticated authentication and encryption processes as well as a proprietary approach.
"Due to the large number of possible network structures as well as the different ranges, the combination between wired and radio communication is ideal for networking water distribution systems, including here at our company. And we feel optimally equipped for the coming decades," says waterworks engineer Christmann optimistically.