Water is a food­s­tuff. When it comes out of the tap, it's even very inex­pen­si­ve, as it cos­ts an average of just 0.2 cents per liter. But the­re is ano­t­her way: The most expen­si­ve water in the world cos­ts 53,470 euros per bot­t­le and is sold under the name Acqua di Cris­to­al­lo Tri­bu­to a Modigliani.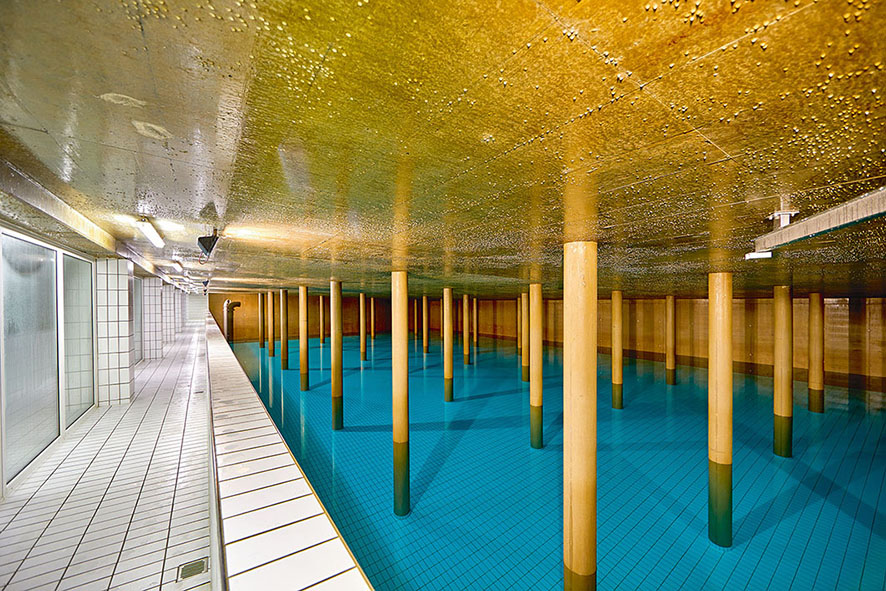 In Bad Kreuz­nach, near Mainz, no one need be afraid of the water bill. Most of the water requi­red is extrac­ted in the regi­on from the sedi­ments of the red-lying bed­rock and in Rhein­hes­sen from the vol­ca­nic rhyo­li­te rock and then trea­ted. In total, the muni­ci­pal uti­li­ties have 25 springs and 34 wells as well as 23 tanks with a total capa­ci­ty of more than 25,000 cubic meters. The muni­ci­pal uti­li­ties of the spa town of Bad Kreuz­nach, which lies around 30 kilo­me­ters sou­thwest of Mainz, sup­ply more than 71,000 inha­bi­tants with drin­king water.
To ensu­re that this sup­ply runs smooth­ly and is always of impec­ca­ble qua­li­ty, both drin­king water pro­duc­tion and dis­tri­bu­ti­on have to be moder­ni­zed time and again. This is no easy task, as 4.3 mil­li­on cubic meters of drin­king water are deli­ve­r­ed to the con­nec­ted house­holds and busi­nes­ses each year via a net­work of pipes almost 500 kilo­me­ters long. To be able to hand­le volu­mes and rou­tes, telecon­trol sys­tems for moni­to­ring and acti­ve inter­ven­ti­on are existential.
Old next to new
Gun­ther Christ­mann from the water extraction/house tech­no­lo­gy depart­ment of the muni­ci­pal uti­li­ty descri­bes the par­ti­cu­lar chal­len­ge: "Sin­ce the rene­wal is to be car­ri­ed out suc­ces­si­ve­ly, old and new sys­tems have to work side by side in par­al­lel. And over the years, various auto­ma­ti­on com­pon­ents from dif­fe­rent manu­fac­tu­rers have been used in the plant. The­re­fo­re, the new units need open inter­faces, must use stan­dard pro­to­cols and, of cour­se, be user-friend­ly in engineering."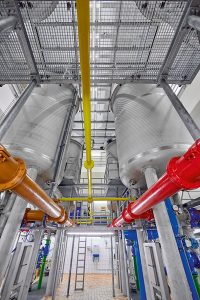 In order to be able to gua­ran­tee modern, secu­re and event-ori­en­ted data trans­mis­si­on, Stadt­wer­ke Bad Kreuz­nach uses the IEC 60870–5‑104 telecon­trol pro­to­col, which pro­vi­des the data packets to be trans­mit­ted with a time stamp during data trans­mis­si­on. This avoids any trans­mis­si­on errors that may occur as a result of mal­func­tions. Thanks to archi­ving in the con­trol room, com­pre­hen­si­ve ana­ly­ses are pos­si­ble later. In addi­ti­on, the data volu­me is kept low. And in the event of a com­mu­ni­ca­ti­on inter­rup­ti­on, events can be stored tem­pora­ri­ly. Becau­se the suc­ces­sor sys­tem from the pre­vious manu­fac­tu­rer did not meet the requi­re­ments descri­bed, the Bad Kreuz­nach muni­ci­pal uti­li­ties loo­ked for a sui­ta­ble alter­na­ti­ve. In the end, the choice fell on the telecon­trol sys­tem from Phoe­nix Contact.
The pro­ducts from East West­pha­lia enjoy a very good repu­ta­ti­on among water­works ope­ra­tors. Hau­ke Abbas, an expert in Indus­try Manage­ment Water and Was­te­wa­ter, knows exact­ly why: "Our modu­lar telecon­trol sta­ti­ons are based on a com­bi­na­ti­on of one of our app­li­ca­ti­on-ori­en­ted con­trol­lers, in this case the inli­ne con­trol­lers, and the Resy+ func­tion block libra­ry for telecon­trol tech­no­lo­gy. The com­bi­na­ti­on of the two ele­ments crea­tes a modu­lar solu­ti­on that not only enab­les cou­pling to dif­fe­rent con­trol sys­tems, but can also be easi­ly and fle­xi­b­ly adap­ted to the respec­ti­ve situa­ti­on on site, even without in-depth pro­gramming knowledge."

Direct con­trol
In addi­ti­on, the con­trol sys­tem can take over other con­trol, regu­la­ti­on and moni­to­ring func­tions bes­i­des telecon­trol, i.e. it can be used not only for data trans­mis­si­on from sen­sors, but also for direct inter­ven­ti­on by the con­trol cen­ter. Gun­ther Christ­mann adds: "For examp­le, we have inte­gra­ted a pump con­trol sys­tem via the stan­dard Mod­bus protocol.
Typi­cal of water uti­li­ties is the vast­ness of their faci­li­ties and sup­ply net­works. The almost 500 kilo­me­ters of sup­ply lines are tech­no­lo­gi­cal­ly chal­len­ging not only becau­se of their sheer length, but also becau­se of the ter­rain for­ma­ti­on. For bey­ond the North Ger­man Plain, hills and moun­tains, forests and vil­la­ges pro­vi­de poten­ti­al obsta­cles. Nume­rous com­pa­nies in the water indus­try rely on com­pa­ny-owned lines and exten­si­ve IP net­works for remo­te con­trol. "We have them safe­ly under con­trol with our devices of the Ether­net exten­der pro­duct fami­ly," Hau­ke Abbas descri­bes the situa­ti­on on site. "Line lengths of up to 20 kilo­me­ters are pos­si­ble, and com­mis­sio­ning of the com­pon­ents is simp­le due to their plug-and-play functionality."
Radio next to cel­lu­lar radio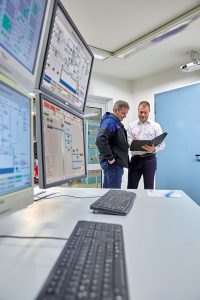 If no fixed signal lines are avail­ab­le, for examp­le in spar­se­ly popu­la­ted regi­ons or due to unfa­vor­able topo­gra­phy, strai­ght­for­ward alter­na­ti­ves to cable must be found to con­nect more remo­te sta­ti­ons to the con­trol room. Abbas exp­lains, "Whe­re there's no other way, we can set up our own radio net­works in addi­ti­on to the clas­sic mobi­le network."
Phoe­nix Con­ta­ct has deve­lo­ped the licen­se-free Trus­ted Wire­less radio tech­no­lo­gy for this spe­cial app­li­ca­ti­on. In addi­ti­on to the robust for­war­ding of data, it is cha­rac­te­ri­zed by fle­xi­ble net­work struc­tures thanks to access-pro­of trans­mis­si­on. The high secu­ri­ty stan­dard is achie­ved by sophisti­ca­ted authen­ti­ca­ti­on and encryp­ti­on pro­ces­ses as well as a pro­prie­ta­ry approach.
"Due to the lar­ge num­ber of pos­si­ble net­work struc­tures as well as the dif­fe­rent ran­ges, the com­bi­na­ti­on bet­ween wired and radio com­mu­ni­ca­ti­on is ide­al for net­wor­king water dis­tri­bu­ti­on sys­tems, inclu­ding here at our com­pa­ny. And we feel opti­mal­ly equip­ped for the com­ing deca­des," says water­works engi­neer Christ­mann optimistically.
Stadt­wer­ke Bad Kreuz­nach
Der Pump­Mo­ni­tor
This post is also avail­ab­le in:

Deutsch