1,500 cubickilo­me­ters (!) of was­te­wa­ter are pro­du­ced world­wi­de every year. An enor­mous amount that, if not trea­ted appro­pria­te­ly, will jeo­par­di­ze the glo­bal drin­king water cycle in the long term. In Con­stance on Lake Con­stance, risks and solu­ti­ons to this pro­blem are omnipresent.
Today, around 35 per­cent of all peop­le world­wi­de have no access to clean drin­king water. Until a few deca­des ago, poor water qua­li­ty was also a pro­blem at Lake Con­stance. Until well into the 1960s, was­te­wa­ter flowed lar­ge­ly unt­rea­ted into the Mare Sue­bicum, which ser­ves as a drin­king water reser­voir for the ent­i­re region.
In the 1950s, phos­pho­rus levels began to rise dra­ma­ti­cal­ly. New arti­fi­cial fer­ti­li­zers, the tri­umph of water-flus­hed toi­lets and the mass dis­tri­bu­ti­on of washing machi­nes and dish­wa­s­hers crea­ted a com­ple­te­ly new was­te­wa­ter situa­ti­on. In addi­ti­on, the popu­la­ti­on around Lake Con­stance incre­a­sed signi­fi­cant­ly. Indus­tri­al and slaugh­ter­house was­te­wa­ter ent­e­red the lake unt­rea­ted. The result was mas­si­ve algae bloo­ms that depri­ved the lake of oxy­gen and almost cau­sed it to over­turn several times.
In 1959, the Inter­na­tio­nal Water Pro­tec­tion Com­mis­si­on was foun­ded to coor­di­na­te the was­te­wa­ter tre­at­ment of the ripa­ri­an sta­tes. The­re it was deci­ded that sewa­ge tre­at­ment plants and sewers should pro­tect Lake Con­stance. The first sta­ge of the Con­stance cen­tral sewa­ge tre­at­ment plant went into ope­ra­ti­on in 1966. It was not until 1968 that the bio­lo­gi­cal tre­at­ment sta­ge was cere­mo­nious­ly inau­gu­ra­ted. But it was to take ano­t­her 20 years befo­re Lake Con­stance was no lon­ger threa­tened by algae bloo­ms and bio­lo­gi­cal desolation.
Was­te water in, drin­king water out
In the mean­ti­me, the situa­ti­on has impro­ved con­si­der­ab­ly. And this des­pi­te the dischar­ge of the pre­vious­ly trea­ted was­te­wa­ter. This requi­res par­ti­cu­lar­ly tho­rough clea­ning so that the was­te­wa­ter does not beco­me a pro­blem for the liquid food. The was­te dis­po­sal com­pa­nies of the city of Con­stance are respon­si­ble for this task.
The Ent­sor­gungs­be­trie­be Stadt Kon­stanz (EBK) is the lar­gest muni­ci­pal was­te dis­po­sal com­pa­ny in the Lake Con­stance regi­on. The appro­xi­mate­ly 110 employees focus on was­te manage­ment as well as was­te­wa­ter dischar­ge and tre­at­ment. The cen­tral was­te­wa­ter tre­at­ment plant tre­ats up to 40 mil­li­on liters of was­te­wa­ter per day, which is gene­ra­ted in the Con­stance district, the muni­ci­pa­li­ties of Allens­bach and Rei­chen­au, and the Swiss town of Kreuz­lin­gen and the muni­ci­pa­li­ties of Täger­wi­len and Gott­lie­ben the­re. This cor­re­sponds to about 175,000 popu­la­ti­on equi­va­lents. On its way from the pol­lu­ter to the was­te­wa­ter tre­at­ment plant, the was­te­wa­ter has to over­co­me lar­ge distan­ces in the appro­xi­mate­ly 295-kilo­me­ter sewer net­work as well as dif­fe­ren­ces in alti­tu­de. To do this, 26 pum­ping sta­ti­ons are used. The rain­wa­ter is collec­ted and trea­ted in 16 rain­wa­ter tre­at­ment plants and four rain­wa­ter cla­ri­fiers befo­re it is dischar­ged into Lake Constance.
Hea­vy-duty work for an assem­bly that is indis­pensable when water has to be rou­t­ed through pipes and basins: Four lar­ge hidro­s­tal pumps, each with 75 KW of power, ope­ra­te at the inta­ke pum­ping sta­ti­on in Con­stance when it is dry, as well as three other power­ful pumps during rai­ny wea­ther. At least one of the four hea­vy-duty pumps is always run­ning, i.e. 24 hours a day, seven days a week. The ener­gy requi­red for this is con­si­derable: the pumps need around 560 mega­watts of ener­gy for their pum­ping activities.
Keep the overview
This is whe­re the experts from Phoe­nix Con­ta­ct, who were tas­ked with impro­ving the effi­ci­en­cy of the over­all sys­tem, came in: ener­gy con­sump­ti­on and main­ten­an­ce moni­to­ring. If opti­miz­a­ti­on were to take place here, the grea­test amount of ener­gy could be saved.
Electri­cal engi­nee­ring mas­ter Tho­mas Geiz, who works in PxC's water manage­ment solu­ti­on sales depart­ment, exp­lains: "We did­n't just look at the effi­ci­en­cy of the pump and dri­ve motor. We first loo­ked at the sys­tem effi­ci­en­cy. At what ope­ra­ting point is the ratio of electri­cal power sup­plied to the volu­me of was­te­wa­ter pum­ped the best? In addi­ti­on to the effi­ci­en­cy of the pump and motor, aspects such as the pipe rou­ting, the suc­tion pres­su­re of the pump and other mecha­ni­cal and hydrau­lic con­di­ti­ons also play an important role in such a consideration.
Then the­re is the avai­la­bi­li­ty of the pumps and the main­ten­an­ce and ser­vicing requi­red to keep them run­ning 24/7. In recent years, the­re have been cos­t­ly repairs to the pumps. We have only been able to cla­ri­fy the cau­se to a limi­ted extent."
The "Pump­Mo­ni­tor" is a rea­dy-to-install con­trol cabi­net solu­ti­on that pro­vi­des holistic moni­to­ring of pumps and motors and incre­a­ses effi­ci­en­cy. As part of con­di­ti­on moni­to­ring, the sys­tem eva­lua­tes mecha­ni­cal, hydrau­lic and electri­cal wear indicators.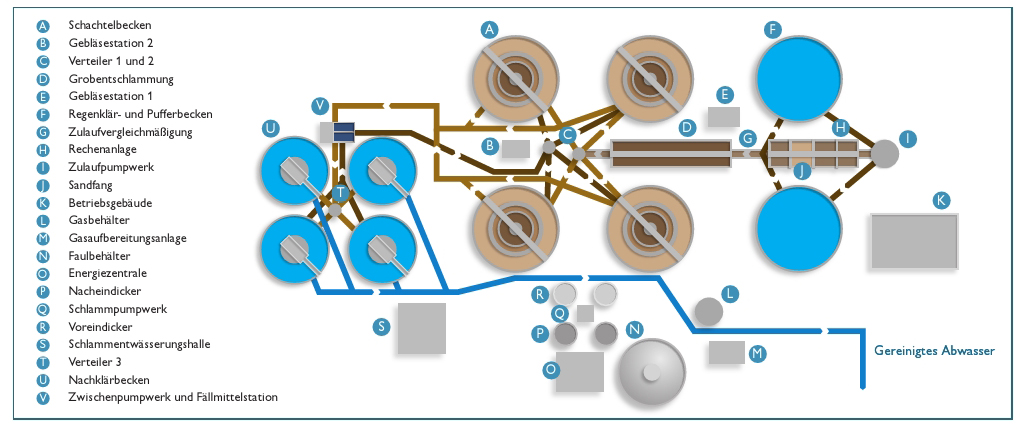 Hart­mut Appelt, head of was­te­wa­ter che­mi­stry at the EBK, points out ano­t­her important advan­ta­ge of the Pump­Mo­ni­tor: "We acti­va­ted the effi­ci­en­cy moni­to­ring by means of a mea­su­re­ment during ope­ra­ti­on and immedia­te­ly recor­ded the cur­rent sta­tus of the pumps. The sys­tem is the­re­fo­re sui­ta­ble for a plant with exis­ting pumps. After deter­mi­ning the best ope­ra­ting point and effi­ci­en­cy of the sys­tem, the values are dis­play­ed to us as an immedia­te­ly inter­pre­ta­ble traf­fic light and abso­lu­te number."
Moni­to­ring step by step
Expert Geiz con­ti­nues: "Star­ting from this point, it is now pos­si­ble to moni­tor how the plant chan­ges during its life­time. In addi­ti­on, the ope­ra­ting per­son­nel are infor­med as soon as the effi­ci­en­cy dete­rio­ra­tes. The eva­lua­ti­on of the­se para­me­ters as well as the sta­tus varia­bles is car­ri­ed out direct­ly in Pump­Mo­ni­tor, so that the EBK employees always have a simp­le over­view of the sta­tus of the pumps thanks to the traf­fic light dis­play. If a chan­ge occurs here or in effi­ci­en­cy, they can see exact­ly what the rea­son is in the expan­ded view."
In a first step, one of the dry wea­ther pumps was equip­ped with the moni­to­ring sys­tem to gain prac­ti­cal expe­ri­ence. The test pha­se went smooth­ly, and in the mean­ti­me the other pumps are also secu­red and moni­to­red with "their" PumpMonitor.
The EBK employees inde­pendent­ly inte­gra­ted the solu­ti­on into the pro­cess con­trol sys­tem of the was­te­wa­ter tre­at­ment plant. From the pos­si­ble com­mu­ni­ca­ti­on stan­dards – such as OPC, Mod­bus TCP or Pro­fi­net – they deci­ded on the Pro­fi­net pro­to­col. Sin­ce the­re is a docu­men­ted and defi­ned data struc­tu­re for trans­fer­ring the infor­ma­ti­on from the Pump­Mo­ni­tor sys­tem, the imple­men­ta­ti­on was sim­pli­fied. "The pos­si­bi­li­ty of using sam­ple pro­grams on the hig­her-level con­trol­ler from Phoe­nix Con­ta­ct, which acts as a Pro­fi­net mas­ter, as part of the pro­gramming also hel­ped to speed up the imple­men­ta­ti­on of the task," reports Appelt. Becau­se the was­te­wa­ter tre­at­ment plant has an auto­ma­ti­on sys­tem with Pro­fi­net func­tio­n­a­li­ty from Phoe­nix Con­ta­ct, this was the easiest way into the con­trol room.
Thus armed, the peop­le of Con­stance can look to the future with con­fi­dence when it comes to the clean­li­ness of their "Swa­bi­an Sea".
Phoe­nix Con­ta­ct Was­ser- und Abwas­ser­wirt­schaft
Der Pump­Mo­ni­tor
This post is also avail­ab­le in:

Deutsch