The sea rou­te from the North Sea to Ghent in Bel­gi­um is 32 kilo­me­ters long, 200 meters wide and illu­mi­na­ted on both sides. The con­trol of the ligh­t­ing sys­tem must be fail-safe and robust. Com­pon­ents from Phoe­nix Con­tact ensu­re that the helms­man does not lose his way.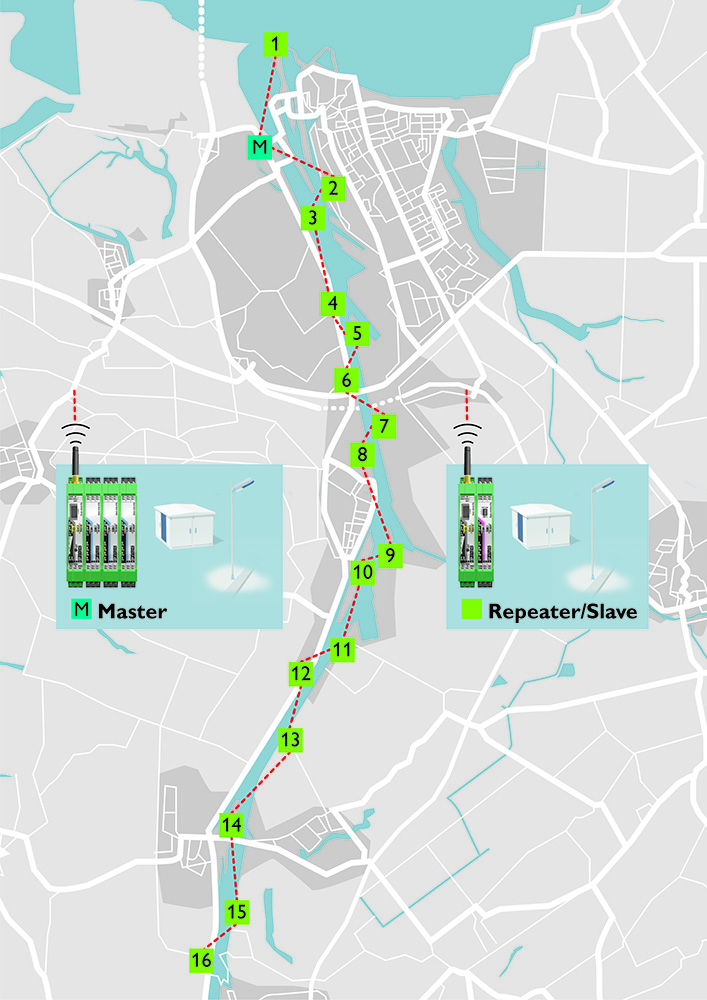 Anno 1549 the Sas­se­vaart was inau­gu­ra­ted. This medi­eval arti­fi­ci­al navi­ga­ti­on rou­te pro­vi­ded the con­nec­tion from Ghent to the North Sea. Pre­vious­ly, the Zwin River was the sea rou­te; howe­ver, it beca­me increa­singly sil­ted up and impas­sa­ble. The Sas­se­vaart is the pre­cur­sor of the canal from Ghent to Ter­neu­zen in the Nether­lands, ope­ned in 1827, whe­re the lar­ge sea lock leads the way into the Wes­ter­schel­de and thus into the North Sea.
After Ant­werp and Bru­ges-Zeebrug­ge, Ghent, of all pla­ces, loca­ted in the hin­ter­land, is the third lar­gest sea­port in Bel­gi­um. The Ghent-Ter­neu­zen canal, which has two locks in Ter­neu­zen, is 32 kilo­me­ters long, 12.5 meters deep and 200 meters wide, which is why seago­ing ves­sels with a car­go of up to 125,000 tons can navi­ga­te it.
Navi­ga­ti­on to the hin­ter­land
The rou­te ligh­t­ing, i.e. the bank ligh­t­ing of the canal, pro­ves to be an essen­ti­al part of the tech­ni­cal infra­st­ruc­tu­re of a water­way. This means that cap­tains, pilots and canal con­trol­lers can also clear­ly see the cour­se of the canal rou­te at night. In this con­text, an important requi­re­ment is that all lamps func­tion inde­pendent­ly of each other. If one lamp fails, this does not affect the ope­ra­ti­on of the other lamps. In addi­ti­on, the vol­ta­ge at each lamp must be con­stant – even in the event of strong load fluc­tua­ti­ons. On the Gent-Ter­neu­zen canal, 300 illu­mi­na­ted masts instal­led on both banks of the canal ensu­re the safe pas­sa­ge of ships even at night.
The Dutch com­pa­ny Istime­wa Elek­tro B.V. spe­cia­li­zes in the off­shore, infra­st­ruc­tu­re, water and envi­ron­ment sec­tors. In 2016, Istime­wa Elek­tro was awar­ded the con­tract to renew the ligh­t­ing of the Dutch sec­tion of the canal. To bet­ter group the new LED lumin­aires, the com­pa­ny pla­ced addi­tio­nal con­trol boxes that were con­nec­ted local­ly to the power grid. Howe­ver, at the time the­re were no con­trol lines to switch the ligh­t­ing cen­tral­ly as well as decen­tral­ly.
Wire­less ins­tead of cable
Due to the side ports, the length of the Dutch canal sec­tion is 26 kilo­me­ters. "Due to the con­si­dera­ble costs invol­ved in lay­ing con­trol cables, we were faced with the chal­len­ge of fin­ding a more cost-effec­tive alter­na­ti­ve solu­ti­on," exp­lains Wil­co van Gen­de­ren, working as pro­ject mana­ger at Istime­wa Elek­tro. "In the end, we cho­se the Radio­li­ne radio sys­tem from Phoe­nix Con­tact," con­ti­nues Max Ver­veer, tech­ni­cal engi­neer at Istime­wa Elek­tro.
After the initi­al rou­te plan­ning by Phoe­nix Contact's tech­ni­cal sup­port staff, the opti­mum posi­ti­on of the radio modu­les and anten­nas was deter­mi­ned on site. This revea­led that the con­trol boxes for the ligh­t­ing are some­ti­mes posi­tio­ned far away from each other and are shaded by obsta­cles such as trees or buil­dings. In this case, the modu­lar Radio­li­ne sys­tem allows the use of dif­fe­rent radio fre­quen­ci­es. Only with 868 MHz radio modu­les are the­se distan­ces and the pene­tra­ti­on of obsta­cles pos­si­ble.
A total of 17 con­trol boxes for swit­ching the ligh­t­ing are instal­led along the canal. The lar­gest distan­ce bet­ween two boxes is more than two kilo­me­ters. To trans­mit the con­trol com­mands, one Radio­li­ne radio modu­le is instal­led per con­trol box in com­bi­na­ti­on with an I/O expan­si­on modu­le.
Safe­ty through repe­ti­ti­on
Two ligh­t­ing strands (north/south) are activa­ted via each box. On the one hand, this is done auto­ma­ti­cal­ly. But when it gets dark, it can also be swit­ched manu­al­ly by a bridge atten­dant or from the cen­tral con­trol room in Ter­neu­zen. "We use the radio net­work not only to con­trol the ligh­t­ing. It is also used to trans­mit various sta­tus signals from the brid­ges and locks to the con­trol cen­ter," exp­lains Her­man de Gra­ve, a plan­ner at Istime­wa Elek­tro. Due to the red­un­dant com­mu­ni­ca­ti­on paths, the con­nec­tion is inter­fe­rence-pro­of, so that even lar­ge ships, which can block the line of sight bet­ween the sta­ti­ons, do not cau­se a radio fail­u­re.
"The radio net­work has been in ope­ra­ti­on sin­ce April 2017. So far, the­re has been no outa­ge – neit­her in fog or snow, nor with lar­ge pas­sing ships," Wil­co van Gen­de­ren con­clu­des.
In this way, modern radio tech­no­lo­gy makes the his­to­ric ship­ping rou­te pas­sa­ble for genera­ti­ons to come.
Istime­wa
Phoe­nix Con­tact Radio­li­ne
This post is also avail­ab­le in:

Deutsch