Speed is their moti­va­ti­on, decep­ti­on their métier and water their means of trans­port – when the­se Swiss tin­ke­rers get into the game, it gets wet, fast and almost cer­tain­ly breathtaking.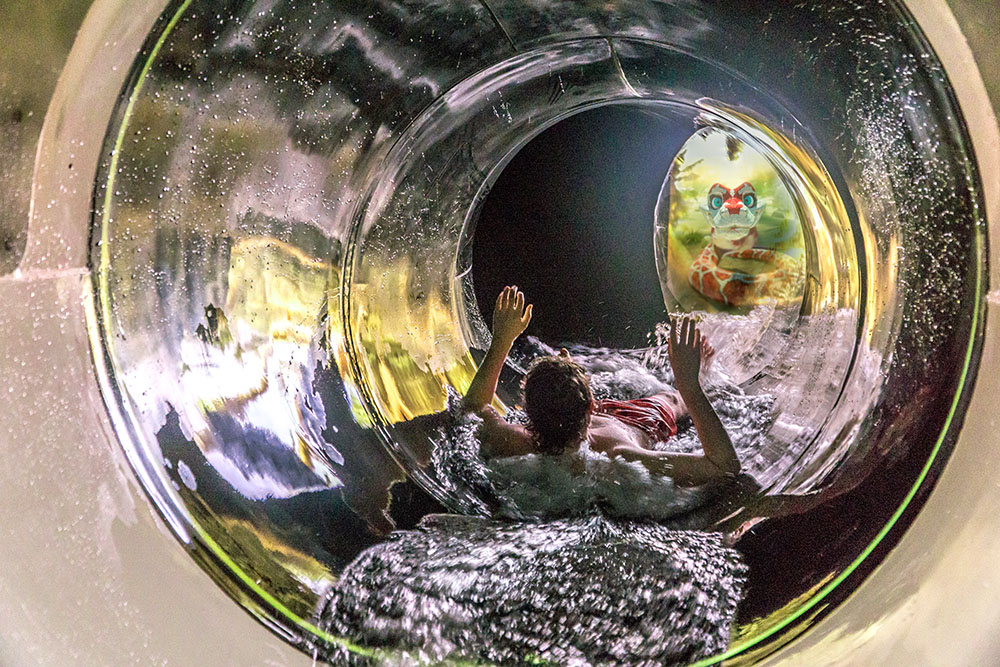 Kla­rer Water Sli­des are a second-genera­ti­on fami­ly busi­ness in Hallau, a town in Ger­man-spea­king Switz­er­land. They are dedi­ca­ted to acce­le­ra­ti­on in its wet­test form, as they make water sli­des. If you'­re thin­king of the litt­le kids' sli­de at the local out­door pool now, though, you'­re wrong. "Fake Sli­de," "Infi­ni­ty Jump" or "Kami­ka­ze" sug­gest that sli­des are thought of in a dif­fe­rent dimen­si­on here. The pro­ducts from Hallau are bright­ly colo­red, as high as a house, and the attrac­tion in fun and adven­ture pools worldwide.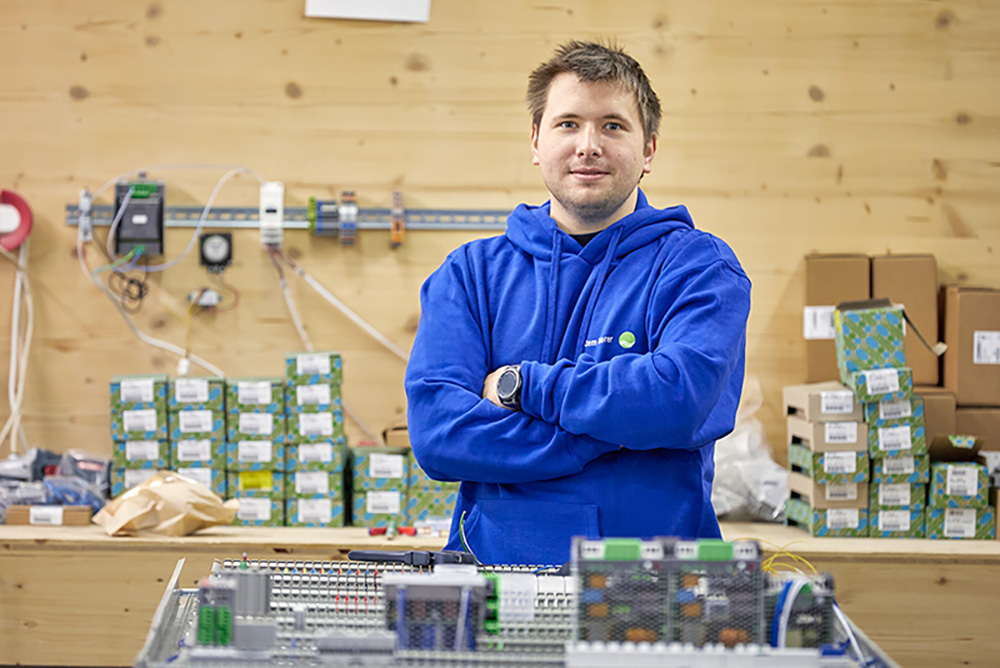 But the visit to the com­pa­ny head­quar­ters is initi­al­ly sur­pri­sing. "We haven't manu­fac­tu­red the sli­des here for a long time," Tobi­as Beu­kel­mann tells us and leads us into a sur­pri­sin­gly small pro­duc­tion hall. The­re is no sign of bat­hing fun and rus­hing water cur­r­ents, so the swim­ming trunks remain in the hand lug­ga­ge. "This is whe­re our sli­des are plan­ned and the electri­cal engi­nee­ring for them is manu­fac­tu­red. The ele­ments are manu­fac­tu­red in Slo­va­kia. The necessa­ry metal­wor­king shop is also loca­ted there."
Begin­ning with sledge runs
The deve­lo­p­ment mana­ger of E‑Technology exp­lains: "The com­pa­ny was foun­ded by Armin Kla­rer more than 30 years ago. He star­ted out with tobog­gan runs made of GRP. The­se had to be made smooth after pro­duc­tion. And that was done with a lot of water, rags and, of cour­se, sli­des. So it was only natu­ral that at some point, ins­tead of pad­ded win­ter pants, he deci­ded to have fun in swim­we­ar. In the mean­ti­me, the busi­ness is run by Clau­dia and Ste­fan Kla­rer, the next genera­ti­on. And with the second genera­ti­on it beca­me inter­na­tio­nal. Initi­al­ly, we also manu­fac­tu­red the equip­ment here, but that chan­ged years ago."
So no swim­ming fun at work? Tobi­as Beu­kel­mann grins: "Well, we can't use water at all during the pro­duc­tion and assem­bly of our con­trol cabi­nets. But during the deve­lo­p­ment of the air sli­de, for examp­le, we set up the first test ele­ments here on the lawn." Aha, so a work­place with swim­ming trunks next to a respi­ra­tor mask and safe­ty shoes after all! Beu­kel­mann dam­pens the enthu­si­asm: "Well, the water is ice cold, so we don't heat it up.
Slip­ped, asked, hired
Even though we are alrea­dy clo­se to the bor­der with Ger­ma­ny in the north of Switz­er­land, the lack of dialect of our inter­lo­cu­tor is striking. "I come from Wup­per­tal and have only been employ­ed here sin­ce 2016." How does a Wup­per­tal nati­ve end up in Switz­er­land? "In Plet­ten­berg the­re is a swim­ming pool with a lar­ge sli­de. And the­re, as a mecha­ni­cal engi­neer, I was just curious who built it." The ques­ti­on tur­ned into a con­ta­ct, and the con­ta­ct tur­ned into the job as head of e‑manufacturing.
"The ide­as for the various ele­ments that make up our sli­des are born here in the team. For examp­le, the Free Falls, whe­re opti­cal illu­si­ons make you think you'­re sli­ding strai­ght ahead until sud­den­ly a ledge opens up under­ne­ath you. Or the High Fly, whe­re the swim­mer can mas­ter a jump. Stan­ding Sli­de, Loo­ping, Magic Tube and brand new Storm­cha­ser, whe­re we work with a tur­bi­ne that can even shoot the bather uphill with wind speeds of up to 100 km/h."
Each of the appro­xi­mate­ly 40 sli­de sys­tems that are crea­ted each year is a cus­tom-made pro­duct, adap­ted to the wis­hes and con­di­ti­ons of the ope­ra­tors on site. "My team and I manu­fac­tu­re the necessa­ry con­trol cabi­nets here in Hallau. Timing, effect con­trols, ligh­t­ing and music as well as vide­os and touch­points in the instal­la­ti­ons are plan­ned and con­trol­led by us, along with the con­nec­tion of the sen­sor tech­no­lo­gy in the instal­la­ti­on. Only the water tech­no­lo­gy is not in our hands, that is rea­li­zed by the ope­ra­tor. And we then also put the sli­des into ope­ra­ti­on on site."
Accep­t­ance by
TÜV
Up to 120 m³ of water rus­hes down the smooth lanes per hour. "We get a signal from the pump as to whe­ther ope­ra­ti­on is okay, then we con­trol the sys­tem right down to the access con­trols, for examp­le in the form of turn­sti­les. Of cour­se, every instal­la­ti­on is safe­ty-che­cked and appro­ved by TÜV Süd."
In pro­duc­tion and at the con­trol cabi­net, it is clear that Kla­rer Was­ser­rut­schen has a clo­se con­nec­tion to East West­pha­lia. "In addi­ti­on to ter­mi­nal blocks from the ST line, we also use swit­ches and relays from Phoe­nix Con­ta­ct. M‑Guards gua­ran­tee us the safe­ty of the electri­cal sys­tems." In addi­ti­on to tools from Blom­berg, the Swiss also use Phoe­nix Contact's labe­ling tech­no­lo­gy. "The instal­la­ti­ons have to be reli­able, even if the end cus­to­mer is just having fun in the bathroom. But the ope­ra­tor can't use mal­func­tions at all, so the need for smooth, safe pro­ces­ses and simp­le main­ten­an­ce rou­ti­nes is the same as in industry."
Becau­se if the sli­de stops, the fun stops. But Tobi­as Beu­kel­mann and his small team are pret­ty sure that they won't get wet on the next breath­ta­king attractions.
Kla­rer Frei­zeit­an­la­gen AG
Phoe­nix Con­ta­ct MGuards
This post is also avail­ab­le in:

Deutsch