When it comes to refi­ning water, many think of hops, malt or distil­le­ries. Howe­ver, if you want to shar­pen your sen­ses rather than befudd­le them, a drink made from the ground stone fruits of the Rubiaceae fami­ly comes to mind. The Thun cof­fee machi­nes try to extract the maxi­mum fla­vor and plea­su­re from the noble beans.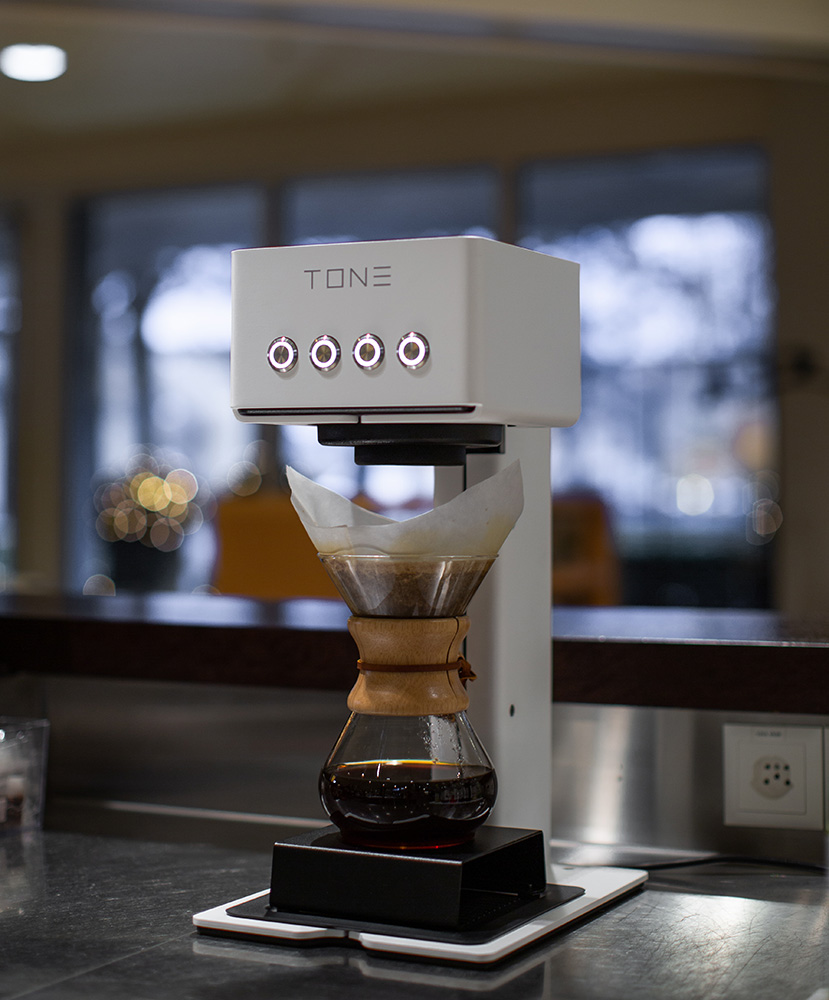 Cof­fee is far­med in more than 50 coun­tries around the world. But it ori­gi­na­ted in sou­thwes­tern Ethio­pia, more pre­cise­ly in the pro­vin­ce of Kaf­fa. From the­re, in the 9th cen­tu­ry, it star­ted its tri­um­phal pro­ces­si­on, first through the Arab world, then with detours via the colo­ni­al powers across the globe.
The­re are regi­ons of the world whe­re the hand­ling and enjoy­ment of the brown bean has beco­me part of the cul­tu­ral heri­ta­ge, for examp­le in Ita­ly. And the­re are regi­ons whe­re a distant imi­ta­ti­on of the once care­ful­ly har­ve­s­ted fruit tor­tures its way through the fil­ters from the nozz­les of cheap ful­ly auto­ma­tic machines.
In this respect, it seems tri­cky when a nort­hern Ger­man, who should tra­di­tio­nal­ly be clo­ser to tea than cof­fee, inter­views a Swiss with clo­se ties to Ita­ly on the sub­ject of cof­fee. Espe­cial­ly sin­ce we'­re not tal­king about the bean its­elf, but rather an extre­me­ly high-qua­li­ty pie­ce of equip­ment that is sup­po­sed to eli­cit a maxi­mum of fla­vor from the fine fruit. Nevertheless, we took the plun­ge, becau­se after all, the inner workings of the Thun cof­fee machi­nes are gar­nis­hed with a small but rather cru­cial tech­no­lo­gi­cal tid­bit from East Westphalia.
The roas­ting degree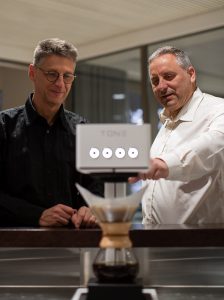 The first thing that inte­rests us, of cour­se, is how a Swiss engi­neer for labo­ra­to­ry tech­no­lo­gy and medi­cal tech­no­lo­gy, who is clo­se to espres­so, comes up with the sub­ject of fil­ter cof­fee. After all, that's exact­ly what the show­pie­ce of the Thun cof­fee machi­nes is: an auto­ma­tic fil­ter cof­fee machi­ne. Mar­kus Wid­mer has to laugh hims­elf: "Of cour­se, I too actual­ly come from the camp of espres­so drin­kers. It's almost a geo­gra­phi­cal thing. In sou­thern Euro­pe, Switz­er­land, Aus­tria, and sou­thern Ger­ma­ny, the cof­fee bean is roas­ted dar­ker, ground finer, and then extrac­ted a maxi­mum of fla­vor by means of a litt­le water and a lot of pres­su­re. Around the­re, and this is almost glo­bal, cof­fee is usual­ly roas­ted ligh­ter, ground coar­ser and infu­sed with more water without pres­su­re to make fil­ter coffee."
It's no won­der that Dr. Mar­kus Sil­van Wid­mer, who foun­ded his own engi­nee­ring office a good ten years ago (spe­cia­li­zing in the auto­ma­ti­on of labo­ra­to­ry tech­no­lo­gy), initi­al­ly had to deal with finely ground beans. Due to per­so­nal con­ta­cts with baris­tas, an unusu­al order came up: "Tho­mas Lie­be, whom I have known for many years, is a baris­ta. And cof­fee machi­ne desi­gner. He got an order from a Ger­man com­pa­ny to build a spe­cial cof­fee machi­ne, some­thing that did­n't exist yet. We then hel­ped deve­lop that and took a liking to it."
We have digi­ti­zed the pro­duc­tion of excel­lent fil­ter coffee.

Dr. Mar­kus Wid­mer,

TKM
This liai­son has resul­ted in a beau­ti­ful semi-auto­ma­tic hand lever machi­ne, desi­gned into the hand of the espres­so lover. And who­se tech­no­lo­gy was equal­ly a mile­stone. Wid­mer exp­lains: "In the vast majo­ri­ty of cases, the hot water requi­red by a cof­fee machi­ne is hea­ted in boi­lers and kept at tem­pe­ra­tu­re the­re. Such machi­nes give off more than 90 per­cent of the heat to their sur­roun­dings, and only 5 to 10 per­cent is used to make cof­fee. Surely this is no lon­ger appro­pria­te in the 21st cen­tu­ry!" Dr. Wid­mer and his team have opted for an inno­va­ti­ve con­ti­nuous-flow hea­ting sys­tem. This not only saves around 90 per­cent of the ener­gy, but also allows radi­cal­ly dif­fe­rent designs, becau­se the bul­ky water boi­ler is missing.
This com­mis­sio­ned work gave rise to the idea of the Thu­ner Kaf­fee­ma­schi­nen­fa­brik (TKM). And the "Tone Touch 03" is the best fil­ter cof­fee machi­ne avail­ab­le. At least, that's the assess­ment of nume­rous baris­tas world­wi­de, as Wid­mer assu­res us. "We have tried to sim­pli­fy the ent­i­re cof­fee-making pro­cess with a digi­tal inter­face. The basic set­tings are made on the PC, so we'­ve achie­ved a very purist design."
Tem­per­tu­re wizardry
The fol­lowing is now addres­sed to peop­le with a plea­su­re-ori­en­ted pala­te: "In the cof­fee indus­try, we know that the tem­pe­ra­tu­re of the water has an important influ­ence on the tas­te. The­re are three pha­ses into which one can divi­de the pre­pa­ra­ti­on. First, water is hea­ted and added to the ground pow­der. In this bloo­m­ing pha­se, the pow­der is mois­tened so that extrac­tion-impe­ding gases can escape. The ground cof­fee soaks up water.
In the second pha­se, the extrac­tion or pul­se pha­se, one tri­es to extract as much of the cof­fee as pos­si­ble. Then, at the end, comes the sett­ling pha­se, whe­re only a litt­le water is added, along the ves­sel wall."
The asto­nis­hed owner of a mun­da­ne ful­ly auto­ma­tic machi­ne also learns that volu­me out­put and flow rate are important cri­te­ria. And lis­tens fur­ther:
"The Tone Touch 03 works with dif­fe­rent tem­pe­ra­tures. One can start appro­xi­mate­ly the first pha­se with 88 degrees. The second is car­ri­ed out with 90 and the third with 89 degrees. This can be set via the digi­tal inter­face with a spe­cial PC pro­gram. The water is then dis­tri­bu­t­ed over the ground pow­der with a sho­wer nozz­le. Depen­ding on the flow rate, this crea­tes dif­fe­rent tur­bu­len­ces in the cof­fee-water mix­tu­re, thus achie­ving dif­fe­rent fla­vor characteristics."
Plug for good taste
The ele­gant machi­nes are assem­bled in a manu­fac­to­ry in Thun with care and a lot of manu­al work. And now Phoe­nix Con­ta­ct comes into play: "We manu­fac­tu­re for pro­fes­sio­nals. It's important to make ser­vice and main­ten­an­ce as simp­le, uncom­pli­ca­ted and fast as pos­si­ble. That's why we came up with the idea of designing our com­ple­te brewing unit so com­pact­ly that it can be remo­ved with the loo­se­ning of two screws, the water and power sup­ply, and a plug-in sys­tem for the con­trol system."
Et voi­la: Here's how the new PRC con­nec­tors to use, which con­nect the black box of the brewing unit to the power sup­ply. Why this sys­tem? "We were loo­king for a solu­ti­on that was as simp­le and robust as pos­si­ble to satisfy the idea of ser­vicea­bi­li­ty. That's whe­re Phoe­nix Con­ta­ct sim­ply appealed to us best, both with the pro­duct and the advice on it."
Who says that East West­pha­li­an con­nec­tion tech­no­lo­gy can't also be a tre­at for the pala­te? The only pro­blem: How do we get the office's resi­dent "quan­ti­ty bre­wer" (that's real­ly the name of the mur­ky device!) swap­ped for a Tone Touch 03 …
tone-swiss.com
Phoe­nix Con­ta­ct PRC Steckverbinder
This post is also avail­ab­le in:

Deutsch