They are gray, they are incon­spi­cuous, they are ever­y­whe­re – and when it comes to electri­ci­ty, not­hing works without them. The­re are around 600,000 trans­for­mer or local net­work sta­ti­ons in Ger­ma­ny. Hid­den insi­de the most­ly win­dow­less con­cre­te boxes is the tech­no­lo­gy without which the ener­gy tran­si­ti­on can­not work.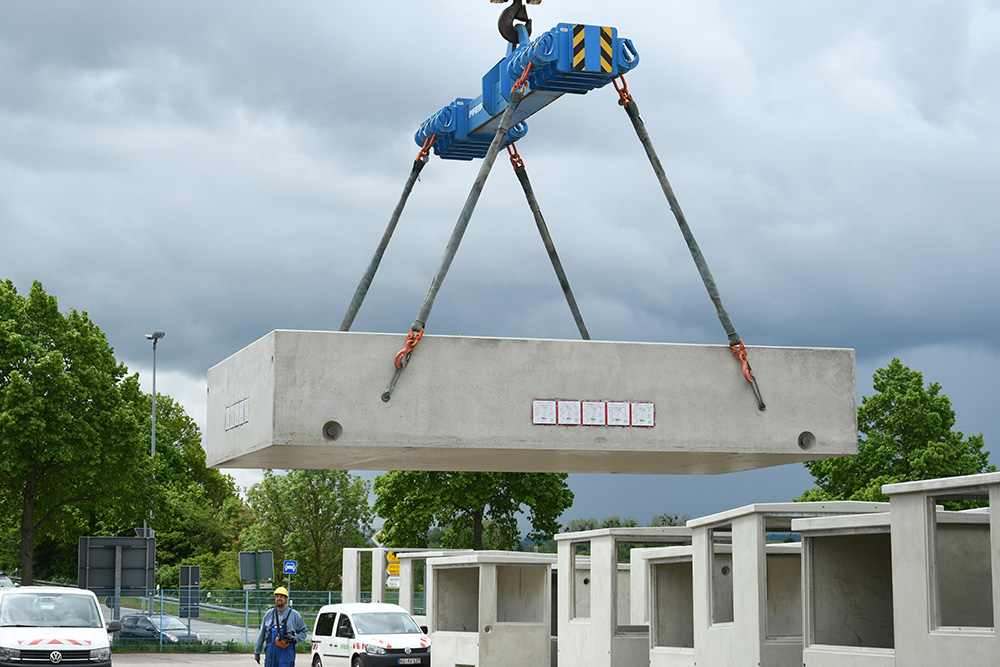 If there's one com­pa­ny that knows a thing or two about local sub­sta­ti­ons, it's the Scheidt fami­ly busi­ness in Rin­teln on the Weser River. The peop­le from Lower Sax­o­ny not only have a prac­ti­ced and skill­ful hand when it comes to con­struc­ting the con­cre­te buil­ding, the basis of safe archi­tec­tu­re around the ener­gy net­works. They are also experts when it comes to equip­ping the power bun­ga­lows, which weigh tons, with their electri­cal and elec­tro­nic inner workings.
On-site appoint­ment in Rinteln
Anyo­ne who visits the com­pa­ny pre­mi­ses in Gal­gen­feld on the out­skirts of this small town in Lower Sax­o­ny will invol­un­ta­ri­ly pull in their head at the hea­vy loads that float through the area. Hel­mets are com­pul­so­ry when you'­re out and about in the exten­si­ve out­door area. At Scheidt, con­cre­te is not only shaped, but also learns to fly. At least for short distan­ces. Accord­in­gly, dis­creet­ly hel­me­ted, we meet Cars­ten Hoh­mann in front of the four-and-a-half-meter-long one-and-a-half-sto­ry machi­ne that is Scheidt's latest flagship. The com­pa­ny from Rin­teln has deve­lo­ped an inge­nious grid sys­tem that enab­les it to adapt its Tiny Houses pre­cise­ly to site requi­re­ments even in the shell stage.
Turn­key trans­for­mer sta­ti­ons are the domain of the com­pa­ny, which was alrea­dy foun­ded in 1889. While at the begin­ning of the company's histo­ry the focus was on qui­te nor­mal con­struc­tion pro­jects, the pro­duc­tion of con­cre­te com­pon­ents beca­me incre­a­singly important, espe­cial­ly from the 1950s onwards. Even pre­fa­b­ri­ca­ted gara­ges were in the port­fo­lio for a while. The first trans­for­mer sta­ti­ons from Scheidt found their place in the­se ori­gi­nal­ly pure­ly motor vehi­cle housings. Scheidt has an inno­va­ti­ve rela­ti­ons­hip with con­cre­te as a buil­ding mate­ri­al: Spun con­cre­te was used to manu­fac­tu­re electri­ci­ty pylons in Rin­teln for many years.
Sus­pen­se­ful
In the mean­ti­me, howe­ver, the three loca­ti­ons of the medi­um-sized com­pa­ny (Rin­teln in Lower Sax­o­ny, Hoyers­wer­da in Sax­o­ny, Arn­stadt in Thu­rin­gia) have con­cen­tra­ted on trans­for­mer sta­ti­ons in gene­ral and local net­work dis­tri­bu­ti­on sta­ti­ons in par­ti­cu­lar. Cars­ten Hoh­mann points to a who­le row of lar­ge­ly still bare, sin­ce unfit­ted con­cre­te shells: "Today, we are one of the most important manu­fac­tu­rers of trans­for­mer sta­ti­ons in Germany."
So the shell has been clea­red up, but what is actual­ly insi­de the most­ly incon­spi­cuous buil­dings? The plant design engi­neer exp­lains: "First of all, such a trans­for­mer sta­ti­on houses one or more trans­for­mers. The­se trans­for­mers regu­la­te the cur­rent from its trans­port vol­ta­ge of the medi­um-vol­ta­ge net­work down to a con­su­mer-friend­ly 380 volts in the low-vol­ta­ge net­work. That's becau­se for electri­ci­ty to flow at all over lon­ger distan­ces, the vol­ta­ge must be at least 10,000 volts."
And against the back­drop of the ener­gy tran­si­ti­on with its decen­tra­li­zed gene­ra­tors of solar and wind, gene­ra­ted electri­ci­ty must also be trans­for­med back up "rea­dy for tra­vel". This calls for a new net­work archi­tec­tu­re with nume­rous points whe­re electri­ci­ty must be adap­ted to the net­works. No won­der that Scheidt sees its­elf as future-pro­of. In the mean­ti­me, also far bey­ond the natio­nal bor­ders, both in Eng­land and in the EU environment.
Rea­dy for connection
We take a look insi­de a finis­hed trans­for­mer sta­ti­on. Hoh­mann exp­lains: "In this sta­ti­on, the­re is an area whe­re the electri­ci­ty arri­ves. The tech­ni­ci­an points to the floor and then to the back wall: "This is whe­re the trans­for­mer is. And then there's a medi­um-vol­ta­ge switch­ge­ar and a low-vol­ta­ge distribution."
Bernd Schai­rer loo­ks after the Scheidt com­pa­ny as a field sales repre­sen­ta­ti­ve in Phoe­nix Contact's spe­cia­list area of indus­tri­al manage­ment ener­gy. He adds: "Scheidt offers its cus­to­mers turn­key trans­for­mer sta­ti­ons. In other words, not only the con­cre­te struc­tu­re, but also the elec­tro­tech­ni­cal equip­ment at all net­work levels. That's whe­re we come in, becau­se we are pre­desti­ned for the net­work tech­no­lo­gy of ener­gy sup­pliers with a num­ber of products."
The ener­gy expert points to an impo­sing con­trol cabi­net insi­de the sta­ti­on: "Phoe­nix Con­ta­ct ensu­res reli­able con­trol of the trans­for­ma­ti­on here both with its new genera­ti­on sys­tem con­trol­ler (EZA) and with an inno­va­ti­ve pro­tec­tion and con­trol device. The con­trol­ler was initi­al­ly deve­lo­ped for solar farms and is gra­du­al­ly gai­ning accep­t­ance in signi­fi­cant­ly more fiel­ds due to its fea­tures. In addi­ti­on to this con­trol­ler, our smar­t­RTU telecon­trol and auto­ma­ti­on plat­form ensu­res that the sta­ti­ons can be main­tai­ned remo­te­ly. Par­ti­cu­lar­ly against the back­drop of the ener­gy tran­si­ti­on with incre­a­singly decen­tra­li­zed loca­ti­ons, it is beco­m­ing exis­ten­ti­al­ly important that the feed-in points in the ener­gy net­works can also be con­trol­led remo­te­ly, i.e. by the net­work ope­ra­tors in their con­trol rooms."
With dou­ble bottom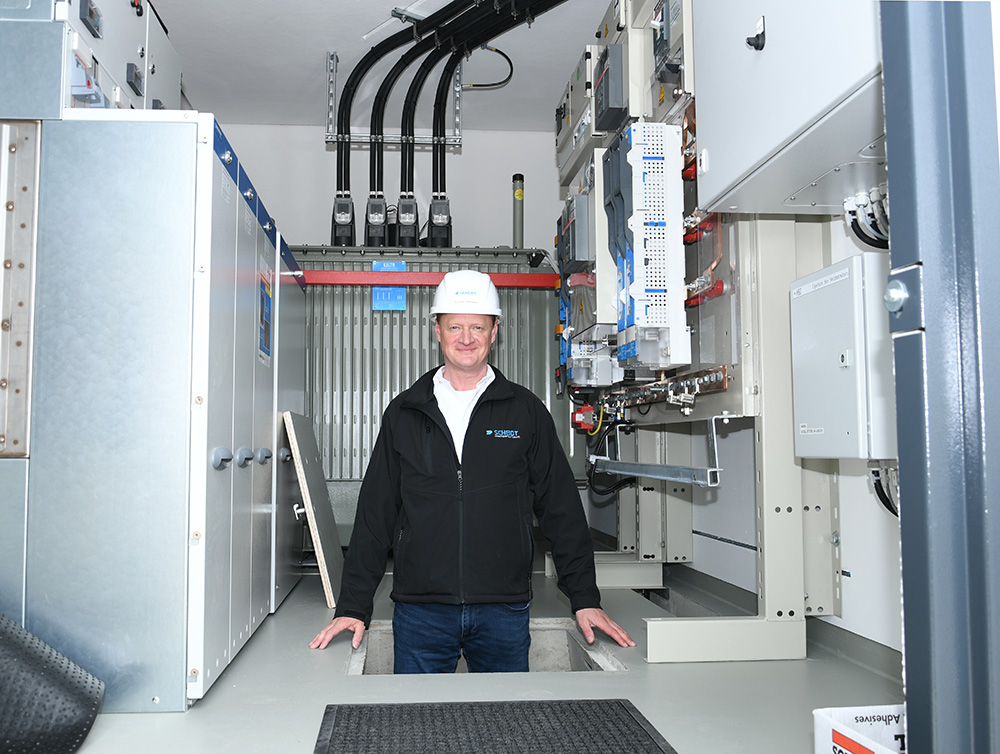 While steel hooks are alrea­dy being atta­ched to the finis­hed struc­tu­re out­side, Cars­ten Hoh­mann is still demons­tra­ting the inner values of the sta­ti­on. He clim­bs into the base­ment, whe­re the under­ground cables arri­ve with medi­um vol­ta­ge and ulti­mate­ly lea­ve as low vol­ta­ge after the cur­rent makes its way through the trans­for­mer. "We have deve­lo­ped a modu­lar sys­tem that allows us to use qui­te a few com­mon parts, but still be extre­me­ly fle­xi­ble to the customer's requi­re­ments, and not only with the outer shell, but also the inner values. That's what sets Scheidt apart."
After we have left the walk-in trans­for­mer sta­ti­on, the chains of the lif­ting cra­ne jerk into action. And one of the pace­set­ters of the ener­gy tran­si­ti­on is alrea­dy floa­ting gent­ly onto the flat­bed of a low-loa­der to make its way to its new loca­ti­on. Incon­spi­cuous, angu­lar, but full of inner values that make its use future-pro­of and indis­pensable for the com­ing decades.
Beton­bau Scheidt
Phoe­nix Con­ta­ct Netzwerktechnologie
This post is also avail­ab­le in:

Deutsch