Fer­ris wheels have been the attrac­tion of every fair for cen­tu­ries. The round gon­do­las tower high abo­ve every fair­ground and most houses. But behind the color­ful faça­de, sta­te-of-the-art tech­no­lo­gy ensu­res the necessa­ry safe­ty for an enter­tai­ning excur­si­on to lof­ty heights.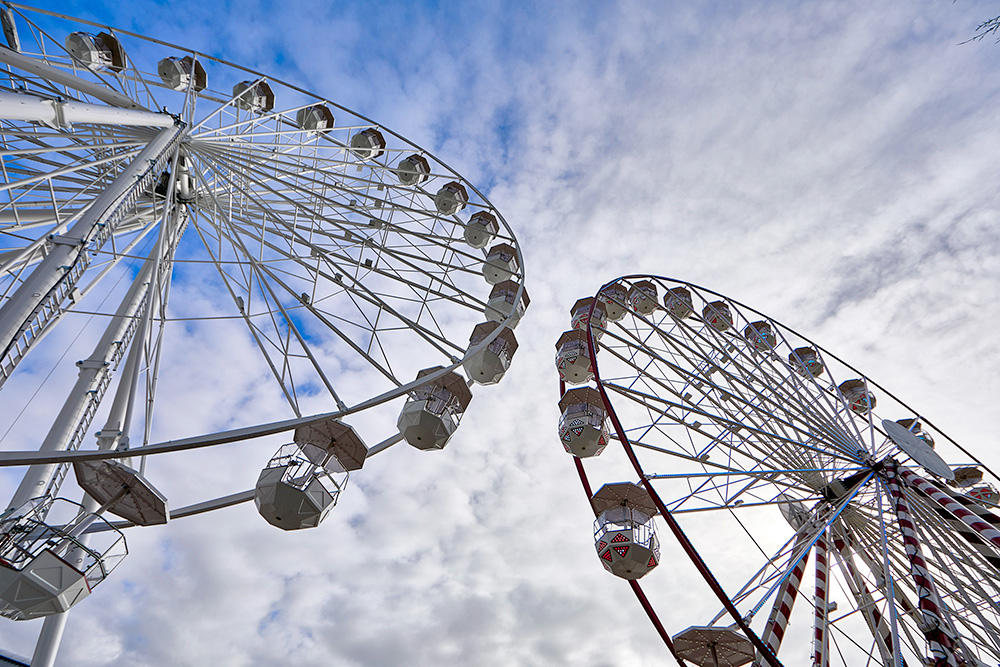 Gene­ral­ly spea­king, Fer­ris wheels are divi­ded into sta­tio­na­ry and mobi­le instal­la­ti­ons. Accord­ing to Wiki­pe­dia, the oldest idea of a Fer­ris wheel comes from Bul­ga­ria, whe­re as ear­ly as 1620 some child­ren moun­ted seats on a woo­den wheel they had set up. The struc­tu­re worked hand-dri­ven, of cour­se. And in fact still delights visi­tors and admi­rers in remo­te regi­ons of the world today in an almost unch­an­ged design.
Mus­cle power and e‑motor
The first modern Fer­ris wheel was then pre­sen­ted at the 1893 World's Fair in Chi­ca­go. Cal­led the Fer­ris Wheel after its inven­tor, the struc­tu­re was a remar­kab­le 80.5 meters high. And it was a com­ple­te success.
The fasci­na­ti­on for the Fer­ris wheel was awa­ke­ned. As sta­tio­na­ry instal­la­ti­ons, they still fre­quent­ly cha­rac­te­ri­ze the image of cities today, for examp­le in Lon­don or in Vien­na at the "Pra­ter", whe­re the oldest of all acti­ve Fer­ris wheels is loca­ted. Or they fasci­na­te in the form of mobi­le instal­la­ti­ons at fairs world­wi­de. In deve­lo­ping coun­tries, Fer­ris wheels are often powe­red by mus­cle power, as the­re is no electri­ci­ty sup­ply. But the usu­al method is to dri­ve them by means of electric motors loca­ted to the right and left of the ent­ran­ce area. Fric­tion wheels are used to trans­mit the power to the wheel.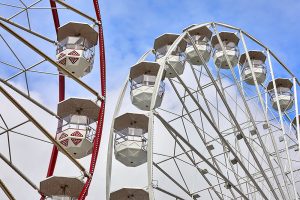 The fasci­na­ti­on for the visi­tor lies not only in the unusu­al per­spec­ti­ve from a lof­ty height. But always also in the slight cree­pi­ness, whe­ther the machi­ne real­ly works safe­ly and neit­her stops nor the gon­do­la cras­hes. Ever­ything com­ple­te­ly impos­si­ble? Acci­dents with Fer­ris wheels are by no means just an inven­ti­on from Hol­ly­wood action flicks. In 2016, two gon­do­las beca­me ent­an­gled in each other in Nashville/USA, three girls fell into the depths, but sur­vi­ved. In 2013, a gon­do­la cras­hed from a height of 30 meters in Argen­ti­na, kil­ling two sis­ters. In 2019, a man in Erlan­gen falls 25 meters and dies. And in Novem­ber 2021, a Fer­ris wheel in Cott­bus comes to a standstill. Two pas­sen­gers have to be res­cued from a height of 30 meters using aeri­al ladders.
From car­nies to manufacturer
Even though Fer­ris wheels are actual­ly qui­te a com­for­ta­ble form of move­ment, the safe­ty of the instal­la­ti­on is always clo­se­ly moni­to­red. The Lam­be­r­ink-Kroon fami­ly knows its aeri­al giants very well. The Dut­ch com­pa­ny was foun­ded by a fami­ly of show­men who had been ope­ra­ting mobi­le Fer­ris wheels them­sel­ves for deca­des until 2014, when they began to design and build the rides themselves.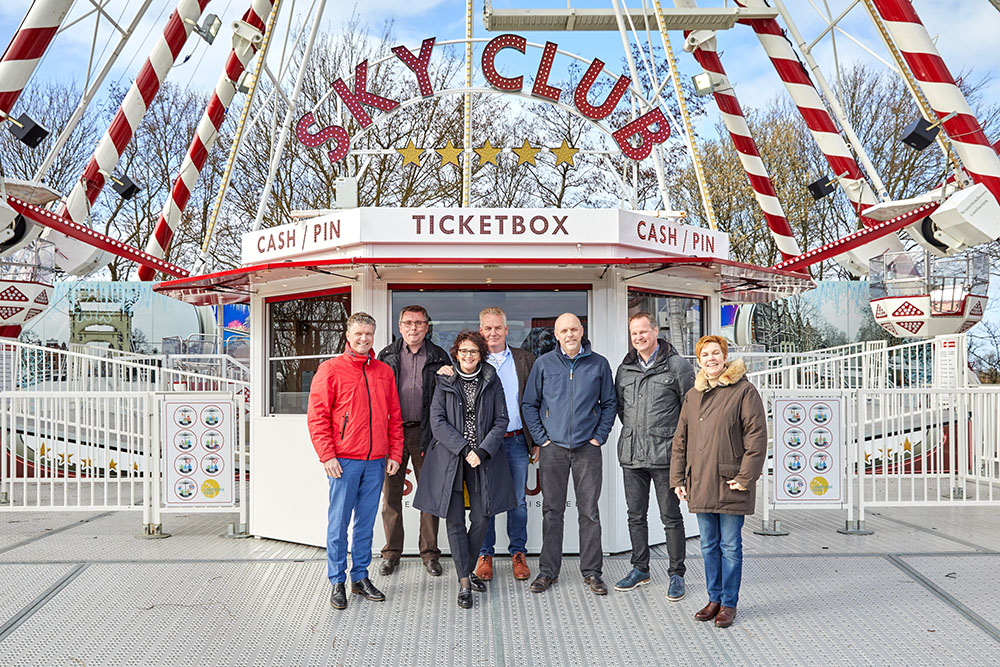 Kok­kie Kroon and Jan Lam­be­r­ink are the bos­ses of Lam­be­r­ink Fer­ris Wheel. It all star­ted when Kok­kie Kroon's father bought a Fer­ris wheel in 1976. At first, the fami­ly of show­men tra­v­eled with it from fair to fair. And anyo­ne who tra­vels with such colos­si has to deal inten­si­ve­ly with the con­struc­tion during assem­bly and dis­mant­ling. Jan Lam­be­r­ink soon beca­me inte­res­ted in buil­ding the attrac­tions hims­elf. Sin­ce the 1980s, he has been invol­ved in their con­struc­tion. And he did so in the very com­pa­ny that had manu­fac­tu­red the first Fer­ris wheel for the fami­ly. When this com­pa­ny with­drew from the mar­ket, the ent­i­re fami­ly deci­ded in 2014 to build Fer­ris wheels on their own. As expe­ri­en­ced show­men, Lam­be­r­ink and Kroon natu­ral­ly knew and still know exact­ly what their cus­to­mers want.
In the mean­ti­me, their Fer­ris wheels have beco­me a house­hold name among show­men inter­na­tio­nal­ly. The fami­ly has built more than 20 Fer­ris wheels sin­ce 2014 and sold them all over the world. And of cour­se also main­tai­ned them, some­ti­mes on site, some­ti­mes on the company's own premises.
Giant wheel – giant effort
Easy trans­port, quick assem­bly and dis­as­sem­bly, low man­power requi­re­ments for erec­tion – all important requi­re­ments for Fer­ris wheels. But what does it look like when a Fer­ris wheel is trans­por­ted "sim­ply" and erec­ted "quick­ly"? The 33 meter high Fer­ris wheel "RL33" requi­res four trucks for its trans­port and ten hours each for erec­tion and dis­mant­ling. 24 gon­do­las each hold six peop­le, so that up to 1,150 pas­sen­gers per hour can enjoy the view.
The "RL46" takes up to 1,800 peop­le per hour to a lof­ty height of 46 meters. Twel­ve trucks and two full days each for assem­bly and dis­mant­ling are nee­ded to get the mobi­le mons­ter into operation.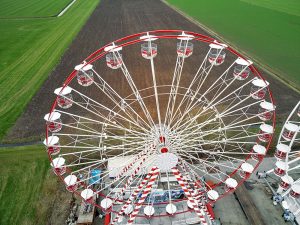 Ama­zing figu­res that make it clear that ope­ra­ting a Fer­ris wheel is anything but tri­vi­al. Intel­li­gent auto­ma­ti­on tech­no­lo­gy ensu­res that when pas­sen­gers board the gon­do­las, the load on the wheel is even and the ride time is fair for the pas­sen­gers. After all, every pas­sen­ger wants to spend the same num­ber of laps on the Fer­ris wheel as all the other guests for their money. And also get off the airy fun­mo­bi­le in one piece.
The steel con­struc­tion of the mobi­le Fer­ris wheels is car­ri­ed out extern­al­ly on behalf of the inter­na­tio­nal­ly acti­ve com­pa­ny. For the con­trol cabi­net con­struc­tion, Lam­be­r­ink and Kroon call on the exper­ti­se of the spe­cia­lists from JB Bes­tu­rings­tech­niek in Oos­ter­wol­de. Assem­bly and sub­se­quent com­mis­sio­ning will take place at the company's site in Over­schild. Rides that have alrea­dy been deli­ve­r­ed are also set up here for main­ten­an­ce and over­hau­led. In addi­ti­on to sales, show­men can also rent Fer­ris wheels from Holland.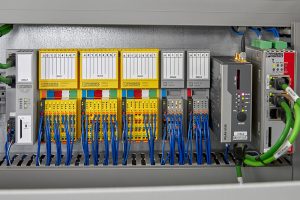 What they all have in com­mon is that ever­ything that needs to be electri­cal­ly con­nec­ted is extre­me­ly robust­ly desi­gned with con­nec­tors made in East West­pha­lia. And if you think of a Fer­ris wheel at night, you can guess how many electri­cal con­nec­tions are nee­ded to make it a shi­ning land­mark of a fairground.
Safe­ty through automation
For the safe­ty of the pas­sen­gers, it is important that the Fer­ris wheel does not start moving until all per­sons are safe­ly sea­ted in the locked gon­do­las. The ope­ra­tor can moni­tor the loading of the Fer­ris wheel via a web-based visua­liz­a­ti­on sys­tem. Con­trol tasks are hand­led by a Axio­li­ne-Con­trol­ler from Phoe­nix Contact.
The start of the Fer­ris wheel as well as the emer­gen­cy stop may not be exe­cu­t­ed by the stan­dard con­trol for safe­ty rea­sons. Lam­be­r­ink has deci­ded to use the Safe­ty­Bridge Tech­no­lo­gy from Phoe­nix Con­ta­ct. Safe input and out­put modu­les cap­tu­re or out­put the signals. They also con­stant­ly per­form dia­gnostics and moni­tor the modu­le for short cir­cuits, for example.
A logic modu­le in the Safe­ty­Bridge instal­la­ti­on gene­ra­tes and con­trols the safe­ty-rela­ted trans­mis­si­on pro­to­col. The pro­to­col detects errors in the com­mu­ni­ca­ti­on of the indi­vi­du­al modu­les. If, for examp­le, a trans­mis­si­on error occurs in an input modu­le, the sys­tem swit­ches to a safe sta­te – the Fer­ris wheel stops. The ope­ra­tor is then auto­ma­ti­cal­ly given inst­ruc­tions on how to rec­ti­fy the fault. And if the ope­ra­tor does not find the fault direct­ly, the­re is a mobi­le modem inte­gra­ted into the auto­ma­ti­on solu­ti­on via secu­re access. This means that the user on site can be sup­por­ted remo­te­ly in the event of a fault. Important, becau­se the ope­ra­tor is not always fami­li­ar with every tech­ni­cal detail of the airy pleasure.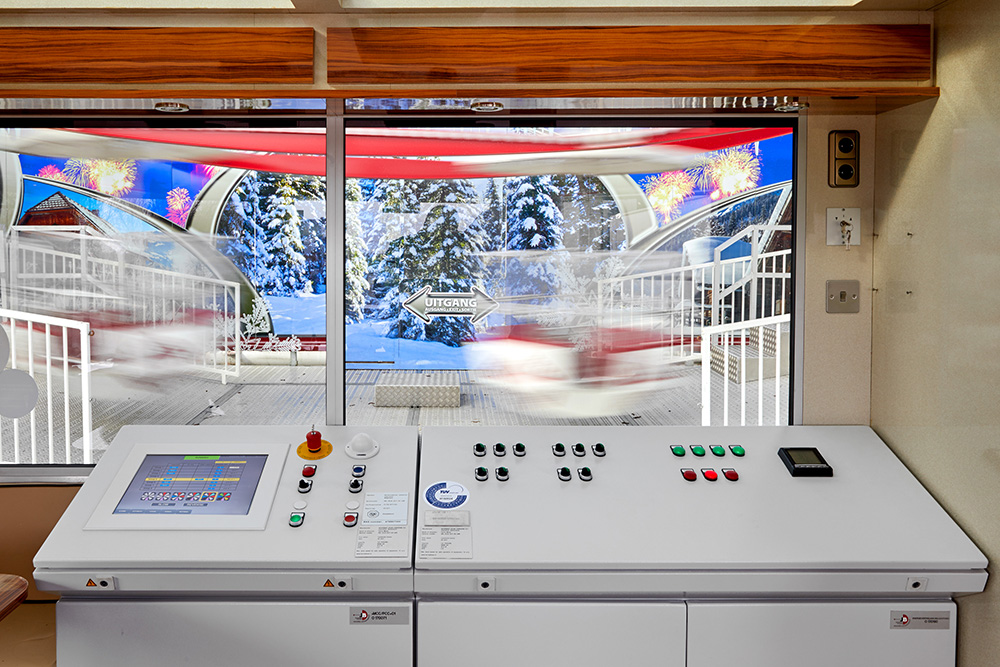 Thus secu­red, no height res­cuer should be used in the future and no turn­ta­ble lad­der should pro­vi­de for dizzy­ing actions – after all, the cot­ton can­dy is cer­tain­ly still wai­t­ing for the visi­tors on the ground.
This post is also avail­ab­le in:

Deutsch