The more gent­le the boun­cer, the more plea­sant the ent­ran­ce. A visit to the West­pha­li­an town of Lipp­stadt shows why this is not only the case when it comes to admis­si­on to sought-after han­gouts. ASO Safe­ty Solu­ti­ons GmbH is loca­ted the­re. And they know how to teach mecha­ni­cal inlet regu­la­tors the right man­ners.
Clo­sing is part of their job, but pro­ject mana­ger Nor­bert Pew­ny and hard­ware deve­lo­per Den­nis Mett­ner are not at all clo­sed off when it comes to the latest pro­duct from their ranks: "With Dri­co 2.0, we have achie­ved an unpre­ce­den­ted level of fle­xi­bi­li­ty on the mar­ket," says Pew­ny, sum­ma­ri­zing the advan­ta­ges of the new gate con­trol­ler. The two experts work at ASO Safe­ty Solu­ti­ons in Lipp­stadt. The com­pa­ny is one of the lea­ding deve­lo­pers, manu­fac­tu­rers, and dis­tri­bu­tors of secu­ri­ty solu­ti­ons for doors, gates, and machi­ne buil­ding. Around 170 employees work here and at loca­ti­ons in the US and Chi­na on solu­ti­ons for con­vey­ing tech­no­lo­gy, lif­ting and access tech­no­lo­gy, indus­tri­al truck tech­no­lo­gy, and the safe­ty, sen­sors, & con­trols sec­tor.
The gate is a machi­ne
In the lat­ter area, ASO manu­fac­tures three lar­ge pro­duct groups that ensu­re that moving door and gate ele­ments don't get out of hand: safe­ty con­tact strips, safe­ty con­tact buf­fers, and safe­ty con­tact mats. What they all have in com­mon is a con­trol unit that collec­ts the data from the sen­sors and trans­mits necessa­ry com­mands to the sys­tem or vehi­cle con­trol­ler.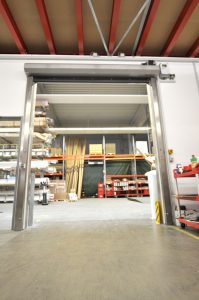 It sounds simp­le, but it is full of tech­no­lo­gi­cal chal­len­ges when it comes down to the details. Becau­se what is most important is signal acqui­si­ti­on and pro­ces­sing that are reli­able and as fast as pos­si­ble. Who wants a fast-moving rol­ler shut­ter to turn into a guil­lo­ti­ne when it clo­ses? Den­nis Mett­ner shows what's important for the safe­ty con­tact strips used here at the bot­tom edge of the gates: "Con­tact strips are atta­ched to the fle­xi­ble rub­ber ele­ments. If they touch each other, such as when the door meets resis­tan­ce, the sys­tem con­trol swit­ches the dri­ve off at light­ning speed, the motor stops, and the door comes to a halt." Pro­ject mana­ger and elec­tri­cal engi­neer Nor­bert Pew­ny adds: "We look at a gate like a machi­ne. That's why the same strict safe­ty regu­la­ti­ons app­ly."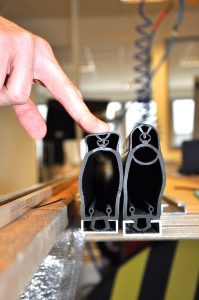 Machi­ne stop­per
ASO knows all about this, becau­se their con­tact mats and bum­pers ensu­re that even machi­nes in ope­ra­ti­on have the right man­ners when they come into clo­se con­tact with their human ope­ra­tors. This beco­mes clear, for examp­le, in the case of the con­tact buf­fers, which are say the bum­pers that are atta­ched to the moving por­tals of lar­ge CNC mil­ling machi­nes. The­se gan­tries are moun­ted onto a machi­ne table on which the work­pie­ce, say a woo­den pla­te, is fixed. The tools for machi­ning are moun­ted on the por­tal, moving on rails. Con­trol­led by a machi­ning pro­gram, the por­tal moves in such a way that the moving tools, such as drills or mil­ling machi­nes, can be activa­ted at the right pla­ces on the pla­te.
If an ope­ra­tor now gets in the way of the hea­vy gan­try, acci­dents could hap­pen. Howe­ver, lar­ge-area bar­ri­ers would get in the way of the space requi­red by a pro­duc­tion faci­li­ty or work­shop. But by using bum­pers, the con­trol­ler reac­ts with light­ning speed to unplan­ned con­tact and stops the hea­vy machi­ne.
Domestic pro­duc­tion
When wal­king through pro­duc­tion, it's sur­pri­sing to noti­ce that ASO manu­fac­tures most of the ele­ments its­elf. Long con­veyor lines run through pro­duc­tion; the rub­ber ele­ments are also pro­du­ced here, and their deve­lop­ment is pre­cise­ly con­trol­led.
"Our ver­ti­cal ran­ge of manu­fac­tu­ring is one of our argu­ments that wins us custo­mers," reports Mett­ner. "It is pre­cise­ly this that allows us to respond indi­vi­dual­ly to every custo­mer request. Our custo­mers are main­ly from indus­try and the manu­fac­tu­ring sec­tor, whe­re custom-made pro­duc­ts are qui­te com­mon­place."
It is pre­cise­ly this fle­xi­bi­li­ty that is also the focus of the exchan­ge bet­ween the two experts and the Phoe­nix Con­tact experts. The gate con­trols are avail­ab­le in dif­fe­rent per­for­mance clas­ses with cor­re­spon­din­gly sca­led func­tio­n­al equip­ment. "The upper per­for­mance ran­ge we offer inclu­des gates that are used very fre­quent­ly, such as tho­se with several dri­ves, induc­tion loops for con­trol when star­ting up con­veyor vehi­cles, or with our own signal light sys­tem," exp­lains Pew­ny. "The more com­plex the over­all sys­tem is, the more important safe­ty-rela­ted func­tions beco­me. The func­tio­n­a­li­ty of the con­trol­ler must keep pace accord­in­gly.
480

Gate con­trol vari­ants are pos­si­ble with the

SKEDD

direct con­nec­tors.
The basic idea behind deve­lo­ping the new con­trol sys­tem was to achie­ve the most trans­pa­rent hard­ware sca­ling pos­si­ble, the bene­fits of which our custo­mers can imme­dia­te­ly under­stand." The respec­tive hard­ware equip­ment car­ri­es out cen­tral func­tions of hori­zont­al­ly or ver­ti­cal­ly ope­ning gates, depen­ding on the fea­tures. The­se inclu­de con­trol­ling fre­quen­cy con­ver­ters and three-pha­se motors to open and clo­se the gates, safe­ty func­tions such as pho­toelec­tric bar­ri­ers or dead man's swit­ches, and addi­tio­nal fea­tures such as ther­mal swit­ches, wire­less recei­vers, posi­ti­on enco­ders, or LC dis­plays. And of cour­se, this area also inclu­des pos­si­ble elec­tro­nic access con­trol in nume­rous vari­ants.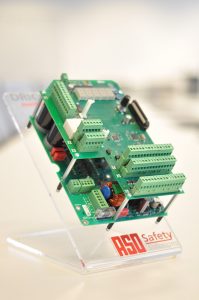 Gent­le thanks to the modu­le opti­on
The more sen­sors a gate con­trol­ler has, the more sen­si­tively it reac­ts to signals from the ope­ra­tor. Mett­ner and his deve­lop­ment team use SKEDD direct con­nec­tors from Phoe­nix Con­tact to con­nect the dri­ve-rele­vant func­tions. The modu­lar sys­tem inclu­des a total of nine dif­fe­rent PCB lay­outs, enab­ling deve­lo­pers to sca­le the scope of func­tions of their gate con­trol­ler pre­cise­ly. Hund­reds of com­bi­na­ti­ons are pos­si­ble, which the auto­ma­ted door­men from Lipp­stadt are sup­po­sed to make more and more pre­ci­se. The more gent­le the ent­ran­ce, more secu­re and com­for­ta­ble the user feels.
This post is also avail­ab­le in:

Deutsch