When it comes to norms and stan­dards, an intel­lec­tu­al flight reflex sets in for many peop­le. Dry-as-dust sub­ject mat­ter, tedious maneu­vering through a desert of let­ters, a jum­ble of abbre­via­ti­ons and details for nerds. But the­re is ano­t­her way. The col­leagues from the Phoe­nix Con­ta­ct Com­pe­tence Cen­ter Ser­vices recent­ly demons­tra­ted how on the Yel­low Sofa.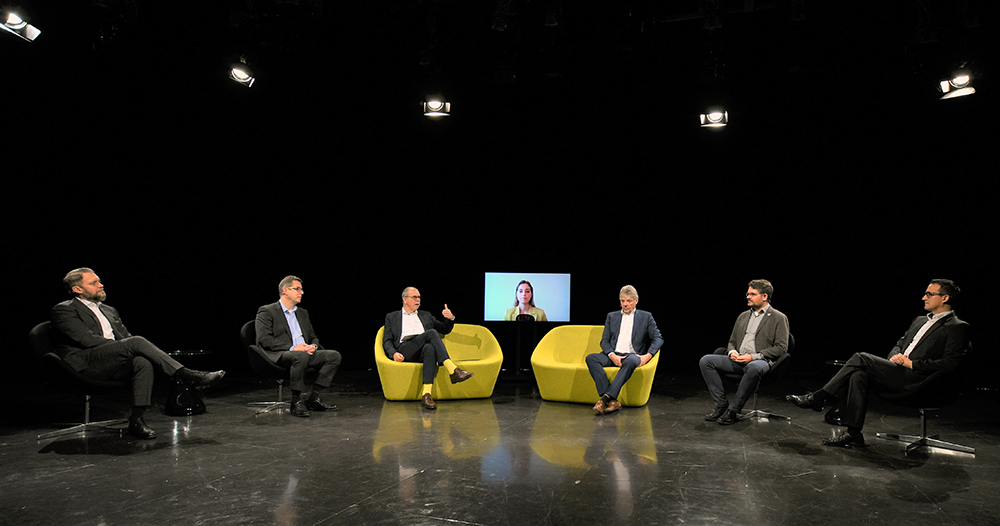 The upco­m­ing new Machi­ne Pro­ducts Regu­la­ti­on of the Euro­pean Uni­on – whoever invi­tes to such an initi­al­ly unwie­l­dy topic is bound to find hims­elf in a small cir­cle. Not so! More than 600 par­ti­ci­pants had regis­tered for the first Safe­ty Talk in mid-Novem­ber. And around 500 inte­res­ted peop­le were per­ma­nent­ly on site digi­tal­ly and live when the color­ful­ly leg-clad mode­ra­tor Frank Knaf­la (Head of Busi­ness Deve­lo­p­ment Buil­ding Tech­no­lo­gies Phoe­nix Con­ta­ct) invi­ted his six stu­dio guests to talk on the Yel­low Sofa in the Media Hub of Mes­se Hannover.
What remains, what is new and what will become?
Becau­se the topic of the kick-off event for the Safe­ty and Secu­ri­ty seri­es of topics is obvious­ly alrea­dy bur­ning under the nails of the mecha­ni­cal engi­nee­ring indus­try. This is des­pi­te the fact that the regu­la­ti­on is only avail­ab­le in its first drafts and will not actual­ly be imple­men­ted until 2024. But machi­ne buil­ders can­not rest­ruc­tu­re their pro­duc­tion wit­hin a few mon­ths, but rely on long-term planning.
As a repre­sen­ta­ti­ve of her indus­try, Dina Reit was online. The 29-year-old descri­bes herself as the suc­ces­sor, the up-and-com­ing entre­pre­neur will per­spec­tively take over the fami­ly-run machi­ne manu­fac­tu­rer SK Laser. Initi­al­ly, it fears fric­tio­n­al los­ses and uncer­tain­ties for its own com­pa­ny and the ent­i­re indus­try due to gray are­as that lea­ve room for inter­pre­ta­ti­on wit­hin the wor­d­ing of the new regulation.
As head of the Machinery/Fabrication Sys­tems Com­pe­tence Cen­ter of the Ger­man Employ­ers' Lia­bi­li­ty Insuran­ce Asso­cia­ti­on for Wood and Metal, Alo­is Hüning is fami­li­ar with the cur­rent Machine­ry Direc­ti­ve and its Euro­pean revi­si­on in detail. He descri­bed why the new EU direc­ti­ve came about in the first place: "As part of a regu­lar review in 2018, it was con­clu­ded that the cur­rent third ver­si­on of the Machine­ry Direc­ti­ve nee­ded a new ver­si­on to make it fit for the future." But the gra­dua­te engi­neer reas­su­red: "The­re is real­ly not very much that is new. What has been chan­ged and sup­ple­men­ted is pri­ma­ri­ly the new area of AI, arti­fi­cial intel­li­gence, and secu­ri­ty and safe­ty soft­ware." Wher­eby he also exp­lai­ned, "The inclu­si­on of the topics of AI and soft­ware means that many machi­nes fall under this regu­la­ti­on more quick­ly than befo­re. Mid-sized machi­ne buil­ders need to pay atten­ti­on to that."
Bits and Bytes to Drill and Mill
Is soft­ware a com­po­nent of a machi­ne? What about the asso­cia­ted pro­duct lia­bi­li­ty? If anyo­ne knows their stuff here, it's Phil­ipp Reusch, becau­se the lawy­er is a pro­ven expert in pro­duct lia­bi­li­ty and pro­duct safe­ty. "Now the ope­ra­tor is whe­re the cyber­se­cu­ri­ty buck stops. This has shifted lia­bi­li­ty, away from manu­fac­tu­rers. Tho­se who don't adhe­re to defi­ned patches, for examp­le, are then responsible."
The focus is incre­a­singly shif­ting to the lar­ge topic area of secu­ri­ty-rele­vant soft­ware and secu­ri­ty. "If you can't get it cyber­se­cu­re, you can't get it safe" was the clear state­ment of Jens Wies­ner, who heads the "Refe­rat Cyber-Sicher­heit für indus­tri­el­le Steue­rungs- und Auto­ma­ti­sie­rungs­sys­te­me im Bun­des­amt für Sicher­heit in der Infor­ma­ti­ons­tech­nik". Con­stant new attacks from the sinis­ter world of data pira­tes make peop­le sen­si­ti­ve when it comes to lin­king the pure­ly phy­si­cal world of machi­nes and their ever-expan­ding net­wor­king, auto­ma­ti­on and control.
If you can't get it cyber­se­cu­re, you can't get it safe.

Jens Wies­ner
Cars­ten Gre­go­ri­us, Pro­duct Mana­ger Safe­ty Phoe­nix Con­ta­ct Elec­tro­nics, clear­ly calls out the chal­len­ges for all machi­ne buil­ders and also his own com­pa­ny: "The topic of cyber­se­cu­ri­ty is very pre­sent in the new stan­dard and is the big­gest chunk that machi­ne buil­ders and we as manu­fac­tu­rers of safe­ty com­pon­ents have to swal­low. At the same time, maxi­mum secu­ri­ty can­not always be the best secu­ri­ty level, as ope­ra­bi­li­ty must not be restricted."
Tors­ten Gast, Head of Com­pe­tence Cen­ter Ser­vices, Phoe­nix Con­ta­ct Deutsch­land GmbH: "Cyber­se­cu­ri­ty is pro­cess-rela­ted, invol­ving much more than just a few moni­to­red access points or com­pon­ents. So far, only a few machi­ne buil­ders are on the road here, even if they know that this is an incre­a­singly cen­tral topic for the future."
No won­der that the talk on the Yel­low Sofa was not just a sin­gle event, but the start of a who­le seri­es in which the topics will be dealt with in grea­ter depth. Tors­ten Gast, the initia­tor of the Safe­ty Talk, exp­lains that the­re will be fur­ther work­shops on the topics in the spring of 2022 in order to con­duct more in-depth dis­cus­sions with the machi­ne manufacturers.
The inte­rest is immense: More than 90 par­ti­ci­pants have alrea­dy regis­tered for the work­shops.
And on safety.talk.de you can watch the record­ing and regis­ter for the free workshops.
Phoe­nix Con­ta­ct Safe­ty and Secu­ri­ty Blog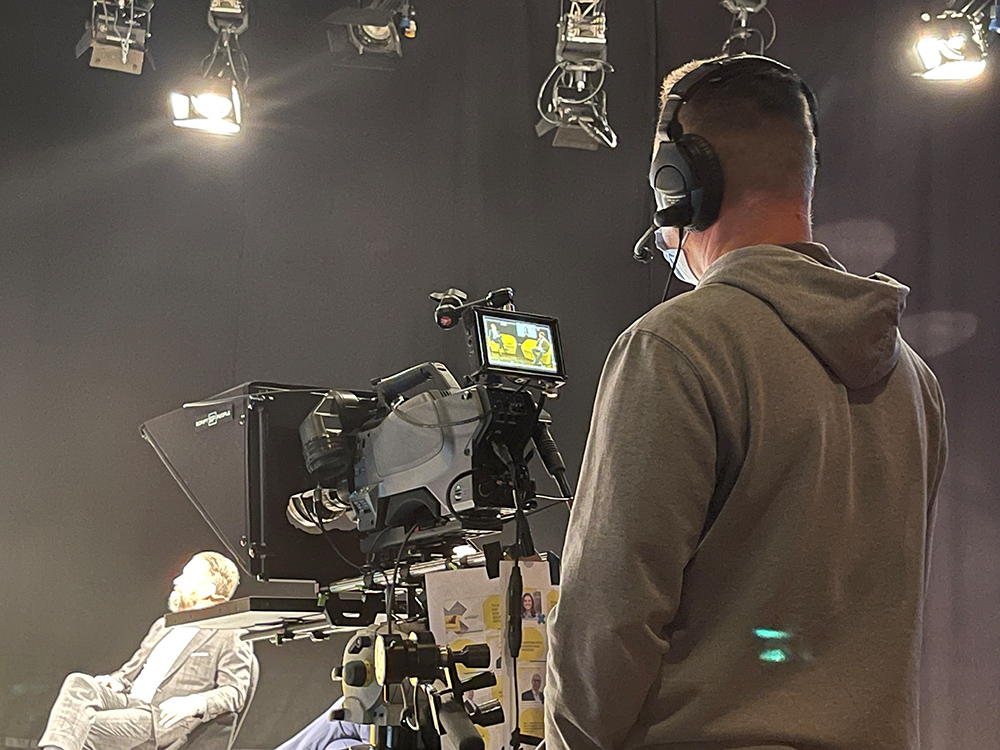 This post is also avail­ab­le in:

Deutsch