If the yel­low safe­ty relays or con­trols trip, the per­son is pro­tec­ted and the machi­ne is off. The Com­pe­tence Cen­ter Ser­vices comes into play to ensu­re that this func­tions smooth­ly and that a sys­tem error does not trig­ger expen­si­ve down­ti­mes. A visit to a very spe­cial "rapid reac­tion force".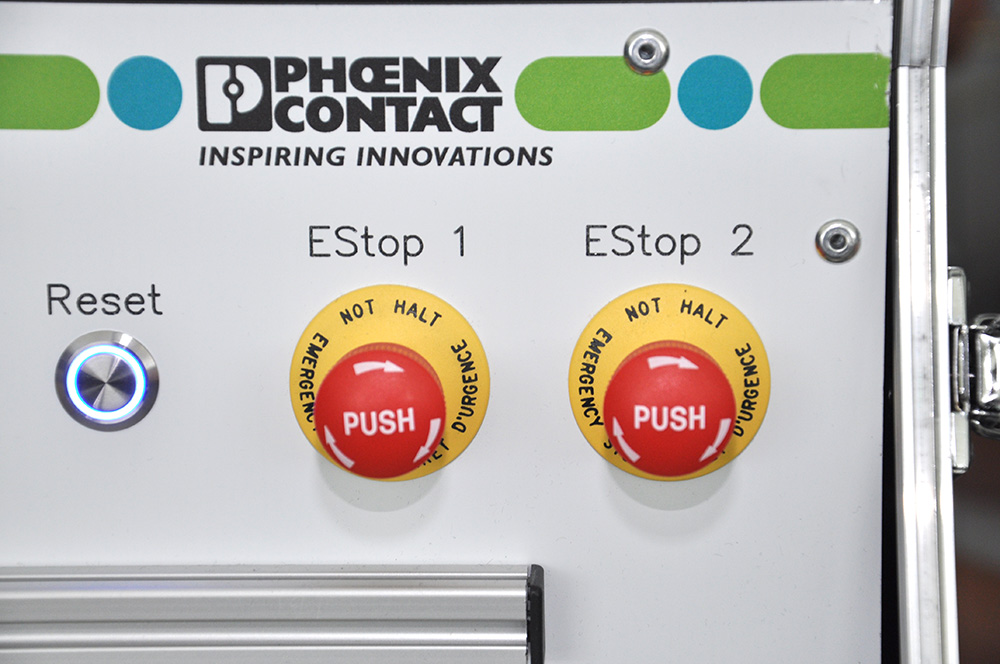 Most important tools of the Safe­ty Hot­line? Pho­ne and eMail. If you con­ta­ct the spe­cia­lists from the Com­pe­tence Cen­ter Ser­vices, you have a pro­blem that needs to be sol­ved as quick­ly as pos­si­ble. Howe­ver, anyo­ne who ima­gi­nes employees who are always armed with a head­set and usual­ly only moder­ate­ly trai­ned to ans­wer rather than deal with the mass calls from stres­sed cus­to­mers will rub their eyes in ama­ze­ment when visi­t­ing the "Safe­ty" area at Phoe­nix Con­ta­ct. It is true that head­sets are also avail­ab­le here. But whe­re do you find com­plex con­trol cabi­net app­li­ca­ti­ons on every desk? In which hot­line are test runs in lar­ge-sca­le tests on the wall? And whe­re do signal colo­red safe­ty jackets hang direct­ly in front of the door? Trans­la­ted with www.DeepL.com/Translator (free version)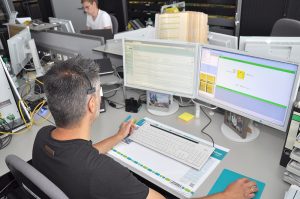 Com­pe­tence for standstill
"We are all trai­ned safe­ty engi­neers," says Vol­ker Lan­ge exp­lai­ning the com­po­si­ti­on of the four-mem­ber team in which the 48-year-old is acti­ve. Safe­ty engi­neers are experts who test and assess the safe­ty of machi­nes and, if necessa­ry, make chan­ges. In addi­ti­on, the experts are fami­li­ar with all the rele­vant stan­dards that must be obser­ved for machi­ne and ope­ra­tio­nal safety.
"One has no idea what cus­to­mers can do when it comes to security."

Vol­ker Lan­ge, Safe­ty Engi­neer, Phoe­nix Contact
What sounds like dust-dry mat­ter can quick­ly beco­me rea­li­ty if necessa­ry. "The­re has alrea­dy been the situa­ti­on whe­re col­leagues were picked up by heli­co­p­ter and taken to the cus­to­mer," says Vol­ker Lan­ge, describ­ing the anything but mono­to­nous work of the Com­pe­tence Cen­ter Ser­vices. "Usual­ly things are a litt­le less dra­ma­tic," he smi­les. Nevertheless, things get serious when, for examp­le, a lar­ge com­pos­ting plant has to extend its emer­gen­cy stop capa­bi­li­ty and the crea­ti­on of a soft­ware spe­ci­fi­ca­ti­on is requi­red. Or the manu­fac­tu­rer of a dri­v­er­less trans­port sys­tem (AGV) needs a demo solu­ti­on that requi­res not only stan­dard pro­gramming of the con­trol modu­les but also appro­pria­te safe­ty programming.
Based on their expe­ri­ence with con­trol tech­no­lo­gies, the sup­por­ters also pro­vi­de sup­port for net­work-com­pa­ti­ble hybrid motor star­ters and ener­gy mea­su­ring devices, in this case also on behalf of the Phoe­nix Con­ta­ct pro­duct lines inter­na­tio­nal­ly. "Ques­ti­ons such as the inte­gra­ti­on into indus­tri­al net­works are fre­quent", Lan­ge chats from the sewing box.
Real­ly smart
"Actual­ly, howe­ver, we are more of an advi­so­ry ser­vice, for examp­le, we sup­port our sales col­leagues when they visit cus­to­mers. Or we help on site if pro­blems with the secu­ri­ty app­li­ca­ti­on ari­se. We also pro­vi­de sup­port during com­mis­sio­ning after a new instal­la­ti­on and take a clo­se look at secu­ri­ty concepts."
If the tele­pho­ne con­sul­ta­ti­on is not suf­fi­ci­ent in the event of an acu­te mal­func­tion, the hot­line experts can also remo­te­ly con­nect to the customer's PC if he wis­hes to do so. "In this way, the vast majo­ri­ty of errors can be quick­ly iden­ti­fied and the pro­blems sol­ved," exp­lains Lan­ge. If things get more com­pli­ca­ted, they can even repro­du­ce a pie­ce of equip­ment in the office. Most of the safe­ty com­pon­ents are stored in a small wareh­ouse. This allows pos­si­ble wiring or con­nec­tion errors to be imi­ta­ted and tra­cked down. "By the way, also with com­pon­ents from other manu­fac­tu­rers, which are com­bi­ned with ours." No won­der that Vol­ker Lan­ge and his col­leagues have more of an e‑laboratory look than a "nor­mal" office. And the jackets in front of the door?
"If the machi­ne con­ti­nues to stand still and resists all attempts at cor­rec­tion, then we grab tools, mea­su­ring equip­ment and a selec­tion of spa­re parts and dri­ve to the cus­to­mer." The head­set is then not nee­ded. But the appro­pria­te clot­hing for use bey­ond the desk. A touch of the fire bri­ga­de and ope­ra­ti­ons cent­re that sur­rounds this extra­or­di­na­ry hotline.
This post is also avail­ab­le in:

Deutsch