The wave of e‑mobility is cres­ting. And it's mas­si­ve. It's asso­cia­ted with the deve­lop­ment and tes­ting of new tech­no­lo­gies in pre­vious­ly undreamt-of dimen­si­ons. At Phoe­nix Test­lab in Blom­berg, lithi­um-ion bat­te­ry packs weig­hing up to 800 kg are tested. A look behind the sce­nes at a modern tor­tu­re cham­ber.
The lords of time tra­vel
"Our job is to arti­fi­ci­al­ly age lithi­um-ion bat­te­ries in the pro­to­ty­pe sta­ge. With our sophisti­ca­ted test methods, we stress the sen­si­ti­ve ener­gy sources to such an extent that it cor­re­sponds to far more than what is sustai­ned over one vehi­cle ser­vice life." A vir­tu­al time machi­ne. A litt­le magic after all! "We stric­t­ly fol­low the manu­fac­tu­rers' spe­ci­fi­ca­ti­ons," Jon­ca says, exp­lai­ning his tasks.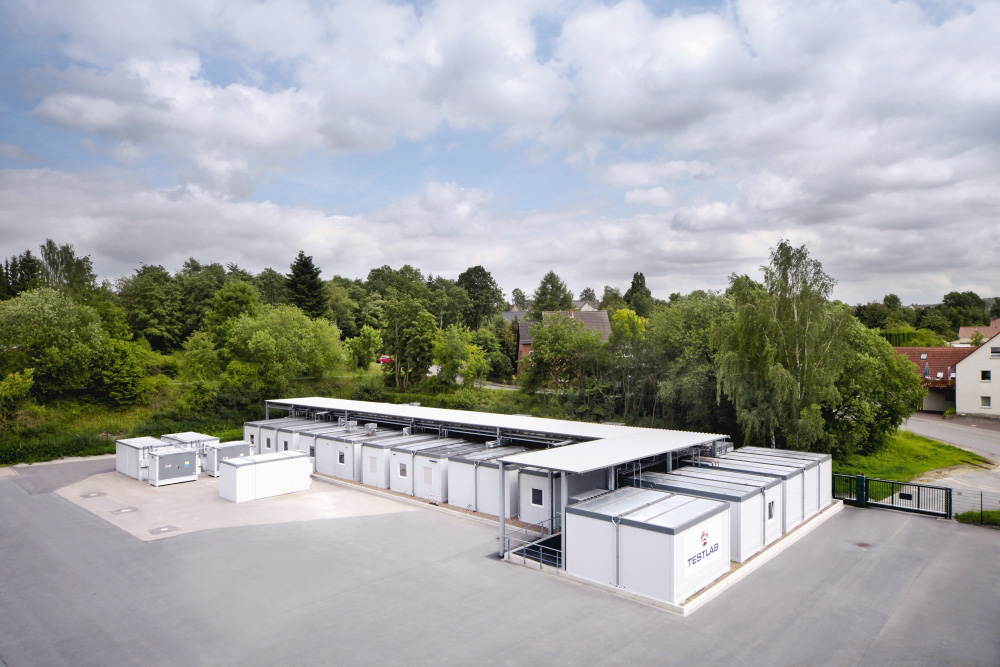 Phoe­nix Test­lab is an inde­pen­dent test insti­tu­te foun­ded in 1994 by Phoe­nix Con­tact and which is now ope­ra­ting under the name Phoe­nix EMV-Test GmbH. The rea­son it was foun­ded was the elec­tro­ma­gne­tic com­pa­ti­bi­li­ty test (EMC for short), which has been man­dato­ry sin­ce that time. From the very begin­ning, the inde­pen­dence of the insti­tu­te was an important fea­ture of the test labo­ra­to­ry, despi­te its pro­xi­mi­ty to the foun­ding com­pa­ny. This inde­pen­dence is one of the cor­ner­stones for the rapid suc­cess of this high­tech com­pa­ny. Ano­t­her one is that the custo­mer is king.
"The con­struc­tion of this test cen­ter began with the­se con­tai­ners." Tog­e­ther with Tho­mas Worsch, the mar­ke­ting expert from Phoe­nix Test­lab, we start a tour of the test insti­tu­te. "Con­tai­ners are ide­al becau­se we can hand­le the respec­tive test com­ple­xes and the test spe­ci­mens indi­vi­dual­ly for safe­ty rea­sons," Micha­el Jon­ca exp­lains. "Alt­hough we don't test any dest­ruc­tion sce­n­a­ri­os here, so we don't inten­tio­nal­ly expo­se the test object to dest­ruc­tive force. But our dura­bi­li­ty and ser­vice life tests also stress the lar­ge bat­te­ries con­si­der­a­b­ly. "The­re­fo­re, the­re is also a very clo­se coope­ra­ti­on with the local fire bri­ga­de, which has to quick­ly get a poten­ti­al fire under con­trol wit­hout end­an­ge­ring the rest of the test lab and the employees and sur­roun­ding resi­dents."
No won­der then that, at the end of this test run, the test objec­ts are left to sit for one or two weeks until they are retur­ned to the cli­ent. "The che­mi­cal reac­tions in the bat­te­ry don't end abrupt­ly; they con­ti­nue for awhile," exp­lains the head of the bat­te­ry labo­ra­to­ry. "The dan­ger of igni­ti­on during tran­sit would be too gre­at to return them imme­dia­te­ly."
Shaking for the ship­ping indus­try
Things are get­ting mecha­ni­cal. We march to the next tor­tu­re cham­ber. It sounds like a fair­ground: "This is our shaker, our shaking cham­ber. Here we shake the bat­te­ry pack for about two weeks unin­ter­rup­ted, com­bi­ned with an envi­ron­men­tal cham­ber so that we can simu­la­te heat and cold." The dimen­si­ons of the test stand, which is as tall as a house, are enor­mous. "We lift the test object tog­e­ther with its aggre­ga­te frame, which we've manu­fac­tu­red, into place with a five-ton cra­ne." The steel shaking pla­te alo­ne weighs 35 tons. It's spring-moun­ted in the foun­da­ti­on, other­wi­se the ground would trem­ble in a wide radi­us around it," reports Tho­mas Worsch. Jon­ca adds, "Here, we also test com­pon­ents from ship­ping and indus­try, not just bat­te­ries, but also ent­i­re con­trol cabi­nets."
The test stand vibra­tes using the "unia­xi­al vibra­ti­on method". To shake a test object in all three dimen- sions, its posi­ti­on on the test sys­tem is chan­ged. The test stand also has one more nas­ty sur­pri­se for the spe­ci­mens: "We also simu­la­te a mecha­ni­cal shock, such as dri­ving over a curb. That's a load of up to 50 g on the test object."
The bat­te­ries some­ti­mes spend six mon­ths, some­ti­mes even almost a year and a half, in the Phoe­nix Test­lab, depen­ding on custo­mer requi­re­ments. The piti­ful endu­ran­ce run­ners can't avo­id the next mar­tyr­dom test: the T‑shocker. "For ten to thir­ty days, the bat­te­ry pack must be able to with­stand a tem­pe­ra­tu­re drop of ‑40 °C to +75 °C. The­se are very typi­cal demands in the auto­mo­ti­ve indus­try," Micha­el Jon­ca says, let­ting us mar­vel. "Here, the strength of the outer casing is strai­ned."
Last hurd­le swim­ming pool
If the test object is still in a good mood up to this point, the next tor­tu­re loo­m­ing ahead will place it in the plun­ge pool. "This lar­ge pool is brand new," Jonca's voice echoes through the spe­cia­li­zed swim­ming space. On the cei­ling is the lar­ge cra­ne that lifts the bat­te­ries into cold or warm water. "We can also heat the water."
A team of engi­neers and staff is respon­si­ble for each bat­te­ry pack, sin­ce the respec­tive test pro­ce­du­res are com­ple­te­ly dif­fe­rent. "At the moment, we're tes­ting twel­ve dif­fe­rent test objec­ts, and the­re­fo­re also twel­ve dif­fe­rent ener­gy sources, for their respec­tive elec­tric vehi­cles." If you accom­pa­ny the nice Mr. Jon­ca through his tor­tu­re cham­bers, you can be sure that the test objec­ts that escape unhar­med here will endu­re almost any tor­tu­re with ease.
This post is also avail­ab­le in:

Deutsch