How are you sup­po­sed to access the data gene­ra­ted by a bea­ring that is loca­ted in a gigan­tic mixing tank in which hot mol­ten plastic is slo­shing around? A rese­arch group from TU Dres­den, in coope­ra­ti­on with BASF and Phoe­nix Con­ta­ct, are working on pre­cise­ly this issue.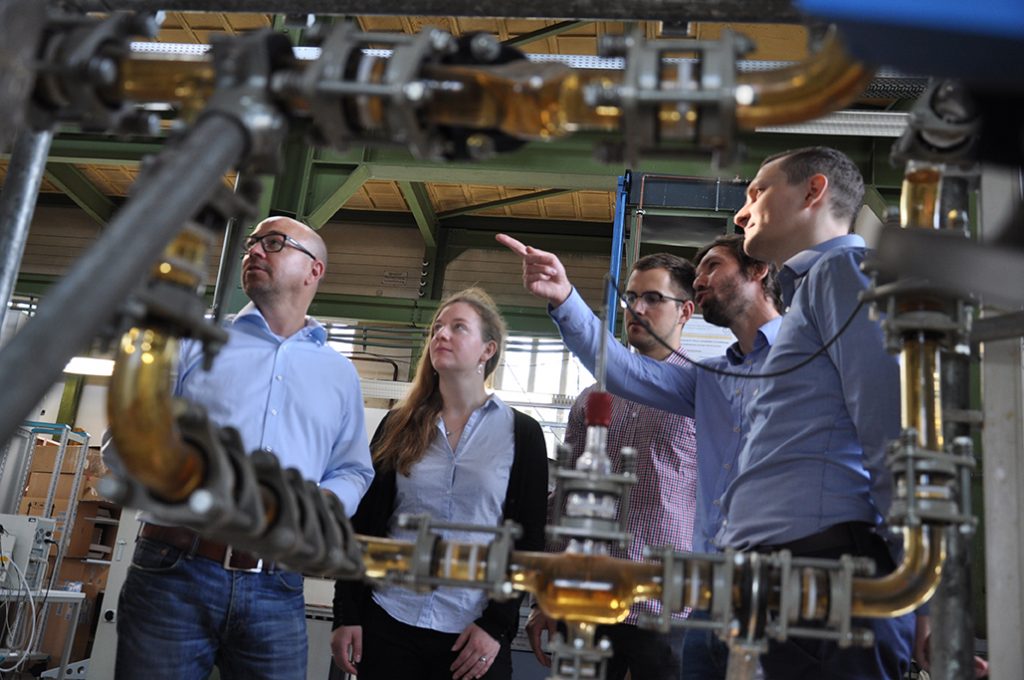 The BASF faci­li­ty in Schwarz­hei­de, Ger­ma­ny, pro­du­ces che­mi­cal base mate­ri­als. Loca­ted in the midd­le of the ligni­te mining area of Lusa­tia, the plant was estab­lis­hed in 1935 as the Schwarz­hei­de Hydro­ge­na­ti­on Plant, and was initi­al­ly used to pro­du­ce syn­the­tic gaso­li­ne from ligni­te. Today, it belongs to BASF SE and its main pur­po­se sin­ce 1972 has been poly­ure­tha­ne pro­duc­tion. In addi­ti­on, the plant also pro­du­ces engi­nee­ring plastics, foams, pesti­ci­des, and paints.
Avoiding down­ti­me at all costs
Pro­ces­ses such as hea­ting, coo­ling, mixing, and cas­ting are used to syn­the­si­ze the respec­ti­ve end pro­ducts from the base sub­s­tan­ces. The con­tents are mixed tog­e­ther and hea­ted to tem­pe­ra­tures of several hund­red degrees in power­ful mixing tanks. The­se are a cen­tral com­po­nent of the pro­duc­tion pro­cess. If the tanks stop, pro­duc­tion stops. Then it gets expensive.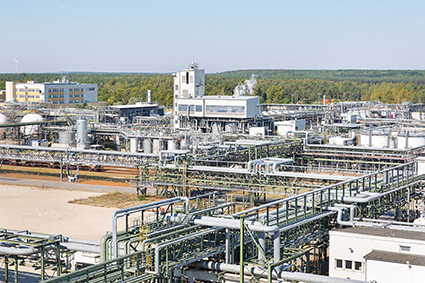 The mixer units in the­se tanks are moved by extre­me­ly strong bea­rings. The­se bea­rings are sub­ject to nor­mal levels of wear. The pro­blem is that, becau­se the mixer units are in the tank, the bea­rings are inac­ces­si­ble. If the bea­ring fails, it hap­pens sud­den­ly and without warning. The­re­fo­re, main­ten­an­ce rou­ti­nes in which the mixing tank can be inspec­ted and, if necessa­ry, the bea­ring repla­ced must fol­low a rigid sche­du­le, which is always shor­ter than the actu­al wear, so that the sys­tem can be shut down in a con­trol­led manner.
Wouldn't it be nice to be able to deter­mi­ne the sta­te of the bea­ring and the­re­fo­re the sta­bi­li­ty of the pro­cess more pre­cise­ly and as clo­se to real time as pos­si­ble? Then pro­duc­tion would only have to be stop­ped when the sta­te of the bea­ring actual­ly neces­si­ta­tes a replacement.
But how do you access the bea­ring? And which sen­sors can with­stand expo­sure to aggres­si­ve che­mi­cals under heat and pres­su­re reli­ab­ly and for years?
Pro­ject wanted
This is whe­re the new PLCnext Tech­no­lo­gy from Phoe­nix Con­ta­ct comes in: this open-sys­tem con­trol tech­no­lo­gy uses high-level lan­guages. And not only that – sta­te-of-the-art soft­ware tools such as Mat­lab Simu­link are easy to inte­gra­te into PLCnext. This nee­ded to be pro­ved. So, as part of this year's NAMUR Annu­al Gene­ral Mee­ting, atten­de­es set out to find a pro­ject in which PLCnext Tech­no­lo­gy was con­fron­ted with moni­to­ring slow rota­ting equip­ment – a typi­cal app­li­ca­ti­on in the
pro­cess industry.
That's when TU Dres­den came into play: after all, Head of the Chair of Pro­cess Con­trol Sys­tems and the Sys­tem Pro­cess Engi­nee­ring working group at the Tech­ni­cal Uni­ver­si­ty Dres­den, Pro­fes­sor. Dr. Leon Urbas, knows the indus­try. And he knows Phoe­nix Con­ta­ct. He gave the right advice regar­ding the hot tank and its bat­te­red but almost inac­ces­si­ble bearing.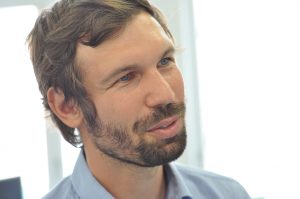 Dr. Mar­kus Grau­be is the head sci­en­tist in the "Pro­cess To Order" labo­ra­to­ry at the insti­tu­te. This labo­ra­to­ry is con­si­de­red a lea­der in Ger­ma­ny when it comes to "model-based, data-dri­ven, and infor­ma­ti­on tech­no­lo­gy approa­ches for describ­ing and pre­dic­ting the beha­vi­or of modu­lar sys­tems". Sim­ply put, sci­en­tists want to use data to make pre­dic­tions about the sta­te of sys­tems. This is to say, to be able to look into the tank without having to phy­si­cal­ly access it.
This makes them ide­al part­ners for PLCnext Tech­no­lo­gy. The stu­dents use high-level lan­guages to pro­gram the algo­rith­ms with which the con­trol­lers can make pre­dic­tions based on the data obtai­ned and deri­ve actions such as alarms or the reduc­tion of rota­tio­nal speeds. Pro­gramming in machi­ne code, which clas­sic con­trol­lers work with, is too com­plex and expensive.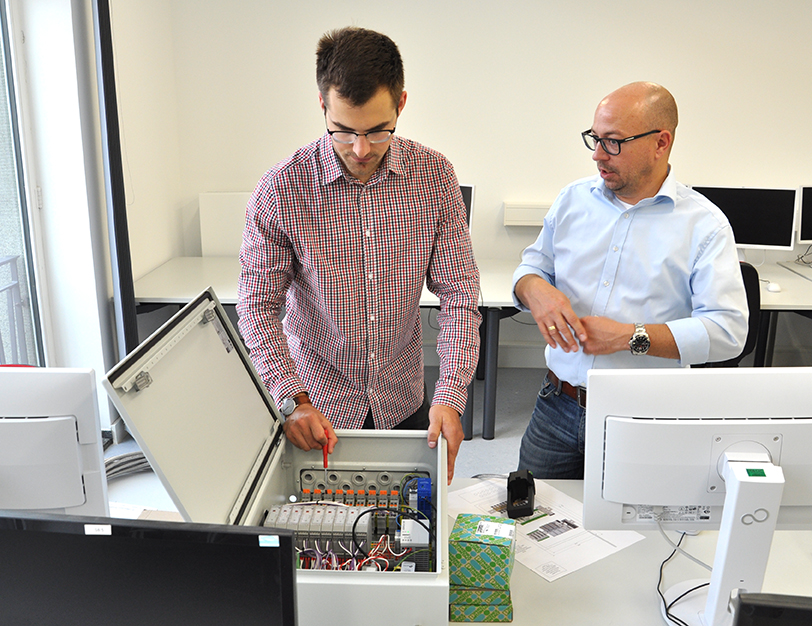 Ide­al partners
In coope­ra­ti­on with the spe­cia­lists from Phoe­nix Con­ta­ct, Grau­be and his team deve­lo­ped a com­plex algo­rithm that makes it pos­si­ble to draw con­clu­si­ons on the sta­te of the bea­ring from the cur­rent con­su­med by the electric motor, the tem­pe­ra­tu­re, and the com­po­si­ti­on of the mate­ri­al in the tank.
The algo­rithm, crea­ted with the help of Mat­lab Simu­link, is able to reco­gni­ze any devia­ti­ons cau­sed by a defec­ti­ve, slug­gish bea­ring and to issue a warning befo­re the bea­ring com­ple­te­ly fails. The algo­rithm was uploa­ded to the con­trol­ler without any problems.
In order to enab­le the tar­get pre­dic­ti­ve main­ten­an­ce, the con­trol cabi­net and its inno­va­ti­ve con­trol­ler are now instal­led on site and are busy record­ing data. The bea­ring, howe­ver, is not yet play­ing ball. So far it has run smooth­ly and the­re have been no situa­tions in which inter­ven­ti­on was necessa­ry, which would allow the algo­rithm to learn. Ever­yo­ne invol­ved, howe­ver, is in full agree­ment: it's only a mat­ter of time.
This post is also avail­ab­le in:

Deutsch