We'll stay at the lovely Blom­berg. The final sta­ge of the search for the digi­tal twin takes us to the heart of Phoe­nix Con­ta­ct. The company's own tool shop is one of the flagships of the com­pa­ny. And this is whe­re we actual­ly find it – the first digi­tal twin of our hunt!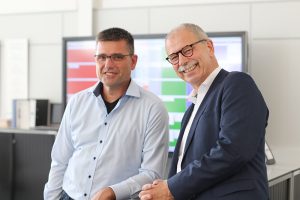 One of the entre­pre­neu­ri­al strengths of Phoe­nix Con­ta­ct has always been its ver­ti­cal ran­ge of manu­fac­tu­ring, which also inclu­des the in-house manu­fac­tu­ring of machi­nes and tools for production.
The first stop starts in the office of Dr. Sven Hols­ten, Head of Tool­ma­king. And then we go strai­ght back out the door with him, whe­re an impres­si­ve touch screen is instal­led. "Here we see the real digi­tal twin in its app­li­ca­ti­on," exp­lains the doc­to­ral gra­dua­te mecha­ni­cal engi­neer. "All of the data­sets for our tools, in other words, the mas­ter data, cos­ts, dates, acti­vi­ties, images, and time win­dows, can be retrie­ved and view­ed here. From any­whe­re in the world, and in real time." The injec­tion mold tools are tra­cked using RFID tech­no­lo­gy. "A total of 1,400 tools are cur­r­ent­ly in use at our pro­duc­tion sites in Ger­ma­ny and Poland."
When we move into pro­duc­tion, the app­li­ca­ti­on beco­mes clear: "In order to make hand­ling our tools fas­ter, we use aug­men­ted rea­li­ty in tool­ma­king," exp­lains Ste­fan Flach­mann, who is respon­si­ble for manu­fac­tu­ring the spe­cial tools. "Using smart­glas­ses allows the machi­ne ope­ra­tor to set up tools inde­pendent­ly when a refit is necessa­ry. By dis­play­ing infor­ma­ti­on about the real image, the employee is gui­ded in such a way that they always car­ry out the opti­mal next work step."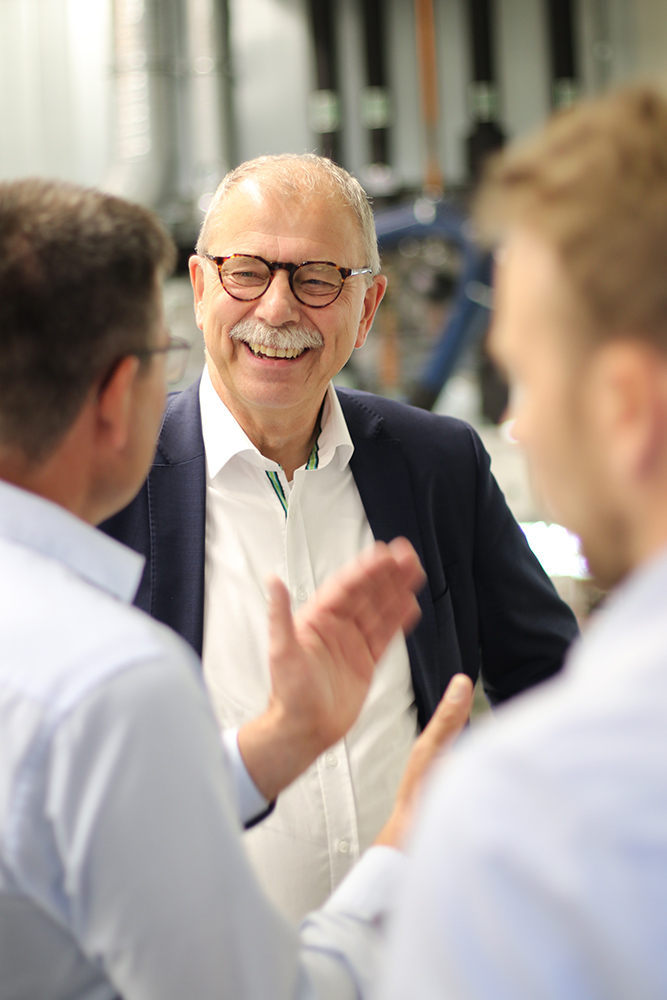 The pure assem­bly work is not the only advan­ta­ge of this use of the digi­tal image. "By super­im­po­sing the digi­tal twin, we can per­form an opti­mi­zed qua­li­ty con­trol inspec­tion immedia­te­ly. When chan­ges are made, the sys­tem is always up to date, without the need to reprint manu­als and then dis­tri­bu­te them again. This hel­ps to avoid mista­kes that would other­wi­se occur from time to time due to the dif­fe­rent levels of know­ledge the respec­ti­ve col­leagues have."
How do you like your twin?
A few steps down the line, we are met by Hen­rik Urhahn. He is respon­si­ble for the mea­su­ring tech­no­lo­gy in the in-house tool shop. And he pro­du­ces a digi­tal twin with poly­sty­re­ne blocks and com­pu­ter tomo­gra­phy. This unusu­al com­bi­na­ti­on is quick­ly exp­lai­ned. "We posi­ti­on our real tools with the help of poly­sty­re­ne, becau­se it is invi­si­ble when scan­ned by the X‑ray machi­ne." When the com­po­nent to be mea­su­red is inser­ted into the tomo­gra­phy machi­ne, around 1,500 images are taken from all angles. "This will give us a 360-degree view in about an hour and a half. This used to invol­ve labo­rious indi­vi­du­al work with cali­pers, and it took days."
Spe­cial soft­ware requi­res around 20 pro­ces­sor-inten­si­ve minu­tes to gene­ra­te a digi­tal image of the real tool. "This will then be com­pa­red to the alrea­dy-exis­ting ori­gi­nal digi­tal twin. This means that we can see immedia­te­ly if tools don't meet our qua­li­ty requirements."
Which would actual­ly mean that we have a digi­tal triplet, becau­se in addi­ti­on to the real work­pie­ce and the digi­tal twin, a third image is now gene­ra­ted, which is exami­ned pure­ly digi­tal­ly for deviations.
We feed it
We train it
We con­trol with it
We print with it
We'­ve got it!
This post is also avail­ab­le in:

Deutsch