The first sta­ti­on of the search for the digi­tal twin leads us to Bad Pyr­mont. The­re we meet Mar­kus Becker. He is sup­po­sed to work with the twin …
The loca­ti­on of our prin­ted cir­cuit board and con­trol pro­duc­tion is in Bad Pyr­mont. The­re Mar­kus Becker heads the elec­tro­me­cha­ni­cal deve­lop­ment of the Inter­face Com­pon­ents busi­ness unit. This is the area in which the pro­duct struc­tu­re is defi­ned and the pro­duc­ts are desi­gned three-dimen­sio­nal­ly. "But you won't find the twin here," the expert tells us as he wel­co­mes us, taking the wind out of our sails. "Not all of it, any­way," he adds, com­for­ting us.
Data sets made fit
"In addi­ti­on to our deve­lop­ment activi­ties, our depart­ment com­bi­nes a product's mecha­ni­cal and elec­tro­nic 3D data and enri­ches this data with addi­tio­nal infor­ma­ti­on. This could be inter­faces or func­tions for con­nec­tions and tools that are nee­ded during use or for assem­bly, but which were not crea­ted during the deve­lop­ment pro­cess." In addi­ti­on, Becker and his col­leagues pre­pa­re the data­set in such a way that the resul­ting digi­tal image is actual­ly sui­ta­ble for use in con­trol cabi­net manu­fac­tu­ring.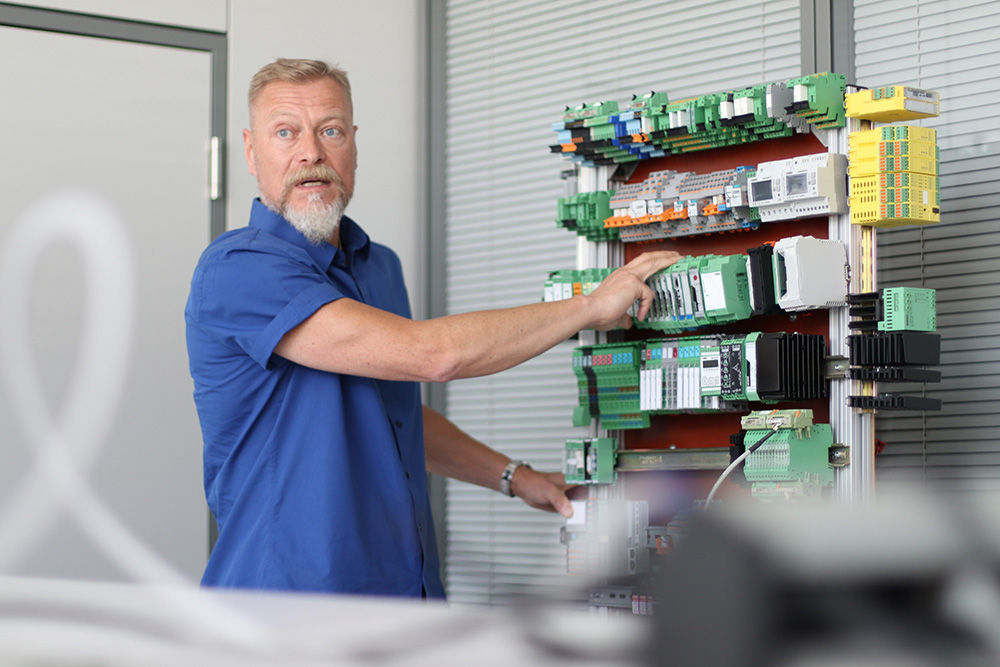 "We're tal­king about a mar­ria­ge of data­sets. Here, we also check for pos­si­ble col­li­si­ons, for cor­rect con­nec­tions and wiring inst­ruc­tions, and store cir­cuit dia­grams. In order to be able to check how many pro­duc­ts fit on a rail, we also keep an eye on the DIN rail. The­se data­sets are then sent to the custo­mer, such as a con­trol cabi­net manu­fac­tu­rer, and also to our tool­ma­king and machi­ne buil­ding depart­ment, which manu­fac­tures the parts and pro­duc­ts necessa­ry for pro­duc­tion."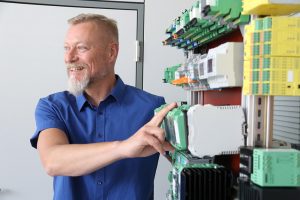 So why doesn't Mar­kus Becker talk about a digi­tal image of the pro­duct, that is to say, a twin? "The data has been around for a long time. It just had a dif­fe­rent name. It is only recent­ly that the data has star­ted being enri­ched with addi­tio­nal infor­ma­ti­on for sub­se­quent pro­ces­ses and then lin­ked."
We feed it
We train it
We con­trol with it
We print with it
We'­ve got it!
This post is also avail­ab­le in:

Deutsch