It goes back to Bad Pyr­mont. The­re you will find a par­ti­cu­lar­ly hot trace of the digi­tal twin – name­ly in the prin­ted cir­cuit board pro­duc­tion, which is at home here.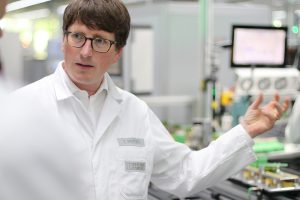 The digi­tal com­pa­n­ion has very tan­gi­ble effec­ts when it arri­ves in pro­duc­tion. This is becau­se in the Inli­ne pro­duc­tion line for PCBs, the pro­duc­tion pro­cess is not con­trol­led by a cen­tral con­trol cen­ter. Ins­tead, it's con­trol­led by the twin. And it does so by stee­ring the strol­ler to stay in the pic­tu­re. The DNA in the twin con­tains all the infor­ma­ti­on on the pro­duc­tion steps and their sequence.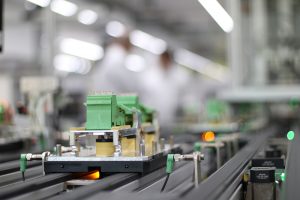 Dr. Till Poten­te is Head of Pro­duc­tion, and he exp­lains to us what this shift in intel­li­gence invol­ves. "The data that each indi­vi­du­al pro­duct alrea­dy has is loa­ded onto an RFID chip that is on board a trans­por­ta­ti­on vehi­cle, the car­ri­er. This car­ri­er then tra­vels on a con­veyor belt from sta­ti­on to sta­ti­on. This trans­por­ter "knows" whe­re it has to go thanks to the infor­ma­ti­on on the chip. If, for examp­le, its car­go needs a mar­king, the car­ri­er swit­ches the down­stream points so that it moves onto the sec­tion of line lea­ding to the laser.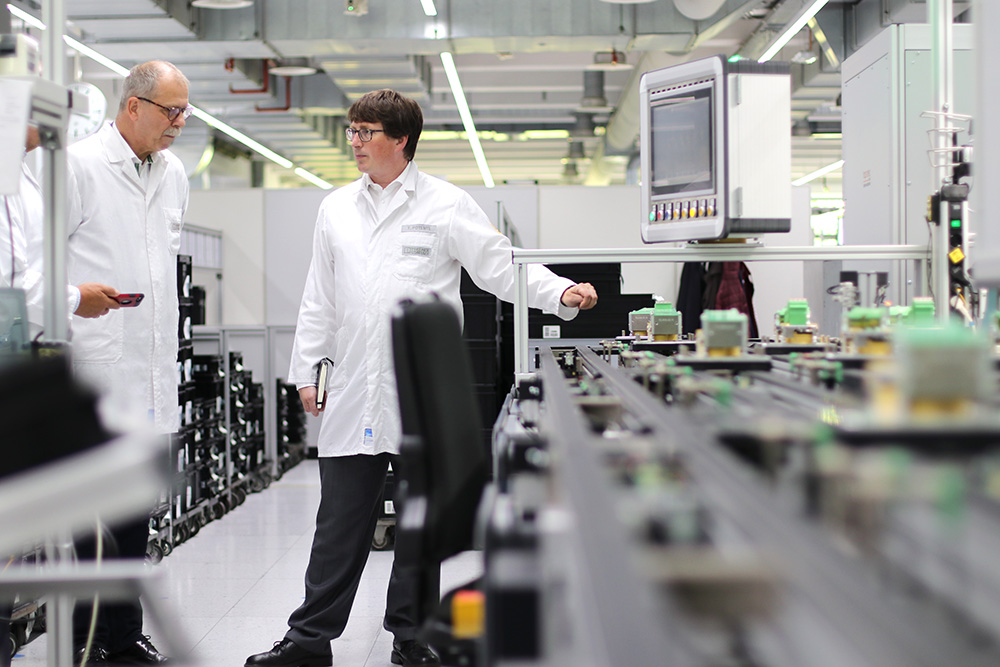 It the­re­fo­re auto­no­mously con­trols pre­cise­ly which work steps it has to go through until the pro­duct, in this case the real twin, has reached com­ple­ti­on. Final­ly, it then goes to qua­li­ty con­trol, whe­re the pro­per­ties are tested against the DNA."
The com­po­nent is the cap­tain
But what's the advan­ta­ge? "The pro­duct con­trols its­elf. This allows us to achie­ve indi­vi­dua­li­za­ti­ons in pro­duc­tion – in other words, to add pro­per­ties and com­pon­ents to an order – at light­ning speed. This ensu­res maxi­mum fle­xi­bi­li­ty in our pro­duc­tion line." Thanks to the data from the digi­tal twin and coor­di­na­ted machi­ne tech­no­lo­gy, indus­tri­al batch size 1 pro­duc­tion, as it were, can be rea­li­zed. "Of cour­se, not in real mass pro­duc­tion, whe­re we would have to rely on a cen­tral con­trol cen­ter again," Dr. Poten­te is quick to point out, "but with small-volu­me orders with gre­at varia­bi­li­ty, the advan­ta­ge of digi­ta­li­za­ti­on comes into its own here."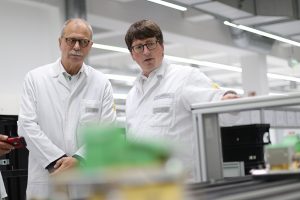 He adds, "By the way, this also makes the sys­tem its­elf extre­me­ly modu­lar, becau­se we can exchan­ge or add dif­fe­rent work­sta­tions as nee­ded wit­hout restric­ting ongo­ing ope­ra­ti­on. This allows us to react quick­ly to new requi­re­ments or minor dis­rup­ti­ons. This makes the pro­cess much more sta­ble." The pro­duct con­trols the sys­tem. Or, to be more pre­ci­se, its digi­tal twin, which is alrea­dy com­ple­te and knows what its real coun­ter­part ought to look like later, does.
We feed it
We train it
We con­trol with it
We print with it
We'­ve got it!
This post is also avail­ab­le in:

Deutsch