Can the world still be saved? CO2 emis­si­ons are still rising world­wi­de. What if we not only avoided cli­ma­te-dama­ging car­bon dioxi­de, but rec­lai­med it from the atmo­s­phe­re? Cra­zy idea? A Swiss com­pa­ny shows how it can be done.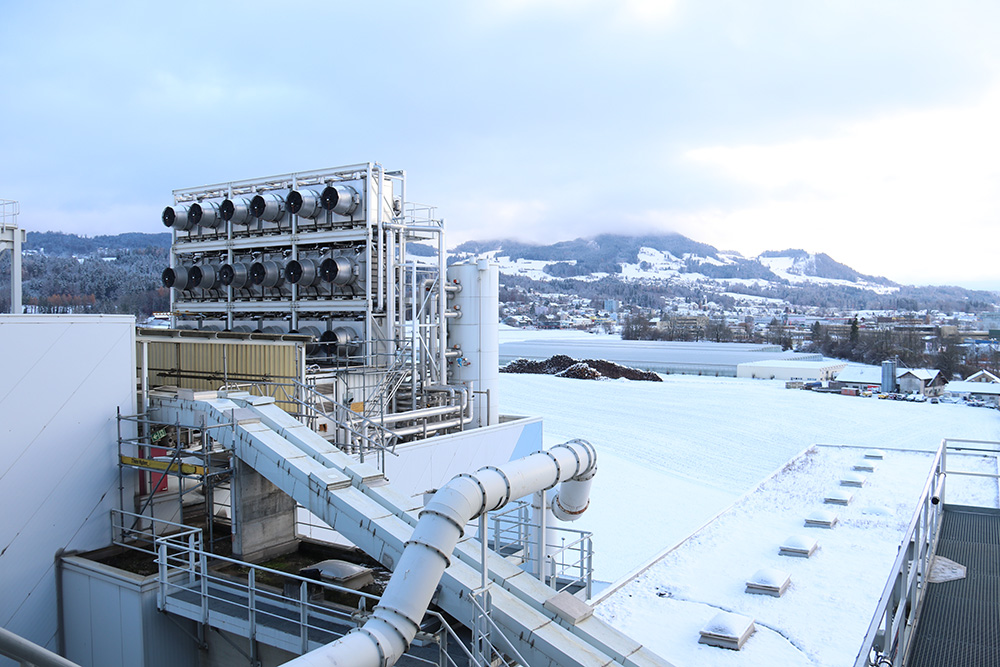 Mee­ting place: was­te inci­nera­ti­on plant. Or was­te inci­nera­ti­on, as it is cal­led in Swiss offi­cial lan­guage. It's cold, a gusty wind whist­les through pipe­lines, around chim­neys and through the lat­ti­ce tube steps that have brought us to the roof of the impo­sing indus­tri­al plant. We are in Hin­wil, in the Zurich Ober­land. In the distance, we can glim­pse the Swiss moun­tain pan­ora­ma, for autumn is well advan­ced even in the land of the Con­fe­de­ra­tes. Gar­ba­ge is being bur­ned bene­ath our feet, but on the roof of the Keh­richt­ver­wer­tung, the air is fresh and clear.
We brea­the "was­te
Which brings us to the gas­eous object of our desi­re. Air. We not only use the earth to depo­sit mil­li­ons of tons of was­te on and in it. Not only the oce­ans, which have to absorb the lega­ci­es of our civi­liz­a­ti­ons. Sin­ce the begin­ning of the Indus­tri­al Revo­lu­ti­on, we have also been using the gas­eous body of our pla­net to absorb the vola­ti­le remains of our hun­ger for raw mate­ri­als. Every year, we pol­lu­te the atmo­s­phe­re with more than 34 bil­li­on tons of car­bon dioxi­de, and the trend con­ti­nues unabated.
The atmo­s­phe­re of our Earth has for­med over mil­li­ons of years. Thanks to the evo­lu­tio­na­ry inven­ti­on of pho­to­syn­the­sis, sin­gle-cel­led orga­nisms and green plants on a lar­ge sca­le have fished car­bon dioxi­de out of the air and, in com­bi­na­ti­on with the ener­gy of sun­light, con­ver­ted it into more com­plex car­bon com­pounds and thus into bio­mass. The was­te pro­duct was and is oxy­gen. When plants decom­po­se again, they theo­re­ti­cal­ly release exact­ly the same amount of car­bon dioxi­de that they pre­vious­ly bound. For­tu­n­a­te­ly for us, not all plants decom­po­se. Often humus is for­med, which, laye­red on top of each other, gra­du­al­ly beco­mes more imper­me­ab­le to oxy­gen. This slows down decom­po­si­ti­on, and the car­bon dioxi­de remains stored in bio­mass. And is thus remo­ved from the atmo­s­phe­re. We our­sel­ves can make good use of the excess oxy­gen that this pro­du­ces, for examp­le for our own respiration.
The princip­le worked bril­li­ant­ly until man came up with the idea of using the stored bio­mass on a lar­ge sca­le as a source of ener­gy. Peat, coal, cru­de oil and natu­ral gas are all rem­nants of the plant sur­plus that has been accu­mu­la­ting for mil­li­ons of years. By using the­se mate­ri­als, we are releasing the bound car­bon dioxi­de. The con­se­quen­ces have long been known: Green­house gas effects and a cli­ma­te chan­ge that will have cata­stro­phic con­se­quen­ces, at least for all oxy­gen brea­thers on this planet.
Solu­ti­on approaches
Saving
The obvious thing to do now would be to drasti­cal­ly redu­ce CO2 emis­si­ons. After all, this emis­si­on threa­tens all of our exis­tence in its cur­rent form. But CO2 emis­si­ons will incre­a­se world­wi­de in the next few years, to well over 40 bil­li­on tons.
The pro­blem is the human psy­che. It is true that we are well pre­pa­red to cope with sud­den cri­ses, to mana­ge dis­as­ters and to sur­vi­ve acci­dents. But cli­ma­te chan­ge is gra­du­al to begin with. The effects bare­ly affect the glo­bal regi­ons in par­ti­cu­lar, which are respon­si­ble for the majo­ri­ty of emis­si­ons. So decisi­on-makers often pre­fer short-term pro­fit to the long-term sur­vi­val of future genera­ti­ons or distant regi­ons.
Alt­hough the eco­no­my is now redi­rec­ting in many seg­ments, the speed at which this is hap­pe­ning will hard­ly be suf­fi­ci­ent to avoid cru­cial tip­ping points at which cli­ma­te events chan­ge drastically.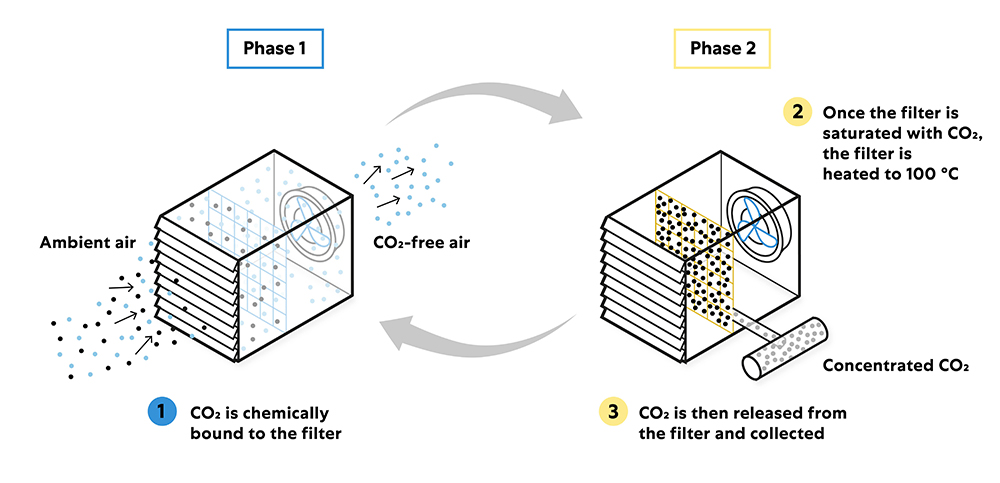 Remo­val
But what if you did­n't just focus on fos­sil fuel con­ser­va­ti­on? What if you actively "take" the CO2 back out of the atmo­s­phe­re? And use it to be able to ope­ra­te in a cli­ma­te-neu­tral way? Or store it in such a way that it would be remo­ved from the mate­ri­al cycle? This is pre­cise­ly the idea that Chris­toph Gebald and Jan Wurz­ba­cher had. The two Ger­man-born mecha­ni­cal engi­neers met at the begin­ning of their stu­dies at ETH Zurich in 2003, and the result of this mee­ting and their sub­se­quent joint work is what we are loo­king at in Hinwil.
The tech­no­lo­gy
The approach of the two mecha­ni­cal engi­neers should delight any tech­no­lo­gy enthu­si­ast. After all, they rely on inno­va­ti­on to remo­ve man-made excess CO2 from the atmo­s­phe­re. During our visit to the roof of the was­te recy­cling plant, we are accom­pa­nied by mem­bers of the PR team of Clime­works, the for­mer start-up foun­ded by Gebald and Wurz­ba­cher in 2009 as an ETH spin-off. In the mean­ti­me, the exci­ting start-up has long sin­ce beco­me an exci­ting com­pa­ny with an inter­na­tio­nal flair. "The inte­rest in our plant is enor­mous; we are now here at least twice a week and take visi­tors up to the roof." This makes this was­te inci­ne­ra­tor pro­bab­ly the most visi­ted plant of its kind in the world.
The Clime­works col­leagues point to one of the house-sized struc­tures that have found their place on the roof. Modu­lar in design, the indi­vi­du­al ele­ments con­sist of lar­ge fans that draw in air and push it through a fil­ter sys­tem. "The tech­no­lo­gy is cal­led direct air cap­tu­re. We suck in air and send it through a fil­ter mate­ri­al, remo­ving car­bon dioxi­de. This is simi­lar to a spon­ge that absorbs CO2 mole­cu­les. The air that escapes the plant is signi­fi­cant­ly lower in CO2 than before."
When the fil­ter mate­ri­al is satu­ra­ted, the respec­ti­ve suc­tion port clo­ses auto­ma­ti­cal­ly. At tem­pe­ra­tures of up to 100 degrees and under vacu­um, the car­bon dioxi­de is sepa­ra­ted from the fil­ter mate­ri­al and the fil­ter is rea­dy for use again. The car­bon dioxi­de is collec­ted, coo­led and com­pres­sed. How the sepa­ra­ti­on works and the exact com­po­si­ti­on of the fil­ter mate­ri­al is hid­den from the view of curious com­pe­ti­tors or media repre­sen­ta­ti­ves, becau­se it takes place insi­de the lar­ge con­tai­ners that are part of the Clime­works plant. The­re­fo­re, we are also denied a view of the inner workings, inclu­ding its con­trol ele­ments. Around 1,500 tons of CO2 are extrac­ted here in Hin­wil every year.
Loca­ti­on advan­ta­ge heat
"The loca­ti­on of the plant is not for clea­ning the exhaust air gene­ra­ted by was­te inci­nera­ti­on," we are told when asked. "Rather, we need the ther­mal ener­gy gene­ra­ted here to release the CO2 from the fil­ter." Clime­works has thus skill­ful­ly eli­mi­na­ted a weak point in the Direct Air Cap­tu­re tech­no­lo­gy: For the sepa­ra­ti­on of CO2 and fil­ter mate­ri­al, the high ener­gy input is other­wi­se a real and very expen­si­ve penal­ty. The sepa­ra­ti­on of car­bon dioxi­de alo­ne accounts for around 80 per­cent of the total ener­gy requirement.
The­re are several com­pa­nies around the world that have built simi­lar plants. But the Hin­wil plant is the only one so far that com­mer­cial­ly fishes CO2 out of the atmo­s­phe­re and – now comes the second part in terms of cli­ma­te opti­miz­a­ti­on – also makes it usable. "Here in Hin­wil, we use the extrac­ted CO2 in two ways." First, a local vege­ta­ble far­mer uses the gas as fer­ti­li­zer for his plants. Wit­hin sight is a green­house com­plex: "With the CO2 sur­plus, the growth of tomatoes, cucum­bers or egg­plants is impro­ved, becau­se for the plants car­bon dioxi­de is a basis of their pho­to­syn­the­sis and acts like a fertilizer."
And one local beverage pro­du­cer uses the CO2 to pro­du­ce its car­bo­na­ted mine­ral water. The water refi­ners collect the extrac­ted gas and use it in their pro­duc­tion. It is also con­ceiva­ble to fill com­ple­te­ly dif­fe­rent tanks, as car­bon dioxi­de is a basic com­po­nent of syn­the­tic fuels. If the ener­gy for refi­ning is obtai­ned from rene­wa­ble sources, such fuels would even be near­ly CO2-neu­tral. The­re­fo­re, it is not sur­pri­sing that Audi has been a Clime­works part­ner sin­ce 2013.
CO

2 sink in Iceland

While in Hin­wil, Switz­er­land, the cap­tu­red CO2 is reu­sed and thus released back into the air, a Clime­works plant has gone into ope­ra­ti­on on Ice­land that aims to per­ma­nent­ly rob atmo­s­phe­ric dirt of its gas­eous form and put it under­ground. "Orca" is the name of the latest and sen­sa­tio­nal plant from the Swiss fil­ter pioneers.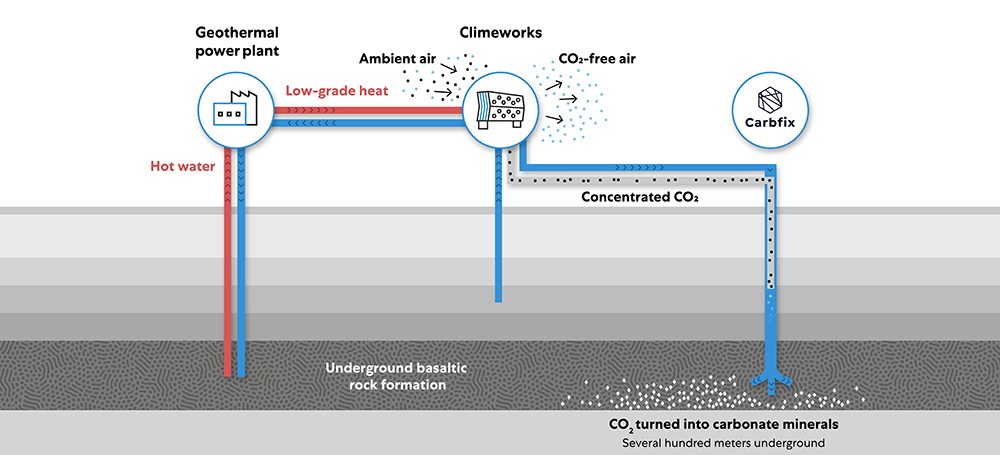 Here, the fil­te­red CO2 is bound in water and then pres­sed up to 600 meters deep under­ground. It accu­mu­la­tes in the mine­ral-rich rock lay­ers the­re – it vir­tual­ly petri­fies. "With the Orca plant, we can show that we can sca­le our tech­no­lo­gy as requi­red," exp­lain the experts at Clime­works. "We can fil­ter more than four times as much CO2 in Ice­land as here in Hin­wil." But why Ice­land of all pla­ces? "The­re we encoun­ter opti­mal fac­tors. By means of a near­by geo­ther­mal power plant, we get the necessa­ry ener­gy for our tech­no­lo­gy com­ple­te­ly rege­ne­ra­tively. And injec­ting the car­bon dioxi­de is also easier here becau­se the situa­ti­on of the under­ground is known. Bes­i­des, the glo­bal atmo­s­phe­re does­n't care at all whe­re you extract the gas­eous car­bon dioxide."
The part­ner in the plan­ned buri­al of car­bon dioxi­de is the Ice­lan­dic com­pa­ny Carb­fix, which has deve­lo­ped the tech­no­lo­gy for the final sto­rage of CO2. To be sure, the amounts remo­ved from the atmo­s­phe­re are still tiny when com­pa­red to annu­al glo­bal emis­si­ons. But as Direct Air Cap­tu­re is rol­led out, the con­tri­bu­ti­on the tech­no­lo­gy can make will beco­me more critical.
Bold visi­ons
The plans of the 150-employee com­pa­ny are very ambi­tious: "Our visi­on is to inspi­re one bil­li­on peop­le to remo­ve CO2 from the air," says co-foun­der Chris­toph Gebald in an inter­view. Clime­works has now built 15 plants world­wi­de, and the trend is rising shar­ply.
Howe­ver, if the excess CO2 emit­ted each year (about ten giga­tons) were to be recap­tu­red sole­ly through plants like the one in Hin­wil, it would take about ele­ven mil­li­on of the nation's CO2 fishers. So we still can't get around redu­cing car­bon dioxi­de emis­si­ons globally.
This post is also avail­ab­le in:

Deutsch