What makes cities intelligent and communities smart? We went in search of clues in our neighborhood. And not only did we find a model city with charm and character, but also extremely competent people to talk to. A walk through Lemgo …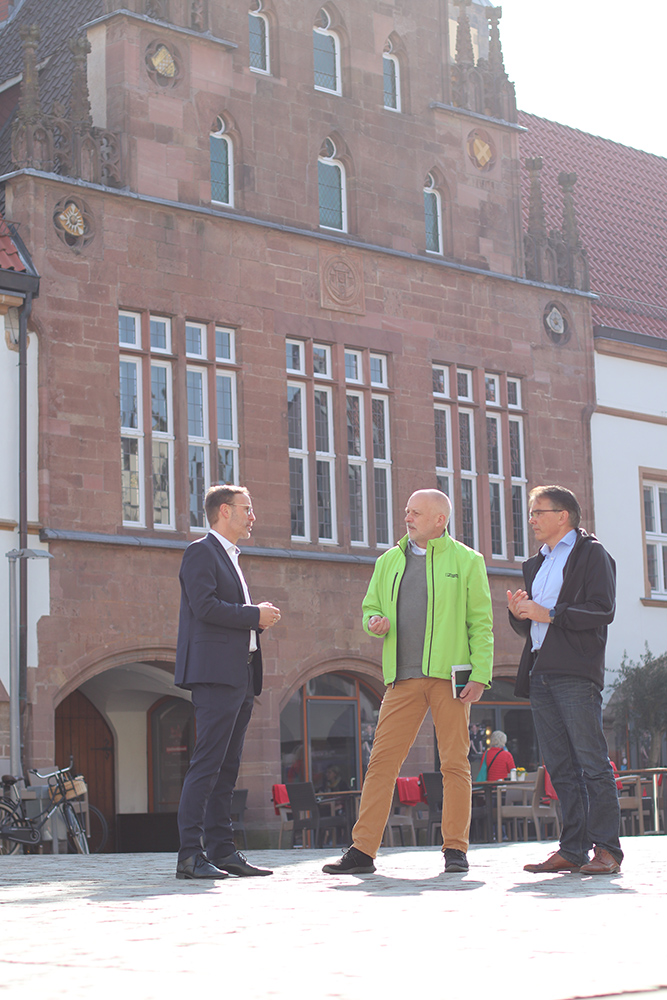 The megatrend of urbanization continues unabated. According to United Nations forecasts, 54 percent of the world's population will live in cities in 2030. More people, more traffic, more supplies, more energy and the necessary infrastructure. Networked technologies should improve people's quality of life and make sustainable use of resources such as energy and water or capacities in local transport, parking or traffic management. If these sectors are to be harmonized, a dense network of sensors is needed to ensure digital transparency. This will make processes controllable and cities smart.
Tough university teacher
Lemgo ist mit seinen 40.000 Einwohnern vom Status einer Metropole weit entfernt. Auch wenn das Städtchen in Ostwestfalen-Lippe jede Menge malerischer Fachwerkbauten, ein Schloss und reichlich Landschaft drumherum zu bieten hat. Warum es sich trotzdem hervorragend als Blaupause zur Entwicklung von Smart City-Anwendungen eignet, erklärt uns Professor Dr. Jürgen Jasperneite. Wir sind mit dem Direktor des Fraunhofer IOSB-INA, des Institutteils für Industrielle Automation in Lemgo, und Professor an der Technischen Hochschule OWL, zu einem Spaziergang durch die Alte Hansestadt verabredet:
"We have a microcosm here that has all the same things that characterize big cities. As a result, we can easily scale the applications we develop here. And we benefit from a lean and open administration."
We are accompanied by Jörg Nolte, Vice President VMM Infrastructure and thus the person responsible for smart cities at Phoenix Contact: "The topic has been developing rapidly in recent years. In the meantime, we are active in projects and plans worldwide."
City with sensors
No sooner have we walked the first few meters than we are standing again. Professor Jasperneite points upwards: "Here we have installed a sensor box with traffic counting and noise level measurement. We have installed around 30 systems of these in the Lemgo urban area."
The digitization of the infrastructure in Lemgo began in a completely different place. More than 100 sensors were installed in the district heating network of the municipal utility. They now ensure transparency and efficiency in this type of heat supply. Jasperneite explains: "You have to measure, control or regulate something. Then you have to transmit the measured values. That's increasingly being done wirelessly, either via cellular communication or with special networks like LoRaWAN. And then comes the data platform, where data is captured and evaluated. On top of that sits the actual application. This pattern is actually the same for all applications."
Arena with system
After a few hundred meters, we approach the Phoenix Contact Arena. This multifunctional event hall can accommodate up to 5,000 visitors. Again, the professor points upward, "Here you see a camera installed that we use to capture this parking lot." He points to another light: "And WLAN is integrated into these poles. Fiberglass was specially laid for that." The street lighting is not only centrally controlled via a controller, but can also be triggered directly by users through manual switching operations or activated by means of motion sensors.
On our walk, we will still look up often, because the installed sensor technology often uses the steel lighting poles to work without interference or vandalism. Smart City and street lighting – they obviously belong together.
Jörg Nolte adds: "In this project, the industrial-grade hardware based on our open control platform PLCnext is used. We are working together on the topic of Smart City as part of a research project." Jürgen Jasperneite smiles: "If I may add – but the original idea for the box came from us. It was initially a purely scientific project." Obviously a bull's eye, as Jörg Nolte confirms: "From an innovation from the university environment, we are industrializing this Smart City Box with all our technical capabilities, plus our manufacturing expertise and ultimately, of course, sales know-how."
While the two experts continue their discussion, they head toward the nearby city center. Traffic makes a beeline for the picturesque center.
Emissions at a glance
After a short walk we reach the intersection of Herforder Straße and Entruper Weg. One of the main traffic arteries through Lemgo – at least twice a day longer traffic jams during rush hour at several traffic lights. A bottleneck that every commuter in the region knows.
Professor Jasperneite sets his auditorium-tested voice against the heavy traffic just rumbling past and points to the traffic lights: "The challenge here was to change and improve the flow of traffic by means of artificial intelligence without making any major structural changes. The traffic lights here are supplied with electricity and should actually also have empty conduits. But they are all broken. So we transmit our data wirelessly via WLAN.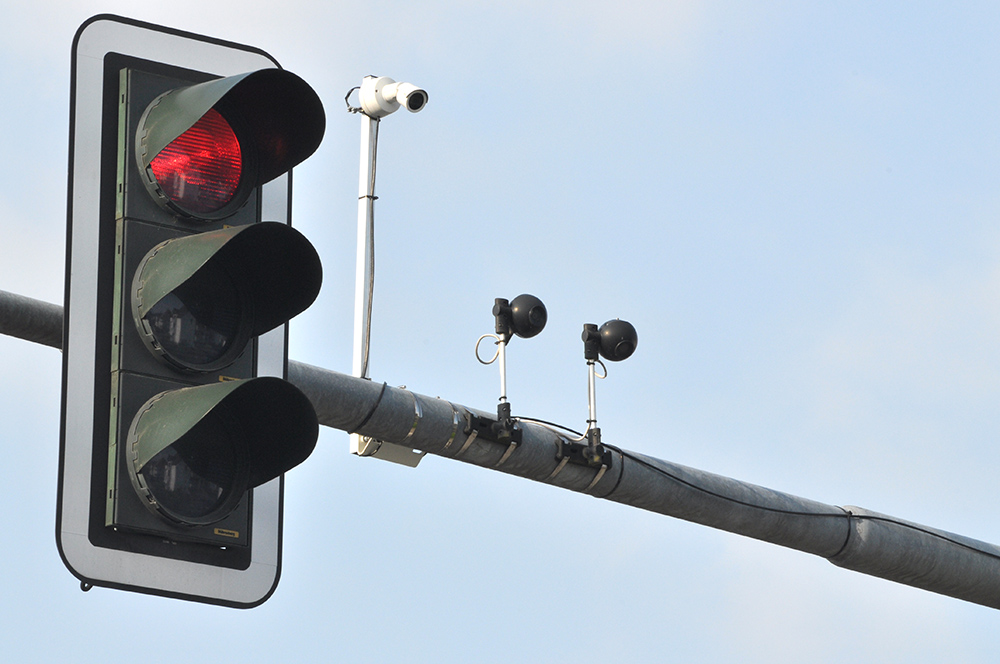 The Smart City Box from Phoenix Contact that is being installed here is responsible for measuring noise and particulate matter. With an optimized traffic flow and fewer start-stop operations, there will also be fewer emissions. Of course, this must also be proven metrologically."
While the university lecturer explains, we approach a control cabinet bearing the logo of the Fraunhofer Institute. "Among other things, this control cabinet contains a very powerful edge computer that is also capable of processing images and the necessary AI algorithms. We have to analyze live images and calculate traffic flow optimization. This is all done decentrally here on site, but at the same time it is transferred to our data platform via a cloud."
So the traffic lights are controlled centrally? "No, because the processing times would be too long. The evaluation of the scenes – for example, the pedestrians passing the street now – must happen locally and then be made available to the traffic flow optimization in the computer. Then there's feedback to the traffic light control system, for example, to switch on other phases for pedestrians when school is out and droves of students want to pass."
Deployment has priority
Another project is a priority circuit for emergency vehicles. New vehicles have an onboard unit that uses GPS measuring points to know where the vehicle is at all times. The professor points to the traffic light pole: "The small black spheres are cameras that can detect whether traffic is flowing or not, similar to a motion detector. But to detect an ambulance, for example, we need a high-resolution video scene on which we can recognize movement, queues and vehicle types. That's why we installed additional cameras."
Jörg Nolte continues: "With the Smart City Box and connected video sensors, we can perform this object detection in road traffic. The detected images are surrounded by different digital frames. Thus, the computer can distinguish with very high probability between cars, trucks, can identify pedestrians and cyclists as such. "
Jürgen Jasperneite explains further: "If an ambulance with blue lights comes 500 meters before the traffic light and passes the reporting point, the onboard unit sends signals. These are recorded and processed here and transmitted to the traffic light in such a way that the control system is switched to red. Ideally, any backlog that may have formed at the traffic light is also cleared before the ambulance arrives, so that the emergency vehicle can get through without any problems. So the trigger sits in the vehicle and actively initiates the process of local priority switching."
Sighing a little, he adds: "This is often the case with smart city topics, where an initially trivial process becomes genuinely complex on closer inspection. The matching research project is called 'Artificial Intelligence for Light Switching Systems' (KI 4 LSA). For this purpose, we started the practical test at Easter."
A spot to park please
Change of location: We set off in the direction of the city center. Before that, it helps to take a look at an important component of the Smart City: In the local app, the professor checks whether there is a parking lot near our next destination. Because, for once, we're taking a car for short-term transportation.
The app signals that there are still free parking spaces in the Bruchweg parking lot across from the small movie theater. It knows this because in almost every parking bay there is a small black knob stuck to the surface, which is equipped with sensors that report when a vehicle is parked above them. The data is transmitted by radio. The parking garages in Lemgo, which use camera systems, are different. This data also goes via the cloud to the data center and from there back into mobile services such as an app.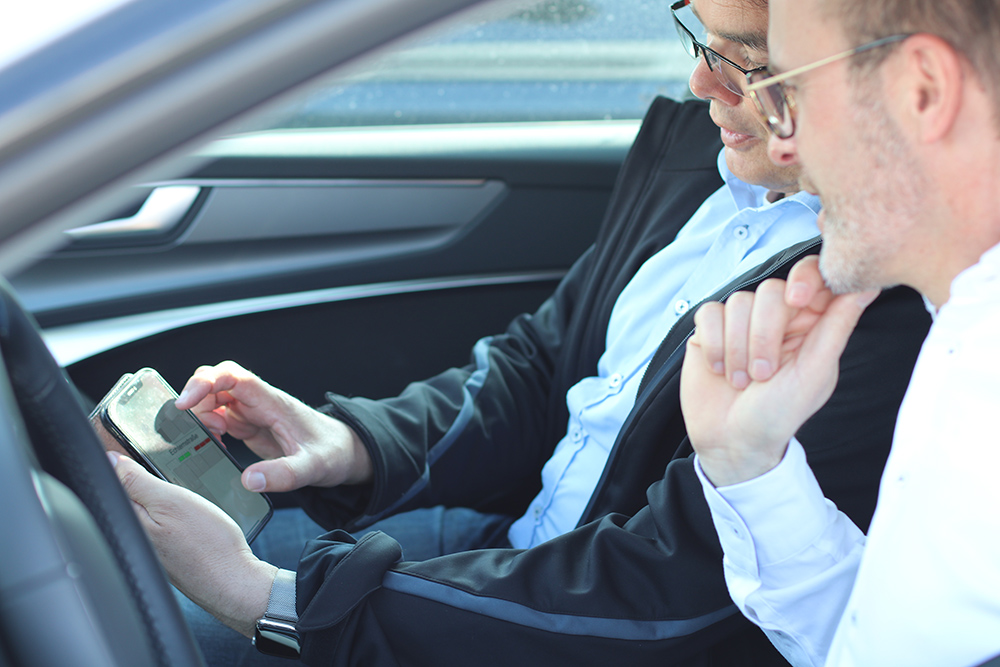 We walk through the spring sun along the half-timbered houses. Close to the historic marketplace, the next Smart City sight: "We are standing here in front of our office of Digital.Interkommunal. Here, smart city activities are coordinated together with the municipality of Kalletal." Indeed, the adjacent rural municipality is part of the Smart City project, underscoring the approach of rolling out smart city projects not only to metropolitan regions, but also exploring opportunities in small towns and rural areas."
Stream of visitors and soundscape
Once again, the view goes upwards: Sensors installed on light poles record public traffic in the Mittelstraße. Particularly at the height of the corona pandemic, this information was used to take measures to regulate visitor density and to record and publish waiting times in front of the test centers set up in the Lippe district. This flowed (and still flows) directly into the data platform and is available to citizens in real time.
With sure footsteps, Professor Jasperneite guides us after a few hundred meters of walking in front of the heavy oak wings of the church St. Marien. The parish church is one of five inner city churches in Lemgo. But what does a house of worship built around 1260 have to do with smart cities? We are greeted by the cool atmosphere of the imposing nave. Once again, our professor points upward. This time, however, to a special exhibit: "This is a very rare swallow's nest organ from the Renaissance, a good 400 years old.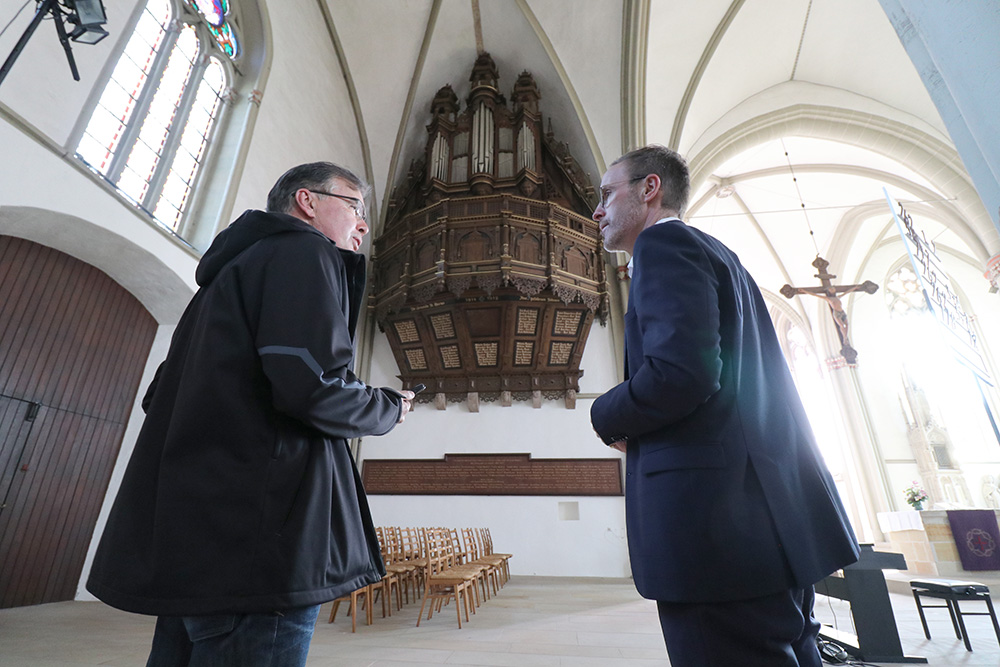 "We use humidity sensors to monitor the air situation around this wooden treasure," explains the knowledgeable Jasperneite. "The data also flows into our data structure via the cloud. The request for this actually came via the sexton himself," says Jasperneite, pleased with the unexpected and unusual application. "You don't find this kind of creativity very often. After all, digitization is supposed to simplify everyday life. But decision-makers often lack the imagination to see what's possible."
All weather
The probability of turbulent climate events increases. In Lemgo, the Bega flows through the urban area. A small river in normal times, the watercourse turned into a raging torrent during the last record rainfall. And stone bridges and weirs dammed up the water masses – threatening to flood the city center on several occasions.
The administration has already reacted and renaturalized the course of the river, dismantled weirs and created flood plains. But the possible smart city connection is still missing. This could be implemented without any problems, as Jürgen Jasperneite explains: "We are currently developing applications for this in a neighboring municipality. Here, too, it would be possible to intelligently link a flood warning system with parking and traffic guidance systems."
On the way back
The details in the individual use cases make it clear how extensive the topic of smart cities is. The opportunities are huge, but the effort and engineering involved are also considerable. Jörg Nolte: "As an industrial company, we naturally can't come close to the scientific approach, this holistic and comprehensive view in all its facets. But our joint contribution of the Smart City Box can help in many applications to make the topic of digitization easier to implement. It is, so to speak, the link between digitization and reality."
On the walk back to the Innovation Campus Lemgo, Professor Jasperneite summarizes: "Data has long been collected. But it is only by linking them that they become smart. The great charm is that the data is not held in individual data silos, but in a solution in which an entire state can be viewed and completely new applications become possible."