The chemical industry is in transition. Time to market, sustainability, digitalization. One solution: modular systems that can be connected together where necessary and that can be used flexibly. Evonik is gaining initial practical experience with prototypes in a pilot plant in the Marl Chemical Park.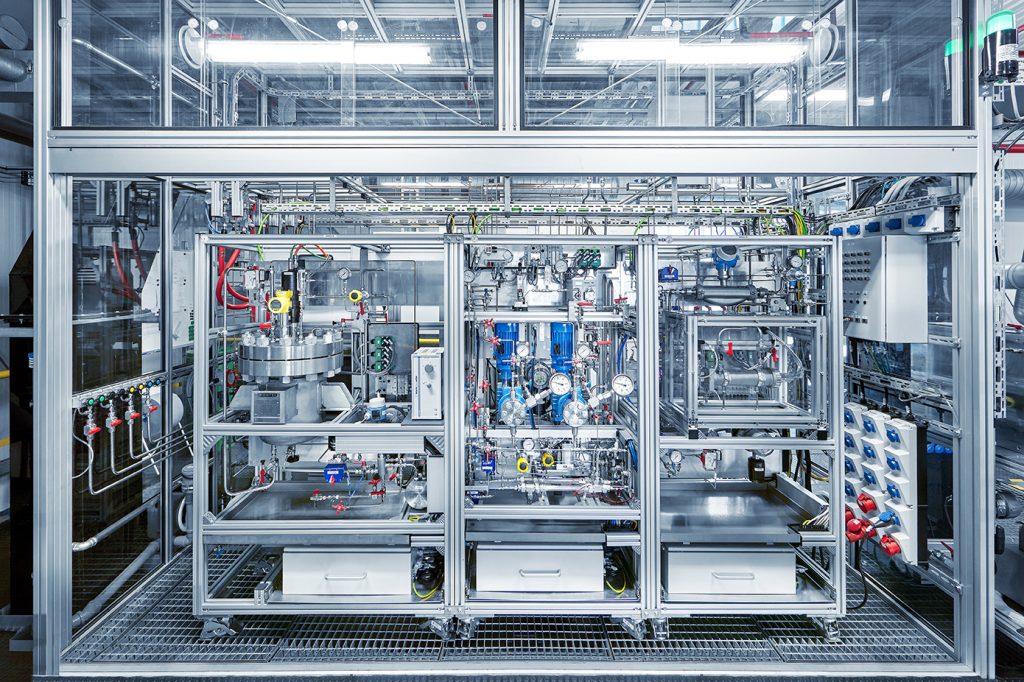 Traditional chemical plants are massive. They are complex. They run stably and securely. Never change a running system? Actually, yes, when it comes to the chemical industry of the future. After all, product cycles are becoming shorter, raw materials harder to come by, environmental requirements stricter, and cost pressure is increasing. One of the methods for dealing with these requirements is the Module Type Package, or MTP.
Smaller units, reuse and fast assembly – these are the key attributes. The idea is similar to LEGO building blocks that are easy to put together, easy to take apart, and that can be combined flexibly to create something else. This will also be the case for the chemical plant of the future. It will be made up of modules that are versatile and reusable.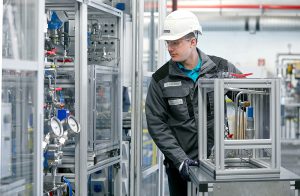 Intelligence in the modules
Evonik is putting this idea into practice in a pilot plant in Marl, Germany. For Achim Lienke, Head of the Reaction Technology Pilot Plant in Marl, the goal is clear: "In the long term, we want to be able to have access to finished modules. What's most important: much of the value of a pilot plant lies in the engineering and construction experience gained. This is what we want to achieve. Furthermore, we have to think in terms of functions that we can bundle together in modules. Automation is essential here, and also expensive. Therefore, this approach can only work if the intelligence, including
programming, is kept within the modules."
Wilfried Grote, Global Industry Manager at Phoenix Contact, goes on to explain: "This intelligence in the modular units will change the face of control rooms for the large plants. Initially as an addition,
and, in the future, possibly as an alternative. The modules don't just come with their own processor –
the programming is completely different as well. One module has functions and provides services. It is set up once. When it is integrated into a system, just one file is needed – the MTP – which describes what functions the module has and how it is operated."
With modular automation, Evonik is thinking beyond pilot plants. Frank Stenger, Head of the Modular Plants Initiative, explains: "We are starting with pilot plants and gaining experience. The goal, however, is quite clearly focused on small-scale production and the better integration of, for example, package units into the large plants. We are developing the standards for this here with our partners, including Phoenix Contact and the new PLCnext Technology control platform."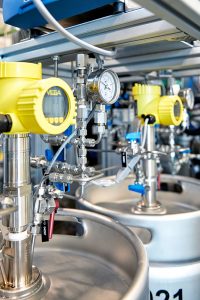 The function of a module
Thomas Scherwietes, Head of Automation Technology at Evonik Marl/Herne/Witten Technical Service, goes on to explain: "We have a large number of recurring tasks. Think about reactors, mixers, and the addition of ingredients. If you understand these units to be modules and design them to be modular when constructing them, then it becomes possible to set up and commission complex systems much more quickly.
Instead of an elaborate process control system, all we need are smaller automation units. And these are even smaller than those that we normally use. In our pilot facilities, we have around 10 to 20 measuring points per module. Therefore, we cannot install controllers that are designed for several thousand measuring points. And this is where Phoenix Contact came in with a fresh approach."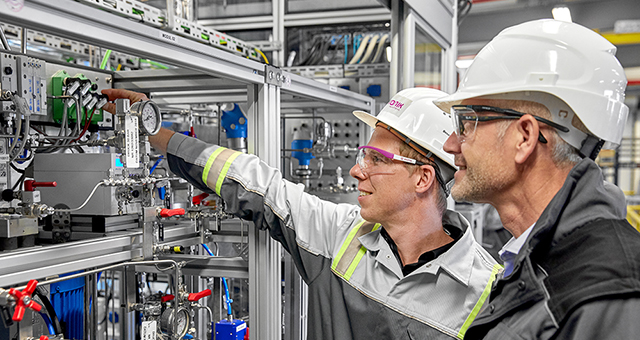 How did this cooperation come about? Scherwietes explains: "At that point in time, the chemical industry didn't have any solutions. We were actively looking for factory automation experts. Phoenix Contact impressed us to the extent that we joined forces to address our special requirements."
A little revolution
Achim Lienke describes the challenge faced during the project: "In the chemical industry, safety is top priority. Therefore, the chemical industry is heavily based on the classic pyramid, with a central control system at the top. In the modular automation system, we are relocating the intelligence to the blocks – and that is a minor revolution. The challenge here is to unify both worlds, safety and agility. Phoenix Contact makes it possible for me to do that. And that is why we are partners." (lo)
This post is also available in:

Deutsch