The che­mi­cal indus­try is in tran­si­ti­on. Time to mar­ket, sus­taina­bi­li­ty, digi­ta­liz­a­ti­on. One solu­ti­on: modu­lar sys­tems that can be con­nec­ted tog­e­ther whe­re necessa­ry and that can be used fle­xi­b­ly. Evo­nik is gai­ning initi­al prac­ti­cal expe­ri­ence with pro­to­ty­pes in a pilot plant in the Marl Che­mi­cal Park.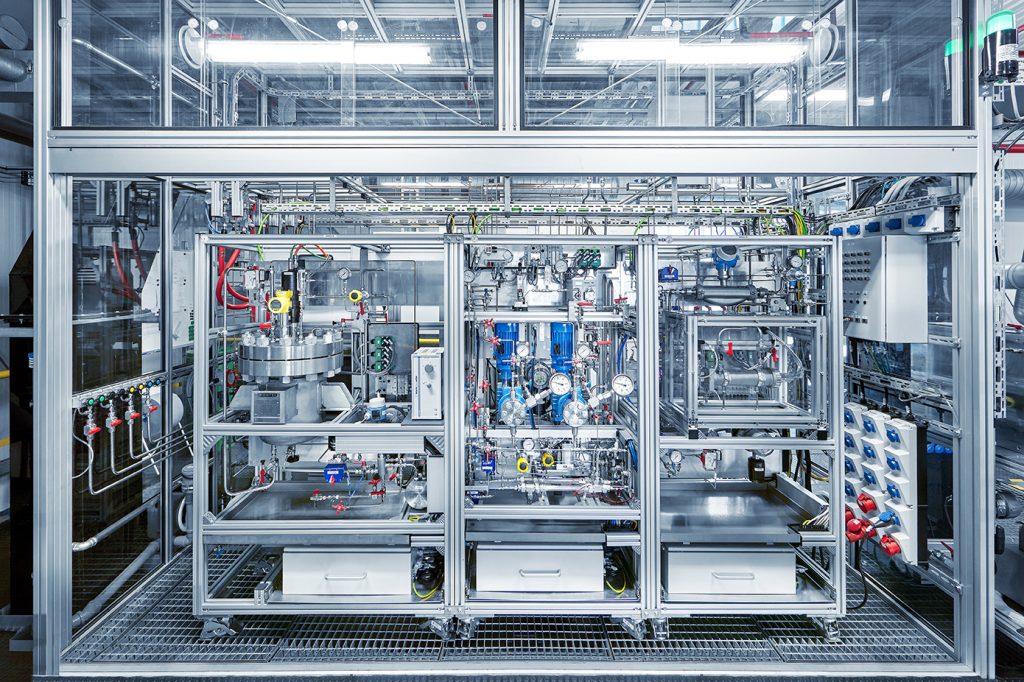 Tra­di­tio­nal che­mi­cal plants are mas­si­ve. They are com­plex. They run sta­b­ly and secu­re­ly. Never chan­ge a run­ning sys­tem? Actual­ly, yes, when it comes to the che­mi­cal indus­try of the future. After all, pro­duct cycles are beco­m­ing shor­ter, raw mate­ri­als har­der to come by, envi­ron­men­tal requi­re­ments stric­ter, and cost pres­su­re is incre­a­sing. One of the methods for dealing with the­se requi­re­ments is the Modu­le Type Packa­ge, or MTP.
Smal­ler units, reu­se and fast assem­bly – the­se are the key attri­bu­tes. The idea is simi­lar to LEGO buil­ding blocks that are easy to put tog­e­ther, easy to take apart, and that can be com­bi­ned fle­xi­b­ly to crea­te some­thing else. This will also be the case for the che­mi­cal plant of the future. It will be made up of modu­les that are ver­sa­ti­le and reusable.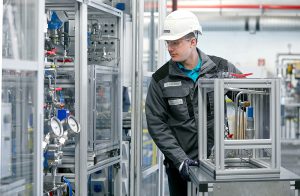 Intel­li­gence in the modules
Evo­nik is put­ting this idea into prac­ti­ce in a pilot plant in Marl, Ger­ma­ny. For Achim Lien­ke, Head of the Reac­tion Tech­no­lo­gy Pilot Plant in Marl, the goal is clear: "In the long term, we want to be able to have access to finis­hed modu­les. What's most important: much of the value of a pilot plant lies in the engi­nee­ring and con­struc­tion expe­ri­ence gai­ned. This is what we want to achie­ve. Fur­ther­mo­re, we have to think in terms of func­tions that we can bund­le tog­e­ther in modu­les. Auto­ma­ti­on is essen­ti­al here, and also expen­si­ve. The­re­fo­re, this approach can only work if the intel­li­gence, inclu­ding
pro­gramming, is kept wit­hin the modules."
Wil­fried Gro­te, Glo­bal Indus­try Mana­ger at Phoe­nix Con­ta­ct, goes on to exp­lain: "This intel­li­gence in the modu­lar units will chan­ge the face of con­trol rooms for the lar­ge plants. Initi­al­ly as an addi­ti­on,
and, in the future, pos­si­b­ly as an alter­na­ti­ve. The modu­les don't just come with their own pro­ces­sor –
the pro­gramming is com­ple­te­ly dif­fe­rent as well. One modu­le has func­tions and pro­vi­des ser­vices. It is set up once. When it is inte­gra­ted into a sys­tem, just one file is nee­ded – the MTP – which descri­bes what func­tions the modu­le has and how it is operated."
With modu­lar auto­ma­ti­on, Evo­nik is thin­king bey­ond pilot plants. Frank Sten­ger, Head of the Modu­lar Plants Initia­ti­ve, exp­lains: "We are star­ting with pilot plants and gai­ning expe­ri­ence. The goal, howe­ver, is qui­te clear­ly focu­sed on small-sca­le pro­duc­tion and the bet­ter inte­gra­ti­on of, for examp­le, packa­ge units into the lar­ge plants. We are deve­lo­ping the stan­dards for this here with our part­ners, inclu­ding Phoe­nix Con­ta­ct and the new PLCnext Tech­no­lo­gy con­trol platform."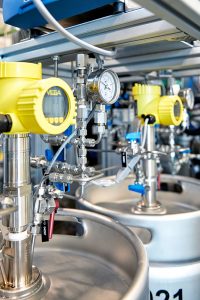 The func­tion of a module
Tho­mas Scher­wie­tes, Head of Auto­ma­ti­on Tech­no­lo­gy at Evo­nik Marl/Herne/Witten Tech­ni­cal Ser­vice, goes on to exp­lain: "We have a lar­ge num­ber of recur­ring tasks. Think about reac­tors, mixers, and the addi­ti­on of ingre­dients. If you under­stand the­se units to be modu­les and design them to be modu­lar when con­struc­ting them, then it beco­mes pos­si­ble to set up and com­mis­si­on com­plex sys­tems much more quickly.
Ins­tead of an ela­bo­ra­te pro­cess con­trol sys­tem, all we need are smal­ler auto­ma­ti­on units. And the­se are even smal­ler than tho­se that we nor­mal­ly use. In our pilot faci­li­ties, we have around 10 to 20 mea­su­ring points per modu­le. The­re­fo­re, we can­not install con­trol­lers that are desi­gned for several thousand mea­su­ring points. And this is whe­re Phoe­nix Con­ta­ct came in with a fresh approach."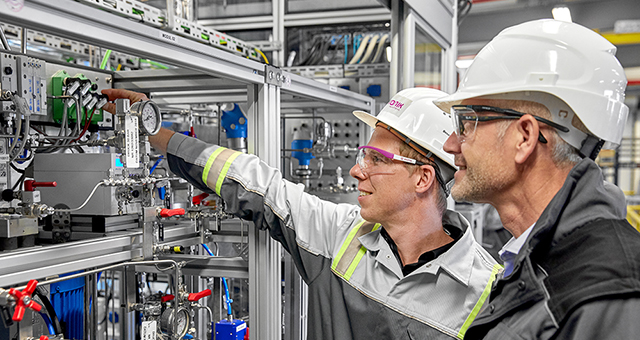 How did this coope­ra­ti­on come about? Scher­wie­tes exp­lains: "At that point in time, the che­mi­cal indus­try didn't have any solu­ti­ons. We were actively loo­king for fac­to­ry auto­ma­ti­on experts. Phoe­nix Con­ta­ct impres­sed us to the extent that we joi­ned for­ces to address our spe­cial requirements."
A litt­le revolution
Achim Lien­ke descri­bes the chal­len­ge faced during the pro­ject: "In the che­mi­cal indus­try, safe­ty is top prio­ri­ty. The­re­fo­re, the che­mi­cal indus­try is hea­vi­ly based on the clas­sic pyra­mid, with a cen­tral con­trol sys­tem at the top. In the modu­lar auto­ma­ti­on sys­tem, we are relo­ca­ting the intel­li­gence to the blocks – and that is a minor revo­lu­ti­on. The chal­len­ge here is to uni­fy both worlds, safe­ty and agi­li­ty. Phoe­nix Con­ta­ct makes it pos­si­ble for me to do that. And that is why we are part­ners." (lo)
This post is also avail­ab­le in:

Deutsch