What use is the most func­tio­n­al, prac­ti­cal and cle­ver sys­tem, the most sophisti­ca­ted con­trol elec­tro­nics and the most sophisti­ca­ted sen­sor tech­no­lo­gy if they are not atta­ched by expert hands whe­re it makes sen­se? Only the skills of an indus­tri­al clim­ber like Sel­vin Kel­ler brings the ice detec­tion sys­tem from Phoe­nix Con­tact to whe­re it can unfold its digi­tal pro­tec­tive shield. Han­di­c­raft in the extre­me.
The sun is shi­ning, but it's lou­sy cold. No won­der, it's Decem­ber. And we'­re out­si­de, in the midd­le of natu­re. Our col­leagues from the wind team at Phoe­nix Con­tact, Karl-Heinz Mei­ners and Lukas Christ, are cur­r­ent­ly dis­cus­sing the situa­ti­on with Tom­my Lieb­mann and Sel­vin Kel­ler. The two are indus­tri­al clim­bers. And out here they have the task of brin­ging the new ice detec­tion sen­sors from Phoe­nix Con­tact to whe­re they belong – name­ly to the wings of a wind tur­bi­ne.
Clim­bing on Giants
In this case, the­se are three giants at once, who­se hubs are ent­hro­ned above the forest floor at a height of 140 metres, while the indi­vi­du­al bla­des, with a length of more than 70 metres, stretch out into the steel-blue sky even hig­her. One of the wings is just about to be ali­gned so that it points down­wards. Wel­co­me to the work­place of Sel­vin Kel­ler and his col­league.
Indus­tri­al clim­bers only have a lone­ly job at first glance, all alo­ne on the faca­de, tower or rotor bla­de. Becau­se: team­work is one of the basic requi­re­ments, as the 27-year-old Kel­ler exp­lains. "We always work as a team. One per­son secu­res, one per­son clim­bs. That has long been the pre­scri­bed stan­dard." Col­league Lieb­mann is alrea­dy in the wind tower and can be taken up to the nacel­le by the ele­va­tor. The­re he clim­bs up to the tur­bi­ne roof, natu­ral­ly secu­red, and lets down the clim­bing ropes on the out­si­de of the tower.
No place for adre­na­li­ne jun­kies
"Indus­tri­al clim­bing has litt­le in com­mon with sport clim­bing," says Sel­vin Kel­ler. "We use rope access tech­no­lo­gy to get to pla­ces that would other­wi­se be very dif­fi­cult or impos­si­ble to reach with scaf­fol­ding or lif­ting equip­ment. The task is not clim­bing, but working on site. That is why most height workers are trai­ned craft­s­men and skil­led workers who sim­ply make their work­place a litt­le more exo­tic." Grins and adds: "I am one of the few excep­ti­ons, becau­se I am actual­ly a trai­ned retail sales­man. I came across rope tech­no­lo­gy at a house run­ning event orga­nis­ed by Jochen Schwei­zer. And it fasci­na­ted me and I could­n't let go." In the mean­ti­me, Kel­ler has com­bi­ned pas­si­on and his trai­ned pro­fes­si­on, becau­se he has foun­ded a com­pa­ny that offers work on the rope.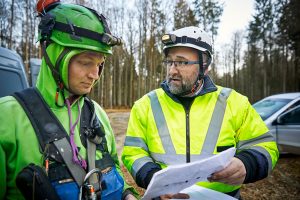 No soo­ner is he down again than Tom­my Lieb­mann joins the brie­fing with the Phoe­nix Con­tact experts. Mei­ners and Christ pull out the instal­la­ti­on plans and exp­lain exac­t­ly whe­re the ice detec­tors have to be pla­ced. The two height instal­lers lis­ten atten­tively. Then they get to work, speaking into the air. Lieb­mann stows away working mate­ri­als and ice sen­sors in a robust box that hangs on the dis­hes. The work­bench under the back, so to speak. Then a ratt­ling petrol engi­ne is star­ted by a cable pull. But ins­tead of a lawn mower or a chain saw, moto­ri­zed pro­pul­si­on is used to gain height. This is becau­se the motor dri­ves a device that works its way up the rope and thus takes the clim­ber to his or her airy work­place at a height of more than 100 metres.
Fair-wea­ther workers
While the "clim­bing bike" Lieb­mann reli­ab­ly pulls up with his equip­ment, Kel­ler secu­res his col­leagues and keeps in con­tact via radio. The twi­light sets in. No pro­blem for the two pro­fes­sio­nals: "We have light with us." Kel­ler and his col­leagues only get worry lines when the wea­ther chan­ges: "In the wind indus­try, which I spe­cia­li­ze in, we are actual­ly total fair-wea­ther workers. Howe­ver, cool wea­ther and wind are also part of our ever­y­day life. We are very expo­sed at high alti­tu­des. I expe­ri­en­ced a real­ly hai­ry situa­ti­on when a storm sud­den­ly came up and I was han­ging from the rotor bla­de. I was real­ly glad to get down again safe­ly.
Tom­my Lieb­mann has now arri­ved at one of the points whe­re he has to app­ly an ice detec­tion patch. While it is alrea­dy get­ting dark down in the forest, the alti­tu­de pro­fes­sio­nal is expe­ri­en­cing a fan­tastic sun­set. But he has no eyes for it: "We want to finish today, then we can go back tomor­row." Indus­tri­al clim­bers sel­dom have per­ma­nent employ­ers; they usual­ly work as free­lan­cers in the most diver­se loca­ti­ons and with chan­ging tasks. "Atta­ching the sen­sors is easy for us, as only the sur­face is san­ded and clea­ned. After all, we don't go deep into the fiber fabric. Then we'­re alrea­dy sti­cking. We can also move very quick­ly and safe­ly on the rotor bla­de."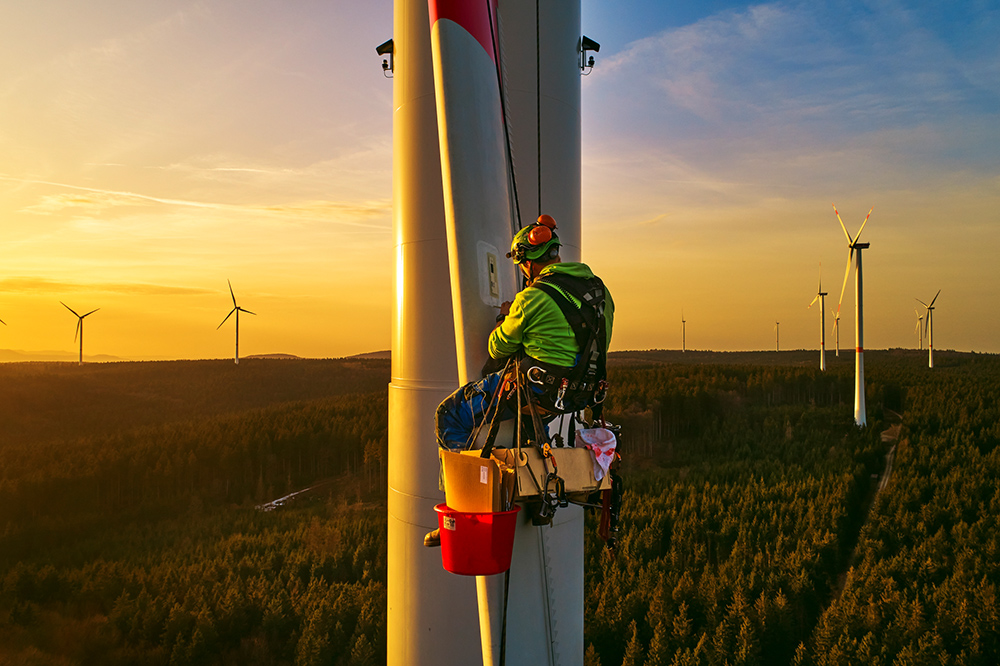 Dan­ge­rous pres­su­re of time
If you are alrea­dy dealing with one of the rare clim­bing exo­tics, the ques­ti­on of the real­ly dan­ge­rous assign­ments should not be mis­sing. Kel­ler shrugs his shoul­ders. "It only beco­mes dan­ge­rous for us when the cli­ent puts pres­su­re on us and safe­ty is neglec­ted. One col­league has alrea­dy had the safe­ty ropes pul­led in by an active screw con­veyor on the ground while he was still working in a sugar silo. That almost ended bad­ly. Ano­t­her clim­ber was hit on the head by lumps of ash in a was­te inci­nera­ti­on plant becau­se safe­ty mea­su­res had been neglec­ted. Whe­re­ver work is done too fast, whe­re standstill is not accep­ted and safe­ty is not a prio­ri­ty, it can be dan­ge­rous. And in our job, mista­kes just end fatal." With a view to the col­league at the top of the bla­de, he adds: "But in the wind indus­try this does not hap­pen, becau­se here safe­ty real­ly does enjoy a high prio­ri­ty.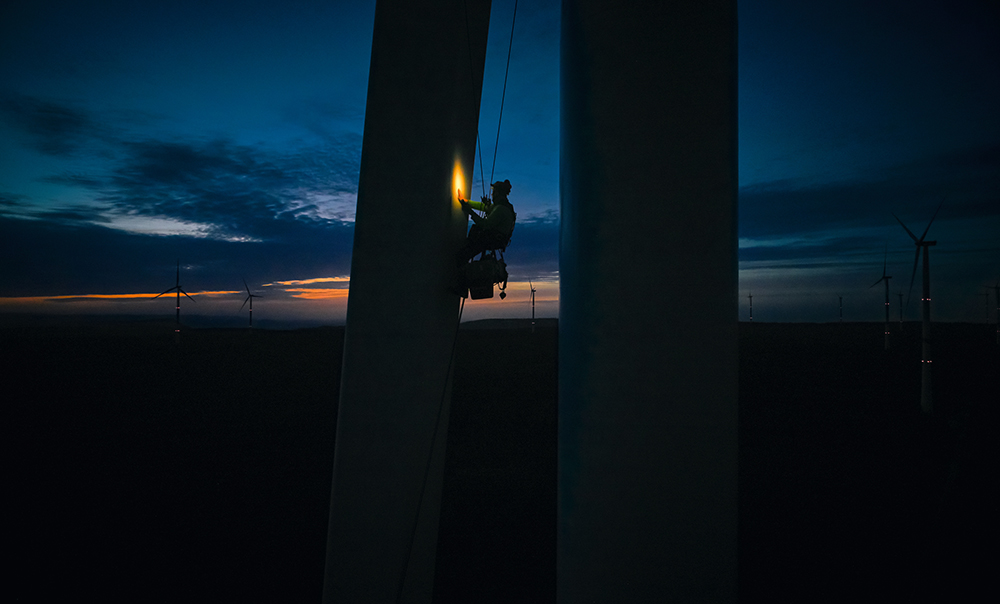 We got our pic­tures in the can, the sto­ry in our heads. Slow­ly the cold creeps through the soles of our shoes. In the forest it is pitch dark, only at a height of about 120 meters the lone­ly clim­ber moves on the rotor bla­de, illu­mi­na­tes his work­place with his strong hel­met lamp. And alt­hough we know he is well secu­red, we are full of respect for the per­for­mance of the two experts on the rope. Craft­s­manship over a black abyss – a job for peop­le with no fear.
This post is also avail­ab­le in:

Deutsch