Filing, mil­ling, dril­ling, sawing – just the right thing for Lars van Len­ge­rich. For the 16-year-old appren­ti­ce, stu­dy­ing is cur­r­ent­ly out of the ques­ti­on. During a visit to the appren­ti­ce work­shop, he reveals why he is at exac­t­ly the right address at Phoe­nix Con­tact, even with this out­look.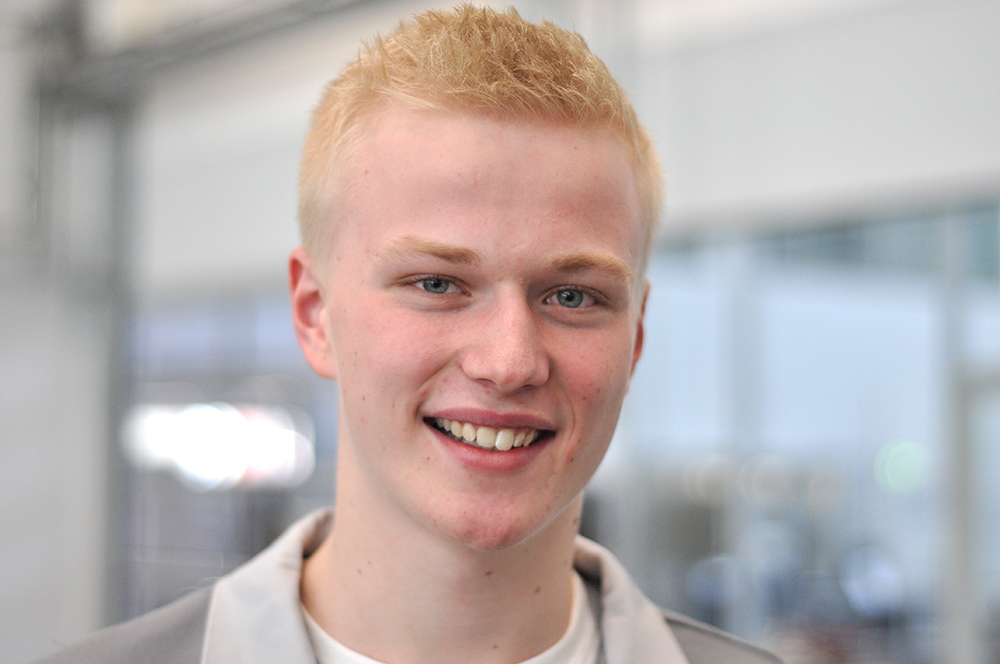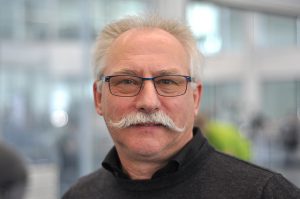 If someo­ne were to paint a trai­ner, Olaf Glat­zer would cer­tain­ly be a good model. The man with the gnar­led mousta­che, mischie­vous smi­le, and sharp look is a true ori­gi­nal who has been respon­si­ble for who­le genera­ti­ons of appren­ti­ces. He has been with Phoe­nix Con­tact sin­ce 1975, lear­ning and prac­ticing his pro­fes­si­on of tool­ma­ker here, and was a trai­ning mana­ger for many years.
Strict mas­ters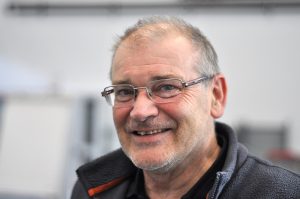 Today, as head of the ent­i­re trai­ning work­shop, he not only takes Lars von Len­ge­rich under his expert wing, but also the ent­i­re ope­ra­ti­on in the spar­k­lin­gly clean trai­ning hall, inclu­ding the asso­cia­ted spe­cia­list depart­ments. He is assisted by Mar­tin Herin­gla­ke, who is respon­si­ble for trai­ning indus­tri­al mecha­nics.
The two war­hor­ses are respon­si­ble for ensu­ring that Lars van Len­ge­rich learns exac­t­ly what he will need to know in his later fields of respon­si­bi­li­ty. "In terms of craft­s­manship, that will be much less than ten years ago," sighs Olaf Glat­zer some­what reg­ret­ful­ly. "Today, 80 to 90 per­cent of work­pie­ce machi­ning is done on and by machi­nes. Only about 10 per­cent of the work of a tool­ma­ker still requi­res skil­led work."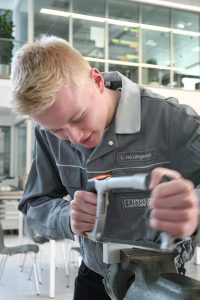 "That 10 per­cent, howe­ver, requi­res a sure instinct," grins Mar­tin Herin­gla­ke and looks clo­se­ly at Lars' fin­gers as he clamps his work­pie­ce in the vice. While the young trai­nee saws and files, Herin­gla­ke exp­lains how Phoe­nix Con­tact orga­ni­zes the trai­ning for our young talent. "The respec­tive depart­ments plan long-term requi­re­ments based on their per­son­nel struc­tu­re and regis­ter the num­ber of trai­nees requi­red. We then train them so that they will be able to per­form their tasks in prac­tice in the best pos­si­ble way later on."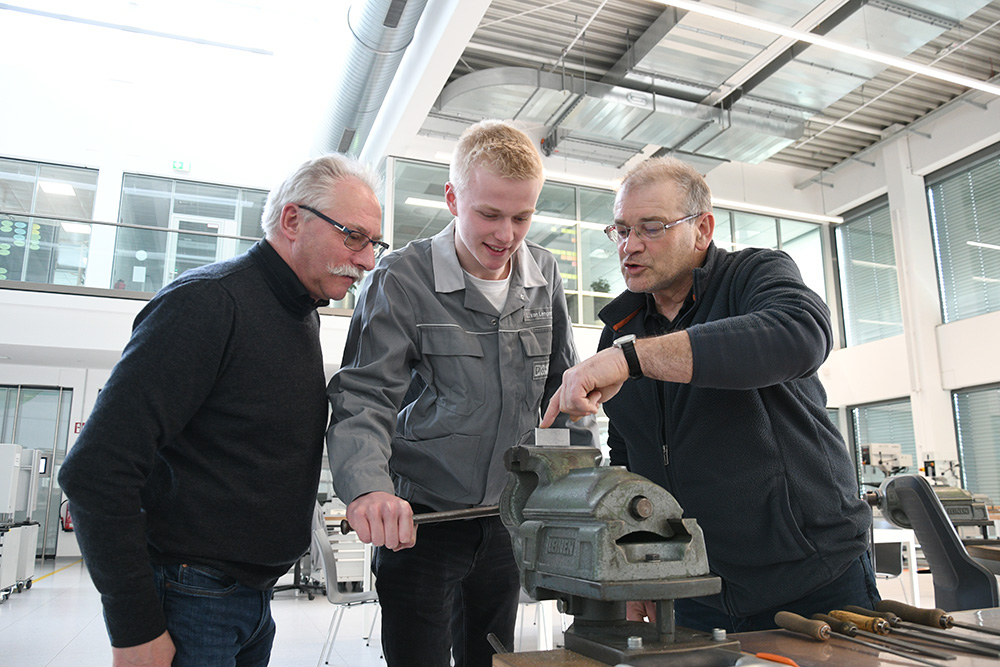 Doesn't that lead to a blin­ke­red edu­ca­ti­on? "No, abso­lute­ly not. Their trai­ning fol­lows a regu­la­ted cur­ri­cu­lum set out by the Cham­ber of Indus­try and Com­mer­ce. The only thing that's important to us is that our young staff are on the ball not only in theo­ry, but that they are also able to get down to work with the machi­nes and their skil­led work strai­ght away."
Tool mecha­nic – the dream job
Lars van Len­ge­rich knows pret­ty well what he expec­ts from his appren­ti­ce­ship. "I have done several internships pre­vious­ly, and also did a year's internship at ano­t­her com­pa­ny. I am sim­ply fasci­na­ted by working with metal. The craft­s­manship is my thing. And a desk job is out of the ques­ti­on for me."
The deter­mi­ned aspi­ring tool mecha­nic had also got­ten to know Phoe­nix Con­tact ear­lier. "I'm from this area, and my com­pa­ny has a gre­at name here. And so I com­ple­ted a three-week internship here when I was youn­ger." A good case of avoi­ding the pit­fall 'mar­ry in has­te, repent at leisu­re': The 16-year old even tried out the Mari­nes, "but that wasn't for me at all." Lars has been a per­ma­nent employee of Phoe­nix Con­tact sin­ce Sep­tem­ber 2019, com­mu­ting bet­ween voca­tio­nal school, his spe­cia­list depart­ment, and the trai­ning work­shop.
The chips fly
A ques­ti­on for Olaf Glat­zer brought on by sur­pri­se: Are all trai­nees as infor­med and deter­mi­ned? "A good third are like Lars. They know exac­t­ly what they want and then fol­low their path sin­gle-min­ded­ly." But we hear over and over about decli­ning gra­dua­te qua­li­fi­ca­ti­ons, about poor pri­or edu­ca­ti­on, and low stami­na? "As I said, a third of the trai­nees are like Lars. Two thirds need more atten­ti­on," says Glat­zer, giving an insight into ever­y­day life. "We are facing gre­at chal­len­ges, becau­se in the com­ing years a lar­ge num­ber of the baby boo­mer genera­ti­on will be reti­ring. The gaps being left are wide­ning, and the­re­fo­re we will have to do a gre­at deal to train the necessa­ry young talent to beco­me skil­led workers."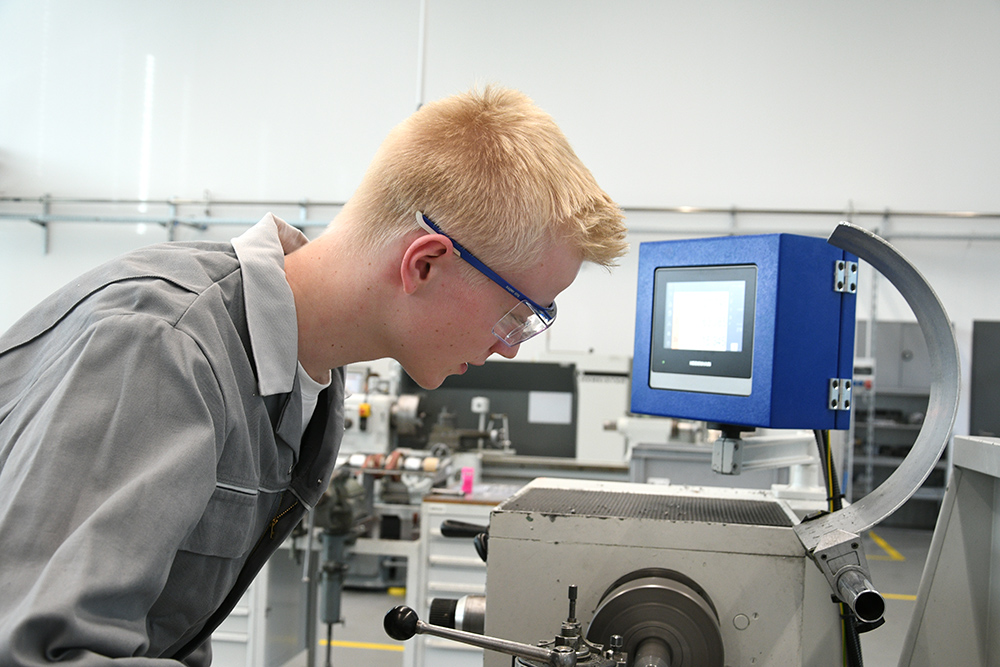 For Lars, his new pro­fes­si­on is obvious­ly exac­t­ly the right one. He skill­ful­ly clamps a work­pie­ce in a lathe, gui­ded by com­men­ta­ry from Mar­tin Herin­gla­ke. Cau­tious­ly, the drill head mills for­ward and the chips fly. "In my pri­va­te life, I am cur­r­ent­ly con­struc­ting a go-cart tog­e­ther with a fri­end, so I can app­ly what I've lear­ned right away. And I'm alrea­dy loo­king for­ward to the upco­m­ing tea­ching con­tent covering CNC and wel­ding."
More on topics rela­ted to trai­ning: Phoe­nix Con­tact Blog
Inter­view mit Geschäfts­füh­rer Prof. Dr. Olesch zur Bedeu­tung von Hand­werk und Fach­ar­beit
This post is also avail­ab­le in:

Deutsch