Filing, milling, drilling, sawing – just the right thing for Lars van Lengerich. For the 16-year-old apprentice, studying is currently out of the question. During a visit to the apprentice workshop, he reveals why he is at exactly the right address at Phoenix Contact, even with this outlook.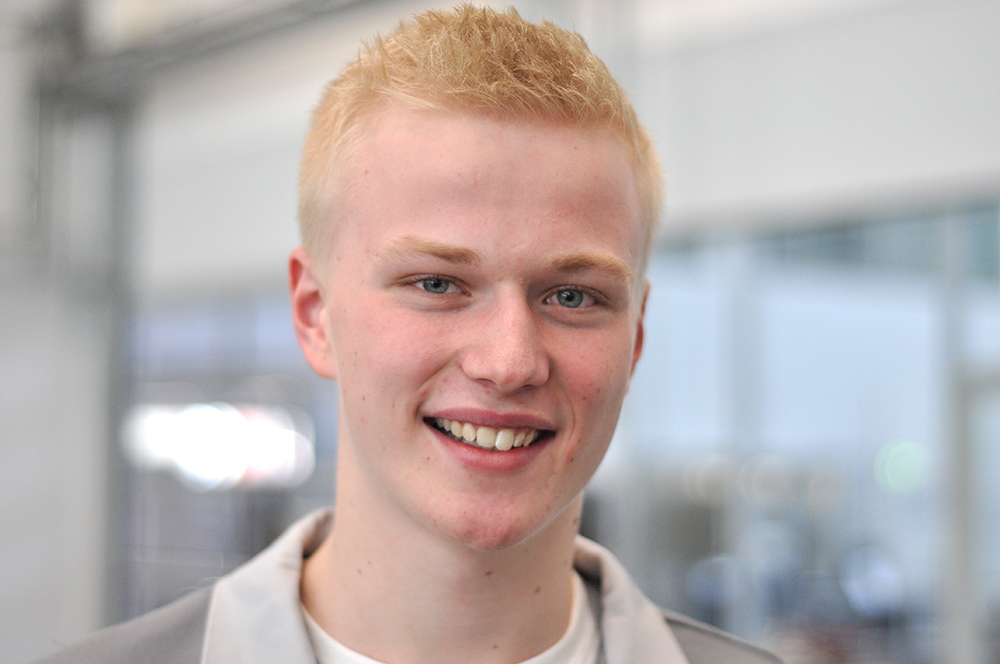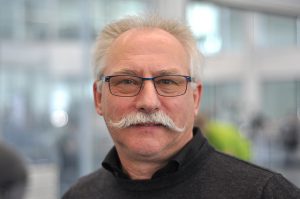 If someone were to paint a trainer, Olaf Glatzer would certainly be a good model. The man with the gnarled moustache, mischievous smile, and sharp look is a true original who has been responsible for whole generations of apprentices. He has been with Phoenix Contact since 1975, learning and practicing his profession of toolmaker here, and was a training manager for many years.
Strict masters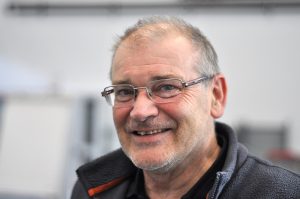 Today, as head of the entire training workshop, he not only takes Lars von Lengerich under his expert wing, but also the entire operation in the sparklingly clean training hall, including the associated specialist departments. He is assisted by Martin Heringlake, who is responsible for training industrial mechanics.
The two warhorses are responsible for ensuring that Lars van Lengerich learns exactly what he will need to know in his later fields of responsibility. "In terms of craftsmanship, that will be much less than ten years ago," sighs Olaf Glatzer somewhat regretfully. "Today, 80 to 90 percent of workpiece machining is done on and by machines. Only about 10 percent of the work of a toolmaker still requires skilled work."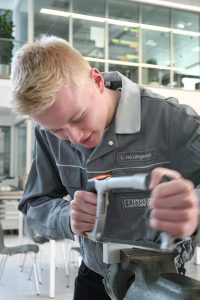 "That 10 percent, however, requires a sure instinct," grins Martin Heringlake and looks closely at Lars' fingers as he clamps his workpiece in the vice. While the young trainee saws and files, Heringlake explains how Phoenix Contact organizes the training for our young talent. "The respective departments plan long-term requirements based on their personnel structure and register the number of trainees required. We then train them so that they will be able to perform their tasks in practice in the best possible way later on."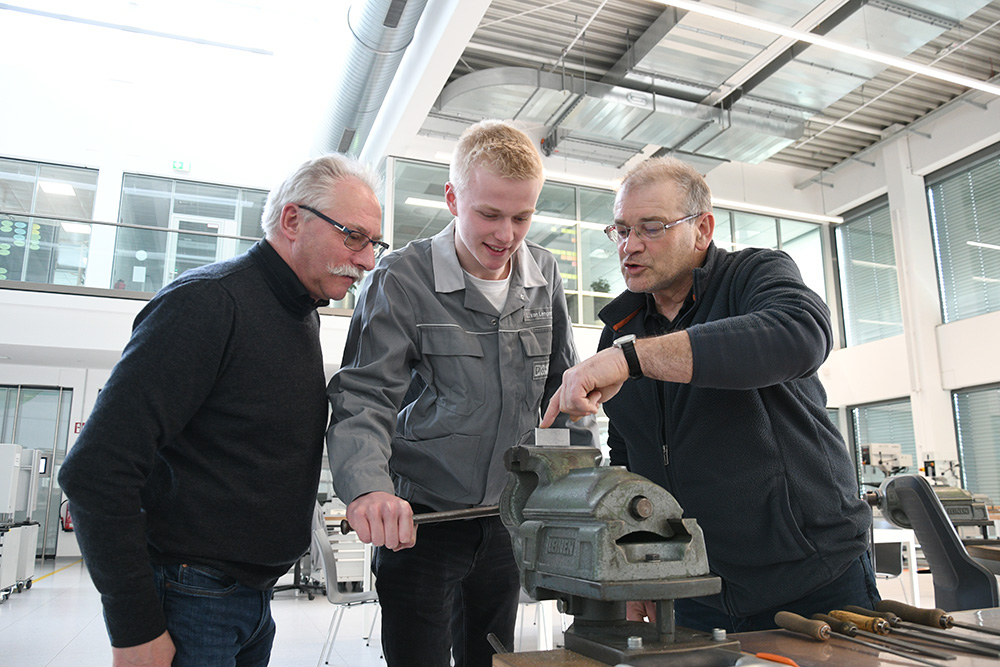 Doesn't that lead to a blinkered education? "No, absolutely not. Their training follows a regulated curriculum set out by the Chamber of Industry and Commerce. The only thing that's important to us is that our young staff are on the ball not only in theory, but that they are also able to get down to work with the machines and their skilled work straight away."
Tool mechanic – the dream job
Lars van Lengerich knows pretty well what he expects from his apprenticeship. "I have done several internships previously, and also did a year's internship at another company. I am simply fascinated by working with metal. The craftsmanship is my thing. And a desk job is out of the question for me."
The determined aspiring tool mechanic had also gotten to know Phoenix Contact earlier. "I'm from this area, and my company has a great name here. And so I completed a three-week internship here when I was younger." A good case of avoiding the pitfall 'marry in haste, repent at leisure': The 16-year old even tried out the Marines, "but that wasn't for me at all." Lars has been a permanent employee of Phoenix Contact since September 2019, commuting between vocational school, his specialist department, and the training workshop.
The chips fly
A question for Olaf Glatzer brought on by surprise: Are all trainees as informed and determined? "A good third are like Lars. They know exactly what they want and then follow their path single-mindedly." But we hear over and over about declining graduate qualifications, about poor prior education, and low stamina? "As I said, a third of the trainees are like Lars. Two thirds need more attention," says Glatzer, giving an insight into everyday life. "We are facing great challenges, because in the coming years a large number of the baby boomer generation will be retiring. The gaps being left are widening, and therefore we will have to do a great deal to train the necessary young talent to become skilled workers."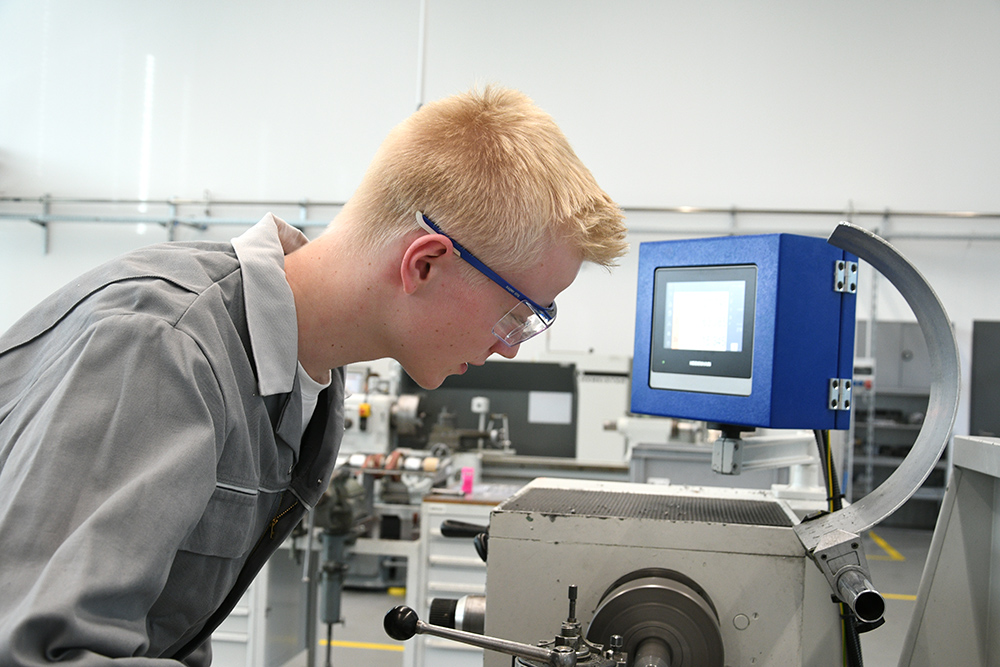 For Lars, his new profession is obviously exactly the right one. He skillfully clamps a workpiece in a lathe, guided by commentary from Martin Heringlake. Cautiously, the drill head mills forward and the chips fly. "In my private life, I am currently constructing a go-cart together with a friend, so I can apply what I've learned right away. And I'm already looking forward to the upcoming teaching content covering CNC and welding."
More on topics related to training: Phoenix Contact Blog
Interview mit Geschäftsführer Prof. Dr. Olesch zur Bedeutung von Handwerk und Facharbeit