In this inter­view, Gene­ral Mana­ger Pro­fes­sor Dr. Gun­ther Olesch reve­als why he atta­ches par­ti­cu­lar impor­t­ance to skil­led work, the impor­t­ance of the Phoe­nix Con­ta­ct brand when choo­sing a care­er, and how he makes Blom­berg attrac­ti­ve on the job market.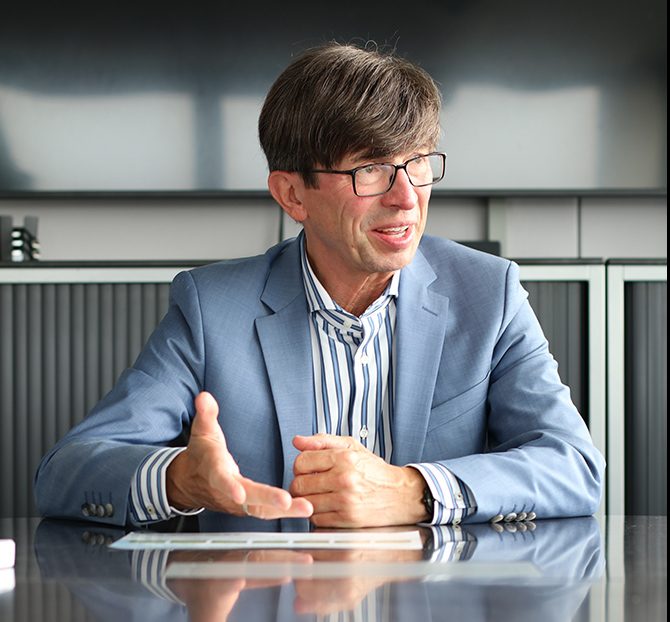 Pro­fes­sor Dr. Olesch has been with Phoe­nix Con­ta­ct sin­ce 1989. Sin­ce 2001, the busi­ness psy­cho­lo­gy gra­dua­te has been one of four mana­ging direc­tors and is respon­si­ble, among other things, for per­son­nel and trai­ning. For many years he has been a lec­tu­rer at the Ost­west­fa­len-Lip­pe Uni­ver­si­ty of App­lied Sci­en­ces, as well as Chair­man of the Lip­pe Employ­ers' Asso­cia­ti­on and Chair­man of the Initia­ti­ve for Employ­ment OWL. Wit­hin the Natio­nal Plat­form for Electric Mobi­li­ty, Gun­ther Olesch is a mem­ber of the stee­ring com­mit­tee and chairs the working group "Edu­ca­ti­on and Qualification".
UPDATE: Pro­fes­sor Dr. Olesch, how important are "skil­led hands" at Phoe­nix Con­ta­ct, the digi­tal company?
Extre­me­ly important. Just think of all the machi­nes we have in pro­duc­tion. They not only have to be desi­gned, but also assem­bled, set up, main­tai­ned, and, in dai­ly ope­ra­ti­on, fed with the inten­ded raw mate­ri­als or semi-finis­hed pro­ducts. We need not just engi­neers for this, but also hands-on spe­cia­lists. Even main­ten­an­ce and buil­ding tech­no­lo­gy – this is not yet pos­si­ble with 3D prin­ting. Of cour­se, we are a digi­tal indus­tri­al com­pa­ny, but skil­led hands are and will remain decisive.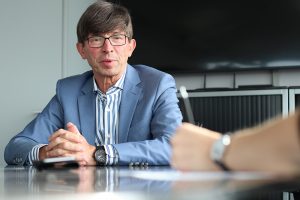 UPDATE: And how important are the craft tra­des, that is to say pro­fes­si­ons without an aca­de­mic back­ground, in the modern indus­tri­al land­s­cape of the future?
Perhaps even more important than years ago. The­re are not enough skil­led workers. And this will have an even grea­ter impact in the future. While we have been pushing dual stu­dies in the last ten years becau­se the­re were not enough engi­neers, we are now incre­a­sing our com­mit­ment to skil­led workers and their clas­sic trai­ning. Other­wi­se, we will not have them in the future. The­re will be enough engi­neers, but not enough skil­led workers to main­tain, repair, and ser­vice the machi­nes, to replace motors and bea­rings. We are alrea­dy fee­ling this, and if we do not act, it will worsen dramatically.
UPDATE: A deve­lo­p­ment that could be seen com­ing a long time ago. How long have you been respon­si­ble for the per­son­nel struc­tu­re at Phoe­nix Contact?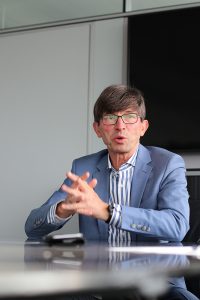 I have been with the com­pa­ny for 31 years and have been on the Manage­ment Board sin­ce 2001. Here, I am respon­si­ble for the field of human resour­ces, but also for tho­se of IT and faci­li­ty manage­ment, among others. Trai­ning has always been my mis­si­on. And that is to say, trai­ning at the hig­hest level.
UPDATE: Was that one of the rea­sons for foun­ding the Trai­ning Cen­ter? How important is trai­ning our own young talent?
It is exis­ten­ti­al for us. One rea­son is our rural loca­ti­on, whe­re it is dif­fi­cult to find mecha­tro­nic engi­neers on the open labor mar­ket. Both trai­ning and con­ti­nuing edu­ca­ti­on are extre­me­ly important, which is why we have built the spa­cious trai­ning and con­ti­nuing edu­ca­ti­on cen­ter at the Schie­der site. The job pro­files of skil­led workers have also chan­ged dra­ma­ti­cal­ly, and the­re can­not be a sta­gna­ti­on of theo­ry and prac­ti­ce. The­se need con­ti­nu­al training.
Think, for examp­le, of the lathes on which peop­le per­for­med main­ly manu­al work 20 years ago. Today, in the age of incre­a­sing digi­ta­liz­a­ti­on, com­pu­ters must be ope­ra­ted skill­ful­ly. But if some­thing goes wrong, for examp­le if a gear­box has to be chan­ged, then it still comes down to skil­led hands. We have to accom­mo­da­te for this. And this is what we teach in our ultra-modern trai­ning workshop.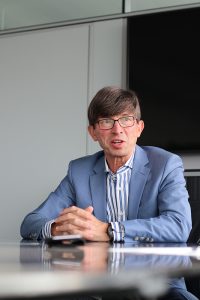 UPDATE: The baby boo­mer genera­ti­on are today loo­king almost envious­ly at the com­ing genera­ti­ons, becau­se while ever­ything was scar­ce for tho­se born befo­re 1969 – school, trai­ning, stu­dies, pro­fes­si­ons – future gra­dua­tes can prac­ti­cal­ly choo­se their jobs. How are you respon­ding to this demo­gra­phic chan­ge, the incre­a­singly noti­ce­ab­le shor­ta­ge of young people?
We were alrea­dy awa­re of this upco­m­ing demo­gra­phic chan­ge – the reti­re­ment of the baby boo­mer genera­ti­on from acti­ve working life – 20 years ago. It is only now that it is beco­m­ing more and more visi­ble to the public. But the cur­rent shor­ta­ge of skil­led workers is still not­hing to worry about yet. From 2000 to today, 2020, we have seen a drop in skil­led workers of around seven per­cent. By 2030, this will be 20 per­cent. And then, tho­se born in the 1960s, the years with the most births, will reti­re. The con­tracep­ti­ve pill was intro­du­ced in the late 1960s; befo­re then, an average Ger­man fami­ly had 3.8 child­ren, and after that the­re were just 1.2 child­ren per fami­ly. This will not be a slow, ana­lo­gous chan­ge. The lack of skil­led workers will be dra­ma­tic; it will be a digi­tal demolition.
We are not Microsoft
And we are also not Micro­soft or Por­sche or BMW, and we are not based in major cities such as Munich or Stutt­gart. Our pro­ducts are con­cea­led wit­hin machi­nes and equip­ment, so end con­su­mers will never be impres­sed if we chan­ge colors or deve­lop a bold design. We do not even have a pre­sence in hard­ware stores. And on top of this, our head­quar­ters are in Blom­berg, for examp­le. The "World Metro­po­lis", Blomberg.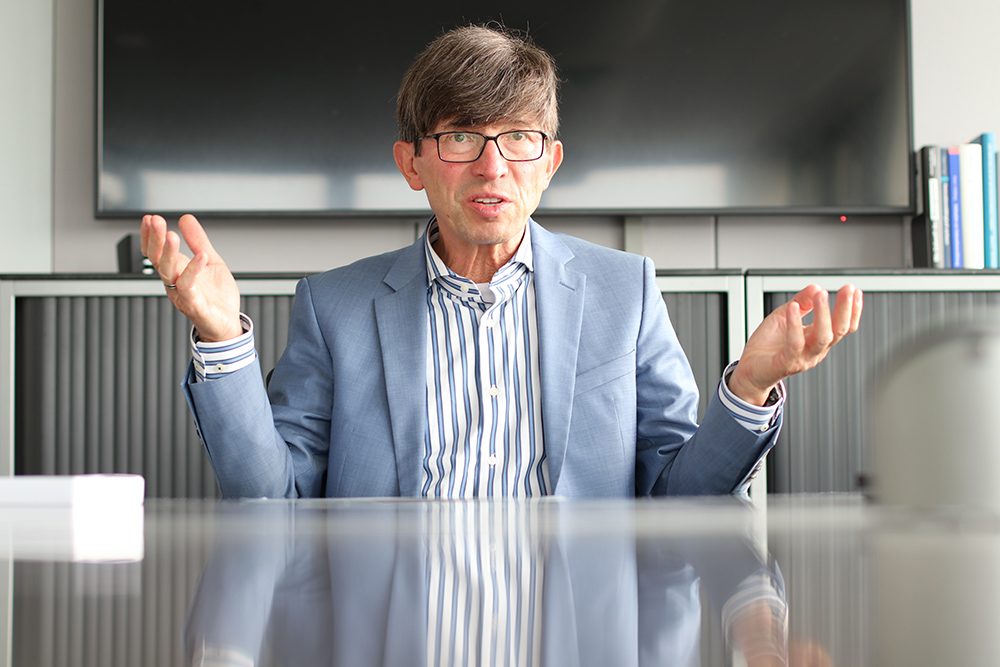 We know all of this, and have for a long time. So what can we do? We have to make a name for our­sel­ves as being a very good employ­er. Sin­ce 1994, we have also been working to build our repu­ta­ti­on in this field as well. At the begin­ning, I was ridi­cu­led by ever­y­bo­dy becau­se of my com­mit­ment to this. Top Job, Best Place to Work, Kununu – we are now regar­ded as a top employ­er far bey­ond our natio­nal bor­ders. We have built up a true brand name in our tar­get groups, regard­less of how well known our pro­ducts are. It has been a long jour­ney. But it was worth it.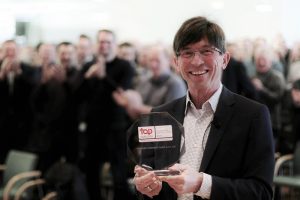 In the last 20 years, we have been Germany's best employ­er 11 times, achie­ved second place nine times, and reached third place six times. In terms of key figu­res such as page views, satis­fac­tion levels, and staff tur­no­ver, we are in the top group – ahead of indus­try giants such as Micro­soft and Siemens
Today, 82 to 84 per­cent of all app­li­cants deci­de to make an app­li­ca­ti­on, among other rea­sons, becau­se they obtain infor­ma­ti­on from the job eva­lua­ti­on por­tal Kununu, for examp­le. This figu­re inclu­des appren­ti­ces and skil­led workers, not just aca­de­mics. And we are sim­ply per­cei­ved by the out­side world as an attrac­ti­ve employ­er. This is how we are secu­ring the atten­ti­on of our poten­ti­al young talent.
UPDATE: How are our employees struc­tu­red, espe­cial­ly our future employees?
In terms of gen­der, I still see a big chal­len­ge, and this has been the case for more than 20 years. No one is for­bidding women from taking up engi­nee­ring pro­fes­si­ons, but des­pi­te all our efforts, the pro­por­ti­on of women in engi­nee­ring pro­fes­si­ons is just five per­cent. In medi­cal pro­fes­si­ons, for examp­le, the pic­tu­re is com­ple­te­ly dif­fe­rent, with more than 75 per­cent of all stu­dents being fema­le. This is a situa­ti­on that only exists in Ger­ma­ny. I also teach inter­na­tio­nal stu­dents at the uni­ver­si­ty. In the case of India­ns, Paki­sta­nis, and the Chi­ne­se, the sexes are repre­sen­ted appro­xi­mate­ly equal­ly. Here in Ger­ma­ny, we still have to do a gre­at deal of per­sua­ding in the tech­ni­cal pro­fes­si­ons. We are try­ing to gar­ner inte­rest ear­ly on, at school level. At first, the fema­le pupils are qui­te taken with the idea. But later, they deci­de to beco­me medi­cal assi­stants or hair­dressers or go into the com­mer­cial sec­tor. Around 10 years ago, 18 per­cent of peop­le working in tech­ni­cal pro­fes­si­ons were women, but this has been decli­ning again for some years now.
And this is des­pi­te the fact that tech­ni­cal­ly trai­ned staff have a much bet­ter future. Com­mer­cial fiel­ds are con­stant­ly being stream­li­ned by soft­ware, with the PC taking over more and more of the work. But, of cour­se, we can­not for­ce anyo­ne to work for us. Inci­dent­al­ly, this is not just the case for aca­de­mic care­ers, but also for skil­led workers. I would like to see a 50: 50 dis­tri­bu­ti­on bet­ween genders.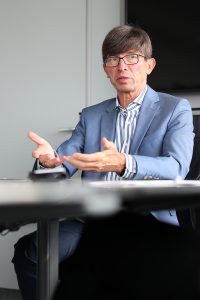 UPDATE: Young talent at Phoe­nix Con­ta­ct – which trai­nees are "the best", and which ones are you wary of?
I love tho­se new employees who tell me that their trai­ning was merely the ent­ran­ce ticket to the thea­ter per­for­mance that is the pro­fes­sio­nal world. That they want to crea­te some­thing new, like Ste­ve Jobs or Elon Musk or Bill Gates. Tho­se who set them­sel­ves a visi­on for their own life, and go on to pur­sue it. Tho­se who say they just want to do their job, other­wi­se they want to be left alo­ne – they are the ones I am wary of.
UPDATE: Are we taking skil­led workers away from the tra­des? How does Phoe­nix Con­ta­ct get along with the tra­de com­pa­nies around us that pro­vi­de training?
I am also the vice pre­si­dent of the Cham­ber of Com­mer­ce and Indus­try, so I have to deal with this issue all the time. I have to say that a lar­ge num­ber of skil­led workers are respon­si­ble for this them­sel­ves to a lar­ge extent. Anyo­ne who needs skil­led workers must also be pre­pa­red to train them.
UPDATE: But isn't craft­s­manship con­si­de­red the trai­ning machi­ne of small to medi­um-sized enterprises?
It used to be. That has not been the case for a long time. If it was said here in East West­pha­lia that the­re was a lack of trai­ning pla­ces, then in recent years this was often in the craft tra­de sec­tor. We have always trai­ned very inten­si­ve­ly, with up to 400 appren­ti­ces and trai­nees at the same time. If the craft tra­de sec­tor lacks skil­led workers, it is often becau­se they have not recrui­ted the next genera­ti­on themselves.
Let's not kid our­sel­ves: It is not money or working hours that always have to be used as an argu­ment when it comes to com­pe­ting for talent. Tho­se who are satis­fied in the craft tra­de will stay the­re. But if they are not hap­py, they lea­ve. Many start in a com­pa­ny becau­se of the money and stay or lea­ve becau­se of their supervisor.
Across Ger­ma­ny, the tur­no­ver in staff is around 11 per­cent. The tur­no­ver here is a mere one per­cent. The­re is a gre­at deal more to this than just making a quick buck. Abo­ve all else, it is becau­se of our cor­po­ra­te cul­tu­re. If your heart lies with a com­pa­ny, you don't leave.
More about craft­menship at Phoe­nix Con­ta­ct
Inspi­ring tomor­rows engi­neers
Craft­menship at the abyss
This post is also avail­ab­le in:

Deutsch