Phoenix Contact USA and Middletown Area Middle School have a long-lasting community partnership.
Nearly 15 years ago, several Phoenix Contact engineers saw a gap. Young people were not getting enough exposure to engineering careers, and there were fewer people entering the field. The engineering team decided to take action to inspire young people to consider engineering careers.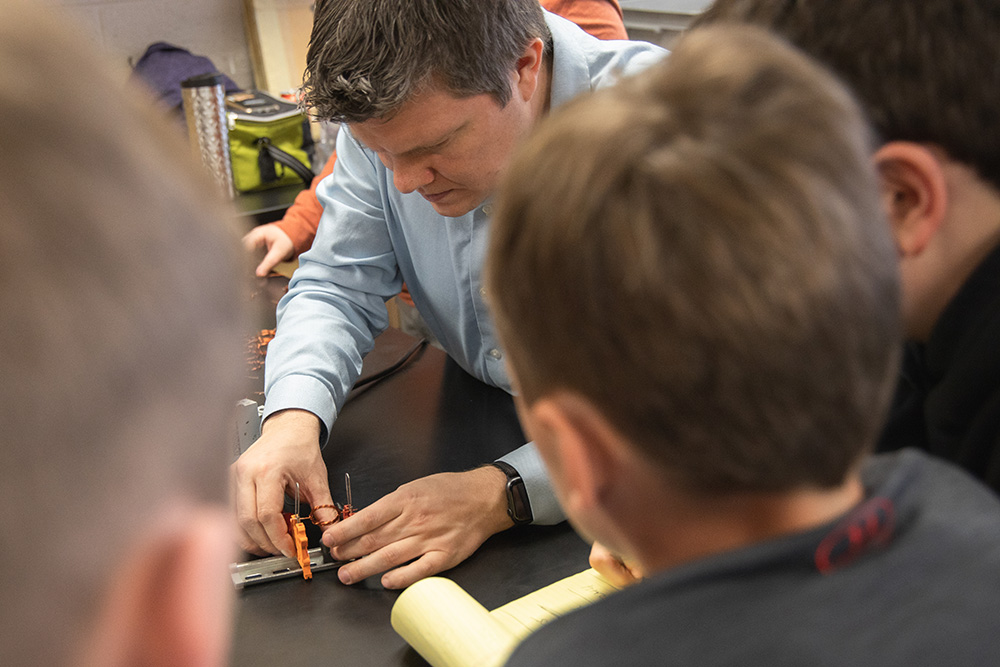 In 2008, Phoenix Contact began a partnership with the local Middletown Area Middle School. Every year since that time, a team of engineers teaches sixth-grade science class at the school
for a week. The group chose National Engineers Week (generally the third week in February), a week dedicated to celebrating engineering and engaging students in science, technology, engineering, and math (STEM).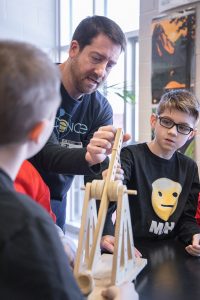 Scott Faulkner (pictured on left), engineering manager for interface components and one of the founders of the program, explained: "The decision to work with sixth-grade students was
not random. This is a critical age to expose children to careers: They are old enough to identify a realistic desire to have a career in engineering, yet young enough to adjust their academic pathway to achieve that goal."
Every day, the engineers present a combination of theory and hands-on activity. As students race cookie tins down a ramp, they are learning about conservation of energy and how it relates to mechanical parts. They might laugh when they get shocked by the Van de Graaff generator, but they are also learning the basics of static electricity and voltage. They observe that with the right angle and tension, their catapult will throw the clay ball farther down the hallway. As they build electric motors and compete to see whose motor spins the fastest, they are learning about electricity and electromagnetism.
Throughout the week, the students brainstorm, observe, and modify their designs. Teamwork is critical. Scott stated, "Working as a team is important. No matter where you work or what
your career path, you will be part of a team, and you must learn to communicate and work together."
The program has been so successful that the school district has formally made it part of the curriculum. Some Phoenix Contact engineer-volunteers shared their thoughts on why they
participate and why the Engineers Week outreach has been a success.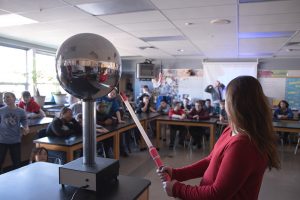 Missy Sommer
Many students aren't introduced to engineers. When they see engineers on TV, they are always the "nerd," and it's not that way in real life. Engineering is hands-on and fun and interactive.
We want the kids to have a different perspective on what engineering in general is. This is a good experience for them, because they are able to take something and apply it and try it out. Not everything always works as planned. This can be a humbling experience for some, and an opportunity for other students who are quiet.
Scott Faulkner
When they are building a catapult, they take the pieces on the desk and put it together (to build a catapult) to do what they thought it would do. There's a spark of "I did that, and it worked!" That's what engineering is about.
Arnold Offner
We always get thank-you notes the week afterward with comments about how fun the activity is. It's always good to get young people interested in their career path. We show students some of the things designed by engineers that they might not have thought of – even simple things are made through engineering and its related skill set.
Brian Linton
The kids are excited, and that also gets me excited about engineering again. Most of the kids don't have parents who are engineers, so this is all new to them. Once they get into high school, they will be picking classes soon so they can choose a career route, so now is a critical time. We also try to expose the students to different disciplines of engineering, like electrical
and mechanical.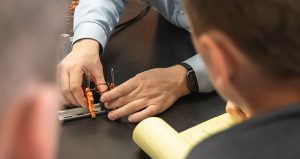 Matt Varano
Every year, we get one or two people who are really excited. Two years ago, one of the kids shook my hand and thanked me. He was excited to build something. We hope that people who didn't think about engineering before this week will start to think about it. By the end of the week, maybe they'll think that physics is kind of fun.
Scott Frye
It's a lot of fun, and it's challenging to present engineering and physics topics in a way that middle schoolers can understand. It's cool when they actually get it, and the ones who understand it especially have a lot of fun.
Chris Brink
I like having a chance to expose kids to engineering for a potential future career path. It's also important to set a tone for young girls who may have never thought of it before. It's not just
for guys. Anyone can do it.
Some advice from the pros …
Scott Frye: "Try to keep it fun and find something that you enjoy. Make learning relatable and it becomes fun."
Arnold Offner: "Pay more attention in your math and science classes. Discover a new appreciation for the subject. We do a lot of practical concepts in life using those concepts."
Brian Linton: "Pick something you like doing, and then the money doesn't matter."
Chris Brink: "Don't be scared of the math. Keep doing it, and eventually it pays off."
Missy Sommer: "When we are done, I always ask them: If you had a chance to do it again, what would you do differently? It's important to learn from that experience one way or another."