Phoe­nix Con­ta­ct USA and Midd­le­town Area Midd­le School have a long-las­ting com­mu­ni­ty partnership.
Near­ly 15 years ago, several Phoe­nix Con­ta­ct engi­neers saw a gap. Young peop­le were not get­ting enough expo­sure to engi­nee­ring care­ers, and the­re were fewer peop­le ent­e­ring the field. The engi­nee­ring team deci­ded to take action to inspi­re young peop­le to con­si­der engi­nee­ring careers.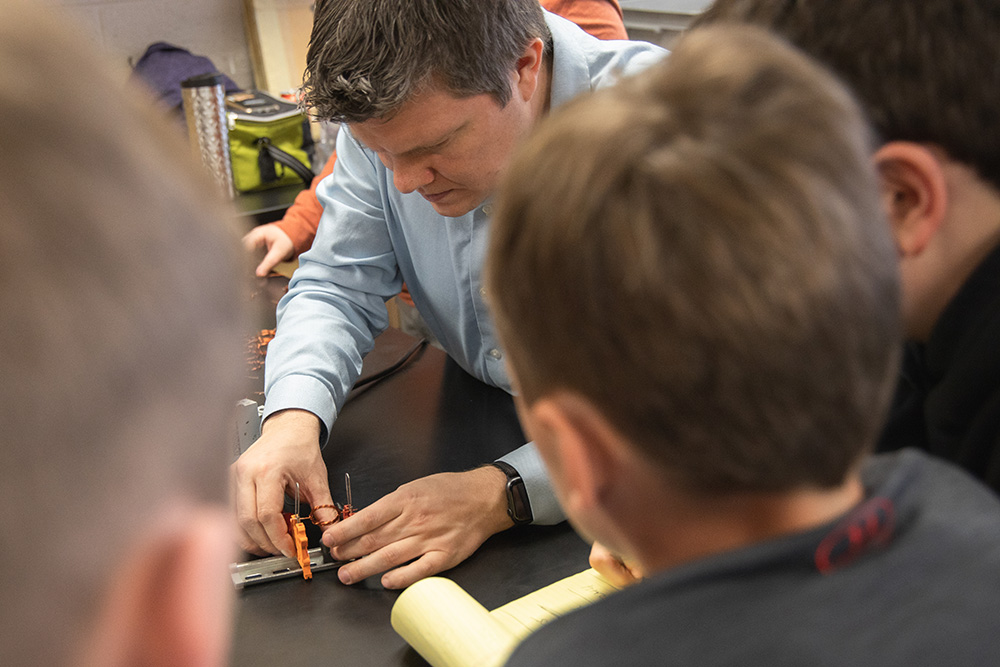 In 2008, Phoe­nix Con­ta­ct began a part­ners­hip with the local Midd­le­town Area Midd­le School. Every year sin­ce that time, a team of engi­neers tea­ches sixth-gra­de sci­ence class at the school
for a week. The group cho­se Natio­nal Engi­neers Week (gene­ral­ly the third week in Febru­a­ry), a week dedi­ca­ted to cele­bra­ting engi­nee­ring and enga­ging stu­dents in sci­ence, tech­no­lo­gy, engi­nee­ring, and math (STEM).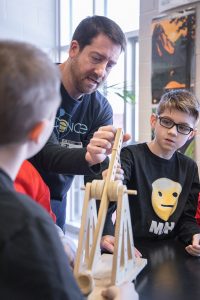 Scott Faulk­ner (pic­tu­red on left), engi­nee­ring mana­ger for inter­face com­pon­ents and one of the foun­ders of the pro­gram, exp­lai­ned: "The decisi­on to work with sixth-gra­de stu­dents was
not ran­dom. This is a cri­ti­cal age to expo­se child­ren to care­ers: They are old enough to iden­ti­fy a rea­listic desi­re to have a care­er in engi­nee­ring, yet young enough to adjust their aca­de­mic pathway to achie­ve that goal."
Every day, the engi­neers pre­sent a com­bi­na­ti­on of theo­ry and hands-on acti­vi­ty. As stu­dents race coo­kie tins down a ramp, they are lear­ning about con­ser­va­ti­on of ener­gy and how it rela­tes to mecha­ni­cal parts. They might laugh when they get sho­cked by the Van de Graaff gene­ra­tor, but they are also lear­ning the basics of sta­tic electri­ci­ty and vol­ta­ge. They obser­ve that with the right ang­le and ten­si­on, their cata­pult will throw the clay ball far­t­her down the hall­way. As they build electric motors and com­pe­te to see who­se motor spins the fas­test, they are lear­ning about electri­ci­ty and electromagnetism.
Throughout the week, the stu­dents brain­storm, obser­ve, and modi­fy their designs. Team­work is cri­ti­cal. Scott sta­ted, "Working as a team is important. No mat­ter whe­re you work or what
your care­er path, you will be part of a team, and you must learn to com­mu­ni­ca­te and work together."
The pro­gram has been so suc­cess­ful that the school district has for­mal­ly made it part of the cur­ri­cu­lum. Some Phoe­nix Con­ta­ct engi­neer-vol­un­te­ers shared their thoughts on why they
par­ti­ci­pa­te and why the Engi­neers Week out­re­ach has been a success.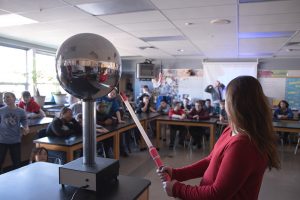 Mis­sy Som­mer
Many stu­dents aren't intro­du­ced to engi­neers. When they see engi­neers on TV, they are always the "nerd," and it's not that way in real life. Engi­nee­ring is hands-on and fun and inter­ac­ti­ve.
We want the kids to have a dif­fe­rent per­spec­ti­ve on what engi­nee­ring in gene­ral is. This is a good expe­ri­ence for them, becau­se they are able to take some­thing and app­ly it and try it out. Not ever­ything always works as plan­ned. This can be a humb­ling expe­ri­ence for some, and an oppor­tu­ni­ty for other stu­dents who are quiet.
Scott Faulk­ner
When they are buil­ding a cata­pult, they take the pie­ces on the desk and put it tog­e­ther (to build a cata­pult) to do what they thought it would do. There's a spark of "I did that, and it worked!" That's what engi­nee­ring is about.
Arnold Off­ner
We always get thank-you notes the week after­ward with comments about how fun the acti­vi­ty is. It's always good to get young peop­le inte­res­ted in their care­er path. We show stu­dents some of the things desi­gned by engi­neers that they might not have thought of – even simp­le things are made through engi­nee­ring and its rela­ted skill set.
Bri­an Lin­ton
The kids are exci­ted, and that also gets me exci­ted about engi­nee­ring again. Most of the kids don't have par­ents who are engi­neers, so this is all new to them. Once they get into high school, they will be picking clas­ses soon so they can choo­se a care­er rou­te, so now is a cri­ti­cal time. We also try to expo­se the stu­dents to dif­fe­rent disci­pli­nes of engi­nee­ring, like electri­cal
and mecha­ni­cal.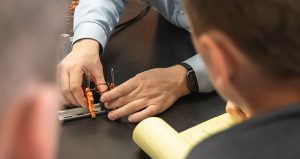 Matt Vara­no
Every year, we get one or two peop­le who are real­ly exci­ted. Two years ago, one of the kids shook my hand and thank­ed me. He was exci­ted to build some­thing. We hope that peop­le who didn't think about engi­nee­ring befo­re this week will start to think about it. By the end of the week, may­be they'll think that phy­sics is kind of fun.
Scott Frye
It's a lot of fun, and it's chal­len­ging to pre­sent engi­nee­ring and phy­sics topics in a way that midd­le schoo­lers can under­stand. It's cool when they actual­ly get it, and the ones who under­stand it espe­cial­ly have a lot of fun.
Chris Brink
I like having a chan­ce to expo­se kids to engi­nee­ring for a poten­ti­al future care­er path. It's also important to set a tone for young girls who may have never thought of it befo­re. It's not just
for guys. Anyo­ne can do it.
Some advice from the pros …
Scott Frye: "Try to keep it fun and find some­thing that you enjoy. Make lear­ning rela­t­a­ble and it beco­mes fun."
Arnold Off­ner: "Pay more atten­ti­on in your math and sci­ence clas­ses. Dis­co­ver a new appre­cia­ti­on for the sub­ject. We do a lot of prac­ti­cal con­cepts in life using tho­se con­cepts."
Bri­an Lin­ton: "Pick some­thing you like doing, and then the money doesn't mat­ter."
Chris Brink: "Don't be sca­red of the math. Keep doing it, and even­tual­ly it pays off."
Mis­sy Som­mer: "When we are done, I always ask them: If you had a chan­ce to do it again, what would you do dif­fer­ent­ly? It's important to learn from that expe­ri­ence one way or another."