It's impos­si­ble to get too clo­se to the sun when the RWTH Aachen Uni­ver­si­ty and FH Aachen University's solar-powe­red car starts moving. But the flir­ta­ti­on with the fire in the sky is not without risk, even for the occup­ants of the rege­ne­ra­ti­ve racer.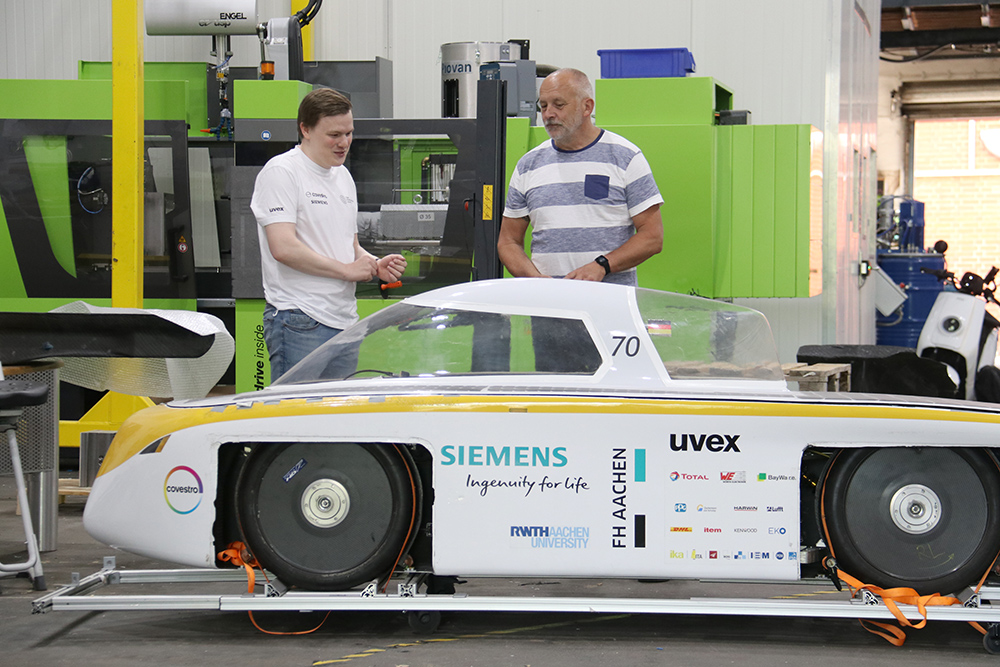 In 2015, a wild time began for a group of stu­dents in the old impe­ri­al city of Aachen. The back­ground was neit­her ille­gal sub­s­tan­ces nor debauched noc­turnal leisu­re acti­vi­ties, but the idea of wan­ting to take part in what is pro­bab­ly one of the most unusu­al races on the glo­be – the World Solar Chal­len­ge in Aus­tra­lia. Every two years, teams from all over the world meet the­re to cover a distance of 3,022 kilo­me­ters across the out­back using only the power of the sun.
At the time, the­re was no Ger­man team in the wil­dest, the Chal­len­ger class. The trou­pe chan­ged that in a very empha­tic way, as Simon Quin­ker recounts with a grin. The Son­nen­wa­gen e.V. asso­cia­ti­on was quick­ly foun­ded. With dri­ve and a lot of impro­vi­sa­ti­on, the com­mu­ni­ty, which initi­al­ly con­sis­ted of 20 and later up to 45 stu­dents, not only mana­ged to find spon­sors and build a vehi­cle from scratch, but also to rea­li­ze the trip to fara­way Australia.
"At that time, we not only made it to the finish line, which only about half of all star­ting teams mana­ge to do. We were even voted the best new­co­mer team," reports Quin­ker. The 24-year-old pro­spec­ti­ve indus­tri­al engi­neer spe­cia­li­zing in mecha­ni­cal engi­nee­ring is cur­r­ent­ly in his fourth year as a mem­ber of the team and is not only 2nd chair­man, but also respon­si­ble for mar­ke­ting. "We are a pure­ly stu­dent team. And the­re the six years, which the­re is the sun car­ria­ge pro­ject now alrea­dy, are natu­ral­ly a long time, sin­ce here con­stant­ly also a chan­ge of the par­ti­ci­pants takes place.
Who finis­hed stu­dy­ing, starts into the working life and lea­ves us. We the­re­fo­re think in terms of sea­sons, each las­ting two years – from one race to the next. We start right after the race in Aus­tra­lia, then we go into a recrui­t­ing pha­se to find new team members."
Moroc­co ins­tead of Down Under
For Simon Quin­ker, it is important that mem­bers­hip of the Son­nen­wa­gen is an acti­vi­ty along­side stu­dies. Alt­hough the inqui­si­ti­ve young engi­neers are sup­por­ted by some facul­ties, ever­ything that the stu­dents con­tri­bu­te in terms of time and com­mit­ment is not lin­ked to their stu­dies. Fiel­ds of stu­dy play a sub­or­di­na­te role: a lar­ge part of the team comes from mecha­ni­cal and electri­cal engi­nee­ring, but com­pu­ter sci­en­tists are also invol­ved and tin­ker with the dri­ving stra­te­gy, or indus­tri­al engi­neers orga­ni­ze spon­sors and mar­ke­ting. "The goal is to turn stu­dent theo­re­ti­cal know­ledge into prac­ti­cal expe­ri­ence. And, of cour­se, to com­pe­te in the race as a team."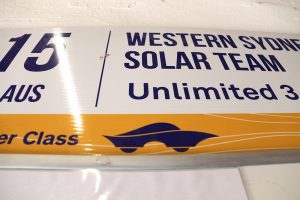 The other teams usual­ly com­ple­te their pro­jects full time, taking a year or year and a half off from their stu­dies. The­re are 25 teams in the Chal­len­ger Class that par­ti­ci­pa­ted in the World Solar Chal­len­ge in 2019. Across all clas­ses, the­re are bet­ween 60 to 70 teams world­wi­de, Quin­ker esti­ma­tes. With the Aus­tra­li­an event not taking place in 2021 due to Coro­na, an event on a simi­lar sca­le has been laun­ched in the form of the 2021 Solar Chal­len­ge Morocco.
The mar­ke­ting mana­ger of Son­nen­wa­gen exp­lains the dimen­si­on of the race: "In Euro­pe, we are cur­r­ent­ly nine teams that par­ti­ci­pa­te in the 2,500 kilo­me­ters in Moroc­co. But the­se are THE nine. All the top teams. Our Chal­len­ger com­pe­ti­tors come main­ly from Bel­gi­um and the Nether­lands, all around 250 km from Aachen. Of cour­se we share the enthu­si­asm for the who­le sub­ject, espe­cial­ly in the cur­rent Coro­na times, and we also exchan­ge ide­as. But when it comes to the vehi­cle or the tech­no­lo­gy, we keep a tight lid on it, becau­se the com­pe­ti­ti­on rules."
Ter­mi­nal ins­tead of money
The finan­cial volu­me of the solar racers amounts to a high six-figu­re sum. Cove­stro is cur­r­ent­ly the main spon­sor of the solar stu­dent move­ment. Phoe­nix Con­ta­ct spon­sors the team with con­nec­tion tech­no­lo­gy. Simon Quin­ker empha­si­zes, "To us, a mate­ri­al con­tri­bu­ti­on is worth more than a mone­ta­ry con­tri­bu­ti­on under cer­tain cir­cum­s­tan­ces, but this is usual­ly com­bi­ned. It is important to us that our spon­sors also find them­sel­ves tech­ni­cal­ly invol­ved in the race car and can con­tri­bu­te. We the­re­fo­re work clo­se­ly with the com­pa­nies that sup­port us in the area of their pro­duct range."
"At the second start, we built a car that was abso­lute­ly com­pe­ti­ti­ve on a tech­ni­cal level. But the­re were very strong winds towards the end. We were far ahead, but then we went off the road and rol­led over. All the safe­ty sys­tems worked, nobo­dy got hurt. The car was dama­ged, but we were able to repair the car on the spot and then con­ti­nue again. In the end, we actual­ly finis­hed sixth becau­se we had such a big lead. On top of that, we were able to pick up two other awards, the Event Safe­ty Award becau­se of our beha­vi­or during the acci­dent and the Spi­rit of the Event Award becau­se, des­pi­te the acci­dent and with our young team in only the second race, we did­n't give up at all and arri­ved in Adelaide."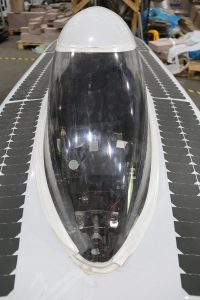 He points to the car: "Our dri­vers are stu­dents, but becau­se of the nar­row­ness of the cock­pit, we alrea­dy pick "sui­ta­ble" sta­tures." 180 cen­ti­me­ters in height and 80 kilos in weight are the upper limits. Dri­ving is a tough job; in Aus­tra­lia, you dri­ve 300 to 400 kilo­me­ters at a stretch, with no win­dows and no air con­di­tio­ning. Only a tiny air inta­ke in the wheel­house pro­vi­des a mini­mum of fresh air.
Tech­no­lo­gi­cal bor­der crossers
The 2019 Son­nen­wa­gen reli­es on the arrow shape elon­ga­ted and nar­row. For the first Son­nen­wa­gen, the Aachen-based com­pa­ny still con­struc­ted a cata­ma­ran design. "The aero­dy­na­mics," Quin­ker exp­lains, "take care of about 70 to 80 per­cent of the los­ses we have at speeds of around 100 km/h. In the 2019 Sun Car, the­re was one stee­ring sys­tem for the front and one for the rear, allowing the pilot to trim the vehi­cle per­fect­ly into the wind. The ori­en­ta­ti­on of the solar cells to the sun is also super important. It would actual­ly be ide­al if they were per­pen­di­cu­lar. That's whe­re we have to make cor­rec­tions again and again and com­pa­re them with the simu­la­ti­ons that are necessa­ry for a race distance. Every chan­ge we make is con­ver­ted to race minutes."
The dri­ve is pro­vi­ded exclu­si­ve­ly by solar cells that are spe­cial­ly manu­fac­tu­red for solar cars. The­se gal­li­um arseni­de cells feed their ener­gy into the bat­te­ry via inter­con­nec­ted modu­les and maxi­mum power point tra­ckers (MPPT). The­se ensu­re that vary­ing ener­gy out­put from the modu­les does not result in a loss of total avail­ab­le power. "In Aus­tra­lia, we start with a full 5 kW/h bat­te­ry, which would get us about 500 kilo­me­ters without sun.
We are abso­lute­ly at the limit of what is tech­no­lo­gi­cal­ly pos­si­ble. For examp­le, the bat­te­ry cells are extre­me­ly clo­se tog­e­ther, espe­cial­ly for our app­li­ca­ti­on. They mana­ge without coo­ling, as that would only add weight. We only get very low cur­r­ents into the cells and also only release very low cur­r­ents again. We dri­ve 100 km/h with about 1 kilo­watt of power."
Hot butt
A racing car always invol­ves risks. The safe­ty regu­la­ti­ons sti­pu­la­te that the dri­ver must be able to exit the car very quick­ly. At the last World Solar Chal­len­ge, a race car actual­ly also bur­ned down. If you are working at the maxi­mum, then in extre­me cases a small mista­ke can cau­se the "ther­mal runa­way" to be trig­ge­red and the bat­te­ry to igni­te its­elf. You don't noti­ce this befo­re­hand, but only when it's too late.
"On the sub­ject of bat­te­ries, we are col­la­bo­ra­ting with insti­tu­tes, such as here at RWTH with the ISEA (Insti­tu­te for Power Elec­tro­nics and Electri­cal Dri­ves), which works very inten­si­ve­ly on elec­tro­che­mi­stry and mea­su­ring bat­te­ries. We then dis­cuss the design of the bat­te­ries with the­se col­leagues, so that we ensu­re that we also com­ply with indus­tri­al safe­ty stan­dards. All cells are tes­ted again befo­re instal­la­ti­on to rule out defects. And we iden­ti­fy the cells with the hig­hest ener­gy density."
Wheels and rims are spe­cial­ly deve­lo­ped for solar vehi­cles, Brid­ge­stone and Miche­lin pro­du­ce the stan­dard tires. Other­wi­se, almost all parts are manu­fac­tu­red in-house, inclu­ding 3D prin­ting. The heat sinks for the tail­lights, for examp­le, come from the Aco­ni­ty 3D prin­ter. In gene­ral, it is evi­dent that the stu­dents have access to sta­te-of-the-art equip­ment: "Our latest achie­ve­ment is a
test stand for electric motors, on which we can pre­cise­ly mea­su­re and test the motors and the ent­i­re electri­cal sys­tem without the solar cells."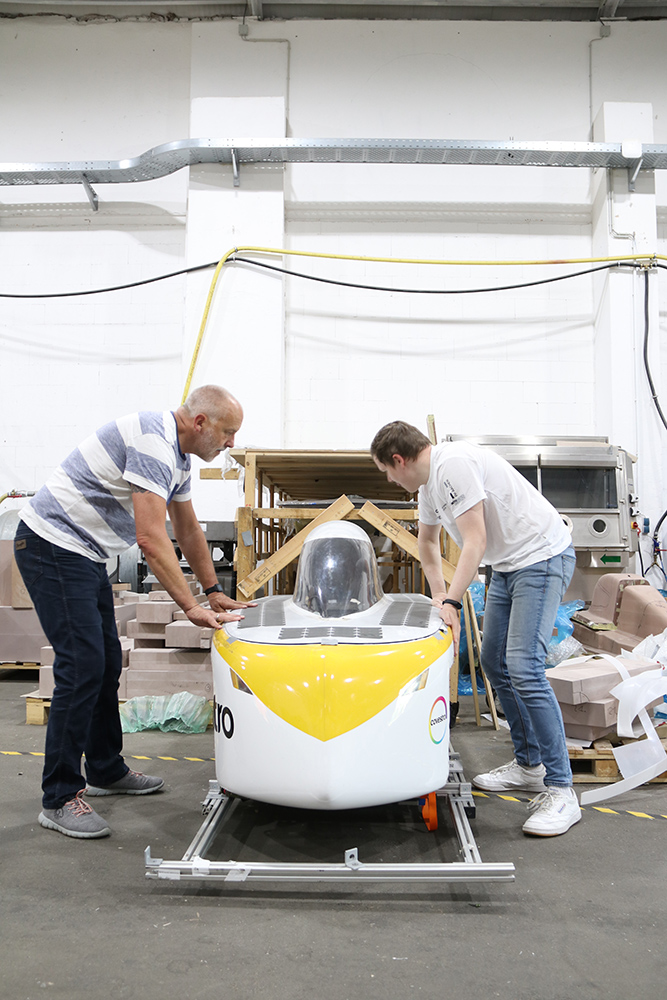 Ope­ra­ti­on around the clock
"On World Envi­ron­ment Day, the new rules come out each time. Then we have a good year to put a com­pe­ti­ti­ve solar racer on the wheels. It's all about deve­lo­p­ment and inno­va­ti­on, not about repea­ting and per­fec­ting tech­ni­ques that have alrea­dy been tried and tes­ted. At the moment, ever­ything revol­ves around the new runa­bout. Befo­re the race, sleep and lec­tures are kept to a mini­mum: "We'­re in the hot pha­se for Moroc­co right now, so we'­re working 24-hour shifts almost around the clock."
Mean­while, the third Sun Car, which has been named "Pho­ton Cove­stro," is in Aachen and under­go­ing final assem­bly. And sin­ce the Son­nen­wa­gen crew is not only tech­no­lo­gi­cal­ly up to date when it comes to the vehi­cle, but also fit when it comes to mar­ke­ting and public rela­ti­ons, anyo­ne inte­res­ted can also keep their fin­gers cros­sed on the social net­works of Insta­gram and YouTube.
The toughest solar race in the world
The World Solar Chal­len­ge has been held in Aus­tra­lia sin­ce 1987. It covers 3,022 kilo­me­ters on public roads across the out­back from Dar­win to Ade­lai­de. The car race for solar vehi­cles is con­si­de­red the world's toughest test. The par­ti­ci­pants start in dif­fe­rent cate­go­ries and most­ly come from uni­ver­si­ties.
During the race, the ultra­lights, which can reach speeds of up to 140 km/h, are accom­pa­nied by team vehi­cles, which are sup­po­sed to pro­tect their alter­na­ting pilots not only from the over­long road trains, but also from dan­gers such as kang­a­roos or other wild ani­mals. Repairs are allo­wed during the race.
The World Solar Chal­len­ge is held every two years, always in odd-num­be­red years. In the mean­ti­me, the­re are other races, such as in the U.S. the Ame­ri­can Solar Chal­len­ge, the South Afri­can Solar Chal­len­ge or the Euro­pean Solar Chal­len­ge in Bel­gi­um (Cir­cuit Zol­der, 24-hour race). This year, the solar car com­pe­ted in the Solar Chal­len­ge Moroc­co from Octo­ber 23 to 30.
Adden­dum
After a wild race through the desert sta­te with several small and lar­ge adven­tures, Team Son­nen­wa­gen and its Cove­stro Pho­ton finis­hed in a proud 5th place.
Day 5 – Cros­sing the finish line — Team Son­nen­wa­gen Aachen
This post is also avail­ab­le in:

Deutsch