With the growth of rene­wa­ble ener­gies, the limits of wind power plants are pushing fur­ther and fur­ther into regi­ons that are not without their pit­falls in terms of cli­ma­te. When it gets cold, the­re is a risk of ice for­ma­ti­on. If it is seve­re enough, it will lead to shut­down and thus to redu­ced yields.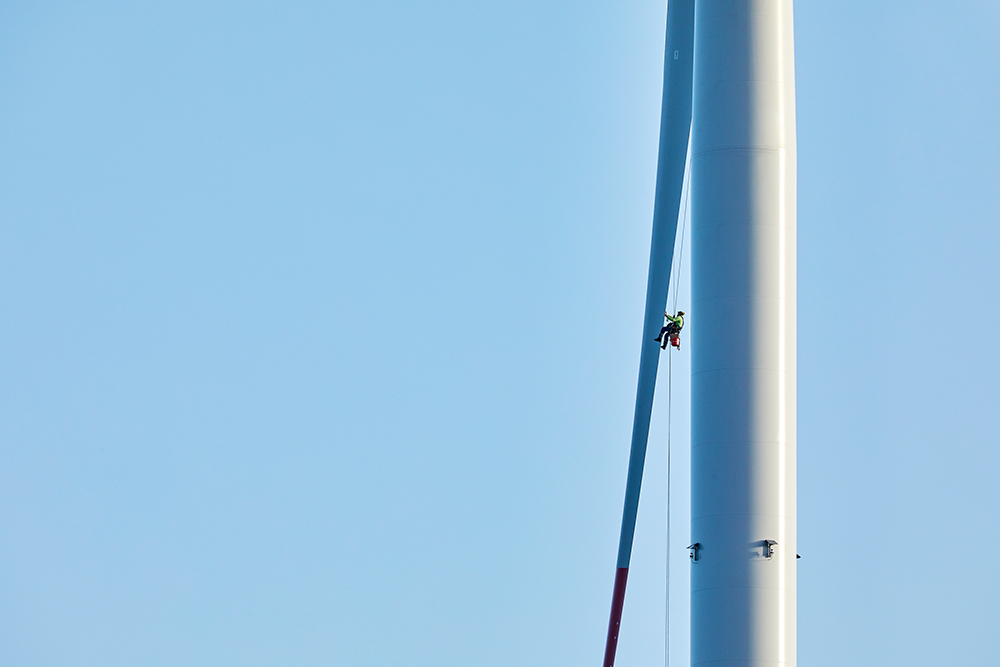 Hig­her and hig­her, fur­ther and fur­ther – which is actual­ly very desi­ra­ble in times of the Olym­pics, but makes wind farm buil­ders and ope­ra­tors crin­ge. Their tur­bi­nes are con­que­ring ever new cli­ma­tic regi­ons, whe­ther in the direc­tion of the polar ice caps or along moun­tain­ous regi­ons. And with ever tal­ler towers, the migh­ty rotor bla­des are also more and more fre­quent­ly roa­ming through low-han­ging clouds.
But what is tech­ni­cal­ly fea­si­ble reaches its limits when more and more ice crys­tals accu­mu­la­te on the outer skin of the rotor bla­des. When they reach a cer­tain thic­kness, their mass cau­ses pro­blems. To pre­vent the chunks, which can weigh up to 300 kilo­grams, from thro­wing ice and to avoid dama­ge cau­sed by imba­lan­ces, the tur­bi­nes have to be shut down. But when is the limit for shut­down reached?
The pro­blem is that until now the­re have hard­ly been any sys­tems that could direct­ly record actu­al ice for­ma­ti­on. Only para­me­ters such as out­side tem­pe­ra­tu­re, air humi­di­ty, chan­ged power cha­rac­te­ris­tics and wind strength were mea­su­red in order to indi­rect­ly extra­po­la­te pos­si­ble ice for­ma­ti­on. Vibra­ti­ons of the rotor bla­des are also indi­rect indi­ca­ti­ons of pos­si­ble ice for­ma­ti­on. Result of the­se rough esti­ma­ti­on methods: For safe­ty rea­sons, a wind tur­bi­ne is stop­ped very ear­ly. This in turn leads to bla­tant yield losses.
The ice detec­tion sys­tem from Phoe­nix Con­ta­ct drasti­cal­ly redu­ces the­se fail­u­res thanks to an inno­va­ti­ve sen­sor sys­tem that detects ice for­ma­ti­on direct­ly on the rotor bla­de by mea­su­ring resis­tance and is also ide­al­ly sui­ted for retro­fit­ting in exis­ting sys­tems.
How this works, the chal­len­ges of retro­fit­ting, and why it (can) make plant ope­ra­tors hap­py is exp­lai­ned in the new spe­cial "Ice Detection".
Click on the tit­le to view the spe­cial direct­ly. You can also down­load a pdf: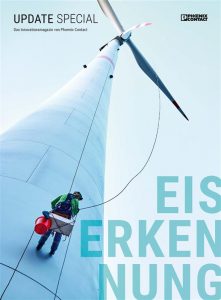 This post is also avail­ab­le in:

Deutsch