For tho­se who did not yet know that Phoe­nix Con­ta­ct also manu­fac­tures hand tools, the fol­lowing lines are cer­tain­ly of inte­rest. We were not only inte­res­ted in the Scan­di­na­vi­an place of ori­gin, but also in the per­for­mance of the metal Swe­dish snacks. Let's go and test the Crim­p­fox Duo 10 at the practitioner!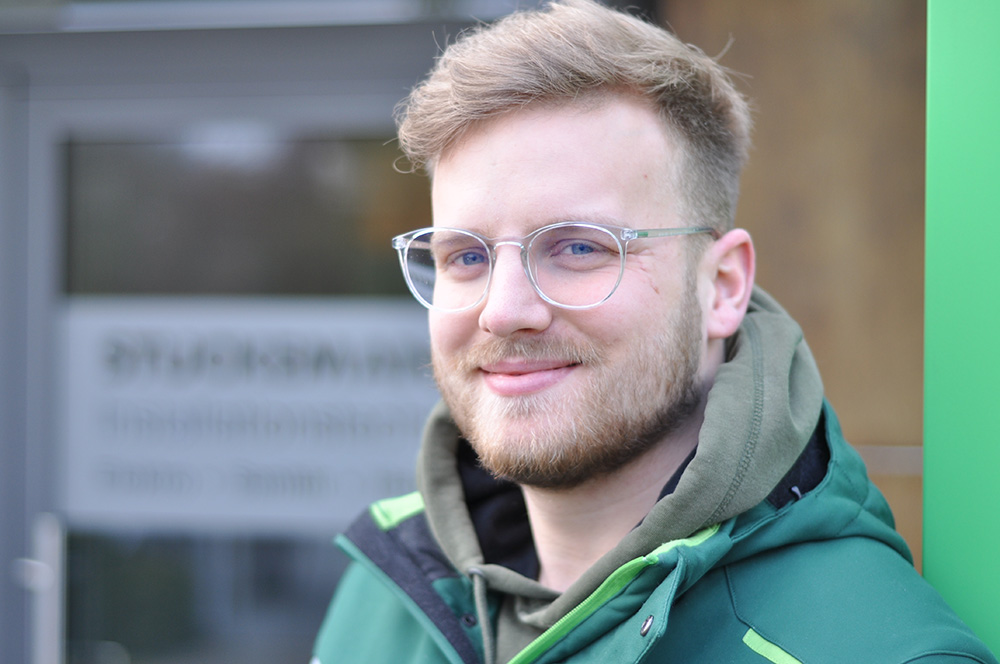 Click, click, and click again – Juli­us Stü­cke­mann is fasci­na­ted. The juni­or boss of the tra­di­tio­nal Bie­le­feld com­pa­ny ITS Stü­cke­mann turns the die of the Swe­dish Crim­p­fox Duo 10 by 90 degrees again and again. "This is real­ly inge­nious, we have never seen anything like this on other crim­ping tools befo­re." This will not be the only prai­se utte­red by experts during this tool test.
Swe­dish steel for the con­trol cabinet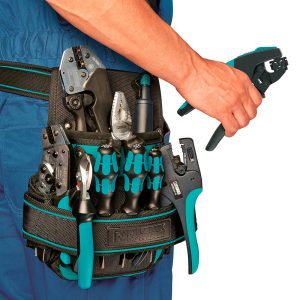 The Crim­p­fox Duo 10 is made in Älvda­len – the head­quar­ters of the tool­ma­ker Press­mas­ter Press­mas­ter. Sin­ce 1976, the Nor­se­men have been manu­fac­tu­ring pre­cisi­on tools here, in the heart of Swe­den, which are pionee­ring, espe­cial­ly for the electri­cal tra­de. As ear­ly as 1973, the C‑Frame, the world's first modern crim­ping tool with rat­chet mecha­nism, was inven­ted and paten­ted, at that time still in Stockholm.
In 1975, Press­mas­ter went one step fur­ther and deve­lo­ped the self-adjus­ting strip­ping tool. The Press­mas­ter Tool pro­duc­tion faci­li­ty was then ope­ned in Älvda­len in 1976. Nume­rous other new deve­lo­p­ments and patents rela­ting to cable pro­ces­sing fol­lo­wed. Then, in 2012, Phoe­nix Con­ta­ct took over the inno­va­ti­ve tool forge.
It has to be a Heinrich
The com­pa­ny ITS Stü­cke­mann GmbH & Co. KG in Bie­le­feld is a real com­pa­ny with a long tra­di­ti­on. Alrea­dy sin­ce 1920, the East West­pha­li­ans have enab­led a smooth flow of electri­ci­ty and ener­gy, always con­duc­ted by a Hein­rich, becau­se the foun­der as well as the cur­rent head of the com­pa­ny and one of the two future com­pa­ny direc­tors bear the same first name.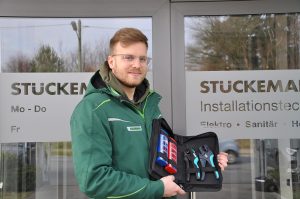 38 employees work in the electri­cal, plum­bing, and hea­ting sec­tors. The tasks ran­ge from clas­sic instal­la­ti­on work to ultra-modern smart home app­li­ca­ti­ons, the inte­gra­ti­on of rene­wa­ble ener­gies into ener­gy and heat sup­ply sys­tems, and e‑mobility solu­ti­ons – both pri­va­te and com­mer­cial. The com­pa­ny is working at full capa­ci­ty; a new buil­ding will make room for sta­te-of-the-art tech­no­lo­gy, a spa­cious show­room, and spe­cial trai­ning facilities.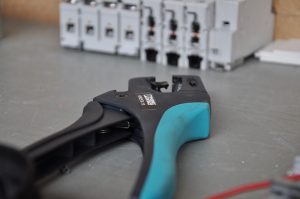 Just the right place to take a clo­ser look at two pairs of pliers from Phoe­nix Con­ta­ct. This is becau­se the the fact that Phoe­nix Con­ta­ct has much more than just ter­mi­nal blocks and other well-known pro­ducts in its ran­ge, but also manu­fac­tures and sells its own tools, is often new even to expe­ri­en­ced pro­fes­sio­nals from indus­try and tra­de. The "Crim­p­fox Duo 10" and the "Wire­fox 10" were the­re­fo­re packed up and han­ded over to the Bie­le­feld com­pa­ny for a 14-day endu­ran­ce test. For two weeks, the set of crim­ping and strip­ping pliers accom­pa­nied instal­lers and then were cri­ti­cal­ly asses­sed. On the con­struc­tion site, ever­ything is equal at the out­set. And against the top dogs of the tool indus­try, new­co­mers tra­di­tio­nal­ly have a hard time, espe­cial­ly in the trades.
In prac­ti­ce
A good two weeks later, Juli­us Stü­cke­mann clicks the rota­ting die of the Crim­p­fox Duo 10 back and forth. The 28-year-old future com­pa­ny boss, who will share his task with his bro­ther Hein­rich, is also respon­si­ble for mar­ke­ting at Stü­cke­mann. But the smart young entre­pre­neur is also at home in the work­shop and on the con­struc­tion site, as he demons­tra­tes at the appren­ti­ce work­bench. He quick­ly snat­ches up a few cables, sets the pliers in the right light, and then demons­tra­tes what his col­leagues expe­ri­en­ced "in the wild" with the ele­gant Swe­dish pliers.
"Alt­hough the Wire­fox 10 strip­ping pliers are not a ground­brea­king new inven­ti­on, they impres­sed our employees with their excel­lent hand­ling and the con­ve­ni­ent and rapid strip­ping-length adjus­t­ment func­tion. Howe­ver, it is almost too good to lie around in the dust and dirt insi­de a tool­bag wai­t­ing to be used – our tech­ni­ci­ans would expect pro­blems with the mecha­nics in the long run.
The Crim­p­fox is altog­e­ther dif­fe­rent. It impres­sed ever­yo­ne. It quick­ly beca­me clear to us that it would only be under- uti­li­zed when used on stan­dard con­struc­tion sites in new buil­dings. But my col­leagues had to work on new instal­la­ti­ons in older plants several times. Whe­re­ver the wiring in a con­trol cabi­net has to be chan­ged from old to new, you often have the pro­blem that the old cables are very short. The swi­ve­ling crim­ping die is a fan­tastic solu­ti­on to this problem."
Howe­ver, Stü­cke­mann does have one point of cri­ti­cism: "Some col­leagues would have lik­ed the pliers to crimp up to 16 mm2, but they only work up to 10 mm2 cable cross sec­tion. That is some­ti­mes a bit small." But Juli­us Stü­cke­mann and his col­leagues did not want to release the pliers duo again. "They stay here!" Which is pro­bab­ly the best com­pli­ment for the steel Swe­des from Älvdalen.
phoenixcontact.com/crimp­zan­gen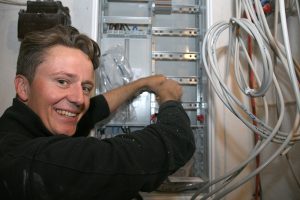 This post is also avail­ab­le in:

Deutsch