And many more than just the ele­ven a foot­ball team needs! In the "it's OWL" know­ledge clus­ter, 200 regio­nal com­pa­nies are working tog­e­ther as a net­work to be pre­pa­red for the chal­len­ges of the future. Pro­fes­sor Dr. Roman Dumit­res­cu reve­als in an inter­view how this know­ledge com­mu­ni­ty works, what oppor­tu­nities it pres­ents, and what obsta­cles have to be overcome.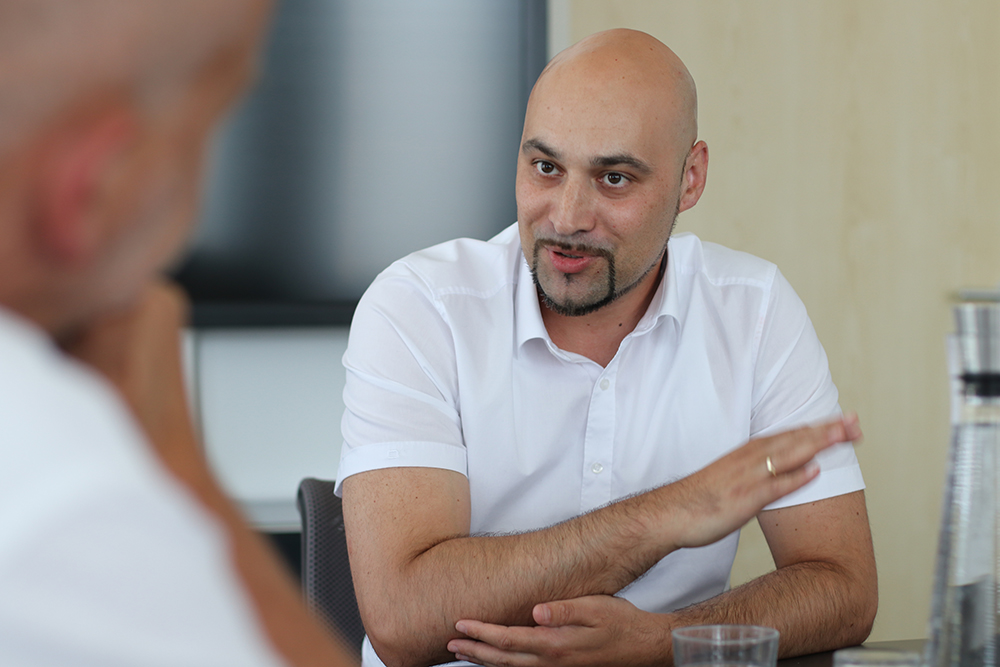 The like­ab­le uni­ver­si­ty lec­tu­rer is an expe­ri­en­ced expert on topics such as auto­ma­ti­on, mecha­tro­nics, and pro­duc­tion. This is hard­ly sur­pri­sing, sin­ce this post­gra­dua­te engi­neer is one of the direc­tors of the Fraun­ho­fer Insti­tu­te IEM in Pader­born, Ger­ma­ny, with a focus on mecha­tro­nics and pro­duct deve­lo­p­ment for intel­li­gent tech­ni­cal sys­tems. Sin­ce 2012, he has also been Mana­ging Direc­tor of the
"it's OWL" know­ledge clus­ter. And sin­ce 2016, he has held the chair for Advan­ced Sys­tems Engi­nee­ring at the Uni­ver­si­ty of Paderborn.
UPDATE: Pro­fes­sor Dumit­res­cu, what's behind the term "it's OWL"?
In princip­le, "it's OWL" is a tech­no­lo­gy net­work con­sis­ting of com­pa­nies from the Ost­west­fa­len-Lip­pe regi­on of Ger­ma­ny, shor­ten­ed to OWL. The net­work also inclu­des rese­arch insti­tu­tes and uni­ver­si­ties that are acti­ve and con­duct rese­arch invol­ving intel­li­gent tech­ni­cal sys­tems. This, in turn, is some­thing the com­pa­nies can make good use of.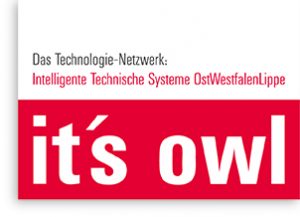 UPDATE: Edu­ca­ti­on and uni­ver­si­ty rese­arch and cor­po­ra­te real-world app­li­ca­ti­ons — how does it all fit together?
This is exact­ly what we are brin­ging tog­e­ther in the clus­ter to explo­it the effects that rese­arch and app­li­ca­ti­on gene­ra­te without any gre­at loss of fric­tion. Inde­ed, it's often the case that rese­arch is car­ri­ed out from a sci­en­ti­fic point of view. Whe­ther it can be app­lied in prac­ti­ce — that ques­ti­on is not even con­si­de­red at first. We are try­ing to chan­ge this way of thin­king, are try­ing to instill into our stu­dents and rese­ar­chers the impor­t­ance of prac­ti­cal app­li­ca­ti­ons at an ear­ly sta­ge as well. Becau­se real-world app­li­ca­ti­ons enrich rese­arch enormously.
UPDATE: Why OWL? Are the Eas­tern West­pha­li­ans smar­ter than the rest of the coun­try? Or are the­re simi­lar clus­ters in other regi­ons of Germany?
In 2010, the federal government held a com­pe­ti­ti­on. They were loo­king for clus­ters or regi­ons that could keep up with Sili­con Val­ley. The only con­di­ti­ons were that the clus­ter or regi­on should be rele­vant to Ger­ma­ny, that it should be regio­nal­ly con­cen­tra­ted, and that it nee­ded to be a top regi­on from a sci­en­ti­fic and eco­no­mic point of view. So we held dis­cus­sions with all rele­vant com­pa­nies, inclu­ding Phoe­nix Con­ta­ct, about whe­re they saw them­sel­ves in the next five years, what tech­ni­cal issu­es they were working on, and whe­ther they could mana­ge that on their own.
UPDATE: What was the gene­ral fee­ling of the companies?
The respon­se was qui­te clear back then: Pro­ducts are beco­m­ing incre­a­singly more net­wor­ked, they are beco­m­ing more intel­li­gent. And no, they can't do it on their own any­mo­re. And that was the rea­son we app­lied. Some com­pa­nies — such as Phoe­nix Con­ta­ct, Mie­le, and Claas — were actively invol­ved right from the start. We iden­ti­fied rese­arch pro­jects that would bene­fit ever­yo­ne. And when we won, we also recei­ved fun­ding for the­se pro­jects. That was five years ago. And we are con­ti­nuing to work on this.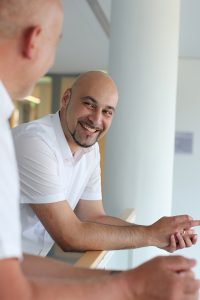 UPDATE: Which indus­tries are play­ing a role in this know­ledge and rese­arch community?
Machi­ne buil­ding and sys­tems manu­fac­tu­ring first and fore­mo­st. Com­pa­nies that hard­ly know about anyo­ne out­side their sphe­re of influ­ence, such as paint line manu­fac­tu­rers, pack­a­ging plant manu­fac­tu­rers, and pro­duc­tion machi­ne manu­fac­tu­rers. Hid­den cham­pions. A big advan­ta­ge of this gro­wing com­mu­ni­ty is that no one is too big. The­re aren't any indus­try giants that domi­na­te ever­ything — the­se are all medi­um-sized, fami­ly-run com­pa­nies that think stra­te­gi­cal­ly and long­term. This struc­tu­re is very pro­noun­ced, very spe­cial. The­re are also medi­um-sized cen­ters in other regi­ons, but the­re are usual­ly very une­qual­ly sized sta­ke­hol­ders involved.
UPDATE: What about the for­mer posi­ti­on of Ger­ma­ny as a lea­ding nati­on of know­ledge? Is Ger­ma­ny rea­dy for the future?
The­re are stu­dies that pre­dict that in 20 years, 98 per­cent of sci­en­tists will come from Asia. But I am cer­tain that Ger­ma­ny will also have very good oppor­tu­nities in the future. The brand "Made in Ger­ma­ny" is still the num­ber one seal of qua­li­ty world­wi­de.
When it comes to digi­ta­liz­a­ti­on, the­re is often the fee­ling that we are behind, becau­se we don't have the Ama­zons, the Goo­g­les, or the App­les. How do we intro­du­ce the new ide­as and approa­ches into our tra­di­tio­nal indus­tries? This is exact­ly what "it's OWL" is demons­tra­ting. Here, a regi­on cha­rac­te­ri-
zed by medi­um-sized com­pa­nies is on its way to beco­m­ing a digi­ta­li­zed industry.
UPDATE: OWL does not exact­ly enjoy metro­po­li­tan sta­tus, though. How big is this loca­tio­nal dis­ad­van­ta­ge against the back­ground of demo­gra­phic change?
If all future spe­cia­lists only want to work at Ama­zon or Goog­le, and nobo­dy wants to work for clas­sic com­pa­nies, like tho­se in Blom­berg, any­mo­re, then it's going to be a pro­blem (smi­les).
But I don't see that hap­pe­ning. Not all the young peop­le only want to go to Berlin…
UPDATE: The topic of fami­ly busi­nes­ses is one of the spe­cial cha­rac­te­ris­tics of Eas­tern West­pha­lia. Is it a strength or a weakness?
It's a huge advan­ta­ge. The­se com­pa­nies are not mana­ged based on quar­ter­ly figu­res, but based on long-term stra­te­gies. If you have a com­mit­ment with the local entre­pre­neurs, then that's worth its weight in gold.
In a lar­ge num­ber of cases, I have not come across the much cri­ti­ci­zed fun­da­men­tal con­ser­va­ti­ve atti­tu­de, but rather an entre­pre­neu­ri­al visi­on and a wil­ling­ness to cou­ra­ge­ous­ly face the­se new digi­tal chal­len­ges and dare to try some­thing new. This is against the back­drop of the owners also facing a
genera­tio­nal handoff.
UPDATE: Is the­re a start­up cul­tu­re here?
Defi­ni­te­ly. The­re always has been. Other­wi­se the com­pa­nies wouldn't exist. The only dif­fe­rence is that the cur­rent start­up sce­ne enjoys much more atten­ti­on. The­re are many hid­den cham­pions in OWL. Today's star­tups want to do the oppo­si­te, becau­se they are figh­t­ing for inves­tors. But at the end of
the day, a com­pa­ny should also have added value and be suc­cess­ful. And the local com­pa­nies have demons­tra­ted this very well. The entre­pre­neu­ri­al objec­ti­ve is not to be fashion­ab­le, but to stay on the market.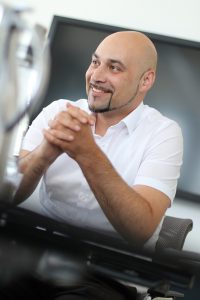 UPDATE: What role does Phoe­nix Con­ta­ct play in "it's OWL"?
Phoe­nix Con­ta­ct was the­re right from the start. The com­pa­ny is one of 25 core part­ners that are mas­si­ve­ly invol­ved. CTO Roland Bent is a mem­ber of the Clus­ter Board, and recent­ly also beca­me Acting Chair­man. And Phoe­nix Con­ta­ct has been invol­ved in tan­gi­ble pro­jects right from the start. This makes it one of the most visi­ble com­pa­nies in "it's OWL".
UPDATE: Many com­pa­nies invol­ved are actual­ly in strong com­pe­ti­ti­on with each other. How does the team­work work?
It's been a pro­cess for us. Even as recent­ly as 2011, joint pro­jects with direct com­pe­ti­tors were almost impos­si­ble. While in the begin­ning the gene­ral mana­gers pro­bab­ly only sat tog­e­ther to keep a clo­se eye on each other, trust has built up over the cour­se of the coope­ra­ti­on. The clo­ser com­pa­nies beco­me in the mar­ket, the clo­ser they are in terms of the pro­duct, and the­re­fo­re the more likely
they are to be com­pe­ti­tors. Howe­ver, this will not and should not influ­ence the cluster.
UPDATE: Whe­re will the indus­try be in ten years?
The digi­tal trans­for­ma­ti­on is essen­ti­al and defi­ning, but not as rapid as it seems. In OWL, the small to medi­um-sized enter­pri­ses are well-posi­tio­ned. But they have to join in now. Ger­man com­pa­nies know their pro­ces­ses very well, are good in terms of per­for­mance. They are very clo­se to their cus­to­mers, in par­ti­cu­lar in terms of the sales depart­ments, and have an immense under­stan­ding of the issu­es. This sales net­work will be extre­me­ly important. Sales and ser­vice are a huge source of know­ledge in under­stan­ding whe­re the customer's pain points are. If com­pa­nies suc­ceed in inte­gra­ting cus­to­mer know­ledge into new ser­vices, then we will remain strong.
UPDATE: Can the Eas­tern West­pha­li­ans per­form in terms of service?
Yes, we can. And we are actual­ly very good at it. The fami­ly-ori­en­ted Eas­tern West­pha­li­an entre­pre­neurs foun­ded their com­pa­nies based on the needs of their customers.
This post is also avail­ab­le in:

Deutsch