Ima­gi­ne a con­ver­sa­ti­on in 20 years. How will we judge today's deve­lo­p­ments in mobi­li­ty in 20 years time? How will we exp­lain terms such as traf­fic jams, gas pump nozz­les, smog, and exhaust pipe to our grand­child­ren? A visio­na­ry look back on the year 2020.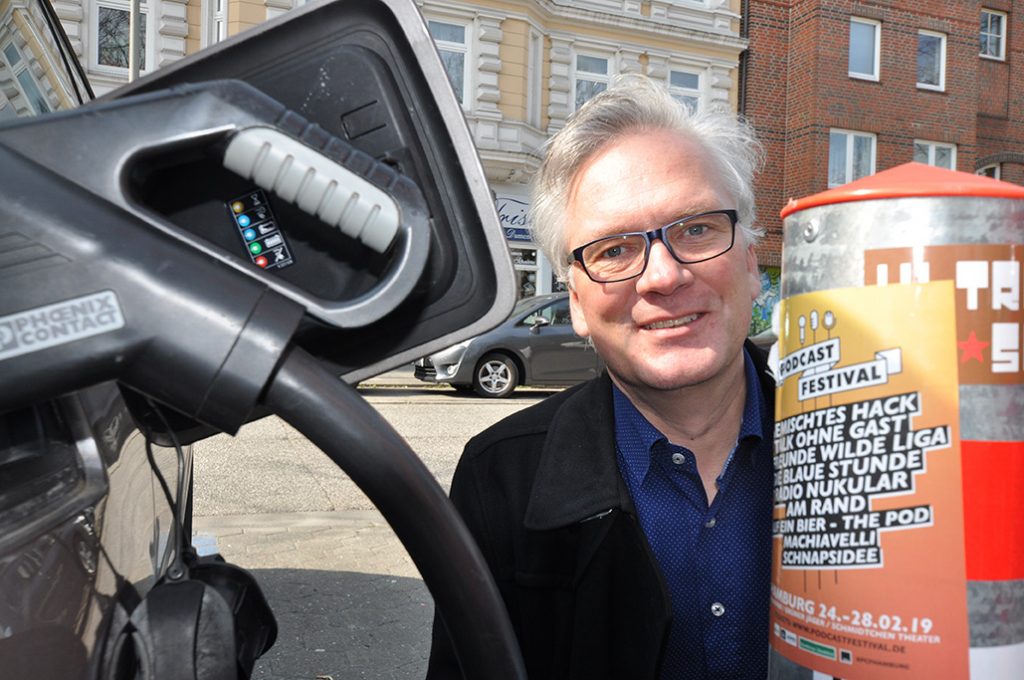 Anyo­ne of a cer­tain age sur­roun­ded by youn­ger peop­le today will be the most likely to noti­ce the rapid pace at which our world is chan­ging in terms of tech­no­lo­gy. And any­bo­dy who uses terms such as "coin box", "tape recor­der", or "record play­er" will earn a ques­tio­ning look from the youth of today. Mobi­li­ty is under­go­ing a dra­ma­tic trans­for­ma­ti­on that has real­ly picked up pace in recent years. Whe­re will this jour­ney take us? How will peop­le be tra­ve­ling in the year 2040? In order to find out, we took a short jour­ney through time. At least, intel­lec­tual­ly – and with exper­ti­se. Our com­pa­n­ion on this jour­ney was Dirk Kun­de, the jour­na­list based in Ham­burg who is right at the cen­ter of this "new mobi­li­ty". Urban, without our own car, con­stant­ly on the move, always online, con­nec­ted, right through to Elon Musk. Read on to lis­ten in on Con­ver­sa­ti­on 2040 and the recollec­tions of 2020 …
UPDATE: Dirk, now that it is 2040, what is life like in your home city of Ham­burg today?
Gre­at. Just like 20 years ago, alt­hough Ham­burg has grown a litt­le – it now has three mil­li­on inha­bi­tants. But Ham­burg is and will always remain the "Pearl of the Elbe" River.
UPDATE: Three mil­li­on inha­bi­tants: what effect does that have on mobi­li­ty in the city?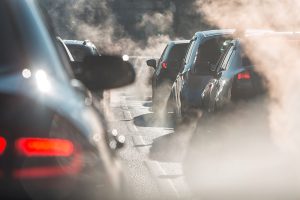 Just as befo­re, trans­port remains one of the chal­len­ges of socie­ty. The­re are always traf­fic jams becau­se peop­le still like to sit in their own per­so­nal envi­ron­ment. Par­king spaces are just as scar­ce as 20 years ago. Thank­ful­ly, dri­ving is now auto­no­mous – our vehi­cles now head off and search for a par­king space alo­ne once we have clim­bed out.
UPDATE: True, that is a very radi­cal chan­ge. Peop­le no lon­ger need their own car …
… but many still have one. Nowa­days, howe­ver, it is not becau­se of neces­si­ty, but for nost­al­gic rea­sons. Having said that, most of us of cour­se tra­vel emis­si­on-free – thanks to car sharing and the public trans­port system.
UPDATE: Yes, the good old sweeties. Do you still have a car that runs on gas or diesel?
No, I haven't had one for over than 20 years. I was one of the first peop­le to renoun­ce their own car. And whe­re would I find a gas sta­ti­on today?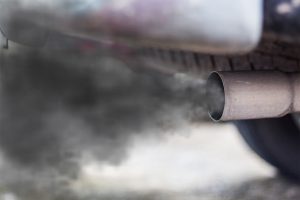 UPDATE: True, they have disap­peared com­ple­te­ly from the city­scape.
Today, char­ging is almost always induc­ti­ve. Do you remem­ber the foul smell of die­sel on your fin­gers after fil­ling up? Or wrest­ling with hea­vy electric cables?
UPDATE: What was all the noi­se about 20 years ago about whe­ther e‑mobility would real­ly break through or not.
It's tru­ly stran­ge. A who­le bunch of old habits had to be bro­ken back then. The car makers did not want to give up their posi­ti­ons. Today, young peop­le have no idea how bad the air was in the cities. Do you still remem­ber the old pho­tos taken in the big Chi­ne­se cities, or even in Stutt­gart? What was the word for it again … ah, that's it – smog.
UPDATE: In the begin­ning, the e‑vehicles hard­ly had any ran­ge at all.
That's right, that was a pro­blem at the start. But today we under­stand trans­port dif­fer­ent­ly – the all-in-one men­ta­li­ty has chan­ged. Nobo­dy does that any more – using just one car to dri­ve to the bak­e­ry in the morning, to dri­ve to work dai­ly, even to dri­ve on holi­day. Back then, peop­le wan­ted to dri­ve electric vehi­cles in the same way as they dro­ve gas or die­sel vehi­cles. We very quick­ly lear­ned that this was not feasible.
UPDATE: Tech­no­lo­gi­cal­ly, of cour­se, a gre­at deal has happened.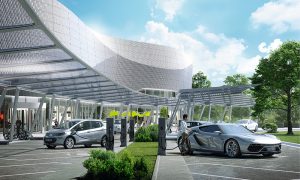 Once the step was taken to pro­du­ce electric motors, fur­ther deve­lo­p­ment of the sto­rage media took place. The end result is the light-metal solid-sta­te bat­te­ries of today, with their enor­mous ener­gy densities.
UPDATE: The Midd­le East was once pep­pe­red with ultra-rich desert mon­ar­chies. Do you still remem­ber the terms "petro­dol­lars" and "oil sheikh"?
Back then, we even tal­ked about fos­sil fuels, as if the­se valu­able raw mate­ri­als were just used for fuel. The fixa­ti­on on cru­de oil was one of the big­gest obsta­cles to the fur­ther deve­lo­p­ment of glo­bal value chains. Electri­ci­ty was con­si­de­red to be an expen­si­ve raw mate­ri­al in tho­se days. Thanks to our decen­tra­li­zed and intel­li­gent power grids, this is no lon­ger an issue – the­re is ple­nty of electricity.
UPDATE: But the rail­road is threa­tened with extinc­tion as a result.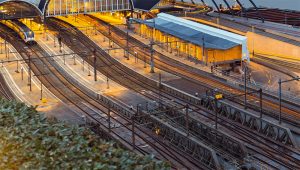 That was alrea­dy evi­dent in 2019. The rail­road never mana­ged to moder­ni­ze. Back then, the pas­sen­ger trains were spec­ta­cu­lar­ly unpunc­tu­al. We were often left han­ging around at the train sta­ti­ons. And for goods trans­port, the rail­road was sim­ply too infle­xi­ble. With the bre­akthrough of hyper­loop tech­no­lo­gy, the rail­road is just some­thing for the nostalgic.
UPDATE: Spea­king of hyper­loop – wha­te­ver hap­pen­ed to Elon Musk? Back then you had a few spec­ta­cu­lar inter­views with this inno­va­ti­ve late­ral thinker.
Ah yes, Elon. He relo­ca­ted to Mars in his old age when his com­pa­ny, SpaceX, was taken over by the Chi­ne­se. He had it writ­ten into his con­tract that he would be among the first sett­lers. I heard that he has had hims­elf frozen.
UPDATE: The car makers had a tough time in the 20s. Many were very clo­se to shut­ting down.
To start with, they were "too big to fail" – but a num­ber of them fai­led any­way. I have just been rea­ding some old arti­cles that dis­cus­sed the die­sel scan­dal. Back then it was a huge con­tro­ver­sy, but from today's per­spec­ti­ve it was the kick that sus­tainab­le mobi­li­ty nee­ded. This ope­ned up a gap which was quick­ly taken advan­ta­ge of and fil­led by logistics com­pa­nies such as Ama­zon and Ali­b­a­ba, and Inter­net giants such as Goog­le and Apple, with their own vehi­cles. And also inno­va­ti­ve start-ups such as StreetS­coo­ter, which now domi­na­tes the mar­ket for light com­mer­cial vehicles.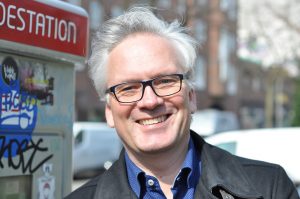 UPDATE: Dirk, plea­se com­ple­te the key sen­tence of our dis­cus­sion. Mobi­li­ty is …
… still one of the most emo­tio­nal sub­jects of our socie­ty, but has long sin­ce freed from the stig­ma of not being able to uni­fy natu­re and tech­no­lo­gy. Indi­vi­du­al mobi­li­ty is a pre­cious asset in a free society.
This post is also avail­ab­le in:

Deutsch