The last part of the mobi­li­ty series deals with the future on two and four wheels. Espe­ci­al­ly sin­ce both ver­si­ons are omni­p­re­sent in Ams­ter­dam, the ener­ge­tic metro­po­lis in the heart of Euro­pe.
The Fietsen
Ams­ter­dam is the city of bicy­cles. They are omni­p­re­sent throughout our tour. With around 900,000 inha­bi­tants, the city has appro­xi­mate­ly 880,000 bicy­cles. Bicy­cles account for an unbe­liev­a­ble 58% sha­re of inner city traf­fic.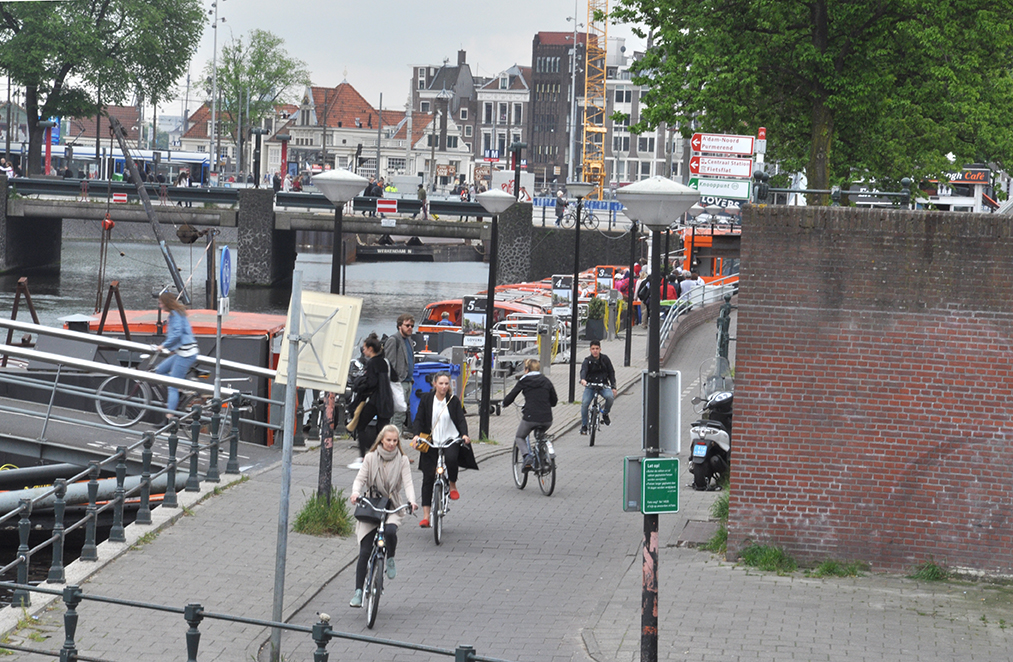 Howe­ver, our tour does not inclu­de riding bikes – par­ti­ci­pa­ting in the "Fiets" fight for sur­vi­val requi­res spe­cial skills. Here, the other­wi­se rela­xed way of dealing with each other is thrown out of the win­dow. Sim­ply par­king is only pos­si­ble on spe­cial pon­toons on the water, on which the bicy­cle par­king spaces are spread over two levels.
Around 11,000 new par­king spaces have been crea­ted at the Cen­traal Sta­ti­on in recent years. Visi­tors stand in ama­ze­ment in front of all the walls of steel push­bikes.
The num­ber of e‑bikes is sur­pri­sin­gly small. Clear­ly, the resi­dents of Ams­ter­dam pre­fer to ride on their typi­cal Dutch bikes, which are neit­her par­ti­cu­lar­ly ergo­no­mic nor light. E‑bikes tend to be used by the Dutch main­ly for their wee­kend trips.
Mean­while, our path has led us back to the par­king gara­ge. At least here the­re is a small char­ging sta­ti­on and some chic ren­tal bikes with elec­tric motors.
Fac­ts Fiets
E‑Mobility
Num­ber of bicy­cles in Ams­ter­dam: 881.000
Num­ber of inha­bi­tants Ams­ter­dam: 900.000
Dai­ly bicy­cle kilo­me­tres Ams­ter­dam: 2.000.000
Num­ber of bicy­cles towed from canals: 6000 per year
E‑Mobility
We are mee­ting Thijs van den Akker, our Dutch col­league and Pro­duct Mana­ger, Device Con­nec­tions and E‑Mobility. We tra­vel the next few kilo­me­ters with his VW Pas­sat hybrid set to e‑mode. The Dutch metro­po­lis pro­mo­tes the power of the bat­te­ry and char­ging sta­ti­on – despi­te the fact that it is clo­se to the coast, it is hea­vi­ly pol­lu­t­ed.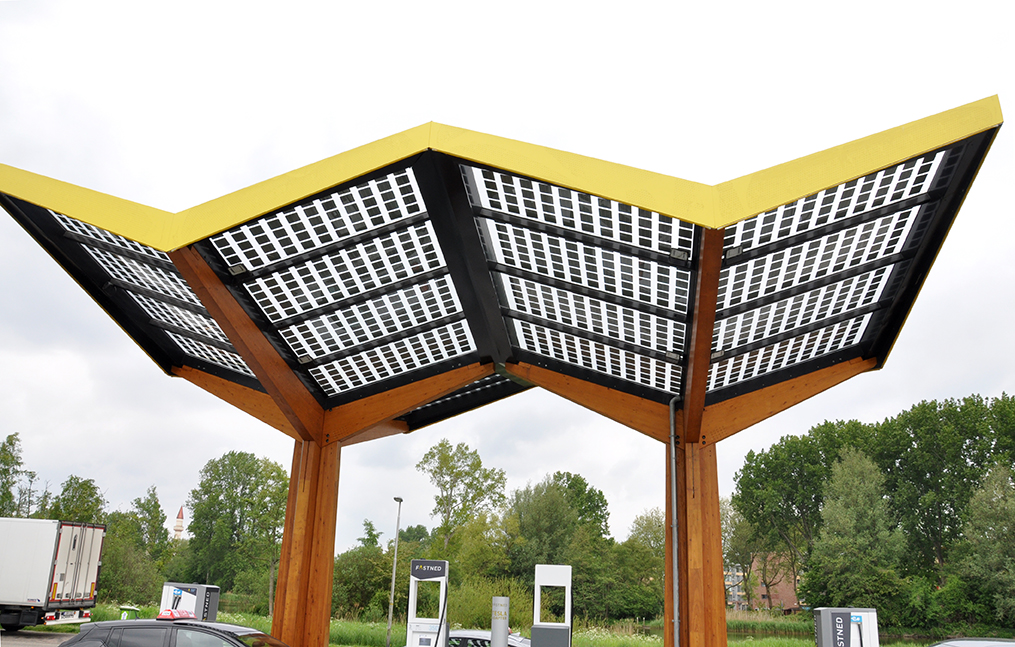 Ams­ter­dam is also the Tes­la Town. The den­si­ty of the elec­tri­fied luxu­ry auto­mo­bi­les is enor­mous. And asto­nis­hin­gly many taxis also dri­ve around with the noble T on the front hood. No won­der, as a taxi dri­ver told me: "We won't get any appro­val if we don't ope­ra­te a part of our fleet pure­ly elec­tri­cal­ly". And sin­ce Tes­la has built its European head­quar­ters in beau­ti­ful Ams­ter­dam, the peop­le of Ams­ter­dam (and also the rest of Hol­land) were given spe­cial dis­counts. A small side effect is that used Tes­la often have their first regis­tra­ti­on in the Nether­lands even if they are sold in Ger­ma­ny as well …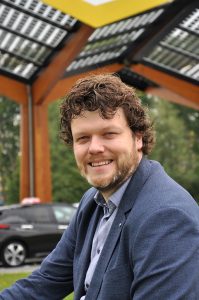 The tar­get was to have 4,000 char­ging sta­ti­ons in the metro­po­li­tan area by the end of 2018. By 2040, the ent­i­re trans­por­ta­ti­on sys­tem is to be elec­tri­fied – an ambi­tious goal. Our next stop is one of the Fast­ned fast char­ging sta­ti­ons on the Ams­ter­dam orbi­tal free­way. The woo­den struc­tu­re with its solar-pan­eled roof can be seen from a long way off – this is not a din­gy backyard cor­ner on the out­s­kirts of the refu­e­ling busi­ness. As Thijs dri­ves up, three vehi­cles are cur­r­ent­ly being char­ged, two of them at the 350 kW fast char­ging column.
The name Fast­ned says it all – it is an amal­ga­ma­ti­on of fast and ned (for the Nether­lands). Fast­ned reli­es on the tech­no­lo­gy of Phoe­nix Con­tact E‑Mobility, which Thijs is proud to point out.
The visi­on was to have a fast char­ging sta­ti­on every 40 kilo­me­ters along the free­way net­work – this has alrea­dy been achie­ved in the Nether­lands. And besi­des other con­sor­tia that are expan­ding the infra­st­ruc­tu­re of elec­tric mobi­li­ty, Fast­ned is also expan­ding. The fold­ed woo­den roofs have long sin­ce con­que­red their place in other European coun­tries along the iti­ne­ra­ries.
Fac­ts Fast­ned
Foun­ded: 2012
Head­quar­ters: Ams­ter­dam
Num­ber of fast char­ging sta­ti­ons: 102 (3rd quar­ter 2019)
Char­ges per month: 120,000 (Q3, 2019)
Active custo­mers: 30,852 (Q3, 2019)
Goal: one fast char­ging sta­ti­on every 40 kilo­me­tres on the motor­way
Mobi­le con­clu­si­ons
At the end of the day the feet hurt and the head smo­kes. Ams­ter­dam, the strong­hold of the bicy­cle and the his­to­ric canals, is alrea­dy a char­ming and dar­ing place for all kinds of trans­port. In the near future, howe­ver, the com­bus­ti­on engi­ne will have a hard time in the Dutch metro­po­lis, whe­ther by boat, car or motor­cy­cle, by taxi or fer­ry. In addi­ti­on, even con­struc­tion machi­nes and gene­ra­tors are in the sights of urban plan­ners. Their die­sel-powe­red engi­nes, too, will soon have to cea­se com­bus­ti­on and elec­tric motors will have to give way.
Such dif­fe­rent con­cepts and situa­ti­ons also requi­re a mul­ti­tu­de of solu­ti­ons and a matu­re and secu­re tech­no­lo­gy. So you can be pret­ty sure that the Phoe­nix Con­tact Nether­lands team will not run out of ide­as and app­li­ca­ti­ons.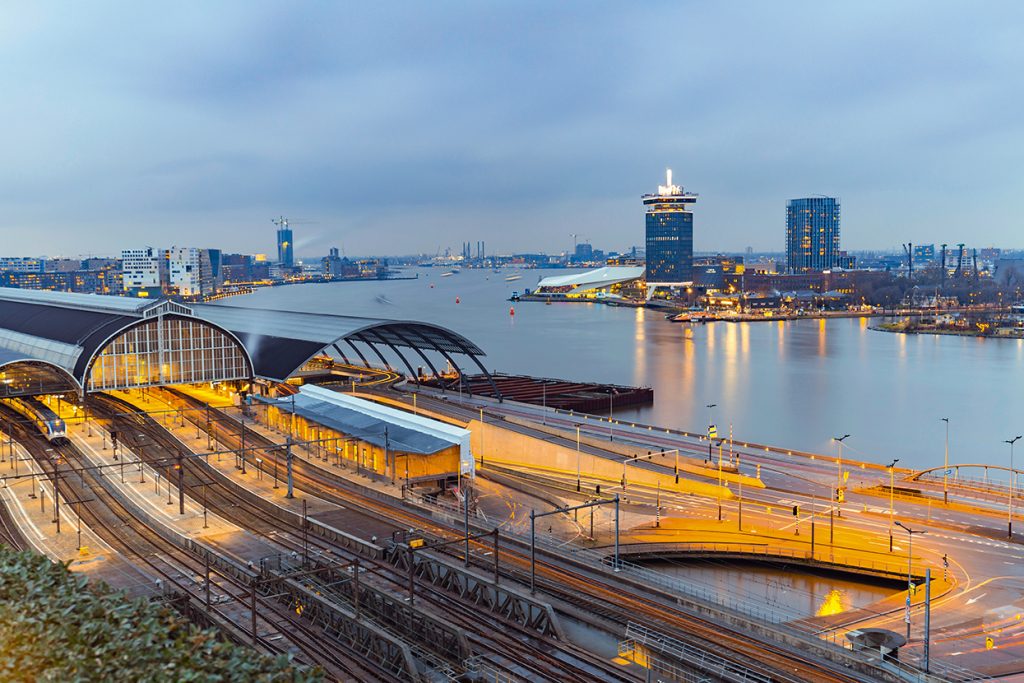 This post is also avail­ab­le in:

Deutsch