In the heart of Ams­ter­dam you can find the Cen­traal Sta­ti­on, the big traf­fic junc­tion of the Dutch city. Howe­ver, almost all types of mobi­li­ty meet here.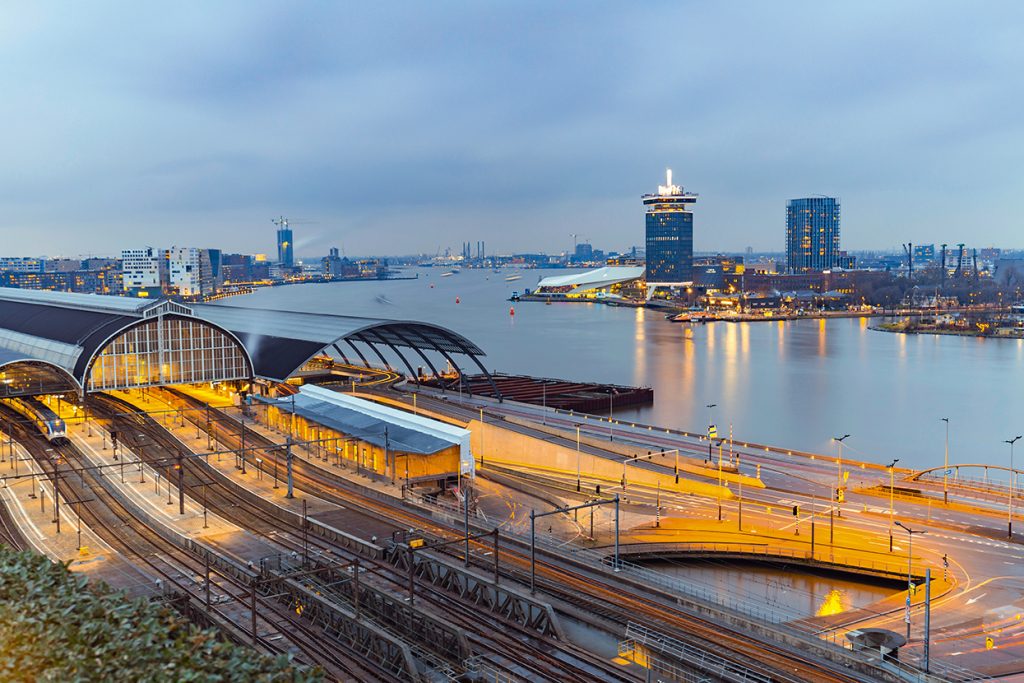 Just two more sta­ti­ons, and then we lea­ve the sub­way again. Inci­dent­al­ly, at a depth of 21 meters. We have reached the heart of Ams­ter­dam. Three arti­fi­ci­al islands and 9,000 woo­den piles were nee­ded to crea­te the foun­da­ti­ons for the Ams­ter­dam Cen­traal trans­port hub. The train sta­ti­on was ope­ned in 1889. The sub­way pas­ses through here direc­t­ly below the antique con­struc­tion.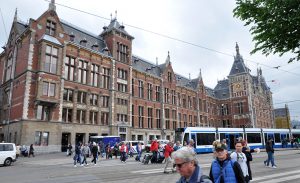 Alt­hough from the out­si­de this looks like other old buil­dings, it is tech­no­lo­gi­cal­ly sta­te-of-the-art. Euro­star, ICE Inter­na­tio­nal, and Tha­lys pro­vi­de the con­nec­tion to the high-speed net­work of European inter­ci­ty rail­ways.
Buses head for their own ter­mi­nal insi­de, the IJzij­de Bus Sta­ti­on, with a sophisti­ca­ted pas­sen­ger and bus stop con­trol sys­tem. This bus ter­mi­nal lies below an enor­mous 22 meter high glass dome roof with a length of 360 meters and a width of 22 meters, and fea­tures a fan­tastic view of the Ams­ter­dam
Har­bor. Inci­dent­al­ly: As of 2022, die­sel-powe­red buses will no lon­ger be per­mit­ted in the cen­ter of Ams­ter­dam.
213 street­cars move pas­sen­gers along 16 rou­tes. Most of the­se pass through the Cen­traal Sta­ti­on junc­tion. The S5 alo­ne car­ri­es more than 37,000 pas­sen­gers per day.
From here you can also easi­ly walk to Water­p­lein Oost, whe­re you can access the fer­ry sys­tem from Ams­ter­dam.
And around the Cen­traal Sta­ti­on the­re is not only a swarm of two-whee­led vehi­cles, the­re are also nume­rous pos­si­bi­li­ties to park your fiets in a sui­ta­ble (or inap­pro­pria­te) way.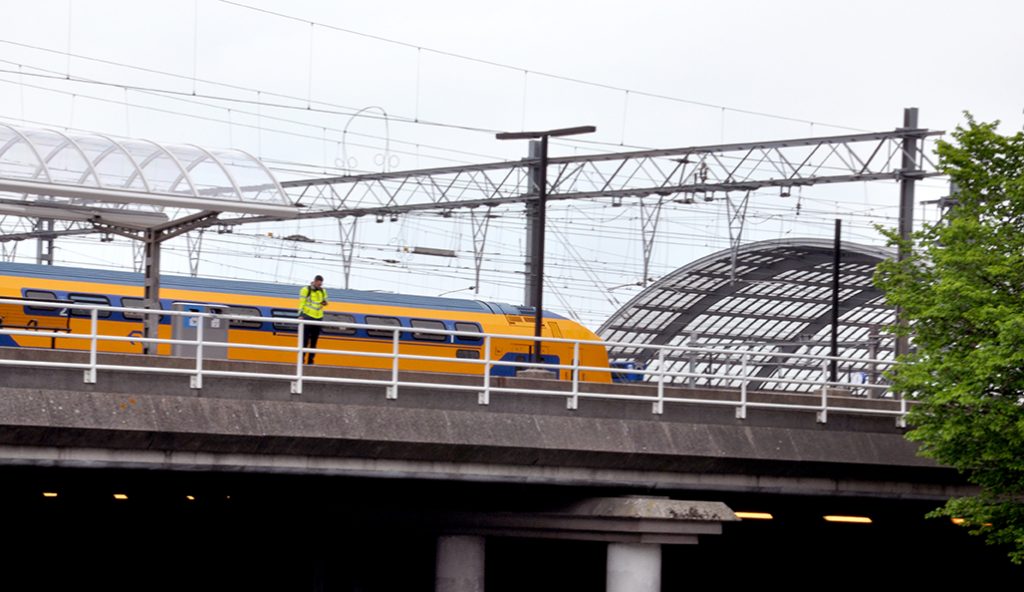 Fac­ts Cen­traal Sta­ti­on
Built in: 1889
Traf­fic junc­tion for: long-distan­ce trains, metro, tram, bus, fer­ries
Num­ber of long-distan­ce train visi­tors: 160,000 pas­sen­gers dai­ly
Num­ber of visi­tors Metro: 90,000 dai­ly
Bus ter­mi­nal IJzij­de: 100 buses per hour, 24 dyna­mic stops with vehi­cle reco­gni­ti­on and pas­sen­ger gui­d­ance sys­tem
This post is also avail­ab­le in:

Deutsch