Brid­ges and car parks have a signi­fi­cant influ­ence on traf­fic in Ams­ter­dam. While some are being moder­nis­ed, others are beco­m­ing increa­singly scar­ce.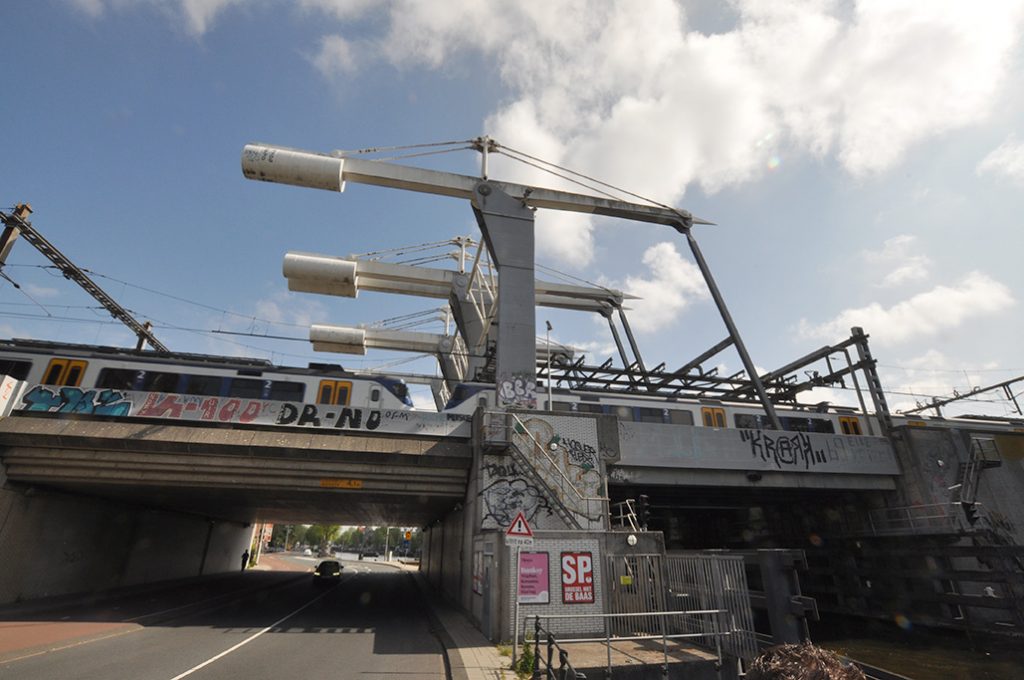 We'­re hea­ding down­town. On the left a canal, on the right houses – typi­cal Ams­ter­dam. By the way, Ams­ter­dam is situa­ted at the Ijs­sel­meer, at the mouth of the only 31 km long river Ams­tel and the Ij, an old arm of the Zuider­zee, which flow direc­t­ly into the Ijs­sel­meer. The water level of the canals is about 40 cen­ti­me­tres below the sea level of the North Sea.
Brid­ges over calm water
The water to our left is cal­led the Wes­ter­ka­naal and is an exten­si­on of the Sin­gel­gracht. Around 1660 it still for­med the city bounda­ry. The lift bridge in front of us is cal­led the Sin­gel­gracht­brug bridge, for obvious rea­sons, and is a com­bi­na­ti­on of three rail­road brid­ges. The design with its high coun­ter­weight is typi­cal and has been known for cen­tu­ries. Van Gogh alrea­dy pain­ted impres­si­ons of the­se "Dutch brid­ges".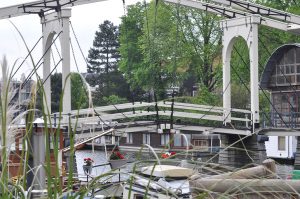 The canals are not just omni­p­re­sent here, they are still an active means of mobi­li­ty. Around 200 of
them are shaped in a ring around the old city cen­ter. The other modes of trans­port have to pass eit­her over or under the­se. As is the case here, a mul­ti­track rail­road. What is unusu­al here is that many of the brid­ges can move, eit­her by a lif­ting or swi­ve­ling mecha­nism. This is a huge advan­ta­ge becau­se the­re is no need for long access ramps, and so the struc­tures fit neat­ly into the city­scape, saving space.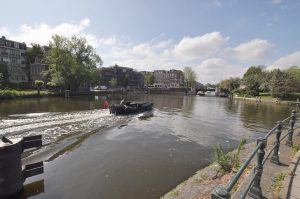 The­re are more than three times as many brid­ges in Ams­ter­dam as the­re are in Veni­ce.
A dis­ad­van­ta­ge for all tho­se who are not tra­ve­ling by water: they will some­ti­mes have to wait. The
signal rou­ting sys­tem that gui­des such a wide ran­ge of vehi­cles through the traf­fic streams while limi­t­ing their effec­ts on each other as much as pos­si­ble is exci­ting. Data trans­mis­si­on, power sup­plies, con­trol rooms, con­trol cabi­nets – a broad field.
Trea­su­re par­king lot
Misha is get­ting rest­less. "Come quick, or we'll get a ticket." Par­king is the gre­at suf­fe­ring of every dri­ver in Ams­ter­dam. And expen­si­ve: Even the pho­to stop las­ting a few minu­tes could quick­ly cost 100 euros, alt­hough we are stan­ding on a regu­lar par­king lot. But it's only reser­ved for resi­dents. So quick­ly back to the car!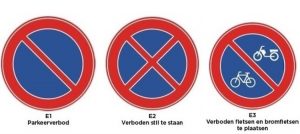 Par­king is one of the big­gest "incen­ti­ves" to use public trans­port in inner-city traf­fic. The "pain" of pen­al­ties or towing char­ges is so seve­re in Ams­ter­dam that peop­le who are fami­li­ar with the area usual­ly avo­id going down­town by car. A phe­no­me­non that can be obser­ved in almost every major city world­wi­de and a real sti­mu­lus when it comes to alter­na­ti­ve trans­port con­cepts in times of glo­bal urba­ni­sa­ti­on.
Ams­ter­dam has deci­ded to redu­ce the num­ber of resi­dents' par­king per­mits by 1500 per year from 2019. By 2025, around 11,200 par­king spaces will disap­pe­ar, which will be repla­ced by wider cycle paths, foot­paths or green are­as.
Beer from the Gracht
We con­ti­nue towards the city cen­ter and visit a par­king gara­ge. We park our car in the Hei­ne­ken­plein squa­re, a place stee­ped in histo­ry, in the imme­dia­te neigh­bour­hood of the old brewing head­quar­ters in Ams­ter­dam. The Hei­ne­ken bre­we­ry was foun­ded here in 1864.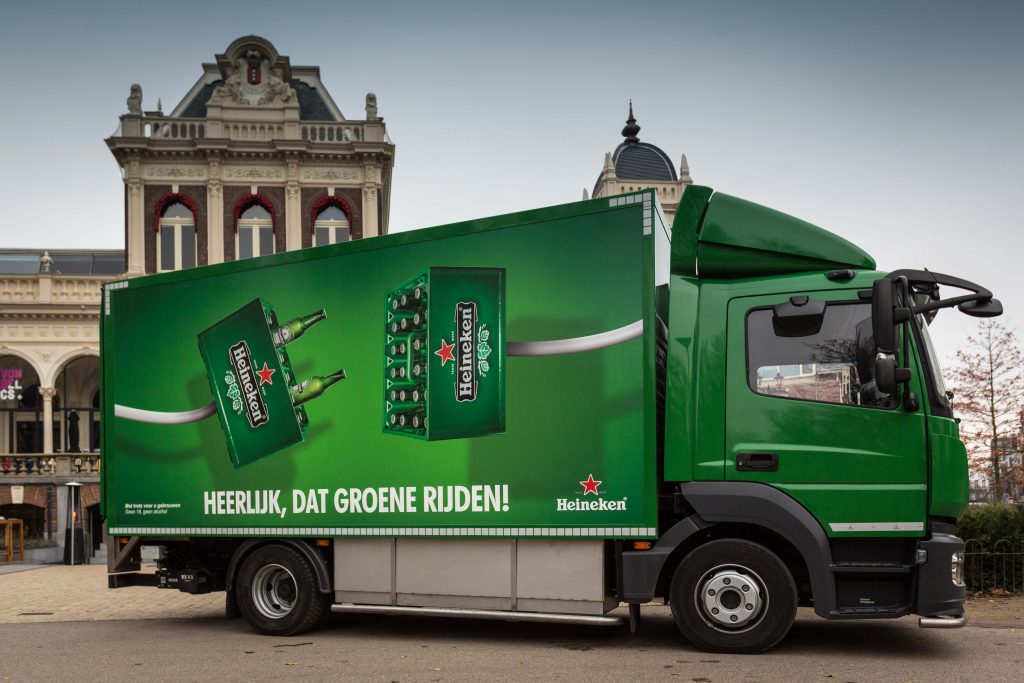 Beer is an important part of the histo­ry of the city of Ams­ter­dam – as ear­ly as 1323, the then fledgling
city gai­ned the mono­po­ly on impor­ting beer from Ham­burg. Nowa­days, the Hei­ne­ken bre­we­ry is the second-lar­gest bre­we­ry in the world.
The Hei­ne­ken bre­we­ry is now the second lar­gest bre­we­ry in the world, but the germ cell at Hei­ne­ken­plein clo­sed down active beer pro­duc­tion in 1988.
Phoe­nix Con­tact does not pro­du­ce beer, but is cur­r­ent­ly working with microbre­we­ries that use PLCnext con­trol tech­no­lo­gy.
Fac­ts Par­king and Beer
Public par­king Ams­ter­dam: 432,000
of which in mul­ti-storey car parks/underground gara­ges: 167,000
Resi­dent par­king spaces: 133,000
Sha­re of deli­very traf­fic in traf­fic volu­me: 10 to 15%.
Import mono­po­ly for Ham­burg beer: 1323
Solu­ti­on examp­les
Func­tio­n­al safe­ty in signal sys­tems


This post is also avail­ab­le in:

Deutsch