E‑mobility is an old hat. Even the oldest moto­ri­zed vehi­cle had an electric motor. The pro­blem back then was the same as today: how do I store as much ener­gy in the mobi­le ener­gy sto­rage sys­tem as pos­si­ble, as quick­ly as pos­si­ble? A good 140 years later, we have come a long way.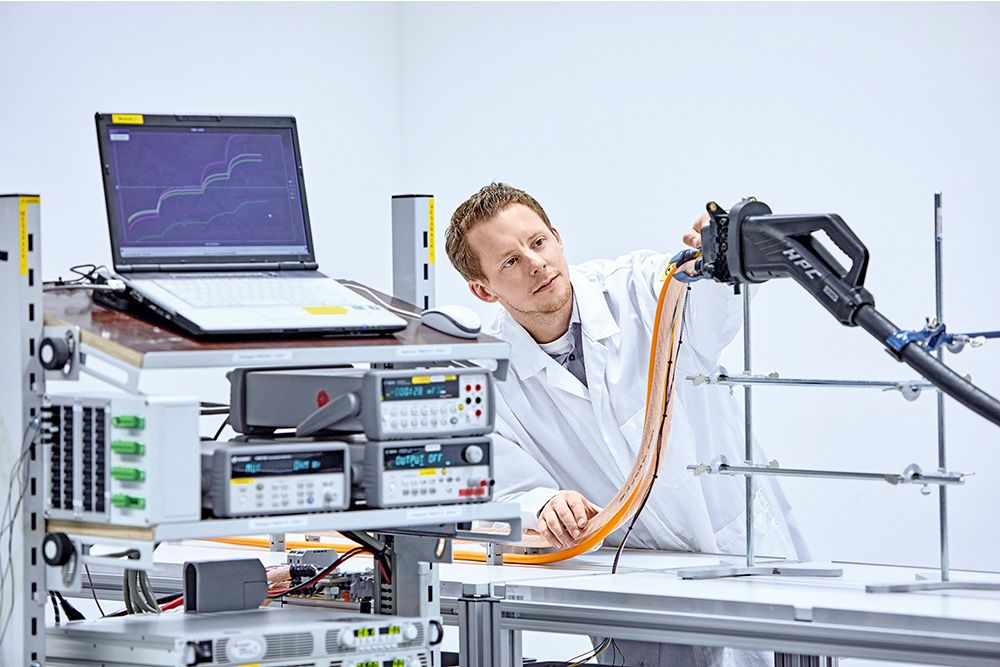 As far back as 1881, the French inven­tor Mr. Gust­ave Trou­vé unvei­led his sen­sa­tio­nal tri­cy­cle. Simi­lar in appearan­ce to a sta­ge­coach, it could tra­vel at 12 km/h. With a ran­ge of about 14 kilo­me­ters, the vehi­cle was pret­ty much sui­ta­ble for ever­y­day use becau­se at that time hor­ses were the only other com­pe­ti­ti­on for lon­ger journeys.
Wer­ner Sie­mens, Andre­as Flo­cken, Fer­di­nand Por­sche – this list of e‑pioneers is long, and inclu­des some asto­nis­hing names. Bet­ween 1896 and 1939, the­re were 565 dif­fe­rent electric vehi­cle brands in the world. In New York, the e‑vehicle share of the mar­ket was 50% in 1901 (the rest were steam- powe­red vehi­cles or naph­tha, ace­tyle­ne, or pneu­ma­tic-dri­ven vehi­cles). Even Hen­ry Ford deve­lo­ped a Ford Model T with an electric motor, alt­hough this was never put into seri­es production.
The rea­wa­ke­n­ing of E
It was not until 2010 that the sub­ject picked up speed again. At Phoe­nix Con­ta­ct, it was initi­al­ly just about indi­vi­du­al com­pon­ents. Ear­ly on in the revi­val, the­re were app­li­ca­ti­ons such as hea­vy-duty con­nec­tors for bat­te­ry packs that are still in use on Chi­ne­se buses.
Howe­ver, the calls for fas­ter char­ging times for cars very quick­ly beca­me lou­der. Phoe­nix Con­ta­ct was also invol­ved in some of the first preli­mi­na­ry deve­lo­p­ments in this field. One of tho­se who was the­re prac­ti­cal­ly from the begin­ning is the deve­lo­per Dirk Mose­ke, who descri­bes the steps that followed:
Warm yes, hot no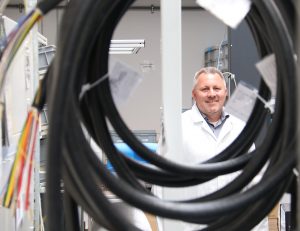 "Even the requi­re­ment spe­ci­fi­ca­ti­ons and stan­dards were under deve­lo­p­ment. The­re sim­ply weren't any. And that was only two years ago! And so we had to deve­lop them our­sel­ves. What do we have to do to deve­lop some­thing com­ple­te­ly dif­fe­rent from the exis­ting CCS stan­dard with the defi­ned mating face? 200 amps were not a pro­blem, but then 300 amps and more were being cal­led for. Today, we are up to 500 amps.
In buil­dings a yel­low sign would be atta­ched befo­re the access to such cur­rent strengths with the refe­rence "Access for­bid­den". And here we are sup­po­sed to put the instal­la­ti­ons into cir­cu­la­ti­on, free­ly acces­si­ble, expo­sed to the wea­ther and pos­si­ble abuses.
With such cur­r­ents, the­re were only two opti­ons: lar­ger cable cross-sec­tions or signi­fi­cant war­ming. The cable could­n't be too thick, howe­ver, becau­se other­wi­se it would be too hea­vy and stiff. And so, we com­mit­ted our­sel­ves to the issue of heat build-up.
First­ly, we had to deter­mi­ne exact­ly whe­re the heat was being gene­ra­ted. It is in fact the cable its­elf that heats up. The heat can, howe­ver, also come from the vehi­cle – that is to say from a point over which we have no con­trol. The next idea was to use flu­ids for coo­ling. That is to say, to bathe the
cop­per direct­ly in a heat-dis­si­pa­ting medi­um. We dis­car­ded an oil-based solu­ti­on becau­se the hand­ling was far too com­plex – and anything but innovative.
Rese­arch in the brai­ding shop
We then tried it with air. To do this, we blew air into hoses in which the hot cables were laid. The air, howe­ver, has to go some­whe­re, and it escaped through the con­nec­tor. Fur­ther­mo­re, air does­n't dis­si­pa­te the heat very quick­ly at all. It's imp­rac­ti­cal. We the­re­fo­re con­ti­nued rese­ar­ching alter­na­ti­ve coo­l­ants, and final­ly came up with the easy-to-hand­le and envi­ron­ment­al­ly friend­ly gly­col. In addi­ti­on, we incor­po­ra­ted ther­mal gre­a­se into the cable. That was qui­te suc­cess­ful in part, but was not sui­ta­ble for seri­es production.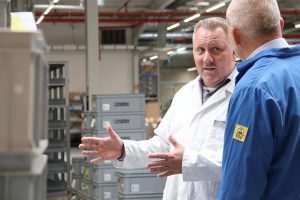 In the mean­ti­me, we also rea­li­zed that it is a good idea to make the sur­face area as lar­ge as pos­si­ble. The grea­ter the sur­face area, the bet­ter the heat dis­si­pa­ti­on. We the­re­fo­re per­for­med tri­als with lar­ge num­bers of indi­vi­du­al litz wires. At times our work resem­bled a brai­ding shop, with shrink slee­ves, cable ties and tape all over the place. This was basic bare-knuck­le rese­arch that you will also find at every hig­her edu­ca­ti­on institute.
Today, we have a cable that car­ri­es two sets of two 25 mm² cop­per con­duc­tors. Two for posi­ti­ve, two
for nega­ti­ve. This ensu­res that the cable is not too hea­vy, and that it is fle­xi­ble. We have incor­po­ra­ted a lay­er into the outer sheath that shows when the cable is worn or dama­ged. Fur­ther­mo­re, becau­se the cable can be touched, the stan­dard sta­tes that it may not beco­me hot­ter than 60 °C. This is moni­to­red via sen­sors and is cou­pled with a dis­con­nect unit. Com­mu­ni­ca­ti­on wires also run through the cable becau­se the con­nec­tor and sta­ti­on need to communicate.
The hard shell
The next chal­len­ge was the con­nec­tor its­elf. Initi­al­ly, it was sta­ted that we even had to cool the vehi­cle inlet via the cable. This is not pos­si­ble, howe­ver. That would be like ope­ning the fri­dge door to cool a bot­t­le of beer that is stan­ding on the win­dows­ill.
We have deve­lo­ped a heat­sink which initi­al­ly con­sis­ted of a tur­ned cop­per pipe with a sheath mol­d­ed around it, and which was con­nec­ted to the hoses. This was suc­cess­ful, but again, it was too com­plex in its con­struc­tion. Today, we have a heat­sink in seri­es pro­duc­tion that enc­lo­ses an insu­la­ting body. We can thus pro­vi­de coo­ling right through into the contacts.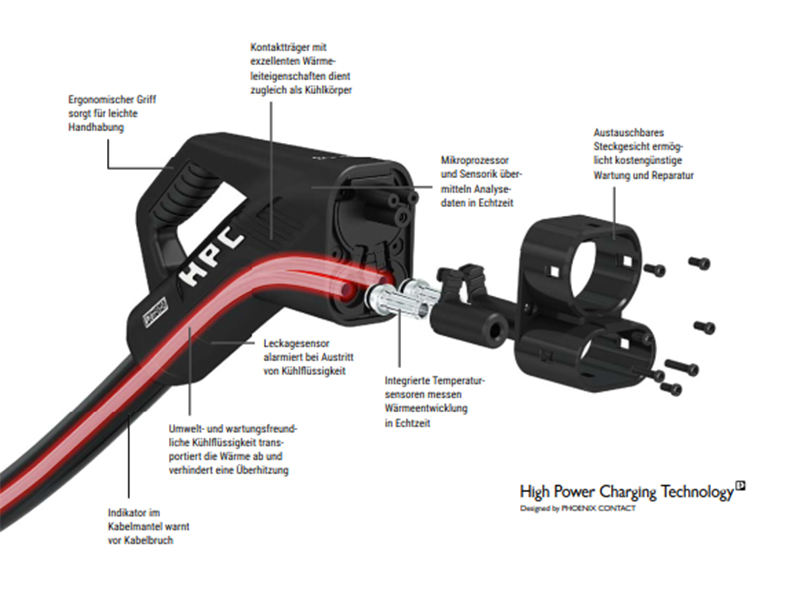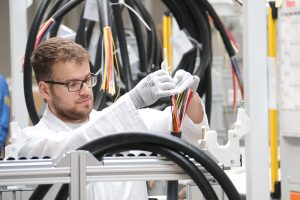 All of the sealing points had to be per­fect in rea­di­ness for the pro­to­ty­pe tests. 13 or 14 sealing points, in part made of sen­si­ti­ve mate­ri­al com­po­si­ti­ons, and equip­ped with leaka­ge sen­sors. We tes­ted various mate­ri­als in our in-house test labo­ra­to­ry, in par­ti­cu­lar for their con­duc­ti­vi­ty. Natu­ral­ly, no
manu­fac­tu­rers share this infor­ma­ti­on. This took a gre­at deal of effort.
We car­ri­ed out this deve­lo­p­ment in coope­ra­ti­on with our col­leagues from Pro­tiq, ano­t­her Phoe­nix Con­ta­ct sub­si­dia­ry. Today, we mea­su­re and moni­tor the tem­pe­ra­tu­re at the hot­test points of trans­mis­si­on, right at the tips of the con­ta­cts. With this approach, we are pro­tec­ting our ent­i­re
sys­tem from exter­nal influ­en­ces, for examp­le from the vehi­cle side.
Cur­r­ent­ly, this is the most inno­va­ti­ve sys­tem in the ent­i­re e‑mobility indus­try. We have paten­ted the real-time tem­pe­ra­tu­re mea­su­re­ment system.
The­re is a locking sys­tem which pre­vents the vehi­cle from star­ting during char­ging. If the con­nec­tor is drop­ped and dama­ged, it does not have to be com­ple­te­ly repla­ced. We have desi­gned the mating face frame to be repla­ce­ab­le, ensu­ring that main­ten­an­ce is inex­pen­si­ve and flexible.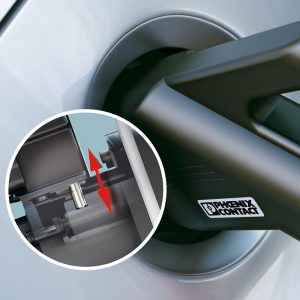 Fee­ling like Elon Musk
The next step, in coope­ra­ti­on with our tool shop, was the deve­lo­p­ment of the pre seri­es tools. In part, we drew upon tech­no­lo­gies that were com­ple­te­ly new to us, such as ultra­so­nic wel­ding of the cop­per cables to the con­ta­cts, and cas­ting the DC con­ta­ct area. Estab­li­shing this pro­duc­tion of the high­ly com­plex com­pon­ents is, as befo­re, a chal­len­ge, becau­se growth con­ti­nues to be tur­bu­lent. In pre-seri­es, it took two days to pro­du­ce a con­nec­tor – like it would in a work­shop. We have sin­ce ent­e­red into seri­es production.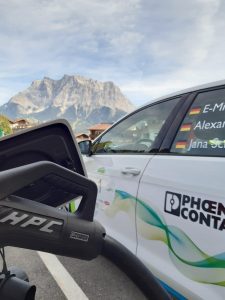 Just how dyna­mic the deve­lo­p­ment of e‑mobility has beco­me beca­me appa­rent once we pre­sen­ted our first sam­ples in ear­ly 2018. Some of our cus­to­mers pla­ced orders without even asking about the pri­ce. This gave us an insight into how Elon Musk must have felt while he was collec­ting blank-check
orders for his Tes­la cars.
Deve­lo­p­ment without end
Our HPC con­nec­tors went into seri­es pro­duc­tion at the end of At the same time, we star­ted working on solu­ti­ons for the inter­na­tio­nal mar­kets – some of which have com­ple­te­ly dif­fe­rent stan­dards in for­ce.
In terms of power, 500 amps is suf­fi­ci­ent for the medi­um­term future. But, natu­ral­ly, we are con­ti­nuous­ly working on opti­miz­a­ti­ons. After all, it is more than sim­ply just a con­nec­tor. The­re is so much intel­li­gence inte­gra­ted into the sys­tem that using it is com­ple­te­ly safe. Fur­ther­mo­re, we are in con­stant dia­log with the char­ging sta­ti­on manu­fac­tu­rers on sub­jects such as remo­te main­ten­an­ce and char­ging cable manage­ment. We are not short of things to do.
https://www.phoenixcontact-emobility.com
This post is also avail­ab­le in:

Deutsch