The vision of an All Electric Society, in which fossil fuels are replaced by intelligently networked regenerative energy generation, cannot be realized without Chile. Chile is the world's largest copper producer and number two in lithium. Mining is one of the cornerstones of the Chilean economy. Reason enough to take a closer look at raw material extraction in the South American country.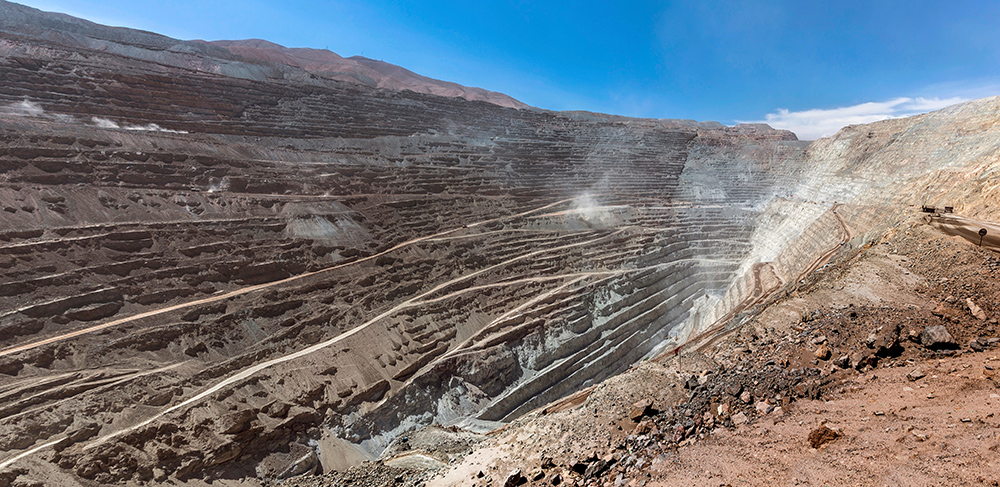 The central Andes are one of the most important mining regions in the world. Along the Pacific coast, an oceanic plate pushes under the South American continental shelf. Water, heat and pressure cause mineral solutions to be forced into rock crevices and deposited there. A few hundred thousand years later, this pleases the mining industry. Mining areas stretch from Valparaiso in Chile to Lima in Peru. Besides copper, iron ore, iodine, sulfur, coal as well as gold, manganese and molybdenum are mined. And this has been the case since prehistoric times.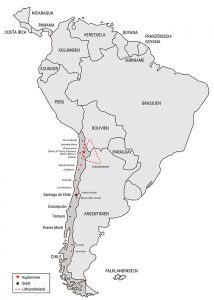 Copper has been mined industrially since the beginning of the 20th century. The Chuquicamata Mine was opened up as early as 1915 and operated as an open pit mine until 2019. More than 1000 meters deep reaches the deepest crater ever created by man. In the meantime, the copper deposits here are being developed by deep mining. Around 5.7 million tons of copper were extracted from Chile's mines in 2020 alone.
The mining of lithium has only gained enormous importance since 2016. Today, people think mainly of the batteries in electric cars, but lithium is also found in everything else that modern man drags around electrified, from smartphones to impact drills, from shavers to laptops.
What impact does mining have on the South American country? Are mining, raw material extraction and sustainability compatible? And what role does Phoenix Contact play in this tension? We asked two experts about this.
Chile is much more than just a raw materials country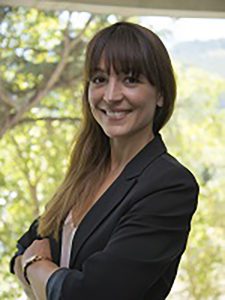 Iris Wunderlich (37) has been living and working in Santiago de Chile since 2015 and took on the role of Project Leader Mining & Sustainability at the German-Chilean Chamber of Industry and Commerce at the beginning of the year. Since 2019, she has also been a member of the ambassador network "Women in Energy". A native of Swabia, she studied Spanish and economics in Kassel, specializing in international and sustainable business management and renewable energy.
Mrs. Wunderlich, from which point of view do you look at your topics: from the German, the Chilean or the global one?
Out of all three. As a chamber, we first try, of course, to offer support to German companies through our knowledge of the situation here on the ground if they want to become active in Chile or regionally. So we have the German glasses on. But of course we are also the contact for Chilean companies that want to move in the direction of the German market or, as is usually the case, they are looking for access to German technology, also when it comes to areas of sustainability. That's where we have the Chilean perspective on things. And sustainability and global supply chains are issues that are in the nature of mining.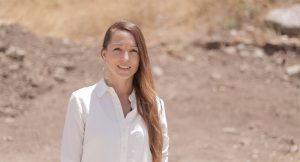 Commodity countries are often politically unstable and economically one-sidedly oriented toward exports. Does this also apply in part to Chile?
Not quite. Until October 2019, Chile was the model country in South America in terms of stability. But then social unrest broke out, which has led to a new constitution now being drafted within the framework of a constituent assembly. The Corona pandemic and the fight against the associated dangers to health and the economy are, of course, also currently dominating the political discussion in Chile.
Is there a kind of commodity colonialism, that is, overpowering foreign corporations that economically pursue only self-interest and drain the capital?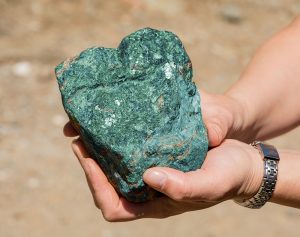 First, there is CODELCO, the dominant player in Chilean copper mining. This is a Chilean state-owned company. In addition, there are large Australian, English and Canadian companies. In addition, there are small and medium-sized Chilean mining companies. These have ENAMI a state-owned purchasing company at their disposal, which buys, processes and then also resells, as a supplement to the large companies.
In addition, we are also seeing growing interest from other foreign investors, with US and Chinese companies joining the foreign groups mentioned above.
How much are the interests of mining companies active in Chile also focused on sustainability?
Here in Chile, we have an environmental protection and energy policy that is very consistently geared toward sustainability, regardless of the political direction in power at the time. This also applies to mining to a large extent. The Ministry of Energy was only established here in 2010, but since then it has had no major fluctuations in its orientation, regardless of the respective government. This constancy and reliability is also particularly important for Chilean and German companies.
When it comes to sustainability, the influence of the large international companies is even rather positive. This is not only about the environmental sector, but also about social standards, such as working conditions and safety or the issue of dealing with indigenous population groups, which is very important in Chile. There are many examples where both international and Chilean companies are providing very positive impetus in terms of environmental protection and sustainability. Energy efficiency is a major issue, and since this year it has also been enshrined in law through the Energy Efficiency Act, as well as the integration of renewable energies, whether through the company's own parks or large-scale energy supply contracts with 100 percent renewable electricity between the mining companies and the energy suppliers. In addition, there is the increased use of desalinated seawater for mining processes.
Does this also apply to lithium mining?
So far, Australia is the largest producer of lithium. There, lithium is extracted in ore. In Chile, lithium is mined via brine in the salt lakes. The two major companies that have concessions here and are extracting lithium on a large scale are a U.S. company and a Chilean company. Other concessions have been awarded, but the companies are not yet actively mining.
Sustainability is also an important issue in lithium mining. Especially with regard to the increasing demand and the predicted boom in electromobility, which of course must not be carried out on the back of the stability of a sensitive ecosystem. It is therefore essential to look for ways in which the technology can manage to extract raw materials as minimally invasively as possible, which are necessary for an energy turnaround, including in the transport sector.
What role do renewable energies play for Chile?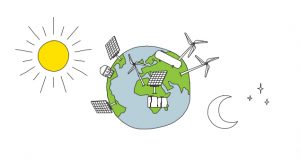 The sector is booming and, after mining, is the sector in which the most investment has been made for years. Chile has the highest potential worldwide for the production of green hydrogen. Chile has adopted a national hydrogen strategy and is a close partner country of Germany here and in active exchange. In Patagonia, there is a project funded by the German Federal Ministry for Economic Affairs and Energy. There, green hydrogen will be produced with the help of wind power and used to generate synthetic fuels.
The energy sector as a whole is simply a boom sector. Chile is much more than just a raw materials country and supplier!
Deutsch-Chilenische Industrie- und Handelskammer
Next page: Phoenix Contact in Chile
Chile can be an engine of the All Electric Society!