The visi­on of an All Electric Socie­ty, in which fos­sil fuels are repla­ced by intel­li­gent­ly net­wor­ked rege­ne­ra­ti­ve ener­gy genera­ti­on, can­not be rea­li­zed without Chi­le. Chi­le is the world's lar­gest cop­per pro­du­cer and num­ber two in lithi­um. Mining is one of the cor­ner­stones of the Chi­lean eco­no­my. Rea­son enough to take a clo­ser look at raw mate­ri­al extrac­tion in the South Ame­ri­can country.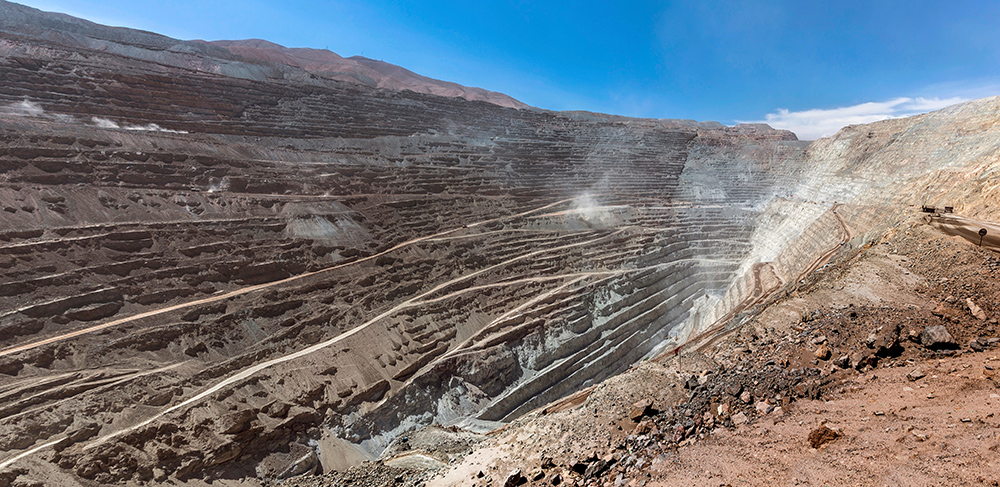 The cen­tral Andes are one of the most important mining regi­ons in the world. Along the Paci­fic coast, an ocea­nic pla­te pushes under the South Ame­ri­can con­ti­nen­tal shelf. Water, heat and pres­su­re cau­se mine­ral solu­ti­ons to be for­ced into rock crevices and depo­si­ted the­re. A few hund­red thousand years later, this plea­ses the mining indus­try. Mining are­as stretch from Val­pa­rai­so in Chi­le to Lima in Peru. Bes­i­des cop­per, iron ore, iodi­ne, sul­fur, coal as well as gold, man­ga­ne­se and molyb­denum are mined. And this has been the case sin­ce prehis­to­ric times.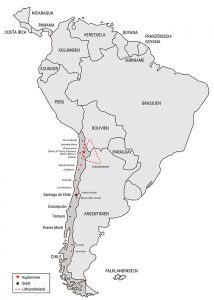 Cop­per has been mined indus­tri­al­ly sin­ce the begin­ning of the 20th cen­tu­ry. The Chu­qui­ca­ma­ta Mine was ope­ned up as ear­ly as 1915 and ope­ra­ted as an open pit mine until 2019. More than 1000 meters deep reaches the deepest cra­ter ever crea­ted by man. In the mean­ti­me, the cop­per depo­sits here are being deve­lo­ped by deep mining. Around 5.7 mil­li­on tons of cop­per were extrac­ted from Chile's mines in 2020 alone.
The mining of lithi­um has only gai­ned enor­mous impor­t­ance sin­ce 2016. Today, peop­le think main­ly of the bat­te­ries in electric cars, but lithi­um is also found in ever­ything else that modern man drags around elec­tri­fied, from smart­pho­nes to impact drills, from shavers to laptops.
What impact does mining have on the South Ame­ri­can coun­try? Are mining, raw mate­ri­al extrac­tion and sus­taina­bi­li­ty com­pa­ti­ble? And what role does Phoe­nix Con­ta­ct play in this ten­si­on? We asked two experts about this.
Chi­le is much more than just a raw mate­ri­als country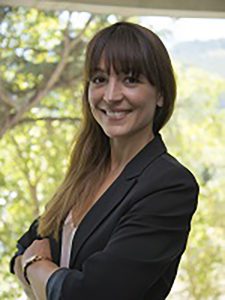 Iris Wun­der­lich (37) has been living and working in Sant­ia­go de Chi­le sin­ce 2015 and took on the role of Pro­ject Lea­der Mining & Sus­taina­bi­li­ty at the Ger­man-Chi­lean Cham­ber of Indus­try and Com­mer­ce at the begin­ning of the year. Sin­ce 2019, she has also been a mem­ber of the ambassa­dor net­work "Women in Ener­gy". A nati­ve of Swa­bia, she stu­di­ed Spa­nish and eco­no­mics in Kas­sel, spe­cia­li­zing in inter­na­tio­nal and sus­tainab­le busi­ness manage­ment and rene­wa­ble energy.
Mrs. Wun­der­lich, from which point of view do you look at your topics: from the Ger­man, the Chi­lean or the glo­bal one?
Out of all three. As a cham­ber, we first try, of cour­se, to offer sup­port to Ger­man com­pa­nies through our know­ledge of the situa­ti­on here on the ground if they want to beco­me acti­ve in Chi­le or regio­nal­ly. So we have the Ger­man glas­ses on. But of cour­se we are also the con­ta­ct for Chi­lean com­pa­nies that want to move in the direc­tion of the Ger­man mar­ket or, as is usual­ly the case, they are loo­king for access to Ger­man tech­no­lo­gy, also when it comes to are­as of sus­taina­bi­li­ty. That's whe­re we have the Chi­lean per­spec­ti­ve on things. And sus­taina­bi­li­ty and glo­bal sup­ply chains are issu­es that are in the natu­re of mining.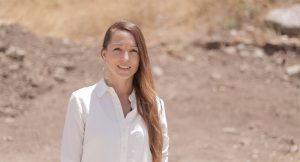 Com­mo­di­ty coun­tries are often poli­ti­cal­ly unsta­ble and eco­no­mi­c­al­ly one-sided­ly ori­en­ted toward exports. Does this also app­ly in part to Chile?
Not qui­te. Until Octo­ber 2019, Chi­le was the model coun­try in South Ame­ri­ca in terms of sta­bi­li­ty. But then social unrest bro­ke out, which has led to a new con­sti­tu­ti­on now being draf­ted wit­hin the frame­work of a con­sti­tu­ent assem­bly. The Coro­na pan­de­mic and the fight against the asso­cia­ted dan­gers to health and the eco­no­my are, of cour­se, also cur­r­ent­ly domi­na­ting the poli­ti­cal dis­cus­sion in Chile.
Is the­re a kind of com­mo­di­ty colo­nia­lism, that is, over­powe­ring for­eign cor­po­ra­ti­ons that eco­no­mi­c­al­ly pur­sue only self-inte­rest and drain the capital?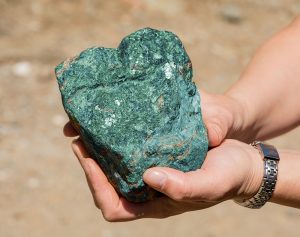 First, the­re is CODELCO, the domi­nant play­er in Chi­lean cop­per mining. This is a Chi­lean sta­te-owned com­pa­ny. In addi­ti­on, the­re are lar­ge Aus­tra­li­an, Eng­lish and Cana­di­an com­pa­nies. In addi­ti­on, the­re are small and medi­um-sized Chi­lean mining com­pa­nies. The­se have ENAMI a sta­te-owned purcha­sing com­pa­ny at their dis­po­sal, which buys, pro­ces­ses and then also resells, as a sup­ple­ment to the lar­ge companies.
In addi­ti­on, we are also see­ing gro­wing inte­rest from other for­eign inves­tors, with US and Chi­ne­se com­pa­nies joi­ning the for­eign groups men­tio­ned above.
How much are the inte­rests of mining com­pa­nies acti­ve in Chi­le also focu­sed on sustainability?
Here in Chi­le, we have an envi­ron­men­tal pro­tec­tion and ener­gy poli­cy that is very con­sist­ent­ly gea­red toward sus­taina­bi­li­ty, regard­less of the poli­ti­cal direc­tion in power at the time. This also app­lies to mining to a lar­ge extent. The Minis­try of Ener­gy was only estab­lis­hed here in 2010, but sin­ce then it has had no major fluc­tua­tions in its ori­en­ta­ti­on, regard­less of the respec­ti­ve government. This con­stancy and relia­bi­li­ty is also par­ti­cu­lar­ly important for Chi­lean and Ger­man com­pa­nies.
When it comes to sus­taina­bi­li­ty, the influ­ence of the lar­ge inter­na­tio­nal com­pa­nies is even rather posi­ti­ve. This is not only about the envi­ron­men­tal sec­tor, but also about social stan­dards, such as working con­di­ti­ons and safe­ty or the issue of dealing with indi­ge­nous popu­la­ti­on groups, which is very important in Chi­le. The­re are many examp­les whe­re both inter­na­tio­nal and Chi­lean com­pa­nies are pro­vi­ding very posi­ti­ve impe­tus in terms of envi­ron­men­tal pro­tec­tion and sus­taina­bi­li­ty. Ener­gy effi­ci­en­cy is a major issue, and sin­ce this year it has also been ensh­ri­ned in law through the Ener­gy Effi­ci­en­cy Act, as well as the inte­gra­ti­on of rene­wa­ble ener­gies, whe­ther through the company's own parks or lar­ge-sca­le ener­gy sup­ply con­tracts with 100 per­cent rene­wa­ble electri­ci­ty bet­ween the mining com­pa­nies and the ener­gy sup­pliers. In addi­ti­on, the­re is the incre­a­sed use of desa­li­na­ted sea­wa­ter for mining processes.
Does this also app­ly to lithi­um mining?
So far, Aus­tra­lia is the lar­gest pro­du­cer of lithi­um. The­re, lithi­um is extrac­ted in ore. In Chi­le, lithi­um is mined via bri­ne in the salt lakes. The two major com­pa­nies that have con­ces­si­ons here and are extrac­ting lithi­um on a lar­ge sca­le are a U.S. com­pa­ny and a Chi­lean com­pa­ny. Other con­ces­si­ons have been awar­ded, but the com­pa­nies are not yet actively mining.
Sus­taina­bi­li­ty is also an important issue in lithi­um mining. Espe­cial­ly with regard to the incre­a­sing demand and the pre­dic­ted boom in elec­tro­mo­bi­li­ty, which of cour­se must not be car­ri­ed out on the back of the sta­bi­li­ty of a sen­si­ti­ve eco­sys­tem. It is the­re­fo­re essen­ti­al to look for ways in which the tech­no­lo­gy can mana­ge to extract raw mate­ri­als as mini­mal­ly inva­si­ve­ly as pos­si­ble, which are necessa­ry for an ener­gy tur­naround, inclu­ding in the trans­port sector.
What role do rene­wa­ble ener­gies play for Chile?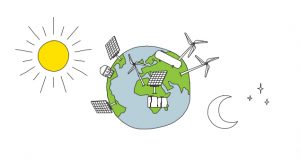 The sec­tor is boo­m­ing and, after mining, is the sec­tor in which the most invest­ment has been made for years. Chi­le has the hig­hest poten­ti­al world­wi­de for the pro­duc­tion of green hydro­gen. Chi­le has adop­ted a natio­nal hydro­gen stra­te­gy and is a clo­se part­ner coun­try of Ger­ma­ny here and in acti­ve exchan­ge. In Pata­go­nia, the­re is a pro­ject fun­ded by the Ger­man Federal Minis­try for Eco­no­mic Affairs and Ener­gy. The­re, green hydro­gen will be pro­du­ced with the help of wind power and used to gene­ra­te syn­the­tic fuels.
The ener­gy sec­tor as a who­le is sim­ply a boom sec­tor. Chi­le is much more than just a raw mate­ri­als coun­try and supplier!
Deutsch-Chi­le­ni­sche Indus­trie- und Handelskammer
Next page: Phoe­nix Con­ta­ct in Chi­le
Chi­le can be an engi­ne of the All Electric Society!
This post is also avail­ab­le in:

Deutsch