It does­n't get much wil­der than this – Ral­ly Cross is an archaic ver­si­on of motor­sport. Huge engi­nes, light­weight vehi­cles, trans­ver­se dri­ving, and dirt and dust galo­re. This is exact­ly whe­re an Aus­tri­an high-tech com­pa­ny that focu­ses on e‑mobility feels at home. Cra­zy Austria?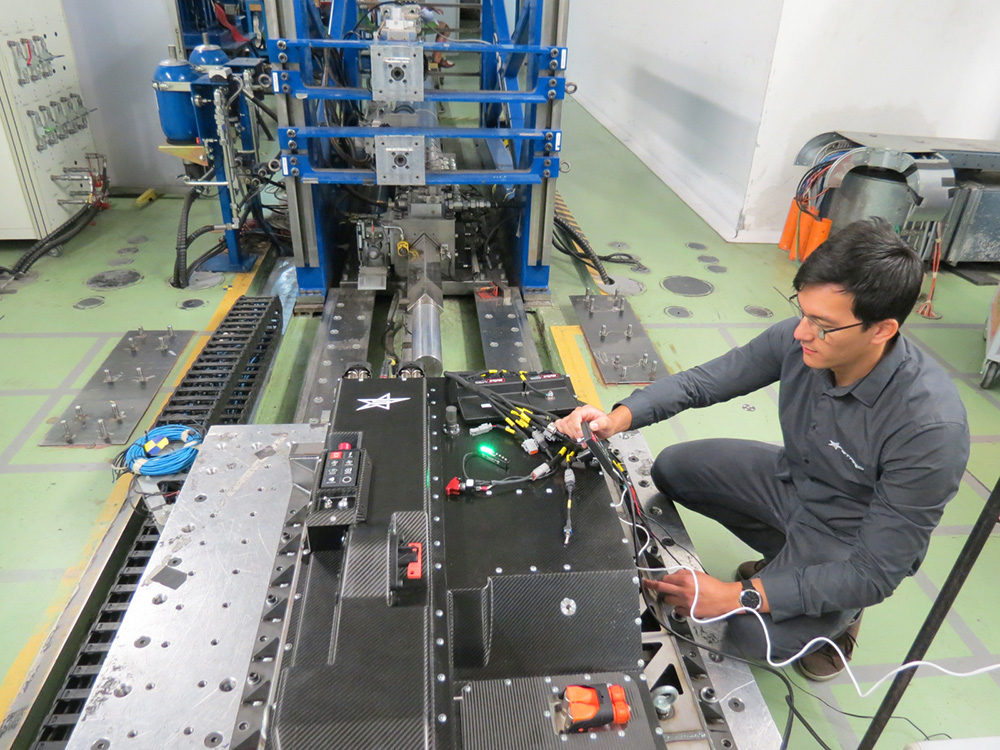 Phil­ipp Tho­net does­n't look at all like a lea­ther-tan­ned petrol­head or wea­ther-bea­ten ral­ly dri­ver. The like­ab­le Chief Tech­ni­cal Offi­cer could easi­ly work in any start-up. That makes him an excel­lent fit for STARD. This is name­ly the latest off­shoot of the Stohl Group and a pace­set­ter when it comes to electric dri­ves not only in ral­ly vehicles.
The sto­ry of the Stohl fami­ly busi­ness began at the end of the 1960s when Rudi Stohl, then still in trai­ning as a car mecha­nic, came into con­ta­ct with racing. A for­mer mili­ta­ry air­field near Vien­na, ple­nty of burnt rub­ber, screa­ming engi­nes – the arti­san appren­ti­ce beca­me one of Austria's most suc­cess­ful racing dri­vers, dar­ting around the cur­ves with gre­ats like Wal­ter Röhrl or Miche­le Mou­ton. Inci­dent­al­ly, with his own cars and not in one of the finan­cial­ly strong fac­to­ry teams.
Anyo­ne who knows how expen­si­ve racing is will have an idea of the dif­fi­cul­ties the young Rudi Stohl had to con­t­end with during his acti­ve care­er. Stohl was always his own mecha­nic as well, which is why he also took a back seat to racing seri­es that requi­red both dri­ving and wren­ching skills. Argen­ti­na, the Hima­la­yas, Chi­na, Afri­ca – the mul­ti­ple Motor Sports­man of the Year and run­ner-up in the 1986 Group A World Cham­pions­hip was always the David in the fight against the Goli­aths in the form of the fac­to­ry teams.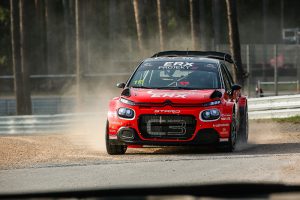 The father's pas­si­on was pas­sed on to son Man­fred, who also ent­e­red racing as a works fore­man in 1990. Today, the Stohl Group is a house­hold name in the racing sce­ne, and Man­fred Stohl is an acti­ve racing dri­ver at the top of the world: Group N Ral­ly World Cham­pion in 2000, and in the 2006 World Ral­ly Cham­pions­hip (WRC) with four podi­um finis­hes. But Stohl is not only an inter­na­tio­nal­ly renow­ned figu­re behind the wheel, he has also demons­tra­ted entre­pre­neu­ri­al qua­li­ties. In 2001, he foun­ded the com­pa­ny Stohl Racing. The main field of acti­vi­ty is not only the company's own ope­ra­ti­ons, but abo­ve all the deve­lo­p­ment and con­struc­tion of cus­to­mer motor­sport vehi­cles and their support.
Bla­zing fast with alternatives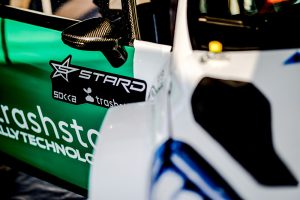 Stohl beca­me awa­re of alter­na­ti­ve dri­ve tech­no­lo­gies at an ear­ly sta­ge. One of the main spon­sors was the Aus­tri­an Mine­ral Oil Asso­cia­ti­on (OMV), which gave Stohl the idea of also using natu­ral gas as a fuel in a racing seri­es. As ear­ly as 2006, the inno­va­ti­ve racing team rea­li­zed a racer that was fue­led mono­va­lent­ly with high­ly com­pres­sed natu­ral gas (CNG). This laid the foun­da­ti­on for a who­le new form of expe­ri­men­ta­ti­on. Then, in 2014, a genui­ne e‑flitzer saw the light of day. And not just as a che­ris­hed, high­ly polis­hed one-off, but as a genui­ne com­pe­ti­ti­on car, a spee­ding slings­hot and dirt-slinger.
In 2015, this ener­gy achie­ve­ment resul­ted in the foun­ding of STARD by Man­fred Stohl and the cur­rent Mana­ging Direc­tor Micha­el Sako­wicz. STARD stands for Stohl Advan­ced Rese­arch and Deve­lo­p­ment. While Stohl Racing focu­ses on the racing acti­vi­ties of the com­pa­ny owner and the con­struc­tion and use of various cus­to­mer vehi­cles, STARD is the think tank of the Aus­tri­ans. Phil­ipp Tho­net has been with the com­pa­ny sin­ce 2014, initi­al­ly star­ting as an engi­neer and pro­ject mana­ger and now as CTO respon­si­ble for the tech­no­lo­gi­cal side of the racing innovator.
Full-ser­vice provider
The Aus­tri­ans are not only acti­ve when it comes to the high-per­for­mance bat­te­ry sys­tems deve­lo­ped in-house, whe­re STARD cer­tain­ly com­pe­tes with indus­try giants such as Wil­liams Advan­ced Engi­nee­ring. The experts also design sus­pen­si­ons and chas­sis, test aero­dy­na­mics in the wind tun­nel and con­duct rese­arch in the bat­te­ry and vehi­cle dyna­mics con­trol sec­tor, inclu­ding com­po­si­te fiber mate­ri­als. In doing so, the Aus­tri­ans work clo­se­ly with lea­ding tech­no­lo­gy part­ners. STARD aims to eman­ci­pa­te its­elf from pure motorsport.
"The electric dri­ve had been around for years until we were able to deve­lop it for a ral­ly vehi­cle for the first time in 2015. Today, e‑drive is the num­ber one topic for us. We are now known for this and are in demand from both fac­to­ry teams and pri­va­te dri­vers. We have built a test bench for electric motors and have our own test ben­ches for the bat­te­ries, whe­re we test the indi­vi­du­al cells. We con­struct and design high-vol­ta­ge bat­te­ries from the cell level up, in dif­fe­rent sizes and vol­ta­ge clas­ses," exp­lains the 34-year-old engineer.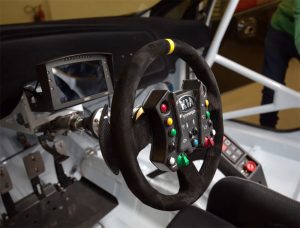 Almost ine­vi­ta­b­ly, the con­ta­ct with Phoe­nix Con­ta­ct came about here, becau­se when it comes to fast char­ging, the com­pa­ny from East West­pha­lia leads the indus­try like Stohl once led the Mon­te Car­lo Ral­ly. "We were loo­king for a sui­ta­ble vehi­cle inlet CCS Type 2, i.e. for fast char­ging. The coope­ra­ti­on with Phoe­nix Con­ta­ct, which for us is always also a pie­ce of deve­lo­p­ment work for our spe­cial requi­re­ments, works excel­lent­ly, both with the Aus­tri­an team and the head­quar­ters in Schie­der. We are alrea­dy deve­lo­ping pro­jects tog­e­ther that go well bey­ond the mere use of inlets."
Small team with a lot of power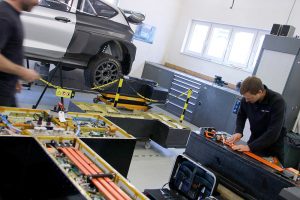 The num­ber of high­ly qua­li­fied employees is mana­ge­ab­le: "We have 15 employees in deve­lo­p­ment. Our racing team com­pri­ses up to 30 employees during World Cham­pions­hip events." When asked, Tho­net con­firms, "The cars are com­ple­te­ly desi­gned and built here at the site, and they are also used from here." The crew must tru­ly be hand­pi­cked, becau­se the qua­li­ty and diver­si­ty of the tasks is enor­mous, and the deman­ds on a ral­ly­cross vehi­cle are extre­me. "One more floor down is our lab area with test ben­ches and the bat­te­ry depart­ment. We are a very com­pact team, have very short decisi­on-making paths, that's our strength, so we gain clout and can keep up with the latest tech­no­lo­gies in the extre­me­ly dyna­mic EV industry."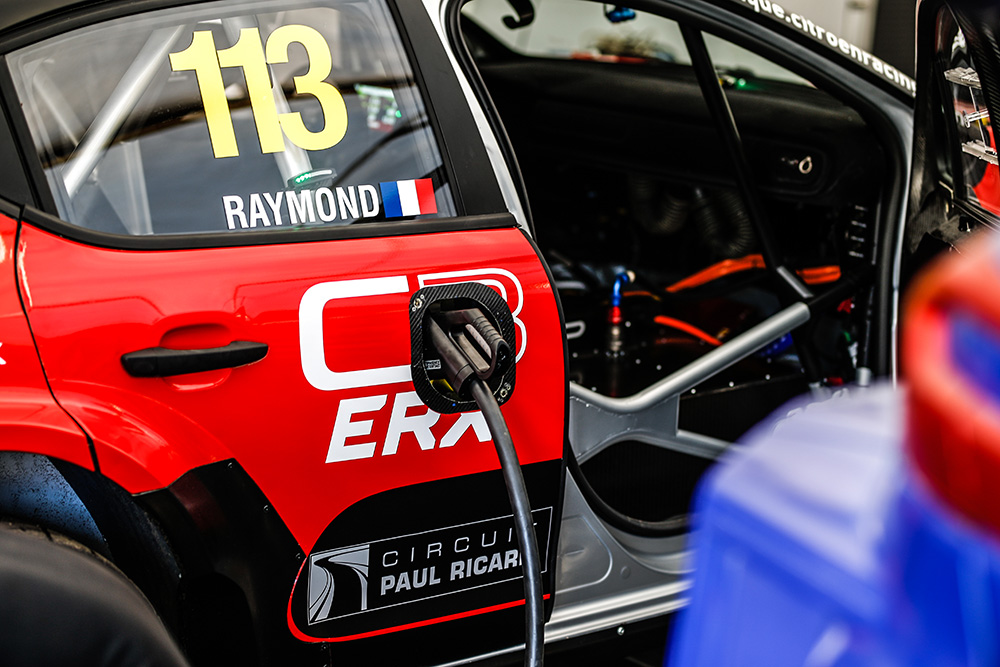 With a smi­le, Phil­ipp Tho­net adds, "The­re are still so many new things we can dis­co­ver and deve­lop. The play­ground is almost end­less for an engi­neer." That's what unites the Aus­tri­an racers and the inno­va­ti­ve East West­pha­li­ans. Also in the future.
STARD
E‑Motorsport auf zwei Rädern
Grund­la­gen des schnel­len Ladens
This post is also avail­ab­le in:

Deutsch