Sum­mer, sun, Sax­o­ny – in 2019 the world was still in order. No trace of the virus, but ple­nty of burnt rub­ber in the air. At least when you visit the spee­ding riders of the world motor­cy­cle cir­cus Moto GP at Sach­sen­ring. And right in the midd­le of it all, arrow-fast quiet pedal with inno­va­ti­ve tech­no­lo­gy. E‑mobility at the limit of the possible.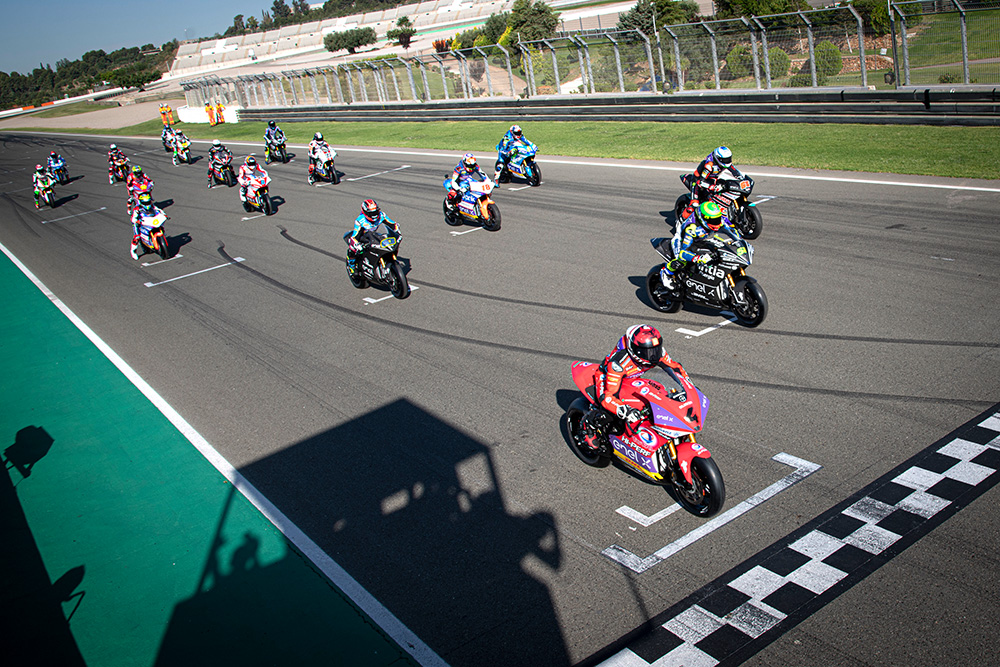 Racing events in the motor­cy­cle cir­cus are a world of their own. Here, cli­chés are ser­ved up in rows: long hair, black lea­ther, wild beards, hard beats and abo­ve all the sound of engi­nes, whe­ther scree­ching and high-bred from Japan or dull-boo­m­ing from the USA. Abo­ve all a mix­tu­re of oil, gaso­li­ne, rub­ber and bar­be­cue sausage.
Screa­ming four cylin­ders, sin­ging electric motors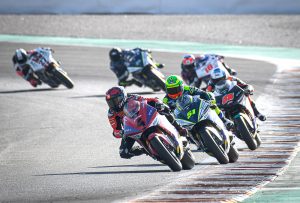 In short: Just the right back­drop for an East West­pha­li­an high-tech com­pa­ny well known to rea­ders to clear­ly show its colors in the future of e‑mobility. Becau­se in 2019 a com­ple­te­ly new motor­cy­cle cate­go­ry was laun­ched in the top class of racing, the Motor­cy­cle Grand Prix: the MotoE. She too is fast as an arrow and strong as a bear. But without the typi­cal scree­ching of the four-cylin­der engi­ne, which pro­du­ces up to 15,000 revo­lu­ti­ons. But the elec­tri­fied speed­sters are not silent eit­her, becau­se in addi­ti­on to the sin­ging tires, the power­ful electric motor also pro­du­ces high-fre­quen­cy sin­ging – an ode to the new form of locomotion.
It is no coin­ci­dence that the new racing seri­es, which is to deve­lop par­al­lel to the clas­sic MotoGP event, is not com­ing out of the blue. Racing has always been the ide­al set­ting for the manu­fac­tu­rers of two-whee­lers to bring their brand mes­sa­ge to fans and the peop­le. In the past, Duca­ti, Yama­ha, Hon­da and Co.
But in the mean­ti­me a com­ple­te­ly new form of elec­tri­fied loco­mo­ti­on on two wheels is moving through the metro­po­li­ses of the world, espe­cial­ly in Asia. The­re it is beco­m­ing incre­a­singly dif­fi­cult for the estab­lis­hed big names to regis­ter their motor­cy­cles with com­bus­ti­on engi­nes. The smog clouds of the most­ly inex­pen­si­ve sin­gle engi­nes, often two-strokes, which ratt­led through the nar­row streets in their thousands, were too drastic. Even if the modern engi­nes of the estab­lis­hed manu­fac­tu­rers are signi­fi­cant­ly less pol­lu­ting than their distant rela­ti­ves from the cheap simp­le pro­duc­tion – com­bus­ti­on engi­nes all have it incre­a­singly difficult.
It star­ted with the scooter
The tri­um­phal march of electric mobi­li­ty has logi­cal­ly stir­red up the scoo­ter mar­ket in par­ti­cu­lar. And it is gra­du­al­ly taking off in the area of lar­ger two-whee­lers as well. Against the back­ground of cli­ma­te chan­ge and the ener­gy tur­naround, this is a logi­cal step.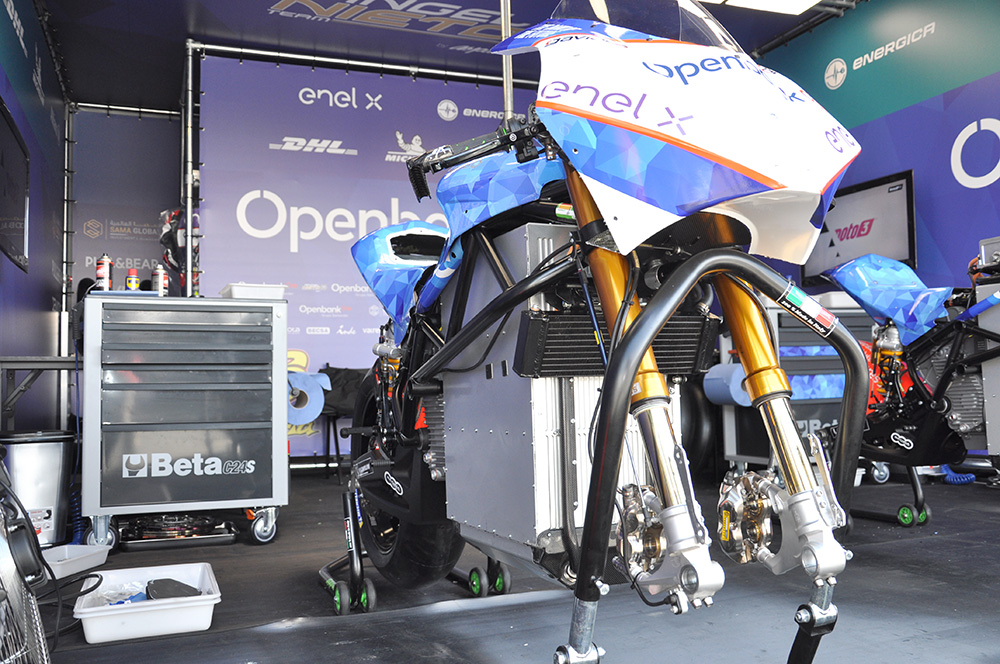 So the­re is gre­at inte­rest in brin­ging elec­tro­mo­bi­li­ty to the world of racing. And in the two-wheel sec­tor, the pro­xi­mi­ty of seri­es pro­duc­tion to racing bikes is more pro­noun­ced, deve­lo­p­ment is fas­ter and finan­cial­ly more mana­ge­ab­le than in four-wheel For­mu­la 1.
And the racy speed­sters do not have to hide from their exhaust gas-emit­ting coun­ter­parts. Alt­hough their bat­te­ry load makes them much hea­vier than, say, the top class in MotoGP (157 kg ver­sus 260 kg), they have long sin­ce achie­ved speeds and lap times equi­va­lent to tho­se of Moto2, the second stron­gest pro­to­ty­pe racing class in the motor­cy­cle world championship.
Per­for­mance explosion
The bat­te­ries, which the electric racing motor­cy­cles have pla­ced for pro­pul­si­on whe­re the tank and the motor unit are loca­ted in the case of com­bus­ti­on engi­nes, have a capa­ci­ty of 21 kW/h. This is enough to cover racing distan­ces of eight to ten laps – qui­te suf­fi­ci­ent for the intro­duc­tion of a com­ple­te­ly new racing seri­es with new technology.
The per­for­mance vir­tual­ly explo­ded, from an alrea­dy remar­kab­le 130 kW (177 hp) to 200 (272 hp), in qua­li­fy­ing even 250 kW (340 hp). And this with the typi­cal cha­rac­te­ris­tics of electric motors, which pro­vi­de their maxi­mum tor­que of around 215 New­ton meters almost immediately.
Such a power den­si­ty of bat­te­ries requi­res the best char­ging tech­no­lo­gies avail­ab­le. The char­ging sta­ti­ons them­sel­ves come from the Ita­li­an manu­fac­tu­rer Enel. But on clo­ser inspec­tion, the con­nois­seur will also see well-known tech­no­lo­gy from East West­pha­lia: the CCS char­ging plugs and recepta­cles from Phoe­nix Con­ta­ct are an inte­gral part of the power fil­ling of the hot runners.
Incredi­ble acceleration
The ride on the electric can­non ball is not without its pro­blems, as top dri­ver Brad­ley Smith from the team One Ener­gy Racing from Eng­land reve­als in an inter­view: "The acce­le­ra­ti­on just out of the cur­ve is sim­ply cra­zy. Of cour­se you noti­ce the extra weight of the bike on the bra­kes, so I have to grab ear­lier and har­der. That also cos­ts time. And in tight cor­ners I have to push the bike much har­der with my body weight. That is hea­vy work. But when it comes to speed, the level of Moto2 has alrea­dy been reached. And we are still at the beginning".
2019 was the start of the seri­es at the Ger­man Sach­sen­ring. Phoe­nix Con­ta­ct E‑Mobility is offi­cial part­ner of Ener­gi­ca Motor Com­pa­ny SPA. The Ita­li­an electric motor­cy­cle manu­fac­tu­rer not only pro­du­ces three sin­ful­ly beau­ti­ful e‑bikes for the road, but also all the motor­cy­cles of the various racing teams. 18 machi­nes are avail­ab­le to the 12 racing teams. Uni­form tech­no­lo­gy in a racing seri­es gua­ran­tees very spe­cial exci­te­ment, becau­se this is how the rider and his skills are most important. The basis of the racing motor­cy­cles is the street legal and free­ly avail­ab­le "Ener­gi­ca Ego".
Ter­mi­na­ti­on and still success
Alt­hough the actu­al race at the Sach­sen­ring was limi­ted to only eight laps, this did not detract from the serious­ness of the ath­le­tes and their crews, becau­se the hot e‑bikes were exten­si­ve­ly main­tai­ned, opti­mi­zed in details and star riders were hired who are able to arrow the bikes around the track in a spe­ci­es-appro­pria­te manner.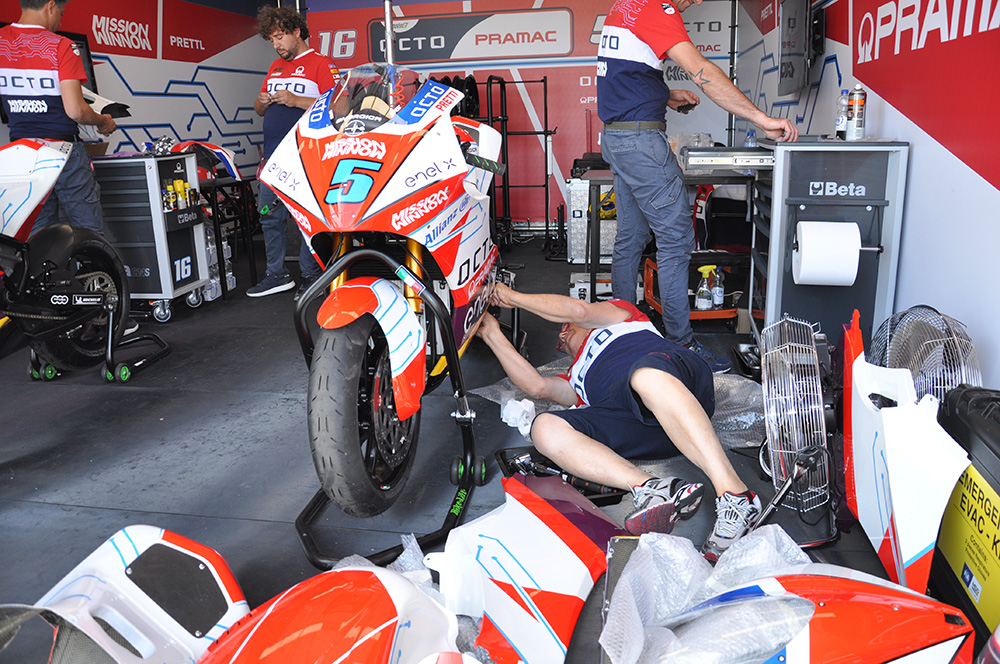 You can't plan ever­ything: The race was can­cel­led on Sunday after only five laps – a hea­vy fall due to the sud­den rai­ny wea­ther was the rea­son. Our inter­view part­ner Brad­ley Smith beca­me second, behind the Finn Niki Tuuli of the Ajo team. He may adorn hims­elf the­re­fo­re with the his­to­ri­cal tit­le of the first win­ner in the racing seri­es of the MotoE. And under him, hid­den by fai­ring and sti­ckers, a small but important pie­ce of East West­pha­lia rode along on the vic­to­ry ride.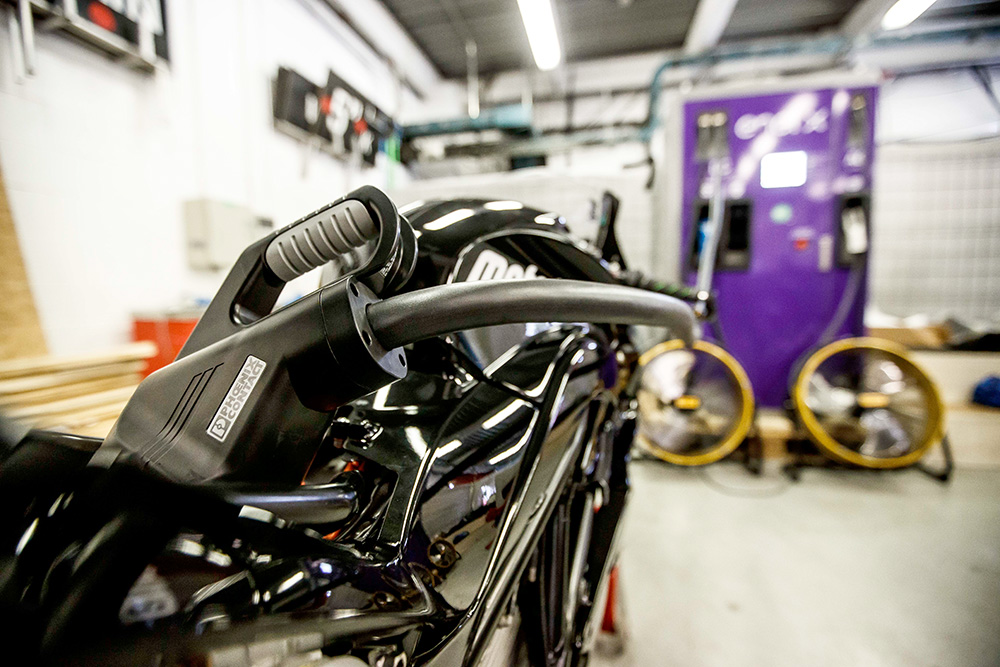 This post is also avail­ab­le in:

Deutsch