Poland has not been a low-wage coun­try for lon­ger time. But it is a coun­try with many young, com­mit­ted and well-edu­ca­ted talents. It also has ple­nty of poten­ti­al and the best con­nec­tions to neigh­bo­ring coun­tries. No won­der that Phoe­nix Con­ta­ct E‑Mobility in Rzes­zów, Poland, is ful­ly com­mit­ted to the future.
If you were to fill a posi­ti­on with the dream of a HR recrui­ter, he would be on the short­list: Domi­nik Mazur is 35 years young, smart and ener­ge­tic. Fit not only in Eng­lish, but also an engi­neer spe­cia­li­zing in auto­mo­ti­ve and robo­tics. "But I also have a degree in Pro­duc­tion Manage­ment and am about to gra­dua­te with a Mas­ter of Busi­ness Admi­nis­tra­ti­on (MBA)."
But his "dis­co­ve­rers", Micha­el Hei­ne­mann, Ralf Döh­re and Chris­toph Paet­zold from the Phoe­nix Con­ta­ct sub­si­dia­ry E‑Mobility, were not only inte­res­ted in the obvious qua­li­ties of the ener­ge­tic Pole. Mazur also has more than ten years of pro­fes­sio­nal expe­ri­ence in the auto­mo­ti­ve indus­try. Poland has long been an important loca­ti­on in the glo­bal manu­fac­tu­ring net­work of auto­mo­ti­ve giants and their suppliers.
"I was just working in Rzes­zów in ano­t­her com­pa­ny as a pro­duc­tion mana­ger. One day, Chris­toph Paet­zold was stan­ding at my door." Paet­zold is respon­si­ble for inter­na­tio­nal pro­duc­tion at Phoe­nix Con­ta­ct E‑Mobility. He asked Mazur if he could ima­gi­ne working at the new E‑Mobility plant in Poland. "I wan­ted to decli­ne at first, but the oppor­tu­ni­ty to help build a new plant from the begin­ning sound­ed so exci­ting that I thought: Why not?"
Becau­se that's exact­ly what they were loo­king for: a plant mana­ger who would be respon­si­ble for the ent­i­re 15,000 squa­re meter pro­duc­tion faci­li­ty in a new buil­ding and with a new team. And as quick­ly as pos­si­ble, becau­se Phoe­nix Con­ta­ct E‑Mobility's ambi­tious plans for the future foresaw a first pro­duc­tion start as ear­ly as 2021. The Coro­na situa­ti­on of 2020 made the frame­work con­di­ti­ons even more challenging.
A rascal's grin does cross the young top manager's face when he thinks back to his first con­ta­cts with Phoe­nix Con­ta­ct: "It hap­pen­ed very quick­ly. A few mee­tings and the three peop­le from Phoe­nix Con­ta­ct had alrea­dy con­vin­ced me. And the visit to the Ger­man head­quar­ters made it clear to me the dimen­si­ons in which my future employ­er actual­ly thinks. In Poland, the name Phoe­nix Con­ta­ct is hard­ly known, not even in the auto­mo­ti­ve indus­try." This is set to chan­ge, as the decla­red aim is to build up just as excel­lent a repu­ta­ti­on in Rzes­zów and the sur­roun­ding area as in North Rhine-Westphalia.
From 0 to 100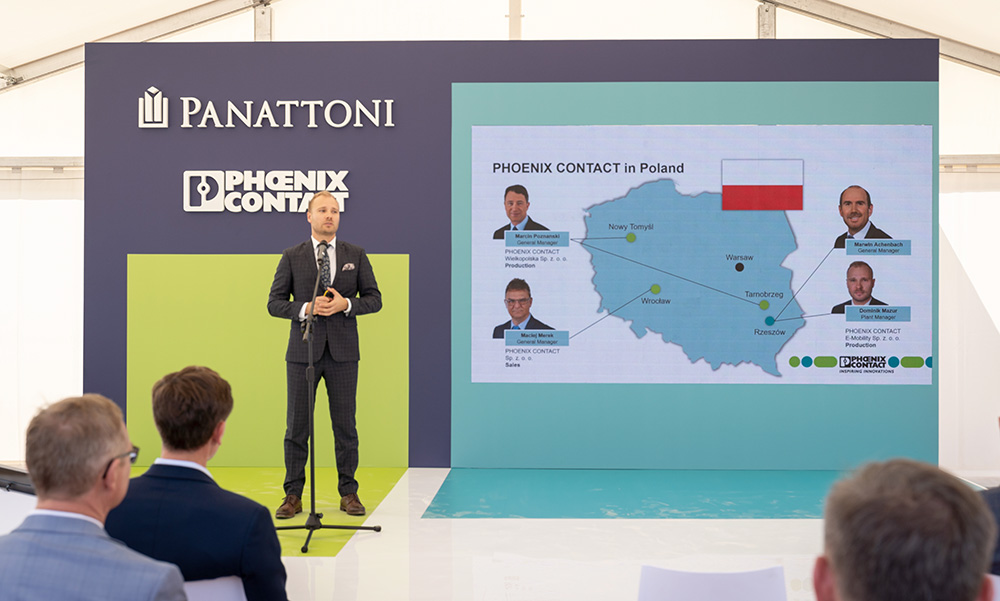 Sin­ce June 1, Domi­nik Mazur has now been plant mana­ger at the new fac­to­ry in the Rzes­zów-Dwor­zys­ko Sci­ence and Tech­no­lo­gy Park in Poland. The speed with which the bold pro­ject of expan­ding pro­duc­tion in Poland has picked up speed rivals any sports car. The cele­bra­ti­on was held in Sep­tem­ber, and the brand-new pro­duc­tion buil­ding inclu­ding admi­nis­tra­ti­on has now been com­ple­ted. Pro­ject mana­ger Chris­toph Paet­zold is visi­b­ly proud: " Now in Janu­a­ry we have star­ted with the pro­duc­tion of AC char­ging cables. The core team with only five heads has beco­me a power­ful troop of 56 employees, which is still loo­king for rein­for­ce­ment. Our deve­lo­p­ment plans for the next mon­ths and years are real­ly inte­res­ting and the team is very motivated."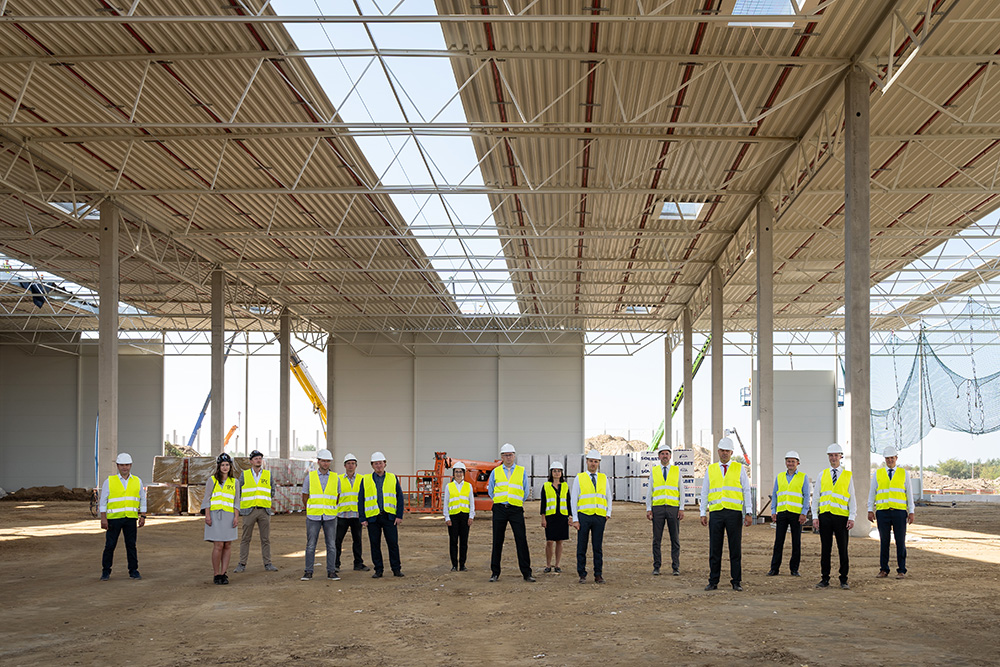 Phoe­nix Con­ta­ct E‑Mobility
Phoe­nix Con­ta­ct E‑Mobility goes East
This post is also avail­ab­le in:

Deutsch