When it gets too nar­row for the solar power plants on land, they go out on the water. At least that's the case near the Dut­ch town of Zwol­le. Sta­ble 27 mega­watts of solar power des­pi­te shaky ground. A site visit with a boat trip.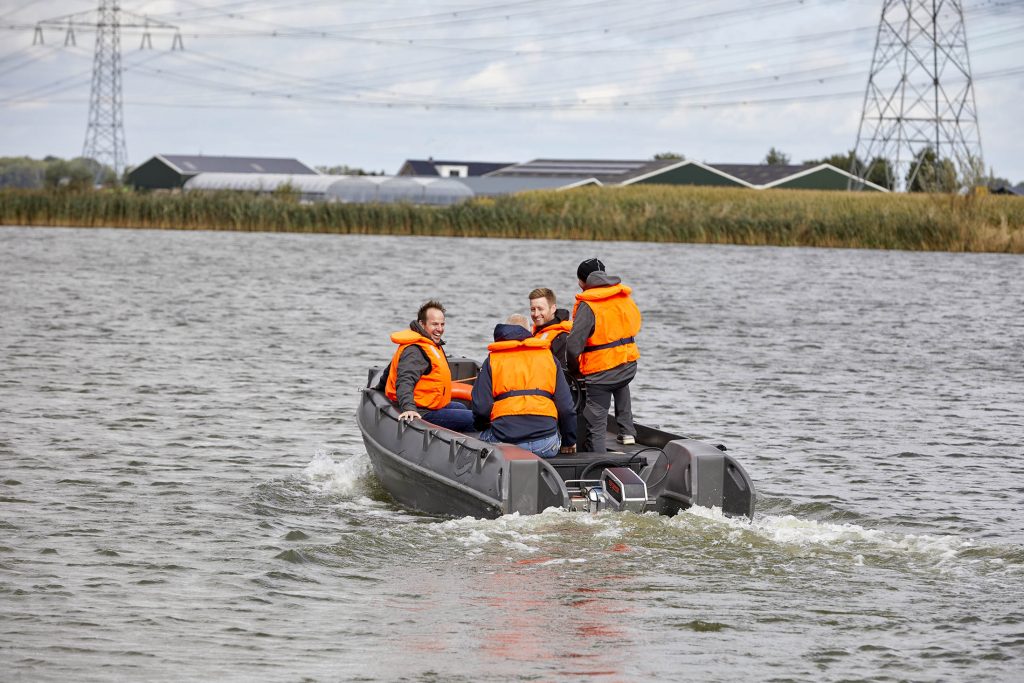 The power of the sun is the basis of life on earth. In order to access its ener­gy, we are cur­r­ent­ly bur­ning main­ly and far too much form­er­ly plant remains in the form of oil and coal. For mil­li­ons of years, plants had the mono­po­ly of ener­gy pro­ces­sing by means of photosynthesis.
This has been dis­pu­ted by man sin­ce 1839, after Alex­and­re Edmond Bec­que­rel dis­co­ve­r­ed the pho­toelectric effect. Howe­ver, it took about 100 years befo­re this and nume­rous sub­se­quent dis­co­ve­ries actual­ly led to the deve­lo­p­ment of high-per­for­mance sili­con solar cells. In the 1950s, the Bell Labo­ra­to­ries in New Jer­sey was one of the most suc­cess­ful rese­arch faci­li­ties, inclu­ding in this field.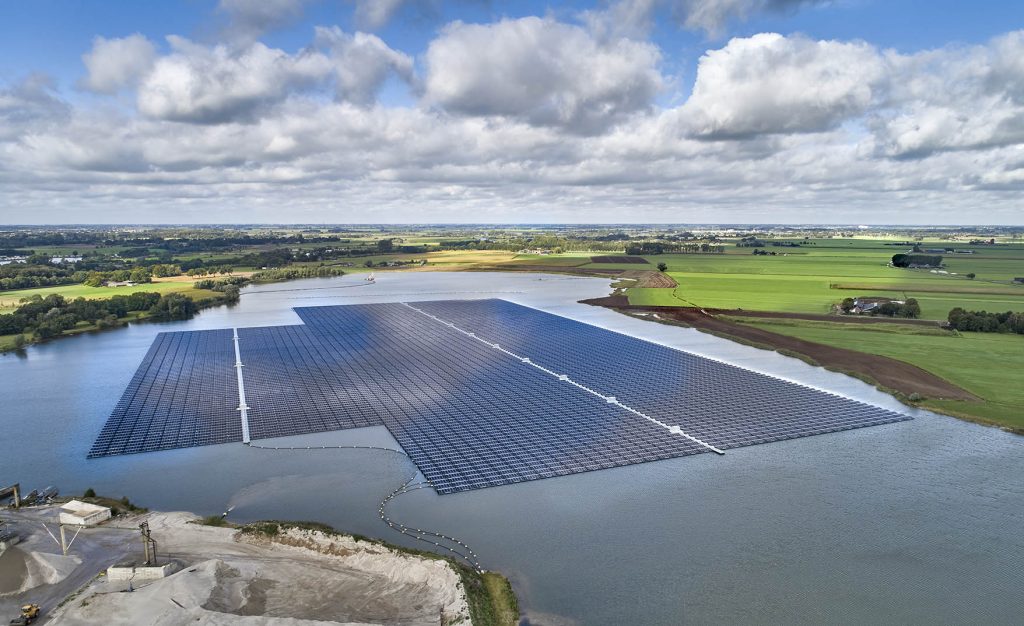 And a good 70 years later, the direct use of solar ener­gy to pro­du­ce electri­ci­ty is beco­m­ing essen­ti­al for the sur­vi­val of the ent­i­re pla­net, becau­se the use of ener­gy stored in fos­sil plant resi­du­es relea­ses dis­astrous amounts of CO2. The pro­blem is that whe­re solar cells can be pro­du­ced, paid for and used on a lar­ge sca­le, in indus­tria­li­zed first-world coun­tries, land is beco­m­ing incre­a­singly precious.
On wob­b­ly ground
In the Dut­ch Zwol­le is now in ope­ra­ti­on, pro­du­cing 27 mega­watts of electri­ci­ty. The spe­cial fea­ture: It floats. And it does so on a lar­ge body of water that belongs to the Bom­hofs­plas gra­vel pit. This deser­ves a clo­ser look: With the CEO of the sys­tem inte­gra­tor Zebo­tec, Wer­ner Neff, we put on the life jackets and left the solid ground.
The Con­stance-based com­pa­ny play­ed a lea­ding role in the con­struc­tion of the floa­ting solar power plant. The Zebo­tec GmbH has estab­lis­hed its­elf over the past 15 years as one of the world's lea­ding inde­pen­dent sys­tem inte­gra­tors for the con­trol of pho­to­vol­taic power plants. The ran­ge of ser­vices also inclu­des the set­up of effi­ci­ent Ether­net net­works, which are used for net­wor­king plant are­as as well as for data exchange.
WLAN

ins­tead of cable

During the cros­sing, by electri­cal­ly powe­red boat of cour­se, the head of the Con­stance-based solar spe­cia­list exp­lains the func­tion of the Ether­net net­work used here: "On land is the grid trans­fer point. Here, the power gene­ra­ted by the solar panels on the lake is fed into the public grid. This is done sub­sea by cable. Howe­ver, the power data of the sys­tem reaches land via WLAN, becau­se cab­ling here would have been far too expen­si­ve and com­plex. The WLAN cli­ents instal­led in each trans­for­mer sta­ti­on con­nect to WLAN access points moun­ted in sta­ti­ons near the shore."
Water are­as are a real alter­na­ti­ve to scarcer sites on land.

Wer­ner Neff,

CEO

Zebo­tec GmbH
In the mean­ti­me, we have docked at the floa­ting plant. The solar panels are moun­ted on floats and ori­en­ted like a roof. "This opti­mi­zes the irra­dia­ti­on of the sun­light and thus the yield," exp­lains Wer­ner Neff. Isn't shading the water an eco­lo­gi­cal pro­blem? "No, this has been stu­di­ed exten­si­ve­ly. On the con­tra­ry: fish even seek out the floa­ting plant becau­se they find pro­tec­tion from aeri­al pre­d­a­tors here. And incre­a­sed algae for­ma­ti­on does not occur eit­her, so the oxy­gen con­tent of the water is not dis­tur­bed either."
Neff opens one of the trans­for­mer sta­ti­ons and points out the instal­led com­pon­ents: "Espe­cial­ly here on the water, the high relia­bi­li­ty and robust­ness of the WLAN com­pon­ents used is cru­cial. For this rea­son, we opted for the "FL WLAN 5110″ from Phoe­nix Con­ta­ct. The indus­tri­al-gra­de devices can be con­fi­gu­red as a WLAN cli­ent as well as a repea­ter or access point."
Con­fi­gu­ra­ti­on on site
Jan Aulen­berg, accom­pany­ing expert and pro­duct mana­ger in the field of net­work tech­no­lo­gy from Phoe­nix Con­ta­ct Elec­tro­nics, exp­lains the advan­ta­ges of the com­pon­ents used: "As a sys­tem inte­gra­tor, Zebo­tec thus has the fle­xi­bi­li­ty to initi­al­ly set up the con­trol cabi­nets of all trans­for­mer sta­ti­ons iden­ti­cal­ly and only car­ry out the final con­fi­gu­ra­ti­on of the WLAN net­work in the respec­ti­ve sys­tem. This is a real argu­ment, espe­cial­ly here on the lake."
Radio data transmission
Two omni­di­rec­tio­n­al anten­nas are instal­led on each trans­for­mer sta­ti­on for data exchan­ge bet­ween the FL WLAN 5110. For the con­nec­tion of the access points with a FL WLAN 5110 instal­led at the cen­tral grid trans­fer point on shore, Zebo­tec uses direc­tio­n­al anten­nas due to the grea­ter distance. To pro­tect the PV sys­tem, all anten­na cables are fused with over­vol­ta­ge pro­tec­tion from Phoe­nix Contact.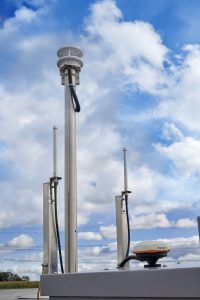 Loo­king at the ope­ned con­trol cabi­nets, Jan Aulen­berg beams, becau­se Zebo­tec does not only rely on Phoe­nix Con­ta­ct in the area of net­work tech­no­lo­gy. Wer­ner Neff exp­lains why: "Of cour­se, the­re are also alter­na­ti­ves that are che­a­per. But this pays off over the ope­ra­ting life of such a sys­tem. The infra­st­ruc­tu­re com­pon­ents from Phoe­nix Con­ta­ct are "indus­tri­al gra­de" and the­re­fo­re robust enough to meet our requi­re­ments for high avai­la­bi­li­ty. It is much more expen­si­ve in the long run if the sys­tem is down or a tech­ni­ci­an has to come by becau­se a com­po­nent has failed."
Cli­ma­te-neu­tral con­struc­tion site
The ent­i­re con­struc­tion site was con­sist­ent­ly cli­ma­te-neu­tral. Only electri­cal­ly powe­red machi­nes and equip­ment were used. An instal­led bat­te­ry sto­rage sys­tem on site sup­plies tools and electric vehi­cles regard­less of the cur­rent solar radia­ti­on. And to ensu­re that men and mate­ri­als can get to the floa­ting solar plant, even the boats are equip­ped with electric motors.
This means that solar power plants can be ope­ra­ted safe­ly, resour­ce-effi­ci­ent­ly and pro­fi­ta­b­ly even on fluc­tua­ting planks.
Zebo­tec
Phoe­nix Con­ta­ct Solar
This post is also avail­ab­le in:

Deutsch