Off to the Under­ground. On the mobi­le tour through the Dutch metro­po­lis we lea­ve light, air and bright­ness behind us and move the next kilo­me­ters under canal, track and road.
We dive deep into the under­ground of Ams­ter­dam. Above venera­ble – below ultra­mo­dern:
The first parts of Amsterdam's under­ground were put into ope­ra­ti­on in 1977. This makes the Metro the youn­gest under­ground rail­way in the Bene­lux. But "U" is not real­ly cor­rect, becau­se only two sec­tions with a total of 10.6 of the 52.2 kilo­me­ters are real­ly under­ground.
The con­struc­tion costs were enor­mous, becau­se the solid under­ground of Ams­ter­dam only begins at a depth of more than 18 meters, above it are mud and bog­gy sub­soils. The 52 line we used was only put into ope­ra­ti­on in July 2018. The costs of this line explo­ded, as the sub­soil par­ti­al­ly sank despi­te all pre­cau­tio­na­ry mea­su­res.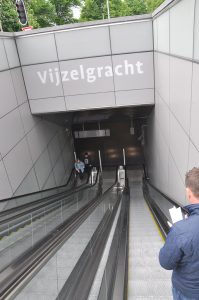 We dri­ve with long esca­la­tors to the sta­ti­on Vijzel­gracht. The sta­ti­on is known for the dif­fi­cul­ties in buil­ding the sub­way. This is whe­re the metro is at its deepest (up to 26 metres), and also direc­t­ly under the old city cent­re of Ams­ter­dam, which initi­al­ly had dra­ma­tic con­se­quen­ces: water pene­tra­ted into the shaft through holes in the sheet pile walls and was­hed out cavi­ties.
This initi­al­ly dama­ged four houses in the Vijzel­gracht its­elf, while a fur­ther six were sub­mer­ged by 20 cen­ti­me­tres after mon­ths of con­struc­tion work had been hal­ted. For a while, the con­ti­nua­ti­on of con­struc­tion was even com­ple­te­ly in ques­ti­on.
Poor con­cre­te, faul­ty rein­force­ments – the pro­blems have been sol­ved in the mean­ti­me, the sub­way leads to the Cen­traal Sta­ti­on. The Vijzel­gracht plat­form is nine metres wide and about 125 metres long. Very chic, very clean, very modern. The sta­ti­ons are ultra-modern. Also typi­cal for Ams­ter­dam are archi­tec­tu­ral­ly sophisti­ca­ted solu­ti­ons. Huge mul­ti­me­dia instal­la­ti­ons alrea­dy sur­pri­se when you dri­ve under­ground. The pas­sen­ger, us, is gui­ded through the tun­nels by an inge­nious pas­sen­ger navi­ga­ti­on sys­tem until we are in front of the right track. And the inte­rior of the modern trains is also exem­pla­ry in terms of user gui­d­ance.
A litt­le Phoe­nix Con­tact is ever­y­whe­re: user regis­tra­ti­on is important for con­trol­ling the trains. Pas­sen­gers are recor­ded and coun­ted by infra­red sen­sors above the auto­ma­tic doors. An app­li­ca­ti­on for which Phoe­nix Con­tact also pro­vi­des solu­ti­ons.
Fac­ts sub­way
Ope­ning: 1977
Total length: 52.2 km
Rail­way lines: 5
Num­ber of stops: 52
Num­ber of vehi­cles: 90
Pas­sen­gers: 295,000 per day / 107.7 mil­li­on per year
Found objec­ts during the con­struc­tion work: more than 700,000