Off to the Underground. On the mobile tour through the Dutch metropolis we leave light, air and brightness behind us and move the next kilometers under canal, track and road.
We dive deep into the underground of Amsterdam. Above venerable – below ultramodern:
The first parts of Amsterdam's underground were put into operation in 1977. This makes the Metro the youngest underground railway in the Benelux. But "U" is not really correct, because only two sections with a total of 10.6 of the 52.2 kilometers are really underground.
The construction costs were enormous, because the solid underground of Amsterdam only begins at a depth of more than 18 meters, above it are mud and boggy subsoils. The 52 line we used was only put into operation in July 2018. The costs of this line exploded, as the subsoil partially sank despite all precautionary measures.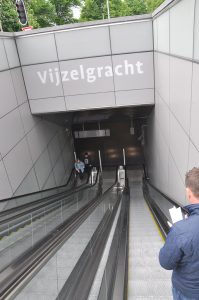 We drive with long escalators to the station Vijzelgracht. The station is known for the difficulties in building the subway. This is where the metro is at its deepest (up to 26 metres), and also directly under the old city centre of Amsterdam, which initially had dramatic consequences: water penetrated into the shaft through holes in the sheet pile walls and washed out cavities.
This initially damaged four houses in the Vijzelgracht itself, while a further six were submerged by 20 centimetres after months of construction work had been halted. For a while, the continuation of construction was even completely in question.
Poor concrete, faulty reinforcements – the problems have been solved in the meantime, the subway leads to the Centraal Station. The Vijzelgracht platform is nine metres wide and about 125 metres long. Very chic, very clean, very modern. The stations are ultra-modern. Also typical for Amsterdam are architecturally sophisticated solutions. Huge multimedia installations already surprise when you drive underground. The passenger, us, is guided through the tunnels by an ingenious passenger navigation system until we are in front of the right track. And the interior of the modern trains is also exemplary in terms of user guidance.
A little Phoenix Contact is everywhere: user registration is important for controlling the trains. Passengers are recorded and counted by infrared sensors above the automatic doors. An application for which Phoenix Contact also provides solutions.
Facts subway
Opening: 1977
Total length: 52.2 km
Railway lines: 5
Number of stops: 52
Number of vehicles: 90
Passengers: 295,000 per day / 107.7 million per year
Found objects during the construction work: more than 700,000