Sin­ce time imme­mo­ri­al, many paths con­ver­ge on the his­to­ric tra­ding metro­po­lis of Ams­ter­dam.
Trans­port is a cen­tral the­me in the Dutch capi­tal. Exac­t­ly the right place to get clo­ser to the
phe­no­me­non of urban mobi­li­ty. And the pos­si­bi­li­ties of trans­por­ting yours­elf and your goods from A to B are so varied that we have deci­ded on a small series about Ams­ter­dam. The chal­len­ge: one day, as many ways of trans­port as pos­si­ble and as many refe­ren­ces as pos­si­ble to the solu­ti­ons from Phoe­nix Con­tact.
A mobi­le self-expe­ri­ence in a fasci­na­ting city …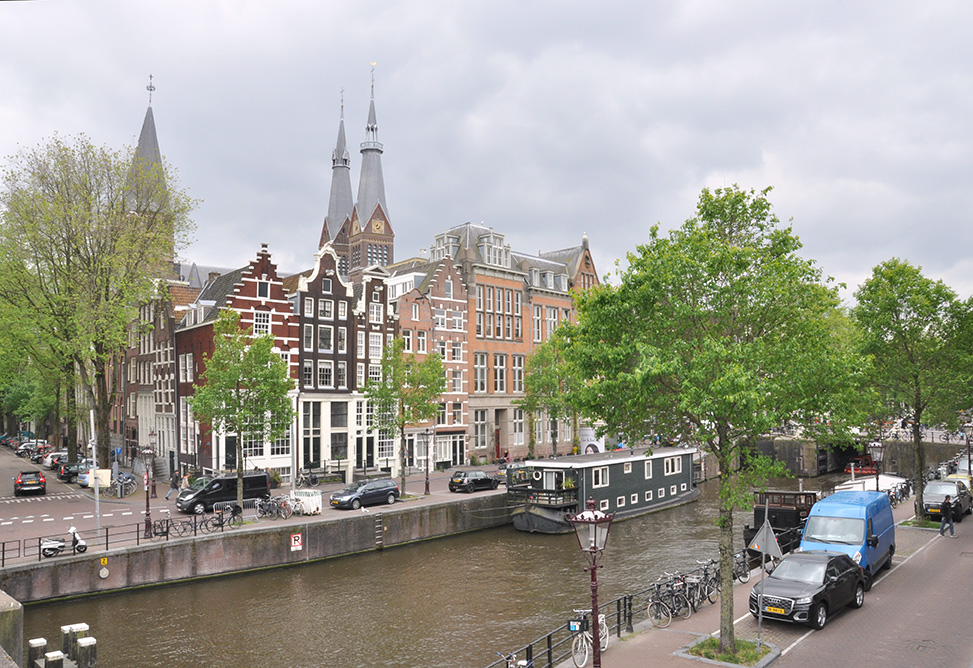 Bridges and canals – World Heritage Site
In the midd­le ages, Ams­ter­dam was the lar­gest port in the world. From here ships sai­led across all oce­ans, brought goods or wea­pons – each as requi­red and necessa­ry. The empi­re of the East India Com­pa­ny exten­ded to Sou­the­ast Asia and secu­red the tra­ding houses in fara­way Euro­pe fai­ry­ta­le wealth.
Water still cha­rac­te­ri­ses the city­scape of Ams­ter­dam today, alt­hough sin­ce 1923 the "outer dike" has ensu­red that the city no lon­ger has direct access to the North Sea. A com­pli­ca­ted net­work of canals (the Grach­ten), sluices and brid­ges has ensu­red for around 400 years that the floa­ting goods traf­fic nevertheless reaches the heart of the city. In the 16th cen­tu­ry, the canals were laid out in a ring around the old core of the city to crea­te new space for the boom town of the time.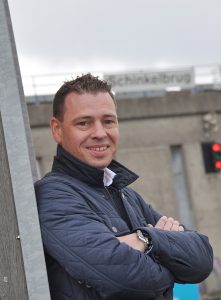 Mischa Braam is the Infra­st­ruc­tu­re Indus­try Mana­ger at Phoe­nix Con­tact Nether­lands. When it comes to brid­ges, tun­nels, and locks, his know­ledge is second to none. And he knows Ams­ter­dam like the back of his hand, becau­se the expe­ri­en­ced expert has alrea­dy super­vi­sed many pro­jec­ts here. With him I get to points far away from the tou­rist streams.The first stop on our tour is the Schin­kel­brug bridge sys­tem, a part of the A10 orbi­tal free­way sur­roun­ding Ams­ter­dam.
The Schinkelbrug
On foot we approach the impo­sing buil­ding over the river Schin­kel, first enjoy­ing the idyl­lic view of house­boats and yachts. We stand in front of a clo­sed bar­ri­er, becau­se the pede­stri­an bridge below the lar­ge arches of the bridge is seclu­ded and opens the water­way for a sports boat.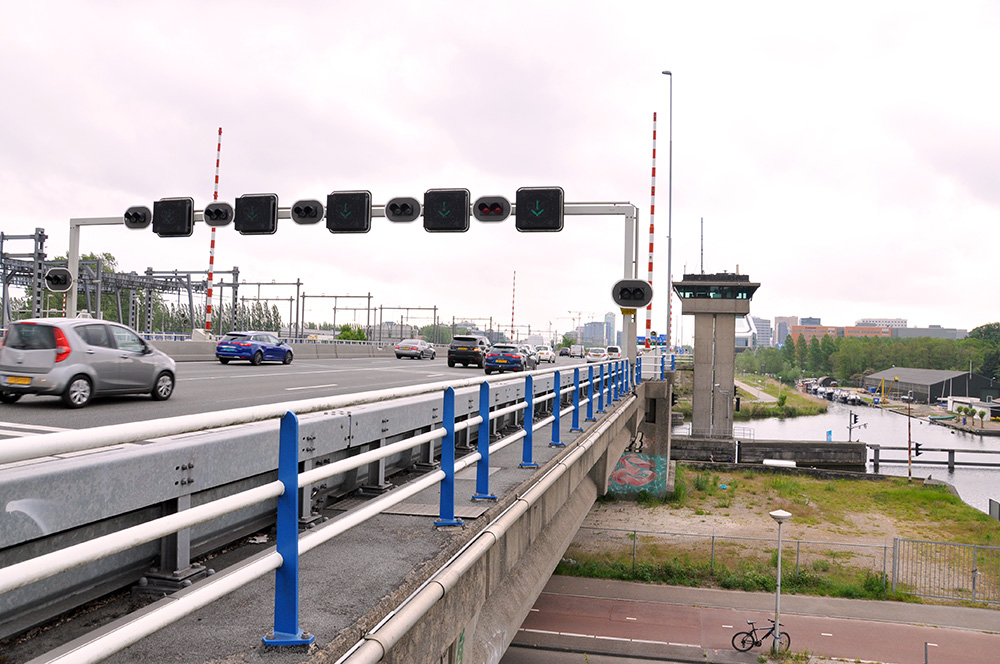 "The sys­tem is made up of a total of seven brid­ges, all of which can be rai­sed and lowe­red," exp­lains Mischa. "The sub­way, inter­ci­ty rail­road, free­way, pede­stri­an paths, and cycle paths all cross over the river." If a lar­ge ship­or a sai­ling ship wants to pass through, the bridge ele­ments are rai­sed."
This almost only ever hap­pens at night, when the traf­fic is ligh­ter. "We are deve­lo­ping the com­plex signal con­trol sys­tem, which starts a long way befo­re the bridge." All pro­duc­ts used must be SIL-cer­ti­fied, that is to say they must satis­fy the safe­ty direc­tives. Com­mu­ni­ca­ti­on with the various signa­ling devices is car­ri­ed out via cable.
Facts bridges and grachten
Num­ber of brid­ges: 1281
Grach­ten: ~200 (UNESCO World Heri­ta­ge)
Total length of the canal sys­tem: approx. 75 km
Average depth of the grach­ten: 2.6 m
Average width: 27 m
Facts Schinkelbrug
Year of con­struc­tion: 1972
Pas­sa­ge width: max 14 m
Total length: 160 m
Ele­ments: 7 brid­ges for car and rail­way long-distan­ce traf­fic, metro and pede­stri­ans
The bridge was built in several sta­ges, first as a pure motor­way bridge, later sup­ple­men­ted by ele­ments for rail and metro traf­fic.
Phoe­nix Con­tact is well expe­ri­en­ced when it comes to con­ver­ting signals to and from water­ways, and uses a wide ran­ge of pro­duc­ts to imple­ment safe and effi­ci­ent con­trol and com­mu­ni­ca­ti­on bet­ween con­trol sta­ti­ons and signals and con­trol sys­tems. Some examp­les:
Func­tio­n­al Safe in signal sys­tems