Elec­tro­mo­bi­li­ty will expe­ri­ence a huge rise in the com­ing years. It will not only chan­ge the dai­ly street sce­ne, but also the accus­to­med balan­ce of power in indus­try, espe­cial­ly among the hea­vy­weights in the sector.
Phoe­nix Con­ta­cts, the suc­cess­ful e‑mobility sub­si­dia­ry of Phoe­nix Con­ta­ct, is mee­ting the­se chal­len­ges not only with ever new tech­no­lo­gies and inno­va­tions. But also with an expan­si­on in terms of pro­duc­tion and logistics. The new plant in the Polish sci­ence and tech­no­lo­gy park Rzes­zów-Dwor­zys­ko is sche­du­led for com­ple­ti­on by the turn of the year 2020/2021.
What does this mean for the com­pa­ny, for the indus­try and which topics will deter­mi­ne the dis­cus­sion in the com­ing years? An inter­view with the two Mana­ging Direc­tors of Phoe­nix Con­ta­ct E‑Mobility, Micha­el Hei­ne­mann and Ralf Döh­re, as well as the Mana­ging Direc­tor of the new Polish plant, Mar­win Achenbach.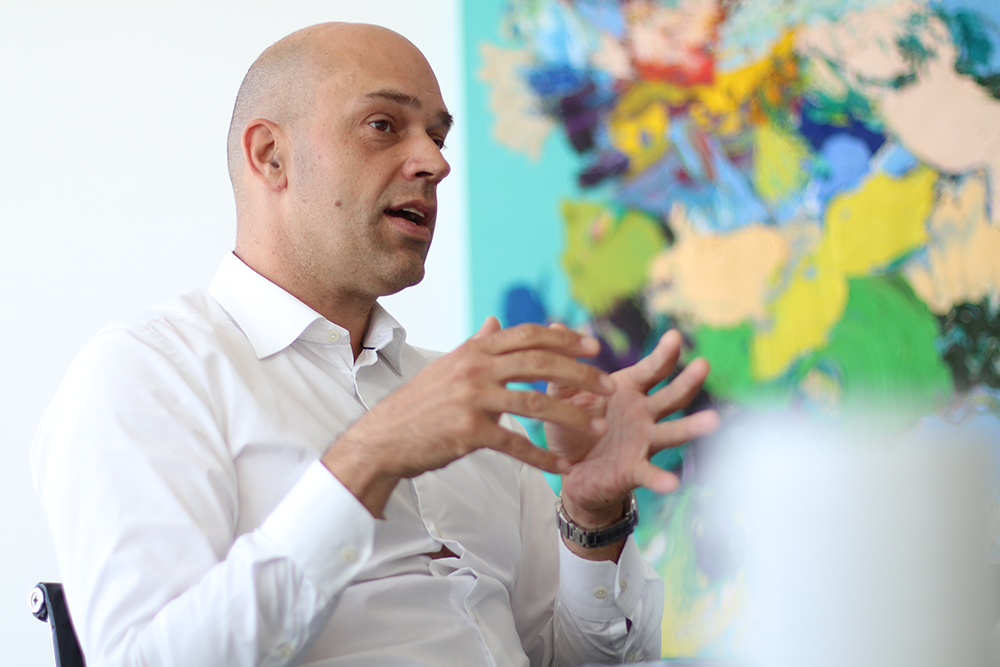 UPDATE: Mr. Hei­ne­mann, Mr. Döh­re, Mr. Achen­bach, what is the moti­va­ti­on for Phoe­nix Con­ta­ct E‑Mobility in Poland? What are we plan­ning to do the­re, and why are we pur­suing it?
Hei­ne­mann: We are in a very dyna­mic mar­ket with our busi­ness unit. We have growth rates in the upper two-digit ran­ge. We can no lon­ger hand­le the volu­me we have to pro­du­ce in our tra­di­tio­nal plant in Schie­der alo­ne. We the­re­fo­re urgent­ly need to expand our pro­duc­tion faci­li­ties, even if this means sprea­ding them over several loca­ti­ons. We have the­re­fo­re deci­ded to build a new plant in Poland to meet this challenge.
UPDATE: And what are your duties the­re, Mr Achenbach?
Achen­bach: Right now I have two func­tions: One is I am the mana­ging direc­tor of the new Polish com­pa­ny we are estab­li­shing have. In addi­ti­on, sin­ce Febru­a­ry 2020 I have been taking on the main task of com­mer­cial manage­ment of E‑Mobility GmbH here in Schie­der. At Phoe­nix Con­ta­ct I am sin­ce 2006 and was last com­mer­cial mana­ger of Power Sup­plies GmbH in Pader­born. Our own com­pa­ny in Poland under­li­nes the serious­ness and effort with which we want to meet our enor­mous growth.
Döh­re: The loca­ti­on is not around the cor­ner. The main focus of the new loca­ti­on is on pro­duc­tion. Main­ly low-auto­ma­ted pro­ducts are manu­fac­tu­red the­re, i.e. high pro­duc­tion shares with a lot of man­power. A lar­ge part of our pro­duct ran­ge is cur­r­ent­ly affec­ted by this; not ever­ything can be auto­ma­ted. And we are expe­ri­en­cing dra­ma­tic incre­a­ses in the num­ber of units.
Here in Schie­der, we can't get this down from the sur­face area alo­ne, alt­hough we are con­stant­ly expan­ding here. In Poland we have now bought a plot of land and are having a buil­ding erec­ted for us the­re, which we then rent. The loca­ti­on and the regi­on offers enough qua­li­fied workers for our labour-inten­si­ve pro­ducts, and the land suf­fi­ci­ent area for pos­si­ble future expansion.
UPDATE: What is the scope of the new pro­ject in Poland? What size are we tal­king about?
Döh­re: We are buil­ding 14,000 squa­re metres for pro­duc­tion and logistics, that is two foot­ball pit­ches. In addi­ti­on, we are buil­ding ano­t­her 1,000 squa­re meters for offices and social rooms.
UPDATE: How many employees are going to work at the new location?
Achen­bach: Until 2023 we need a staff of more than 250 employees. We will start with almost 70 employees. We will build up our own manage­ment team, and the first new col­leagues have alrea­dy been hired, inclu­ding a plant mana­ger. And we also have our own HR depart­ment in Rzes­zów, who­se task will be to recruit employees. Indus­tri­al engi­nee­ring and qua­li­ty con­trol will be added to this, so our team on site will then be well structured.
UPDATE: Whe­re exact­ly is the new site loca­ted? One of the focal points of auto­mo­ti­ve pro­duc­tion in Poland is cur­r­ent­ly in Poz­nan, about a three-hour dri­ve from Berlin.
Döh­re: Poz­nan would only be half­way through. The new loca­ti­on in Rzes­zów is then ano­t­her 6 hours' dri­ve away. It is loca­ted about 100 kilo­me­tres from the Ukrai­ni­an bor­der. Rzes­zów is a dyna­mic, up-and-com­ing city with uni­ver­si­ties and many estab­lis­hed indus­tri­al com­pa­nies. The regi­on is also cal­led Avia­ti­on Val­ley, as many avia­ti­on com­pa­nies are loca­ted in this area.
UPDATE: How are the tasks dis­tri­bu­t­ed bet­ween the new loca­ti­on and pro­duc­tion here in Schie­der, Ger­ma­ny? Is the­re a plan to manu­fac­tu­re only in Poland in the future?
Hei­ne­mann: No, not at all. We will con­ti­nue to have our head­quar­ters here in Schie­der. This is whe­re we are clo­se to deve­lo­p­ment, clo­se to all other pro­ces­ses of pro­duct crea­ti­on. We have come to appre­cia­te the short distan­ces bet­ween deve­lo­p­ment and pro­duc­tion, and we don't want to lose that. For us, this is an essen­ti­al part of our self-image.
Döh­re: We are cur­r­ent­ly expe­ri­en­cing the impor­t­ance of this idea of a head­quar­ter through a major order from an auto­mo­bi­le manu­fac­tu­rer. The machi­nes requi­red for this, the pro­ces­ses, the start of pro­duc­tion – it takes mon­ths of man­power. Many of our indus­tri­al engi­nee­ring experts are busy every day with the skil­led workers, pro­ject manage­ment and qua­li­ty manage­ment to get the­se foun­da­ti­ons up and run­ning. Such a task is impos­si­ble at any other loca­ti­on than here, in our head­quar­ters. The more com­plex a pro­duct is and the grea­ter the degree of auto­ma­ti­on in pro­duc­tion is nee­ded, the most effec­ti­ve way is to manu­fac­tu­re the pro­duct here in Ger­ma­ny. This is the only way to react quick­ly to chan­ges in pro­cess or technology.
The plant we are now buil­ding pro­du­ces a vehi­cle char­ging inlet every 30 seconds. From an eco­no­mic point of view, such a machi­ne can also be very well loca­ted in Ger­ma­ny. We will expe­ri­ence this even more soon. We are vigo­rous­ly pushing ahead with this auto­ma­ti­on, even for pro­ducts that are cur­r­ent­ly still manu­fac­tu­red manu­al­ly. This also makes sen­se for logisti­cal rea­sons, becau­se our major cus­to­mers from the auto­mo­ti­ve indus­try are main­ly loca­ted in Germany.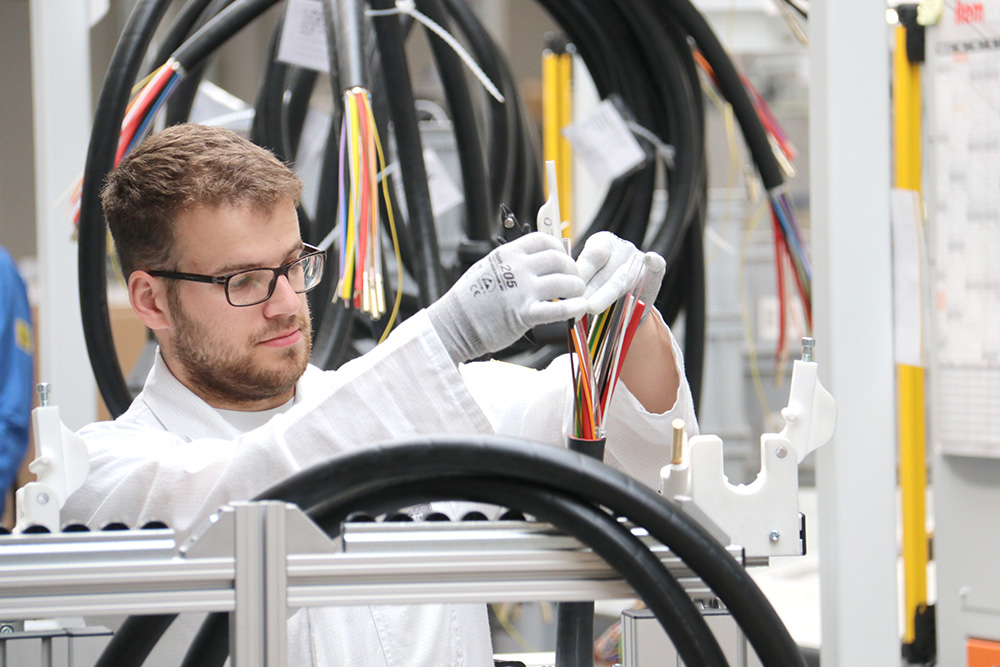 Pro­ducts that have to expe­ri­ence a gre­at deal of added value, that are offe­red in gre­at varie­ty, that have hea­vy cables atta­ched to them, for examp­le, that can­not be auto­ma­ted or that do not have such high volu­mes – the­se are also the pro­ducts that have to be manu­fac­tu­red by hand. This pro­duc­tion will take place in Poland.
UPDATE: So, the HPC char­ging con­nec­tor, our tech­no­lo­gi­cal mile­stone, will also be manu­fac­tu­red in Poland?
Döh­re: That would be con­ceiva­ble. The pro­duc­tion of liquid-coo­led HPC con­nec­tors is extre­me­ly deman­ding. We have very long trai­ning peri­ods for employees and need a high level of com­pe­tence – so a decisi­on will have to be made individually.
UPDATE: With which pro­ducts will we cer­tain­ly start in Poland?
Döh­re: With what is alrea­dy being manu­fac­tu­red today at Phoe­nix Con­ta­ct Wie­l­ko­pol­s­ka in Nowy Tomyśl. In other words, pri­ma­ri­ly the AC char­ging cables and the uncoo­led DC char­ging cables. This relo­ca­ti­on is taking place first. Initi­al­ly, this has no influ­ence at all on Ger­ma­ny. Only with an incre­a­se in volu­mes will a chan­ge towards auto­ma­ti­on beco­me noti­ce­ab­le here. Then the Polish pro­duc­tion will also take over orders that have been pro­ces­sed here in Schie­der until now.
UPDATE: Has Phoe­nix Con­ta­ct Wie­l­ko­pol­s­ka alrea­dy sup­por­ted in production?
Döh­re:When we look at the topic of pro­duc­tion, the col­leagues in Nowy Tomyśl have done a gre­at job for us in the last 18 mon­ths. They have crea­ted space, made employees avail­ab­le, inclu­ding mana­gers. This has enab­led us to quick­ly build up our capa­ci­ties in Nowy Tomyśl. At the same time, we have also grown enor­mous­ly here in Schie­der, Ger­ma­ny, and moved into a fur­ther 5000 m² of space in May. Both in our pro­duc­tion in Schie­der and at our sis­ter com­pa­ny in Poland: Ever­yo­ne is working hard – it's gre­at to see.
Just at the begin­ning of the year, a lar­ge order from the auto­mo­ti­ve indus­try, which was alrea­dy being pro­ces­sed, was sud­den­ly tripled. We had to react quick­ly and wit­hin a few days we have enga­ged several new employees. The col­leagues in Schie­der and Nowy Tomyśl have real­ly mas­te­red this bril­li­ant­ly. In the future, howe­ver, we need a plant that is cer­ti­fied in accordance with the IATF 16949 auto­mo­ti­ve stan­dard and which will allow us to achie­ve enor­mous growth in the short term.
Achen­bach: Howe­ver, the­re will still be gene­ral admi­nis­tra­ti­on func­tions in Nowy Tomyśl, which we are not buil­ding up in par­al­lel: Finan­ce, accoun­ting, HR manage­ment – the­se will con­ti­nue to be hand­led by the estab­lis­hed struc­tures in Nowy Tomyśl, in clo­se team­work with the new plant in Rzeszów.
UPDATE: Which cus­to­mers and mar­kets will be cove­r­ed by the new plant in the future?
Döh­re: Tog­e­ther with the plant in Schie­der, the new plant essen­ti­al­ly ser­ves the Euro­pean mar­ket with all its char­ging infra­st­ruc­tu­re and auto­mo­ti­ve manu­fac­tu­rers. For the Asi­an mar­ket, we alrea­dy have a site in Chi­na, in Nan­jing. It ope­ra­tes "local for local", which means it con­cen­tra­tes on the requi­re­ments the­re. Poland will be the loca­ti­on for the Euro­pean mass mar­ket, while the tech­no­lo­gi­cal heart beats here in Schie­der. The Ame­ri­can mar­ket will be ser­ved both from Poland and from China.
UPDATE: Are the­re any long-term plans for addi­tio­nal loca­ti­ons or plants abroad?
Döh­re: So far, we have almost 6,500 squa­re meters of pro­duc­tion space and wareh­ouse at the Ger­man loca­ti­on. In Poland, with the 15,000 squa­re meters, we are alrea­dy plan­ning to have enough space for growth. In addi­ti­on, we still have lar­ge are­as for expan­si­on the­re, which are in reser­ve. We can add ano­t­her 12,000 squa­re meters the­re. So, for now, our plan­ning is complete.
Hei­ne­mann: We will soon be working to full capa­ci­ty here in Schie­der. But if our fore­casts come true, Poland will also be ful­ly uti­li­zed over a lon­ger peri­od. But with the reser­ve, we are future-proof.
In the second part of the inter­view:
The future is cal­led Mega­watt connector
Phoe­nix Con­ta­ct E‑Mobility
Phoe­nix Con­ta­ct E‑Mobility auf Facebook
This post is also avail­ab­le in:

Deutsch