Three at one go: We could not miss the chan­ce to talk to the two mana­ging direc­tors of Phoe­nix Con­ta­ct E‑Mobility, Micha­el Hei­ne­mann and Ralf Döh­re, as well as the mana­ging direc­tor of the new Polish plant, Mar­win Achen­bach, and asked about the latest deve­lo­p­ments, both in-house and in terms of tech­no­lo­gy. With sur­pri­sing answers …

UPDATE: What are the next steps on the agen­da regar­ding new pro­ducts? What deve­lo­p­ments are cas­ting their shadows?
Hei­ne­mann: First of all, we have made it our goal to be able to offer all com­pon­ents for the char­ging pro­cess. In other words, from the infra­st­ruc­tu­re side, the char­ging sta­ti­on, to the char­ging inlets in the vehi­cle. This twin-track approach is extre­me­ly important and valu­able. Only when all the com­pon­ents of the char­ging pro­cess have been deve­lo­ped and manu­fac­tu­red can the over­all con­text be unders­tood, and the sys­tem optimised.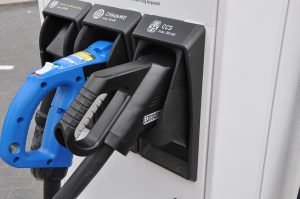 After all, with each new genera­ti­on of char­ging tech­no­lo­gy we always go to the limits of what is tech­ni­cal­ly and phy­si­cal­ly fea­si­ble. To do this, you have to keep the ent­i­re pro­cess in view. This goes fur­ther in the direc­tion of con­trol­ling the char­ging sta­ti­ons, fur­ther in the direc­tion of soft­ware for the manage­ment of many char­ging points. Our stra­te­gy is clear: we build all com­pon­ents for the ent­i­re char­ging pro­cess. The finis­hed e‑car and the finis­hed char­ging point are built by others.
Tomorrow's vehi­cles will dif­fer tech­ni­cal­ly, espe­cial­ly in bat­te­ry and char­ging technology

Micha­el Heinemann
UPDATE: What con­tri­bu­ti­on does Phoe­nix Con­ta­ct E‑Mobility make to the chan­ge in mobi­li­ty? Are we on the right track when we build up capa­ci­ties while vehi­cle manu­fac­tu­rers are cur­r­ent­ly cut­ting back on production?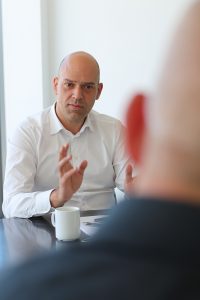 Hei­ne­mann:If you look at the dif­fe­ren­ces bet­ween yesterday's vehi­cles, in terms of tech­no­lo­gy and per­for­mance it is first of all the dri­ve train, i.e. the com­bus­ti­on engi­ne and the trans­mis­si­on. That will chan­ge drasti­cal­ly. Tomorrow's vehi­cles will dif­fer in bat­te­ry and char­ging tech­no­lo­gy. A lot of power and a long ran­ge are requi­red. This requi­res lar­ge bat­te­ries and fast char­ging cycles. We the­re­fo­re see our­sel­ves as an enab­ler for the com­ing dif­fe­ren­tia­ti­ons in vehi­cle development.
UPDATE: Aren't we con­cen­tra­ting too much on high-end, while the trend is clear­ly towards smal­ler vehi­cles that are adap­ted to actu­al requirements?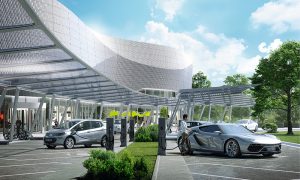 Hei­ne­mann:You can't say it like that. We have the who­le ran­ge in our pro­gram, not just high-end. That is exact­ly what dis­tin­guis­hes us. With us, the smal­lest vehi­cles can load just as well as luxu­ry cars and sports cars with a long ran­ge. Our cur­rent HPC tech­no­lo­gy for up to 500 kW char­ging power allows rech­ar­ging a ran­ge of 100 kilo­me­tres in three to five minu­tes – and that is by no means the end of the sto­ry. We are cur­r­ent­ly rese­ar­ching tech­no­lo­gies that can make con­si­der­ab­ly more ener­gy avail­ab­le, for examp­le for hea­vy duty or com­mer­cial vehicles.
UPDATE: Let's talk about com­mer­cial vehi­cles, what's com­ing from our direction?
Hei­ne­mann:We have our own rese­arch depart­ment, our Advan­ced Deve­lo­p­ment depart­ment. This is whe­re HPC tech­no­lo­gy was deve­lo­ped, today a stan­dard pro­duct. The 500 kW char­ging power flowing in the char­ging plug cor­re­sponds to the con­nec­ted load of modern indus­tri­al buil­dings. We have made the pro­duct so safe that this enor­mous electri­cal power can be put into the hands of any car dri­ver without hesi­ta­ti­on. Until recent­ly, this was com­ple­te­ly unimaginable.
Today we speak of the Mega­watt con­nec­tor or HPC CV
In pre-deve­lo­p­ment we are now tal­king about a mul­ti­ple of HPC – in other words, several mega­watts of power which we inte­gra­te into a con­nec­tor sys­tem for hea­vy com­mer­cial vehi­cles. Today we speak of the mega­watt con­nec­tor or HPC CV. The CV stands for Com­mer­cial Vehi­cles. Here we real­ly do pure basic rese­arch. We have even desi­gned the test envi­ron­ment for the­se con­nec­tors our­sel­ves, becau­se such a thing does not yet exist. Basics, tech­no­lo­gies, mate­ri­als sci­ence and the test sys­tems – all this has to be deve­lo­ped by us.
Bat­te­ry tech­no­lo­gy will also con­ti­nue to deve­lop and chan­ge even more. Bat­te­ry tech­no­lo­gies are alrea­dy being deve­lo­ped that can store many times today's power. Our net­wor­king means that we always have our ear to the ground. So, the bat­te­ry is clear­ly the future. And if it beco­mes smal­ler but its power den­si­ty even hig­her, then char­ging tech­no­lo­gy will beco­me even more cen­tral in its impor­t­ance for mobility.
UPDATE: Impres­si­ve figu­res, enor­mous growth. Whe­re will this end? We are reso­lute­ly taking the step towards beco­m­ing a cen­tral sup­plier to the auto­mo­ti­ve sec­tor. At the same time, we are the tech­no­lo­gy lea­der with our pro­ducts. Is Phoe­nix Con­ta­ct E‑Mobility going to out­s­trip its mother?
Hei­ne­mann:Our growth plan is hea­ding for a high three-digit mil­li­on amount. That is con­si­der­ab­ly more than some other units of the Phoe­nix Con­ta­ct Group. And that is a sce­n­a­rio for the next four years. You should not be afraid of that.
Döh­re:You can also see this as an exci­ting chal­len­ge. It is not only a tech­ni­cal chal­len­ge, but also a quan­tum leap in terms of orga­niz­a­ti­on and con­tent, which our ent­i­re com­pa­ny has to mas­ter. For the new loca­ti­on in Poland alo­ne, which is cur­r­ent­ly under con­struc­tion, a new ERP sys­tem must be crea­ted. This must be com­ple­ted by the end of the year. In addi­ti­on to such mun­da­ne things as the for­mal foun­ding of the com­pa­ny, the manage­ment team must also be formed.
Hei­ne­mann:We did­n't lea­ve the lat­ter to head­hun­ters alo­ne, we did the most our­sel­ves. Qua­li­ty mana­gers, plant mana­gers and human resour­ces mana­gers – we cho­se them ourselves.
Döh­re (schmun­zelt): I just have to remem­ber the inter­views with the app­li­cants. The inter­views with the future employees were con­duc­ted in a hotel room, as if from a bad movie. And we pro­mi­sed the can­di­da­tes in the end: If you will, we'll invi­te you to Ger­ma­ny, so you can see that this com­pa­ny real­ly exists and that we'­re not some dubio­us mail­box com­pa­ny. Real peop­le, also real hard­ware. That's what we did then. And ever­yo­ne who was here was impres­sed and all of them signed the contract.
UPDATE: What impact does the cur­rent Coro­na cri­sis have on Phoe­nix Con­ta­ct E‑Mobility?
Hei­ne­mann:Of cour­se, we are fee­ling the effects. All manu­fac­tu­rers have redu­ced their pro­duc­tion. But due to eco­no­mic sti­mu­lus pro­grams, which espe­cial­ly sup­port cli­ma­te-friend­ly solu­ti­ons, electric vehi­cles are expe­ri­en­cing an enor­mous boom. So, we are expec­ting an immense boost, which is likely to be acce­le­ra­ted by the cur­rent crisis.
Döh­re:That is why we are still acting cau­tious­ly. But we remain vigi­lant in the mar­ket and put our­sel­ves in a posi­ti­on to be able to get going at any time when the mar­ket picks up.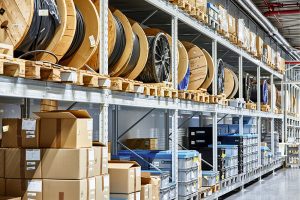 Hei­ne­mann:We are well pre­pa­red. Even lar­ge orders that come in spon­ta­ne­ous­ly will not throw us off track. It is pre­cise­ly such situa­tions that chal­len­ge us, that appeal to us. This is exact­ly what we have posi­tio­ned our­sel­ves for, not least through our com­mit­ment in Poland, sup­por­ted by a super moti­va­ted and com­pe­tent team.
You can find the first part of the inter­view with the per­spec­ti­ve "E‑Mobility goes East" here …
E‑Mobility goes East
More Infos:
This post is also avail­ab­le in:

Deutsch