Inter­view with Micha­el Hei­ne­mann and Ralf Döh­re, the two mana­ging direc­tors of Phoe­nix Con­tact E‑Mobility.

Micha­el Hei­ne­mann is CEO, Ralf Döh­re is COO – both lead the inno­va­ti­ve sub­si­dia­ry tog­e­ther. How this works, which chal­len­ges lie ahead of them and whe­ther both are alrea­dy elec­tri­cal­ly powe­red, they will reveal here …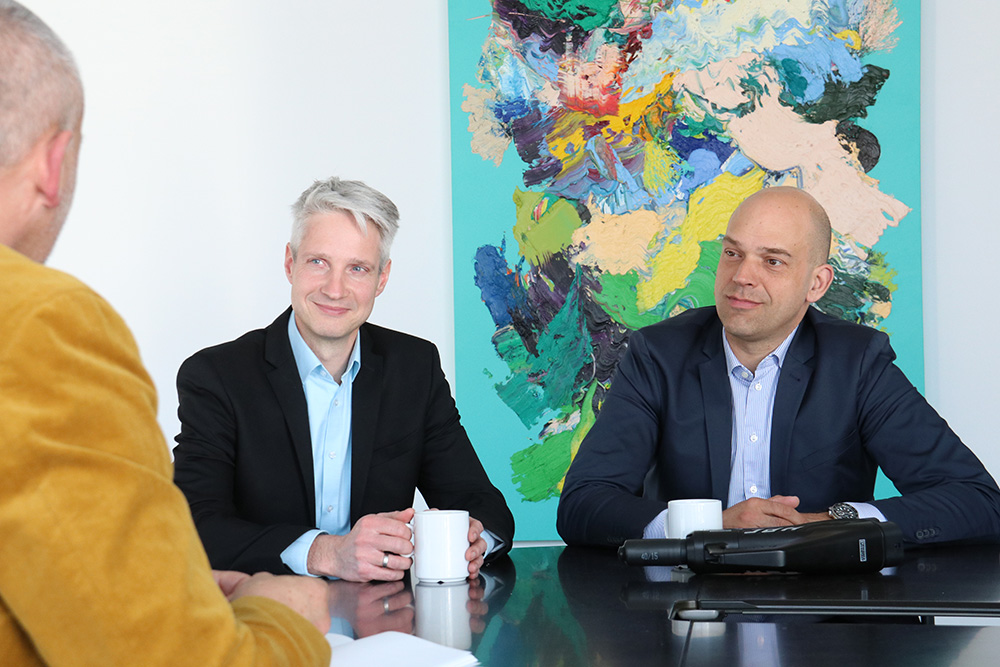 UPDATE: Mr. Döh­re, Mr. Hei­ne­mann, sin­ce the begin­ning of 2019, you have hea­ded Phoe­nix Con­tact E‑Mobility GmbH as a two-per­son exe­cu­ti­ve team. What is your pro­fes­sio­nal back­ground?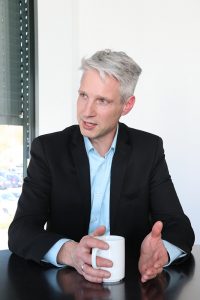 Ralf Döh­re: I have been working for the Phoe­nix Con­tact Group sin­ce 2007. Initi­al­ly in posi­ti­ons rela­ted to inter­na­tio­nal pro­duc­tions. I have been working in Schie­der sin­ce the foun­da­ti­on of E‑Mobility GmbH in 2013. From the very begin­ning, I have been respon­si­ble for pro­duc­tion, purcha­sing and indus­tri­al engi­nee­ring. Sin­ce the chan­ge of manage­ment, at the begin­ning of 2019, I have also been respon­si­ble for the new Qua­li­ty and Labo­ra­to­ry divi­si­ons. A logi­cal and ide­al addi­ti­on to what I have alrea­dy done in the past.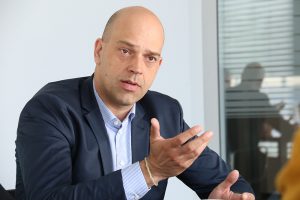 Micha­el Hei­ne­mann: I have been with the Phoe­nix Con­tact Group for almost 27 years. For the past 20 years, I have been dealing with the topic of power sup­ply, most recent­ly as Mana­ging Direc­tor of Phoe­nix Con­tact Power Sup­plies in Pader­born. I have always had a very strong mar­ke­ting and pro­duct ori­en­ta­ti­on. This enab­led me to deve­lop a har­mo­nious pro­duct port­fo­lio and build pro­duct fami­lies for power sup­plies from various indi­vi­du­al pro­duc­ts that did not fit tog­e­ther very well. At E‑Mobility GmbH, I have been respon­si­ble for sales and mar­ke­ting sin­ce the begin­ning of the year and am in char­ge of the deve­lop­ment depart­ment. Due to my elec­tri­cal engi­nee­ring know­ledge, espe­ci­al­ly in the field of power engi­nee­ring and power sup­ply, I have a good back­ground for the­se tasks. Ralf Döh­re and I com­ple­ment each other per­fec­t­ly and also com­ple­ment our teams with and around our abi­li­ties. Now, tog­e­ther with our employees, we want to occu­py a lea­ding posi­ti­on in the elec­tric mobi­li­ty mar­ket as Phoe­nix Con­tact E‑Mobility.
Har­mo­nious dou­ble chair­manship
UPDATE: So the respon­si­bi­li­ty for pro­duc­tion and deve­lop­ment is sepa­ra­te?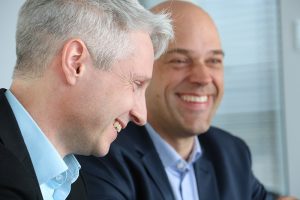 Döh­re: In theo­ry, the­re are dif­fe­rent models of how the pro­duc­tion and deve­lop­ment depart­ments should work tog­e­ther. We have dis­cus­sed this, com­pa­red models and weig­hed which one is opti­mal for us. We are in a start-up pha­se and are also expan­ding in the direc­tion of Asia and Poland. Espe­ci­al­ly when set­ting up new loca­ti­ons, pro­duc­tion and qua­li­ty should pri­ma­ri­ly belong tog­e­ther in order to con­ti­nuous­ly impro­ve pro­ces­ses. On the other hand, mar­ke­ting and sales are strong with the custo­mer when the deve­lop­ment depart­ment is imme­dia­te­ly in a posi­ti­on to absorb and imple­ment requi­re­ments. This is abso­lute­ly necessa­ry becau­se e‑mobility is in a very steep growth and lear­ning cur­ve. In this respect, we have com­bi­ned the­se are­as as descri­bed and feel that we are well posi­tio­ned. And prac­tice shows: It works very well!
UPDATE: Why is indi­vi­du­al trans­por­ti­on so empha­si­zed in elec­tro­mo­bi­li­ty, but why is freight trans­port always pushed into the back­ground? How do you see the oppor­tu­nities in the com­mer­ci­al vehi­cle sec­tor?
Hei­ne­mann: The com­mer­ci­al vehi­cle sec­tor is enor­mously important for us, E‑Mobility GmbH. One of our very first pro­duc­ts, a bat­te­ry chan­ge con­nec­tor, made it pos­si­ble to auto­ma­ti­cal­ly chan­ge bat­te­ries in buses in the Chi­ne­se mar­ket. Basi­cal­ly, it will pro­bab­ly be becau­se the sub­ject of freight and com­mer­ci­al traf­fic is sim­ply not real­ly sexy. The­re­fo­re, it plays a rather sub­or­di­na­te role in the media. Indi­vi­du­al trans­port, on the other hand, appeals to ever­yo­ne and is the­re­fo­re in the media focus. We all deal with ques­ti­ons such as how: Which will be my next car? How will the die­sel cri­sis affect me? How do I coun­ter dri­ving bans? All this releases emo­ti­ons and ensu­res atten­ti­on.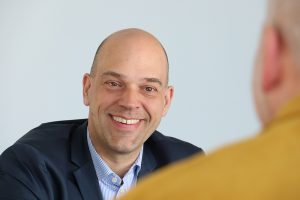 For us as a com­pa­ny, indi­vi­du­al trans­port, i.e. pas­sen­ger cars, means high unit num­bers both now and in the future. If soci­al rethin­king in the field of mobi­li­ty is fol­lo­wed by action, we must be pre­pa­red for a high out­put of our vehi­cle char­ging sockets. We are kee­ping a very clo­se eye on the gro­wing unit num­bers and will sol­ve the asso­cia­ted chal­len­ges.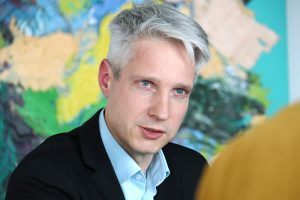 Döh­re: But the com­mer­ci­al vehi­cle mar­ket is also under­go­ing radi­cal chan­ge. We are increa­singly noti­cing this, becau­se our vehi­cle char­ging socket, also known as the Inlet, is in gre­at demand. The gre­at thing about our uni­ver­sal­ly usable inlets is that they are deve­lo­ped and pro­du­ced accord­ing to cur­rent auto­mo­ti­ve stan­dards. They the­re­fo­re offer the pos­si­bi­li­ty of quick­ly retro­fit­ting com­mer­ci­al vehi­cles. This is ide­al for small series. In prac­tice, the­re are now many posi­ti­ve examp­les of suc­cess­ful con­ver­si­ons with our CCS sockets – for a very wide ran­ge of com­mer­ci­al vehi­cle types.
Atti­tu­de to mobi­li­ty
UPDATE: When it comes to mobi­li­ty as a who­le, how is society's atti­tu­de chan­ging?
Döh­re: I belie­ve that we are facing a cer­tain chan­ge here. For many young peop­le – espe­ci­al­ly in urban are­as – it is no lon­ger so important to have a dri­ving licen­se at 17 or 18. Other things, such as tra­vel, are much more inte­res­ting for young peop­le of this age. The impor­t­an­ce and imple­men­ta­ti­on of indi­vi­du­al mobi­li­ty is chan­ging rapidly.
Hei­ne­mann: The book "Der letz­te Füh­rer­schein­neu­ling" was recom­men­ded to me. The aut­hor argues that the last new driver's licen­se has alrea­dy been born. So in 18 years at the latest the­re will be no more young peop­le who lea­ve the road traf­fic office with a fresh dri­ving licen­se. Essen­ti­al­ly, the book deals with what tomorrow's mobi­li­ty will bring us thanks to e‑mobility, auto­no­mous dri­ving and more and more sharing ser­vices. That is some­thing I must read.
UPDATE: Has the chan­ge alrea­dy reached you per­so­nal­ly? How is the new top manage­ment of Phoe­nix Con­tact E‑Mobility on its way?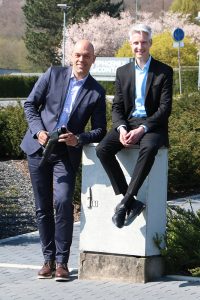 Hei­ne­mann: At some custo­mer mee­tings and events in the recent past I was asked how my jour­ney was. Howe­ver, the ques­ti­on did not rela­te to traf­fic den­si­ty, as in the past, but to the fact that peop­le wan­ted to know how often I had to load. If you'­re on the move when it comes to e‑mobility, you should also pay atten­ti­on to your choice of vehi­cle. I dri­ve a par­ti­al­ly elec­tric hybrid com­pa­ny car. The ran­ge was an essen­ti­al fac­tor for the choice – vehi­cles with a ran­ge of 350 to 400 kilo­me­ters, wit­hout rech­ar­ging, were rare at the time of purcha­se.
Sin­ce I like cars, I have to admit that I dri­ve other vehi­cles on wee­kends as well. At some point the­re will cer­tain­ly be afford­a­ble elec­tric fun alter­na­ti­ves for leisu­re time.
Döh­re: When it comes to choo­sing my vehi­cles, I'm more of a head per­son. Func­tion goes bey­ond design. Sin­ce I worked at VW for a few years, I'm fixa­ted on the gap dimen­si­on :-). As a father of a fami­ly, I cur­r­ent­ly dri­ve a T6. But I am also con­vin­ced of elec­tric mobi­li­ty and so the next com­pa­ny car will be an elec­tric car. Even if we in Ger­ma­ny, in com­pa­ri­son with the Nether­lands or Scan­di­na­via, still lag a litt­le behind, one noti­ces that Ger­ma­ny slow­ly but surely picks up speed in terms of elec­tric mobi­li­ty. And that's good!
UPDATE: In order to acce­le­ra­te the jour­ney, addi­tio­nal inno­va­tions and pro­gress are nee­ded. What are the next tech­no­lo­gi­cal steps?
Döh­re: The focus is on the ran­ge of the vehi­cles and the avai­la­bi­li­ty of the char­ging sta­ti­ons. Both must increa­se in such a way that the tech­no­lo­gy is accep­ted by the broad mas­ses, so the bre­akth­rough must occur in the minds as well as on the road. I don't want to have to wait more than ten minu­tes when refu­e­ling or char­ging. With our HPC tech­no­lo­gy, we have laid an important foun­da­ti­on for the sui­ta­bi­li­ty of elec­tric mobi­li­ty for ever­y­day use.
Ran­ge is not the pro­blem
UPDATE: Accep­tan­ce of elec­tro­mo­bi­li­ty is a good key­word – how must our atti­tu­de to mobi­li­ty fun­da­ment­al­ly deve­lop so that some­thing like a traf­fic tur­naround beco­mes rea­listic?
Hei­ne­mann: The young genera­ti­on is alrea­dy making other expe­ri­en­ces in terms of mobi­li­ty – for this genera­ti­on, dri­ving licen­ses and their own cars are no lon­ger so important. Car sharing, over or high-speed trains replace one's own move­ment cocoon. On the other hand, if you are 30 or older, your own car is often still your favo­ri­te child. One can­not ima­gi­ne not owning a car. With this way of thin­king, we Ger­mans in par­ti­cu­lar are alrea­dy very spe­cial. But I am sure that this pic­tu­re will chan­ge com­ple­te­ly, not least becau­se of our young genera­ti­on.
87 per­cent of all vehi­cles in Ger­ma­ny dri­ve less than 60 kilo­me­ters a day. Ran­ge is the­re­fo­re not real­ly the obsta­cle to elec­tric mobi­li­ty. A ran­ge of 250 to 300 kilo­me­ters is qui­te suf­fi­ci­ent. That's all we real­ly need. But as long as your dea­rest child is pam­pe­red and cared for all year round, you also have to take him on holi­day. It would be much more effec­tive to rent a car for long distan­ces, which you only dri­ve very rare­ly.
Döh­re: Yes, this rethin­king is one thing. On the other hand, the traf­fic tur­naround will only work if the con­cepts of public trans­port are once again adap­ted and drasti­cal­ly revi­sed – espe­ci­al­ly in rural regi­ons. It is vir­tual­ly impos­si­ble to move here wit­hout a car. This would requi­re signi­fi­cant invest­ment and infra­st­ruc­tu­re impro­ve­ments.
Car sharing is ano­t­her buil­ding block that is still far too weak­ly deve­lo­ped in Ger­ma­ny – this is qui­te dif­fe­rent in Chi­na, for examp­le, and makes a major con­tri­bu­ti­on to the suc­cess of modern mobi­li­ty.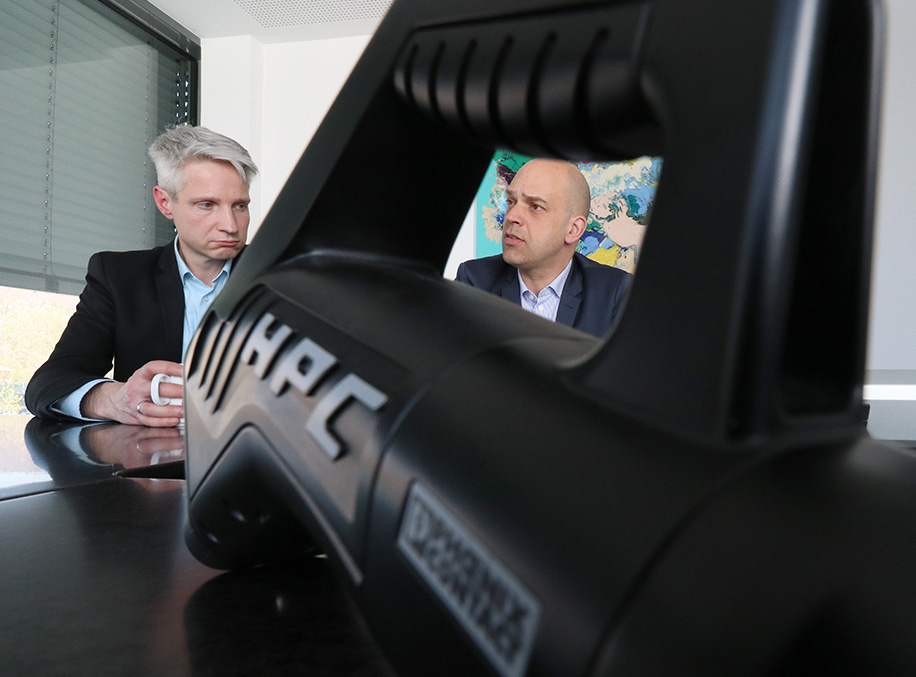 Hei­ne­mann: When I tra­vel to the lar­ger cities of Ger­ma­ny, whe­ther Ham­burg, Ber­lin or Munich, I don't go the­re by car if pos­si­ble. I go to Munich or Ber­lin by train or fly the­re. From the­re it goes into the public local traf­fic.
From our com­pa­ny head­quar­ters in Schie­der I can't even cross the moun­tain to Blom­berg, five kilo­me­ters away, to the head­quar­ters of our parent com­pa­ny – the­re is sim­ply no rea­son­ab­le local trans­port con­nec­tion. So you have to use your own car. My con­clu­si­on: The traf­fic tur­naround is alrea­dy working in metro­po­li­ses, unfor­tu­n­a­te­ly not yet in rural are­as.
Mobi­li­ty will be free of char­ge
UPDATE: Are we bra­ve enough to crea­te new, simp­le con­cepts for mobi­li­ty? Or are we too "old eco­no­my" and remain too long in estab­lished struc­tures?
Hei­ne­mann: I find the examp­le of Tes­la fasci­na­ting. They sim­ply build an elec­tric vehi­cle. And if the­re are no char­ging sta­ti­ons, they also build the char­ging sta­ti­ons. I find the busi­ness models behind them even more fascinating.In Ger­ma­ny we are still very pro­duct-ori­en­ted. The Ame­ri­cans are much fur­ther ahead here with their ser­vice-ori­en­ted models.
Tes­la not only built char­ging sta­ti­ons, but also pro­vi­ded free elec­tri­ci­ty when the­re were pro­blems with bil­ling. In the end, it was total­ly worth it for Tes­la. In the end, Tes­la hard­ly had to pay for a kilo­watt hour of elec­tri­ci­ty its­elf. The char­ging sta­ti­ons were sim­ply pla­ced whe­re restau­rants or shops are loca­ted. The free elec­tri­ci­ty was then car­ri­ed by the owners of the shops and restau­rants. Tes­la has imple­men­ted the mobi­li­ty, the local ope­ra­tor has sold goods or meals and taken over the elec­tri­ci­ty for his new custo­mers. A win-win situa­ti­on – the­re is almost no bet­ter way.
CEO Dirk Ahl­born of Hyper­loop is taking an even more radi­cal approach to mobi­li­ty chan­ge. The Hyper­loop is a high-speed tube for trans­por­ting peop­le and goods. In an inter­view in which I was able to par­ti­ci­pa­te, Dirk Ahl­born ans­we­red my ques­ti­on about his visi­on of mobi­li­ty in 2050, that it would then be free of char­ge. The use of the hyper­loop would be free in any case. This state­ment sounds cra­zy at first. How can mobi­li­ty be free for the user?
The solu­ti­on is simp­le – the inser­ti­on of adver­ti­sing, cou­pled with instant online shop­ping during trans­port, will ensu­re that the trans­port its­elf is free. In addi­ti­on, Ahl­born expec­ts that even indi­vi­du­al trans­port will be free of char­ge. In the year 2050, vehi­cles dri­ve auto­no­mously, so that no one will have to sit at the stee­ring wheel any­mo­re. Here, too, adver­ti­sing can be used to finan­ce mobi­li­ty, becau­se the pas­sen­ger will be recep­ti­ve to adver­ti­sing.
The men­ta­li­ty plays a decisi­ve role here. While we Ger­mans still argue in love with pro­duc­ts, other nati­ons are open to tru­ly dis­rup­ti­ve approa­ches – com­ple­te­ly new ways of thin­king.
Döh­re: Actual­ly, it's hard for me to ima­gi­ne that, too. But others have also been mista­ken, like Ken Olsen, 1977, who said that nobo­dy nee­ded a PC at home. We have seen so many ground­brea­king and dis­rup­ti­ve inno­va­tions in recent years that it is beco­m­ing more dif­fi­cult to reject new approa­ches.
UPDATE: Thank you so much for the inter­view.
This post is also avail­ab­le in:

Deutsch