Bern­hard Till­manns has a visi­on. He wants to chan­ge the buil­dings of the future. He wants to make them fle­xi­ble. Ver­sa­ti­le. Update­ab­le. And alrea­dy today!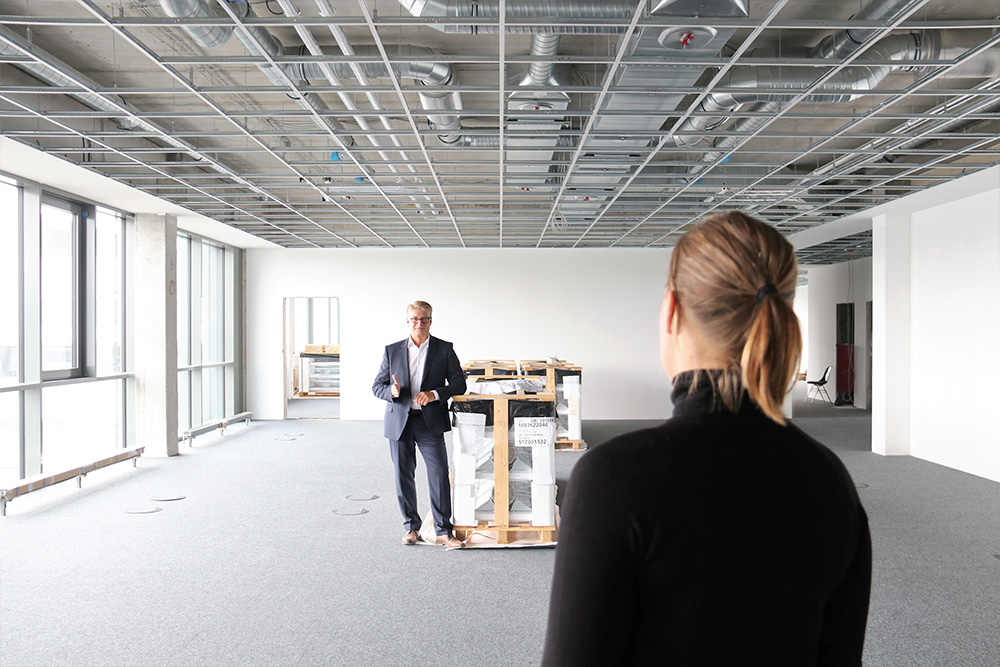 Shell con­struc­tion in various sta­ges of com­ple­ti­on, bare con­cre­te, cable harnes­ses and ven­ti­la­ti­on sys­tems. Site visit to the new com­pa­ny buil­ding 38 in the Blom­berg head­quar­ters of Phoe­nix Con­ta­ct. Just the right set­ting for a con­ver­sa­ti­on with an expert in buil­ding automation.
Bern­hard Till­manns seems like someo­ne who knows exact­ly what he wants. Calm­ly and con­fi­dent­ly, he asks curious ques­ti­ons about his field of acti­vi­ty and tells of his care­er with a sono­rous voice. A care­er with a dif­fe­rence, becau­se the cur­rent Direc­tor Glo­bal Indus­try Manage­ment Buil­ding Tech­no­lo­gy had alrea­dy had a suc­cess­ful pro­fes­sio­nal life befo­re he set about unhin­ging the world of buil­ding automation.
In his first pro­fes­sio­nal life, the man from the Lower Rhi­ne is initi­al­ly a suc­cess­ful com­pa­ny foun­der. Just one year after his trai­ning as an electri­cal engi­neer, he set up his own busi­ness and was head of a com­pa­ny with up to 50 employees for 17 years. "Life was my uni­ver­si­ty", he descri­bes his pro­fes­sio­nal care­er, not without pride.
This com­pa­ny focu­sed on the deve­lo­p­ment of soft­ware plat­forms, ener­gy manage­ment sys­tems in and for buil­dings and secu­ri­ty solu­ti­ons. This makes it clear that Till­manns does not have a clas­sic back­ground as a buil­ding auto­ma­ti­on spe­cia­list, but that his pro­fes­sio­nal home is actual­ly the world of IT. Alrea­dy in the cour­se of the­se acti­vi­ties he made first con­ta­cts with Phoe­nix Con­ta­ct. Inte­res­tin­g­ly enough, initi­al­ly in a com­pe­ti­ti­ve envi­ron­ment. Later, this tur­ned into a coope­ra­ti­on, becau­se the pro­ducts from East West­pha­lia con­vin­ced the businessman.
A tech­no­lo­gi­cal flirt with pro­fes­sio­nal con­se­quen­ces. Till­manns beca­me awa­re of the com­pa­ny its­elf from his enthu­si­asm for the pro­duct. And in the midd­le of 2015, the long-time entre­pre­neur actual­ly dar­ed to take the step into the com­pa­ny Phoe­nix Con­ta­ct. With the aim of tur­ning the topic of buil­ding auto­ma­ti­on into a suc­cess sto­ry. Of cour­se, the buil­ding auto­ma­ti­on pro­ducts had been well known for qui­te some time. "But the state­ment of the manage­ment was," he recalls, "that Phoe­nix Con­ta­ct did not need a pure buil­ding auto­ma­ti­on spe­cia­list who would only deve­lop the exis­ting busi­ness, but someo­ne who was capa­ble of deve­lo­ping a tech­no­lo­gi­cal and entre­pre­neu­ri­al stra­te­gy for new trend topics in buil­ding auto­ma­ti­on. The right chal­len­ge for the long-time entrepreneur.
"The top dogs in the buil­ding mar­ket were com­ple­te­ly dif­fe­rent back then," says the 54-year-old mana­ger. "But we had an ace up our slee­ve. In Octo­ber 2015, Phoe­nix Con­ta­ct took over the Dres­den com­pa­ny Sys­Mik. Its foun­der and boss, Dr. Gert-Ulrich Vack, had foun­ded the start-up in 1990 and tur­ned it into a small but fine noble for­ge in the field of buil­ding automation.
The Modu­lar Con­trol­ler "ILC 2050 BI" is based in its open sys­tem struc­tu­re on a soft­ware frame­work, which is well known abroad. A stro­ke of luck for Till­manns: "But hard­ly anyo­ne in the Ger­man-spea­king world knew about it. And for me, as a per­son from the IT busi­ness, it was immedia­te­ly clear that the com­bi­na­ti­on of IT and buil­ding auto­ma­ti­on is pos­si­ble here, which frees its­elf from the clas­sic com­po­nent thin­king and crea­tes space for new perspectives.
Till­manns and his team got going. "Qui­te ear­ly on, a col­league and I inven­ted the name "Ema­ly­tics", which was inten­ded to make it clear that we were pur­suing a plat­form-ori­en­ted approach. This took not only the buil­ding mar­ket by com­ple­te sur­pri­se, but also our direct mar­ket com­pa­n­ions," he reve­als with a mischie­vous smile.
The IT expert pati­ent­ly exp­lains the dif­fe­ren­ces: "Clas­sic buil­ding auto­ma­ti­on works with pro­gramm­a­ble logic con­trol­lers (PLC). For examp­le, you want to auto­ma­te a ven­ti­la­ti­on sys­tem. How the auto­ma­ti­on is to work is defi­ned in a func­tio­n­al descrip­ti­on. An app­li­ca­ti­on engi­neer then sets this up in a sui­ta­ble pro­gramming lan­guage and then con­verts (com­pi­les) it into a code that can be read by the con­trol­ler. If one wants to chan­ge the func­tion of the ven­ti­la­ti­on sys­tem, the pro­grammer must act again and chan­ge the code and then com­pi­le it on the PLC. During this time, the affec­ted sys­tem is at a standstill. In other words – the effort is rela­tively lar­ge and the­re­fo­re expen­si­ve. No won­der that a com­ple­ted buil­ding auto­ma­ti­on sys­tem is a rather rigid struc­tu­re that hard­ly any ope­ra­tor wants to touch".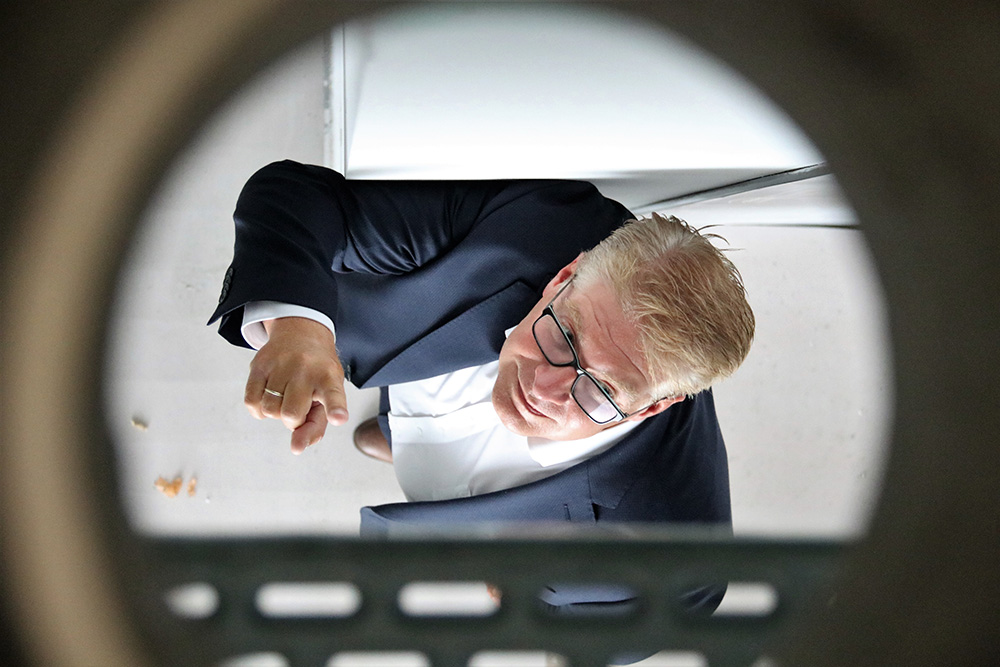 The rea­der of the lines can guess whe­re the inno­va­ti­ve indus­try expert is star­ting: "In con­trast, at Ema­ly­tics every auto­ma­ti­on sta­ti­on is part of a net­work. All func­tio­n­al pro­ces­ses are repre­sen­ted in a soft­ware plat­form. This eli­mi­na­tes the­se com­pi­led and the­re­fo­re rigid pro­grams.
Ema­ly­tics works in such a way that the con­trol inst­ruc­tions of the auto­ma­ti­on pro­cess can be vir­tua­li­zed, modi­fied and then rol­led out to the infra­st­ruc­tu­re by means of a soft­ware update. After I rea­li­zed this, I rea­li­zed: This is like IT busi­ness, I know this. That's why our approach focu­ses much more on the soft­ware, i.e. Emalytics".
If the rea­der of the­se lines feels remin­ded of dis­ruptors like Elon Musk from Tes­la, he is not wrong. "We have crea­ted app­li­ca­ti­on libra­ries with visua­liz­a­ti­on ele­ments that result in digi­tal twins of sup­ply pro­ces­ses in the cloud. In this way, we can con­tri­bu­te to auto­ma­ted ope­ra­tio­nal qua­li­ty moni­to­ring of sup­ply and com­fort pro­ces­ses, which clear­ly dis­tin­guis­hes us from our clas­si­cal­ly ope­ra­ting com­pe­ti­tors. Sud­den­ly, the buil­ding can be hand­led much more fle­xi­b­ly, can "learn" new func­tions without major struc­tu­ral chan­ges and can inte­gra­te new ele­ments into the hig­her-level con­trol soft­ware Ema­ly­tics. The buil­ding beco­mes updateable".
Bern­hard Till­manns was awa­re that this new approach and the new pos­si­bi­li­ties would not auto­ma­ti­cal­ly beco­me an eco­no­mic suc­cess. "Sys­tem inte­gra­tors are our cus­to­mers. The­se experts stand bet­ween inves­tor, archi­tect and ulti­mate­ly the ope­ra­tor. They take up the requi­re­ments, trans­la­te them into what is tech­ni­cal­ly fea­si­ble and ensu­re that they are imple­men­ted. And they are usual­ly well uti­li­zed. But with our new way of thin­king, new skills and know­ledge are also nee­ded on their side. Trai­ning is nee­ded, con­cerns must be addres­sed and argu­ments streng­t­he­ned. We inter­vene deeply in the well-rehe­ar­sed struc­tu­re of the buil­ding indus­try with inves­tor, archi­tect, exe­cu­ting com­pa­nies and final­ly the operators".
In the mean­ti­me, Phoe­nix Con­ta­ct has built up a who­le team of pro­ject mana­gers, app­li­ca­ti­on engi­neers and field ser­vice engi­neers in order to be able to adapt pre­cise­ly to the needs of the cus­to­mer in every pha­se of imple­men­ta­ti­on. With suc­cess: "We have focu­sed on initi­al light­house pro­jects in order to be able to demons­tra­te this new way of thin­king about buil­ding auto­ma­ti­on. To do this, we had to con­vin­ce the inves­tor and plan­ner level to clear­ly demons­tra­te the long-term advan­ta­ges of open sys­tem archi­tec­tu­re. We held work­shops with inves­tors, archi­tects and spe­cia­list plan­ners and worked with them to deve­lop the appro­pria­te buil­ding sys­tem designs.
"Our" buil­dings are not rigid shells with almost unch­an­ge­ab­le func­tions. They are living, ver­sa­ti­le buil­dings that can learn and chan­ge. And so they can also save signi­fi­cant cos­ts over their inten­ded ser­vice life. Under­stan­ding and trea­ting buil­dings as IT pro­jects – that is our approach. Buil­ding IOT means that buil­dings beco­me com­ple­te­ly update­ab­le. This means that they are always secu­re­ly instal­led, even in the incre­a­singly important area of security.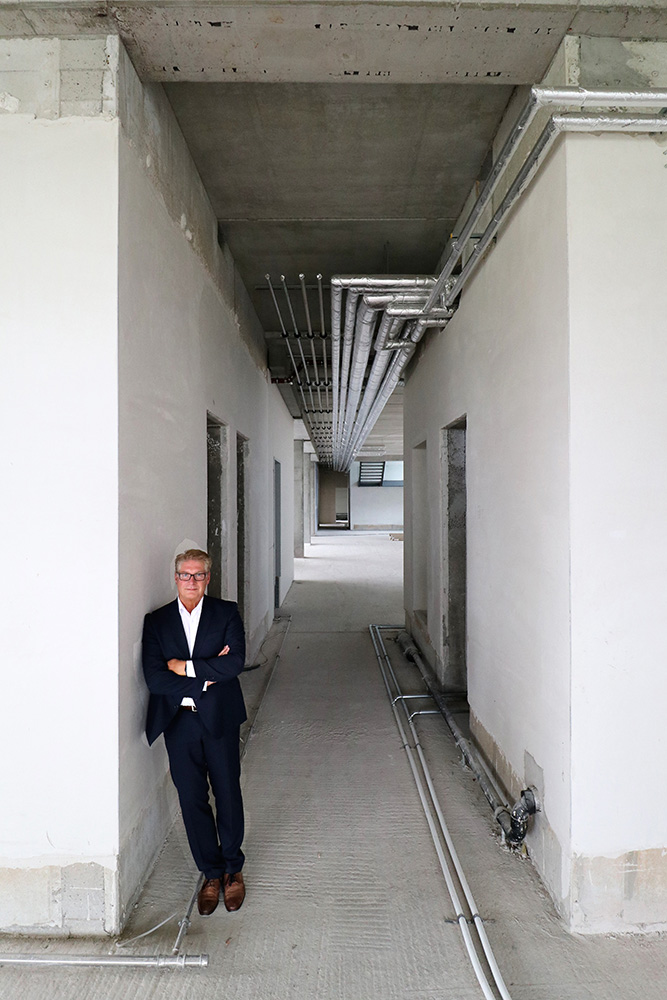 Lis­tening to Bern­hard Till­manns, you can feel the enthu­si­asm for the topic and sen­se the poten­ti­al: "We talk to our buil­dings and lis­ten to them. And in doing so, we take the sub­ject of buil­ding auto­ma­ti­on to a who­le new level.
Phoe­nix Con­ta­ct Gebäu­de­au­to­ma­ti­on
Der Dis­ruptor – Ver­än­de­rung im Faci­li­ty Manage­ment
Das schlau­es­te Gebäu­de in 200 km Umkreis
This post is also avail­ab­le in:

Deutsch