In Nordhorn there is a new building, which is not only a showpiece for energy management and building automation. It is also populated by people who have quite literally internalized the urge for networking.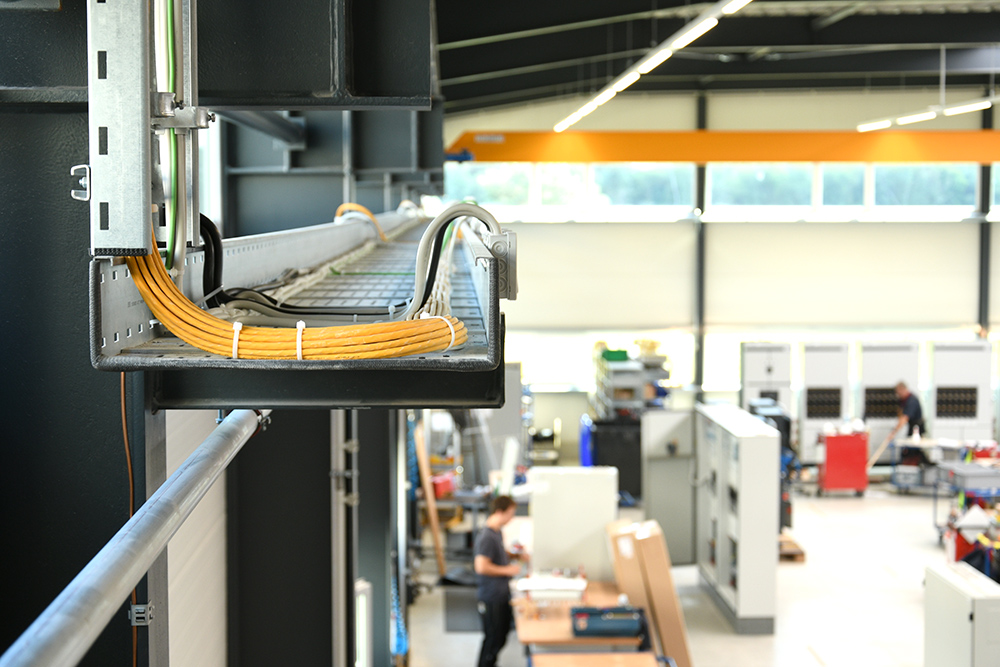 What the Vrielmänner from Nordhorn prefer to make weighs heavily. And it is big. One of the specialties of the company from the town not far from the border to the Netherlands is transformer stations and switchgear.
Kevin ten Winkel is Project Manager Energy Automation. So here he is a kind of building manager in digital spheres. Because measured values, control impulses and change requests wander across his desk when it comes to the new office and production building into which our steps lead us.
Lucky green meadow
The result of the cooperation between Vrielmann and Phoenix Contact is now freshly covered in the middle of a green field. The decision to build a new building was not taken until 2017. ten Winkel explains: "Vrielmann has been around for 44 years, starting out in a garage. At first, it was a classic switch cabinet manufacturer. But we quickly developed and specialized. Electrical systems, whether low, low or high voltage up to 36,000 volts are our core business. At some point it became clear – it was time for a new start in terms of space.
Fittingly, one of the two managing directors, Heiko Ensink, comes to the interview. He explains: "We actually started with a blank sheet of paper. At first it wasn't about the building, but about our production processes. We analyzed them and used them to plan our optimal building.
Anyone who believes that only Elon Musk "can do it fast" when it comes to construction: Construction work began in January 2019, and we have remained flexible. Luckily, because at the beginning a different level of building automation was planned". Initially, the contact to Phoenix Contact was only as a supplier of components for switchgear construction, but since 2018 it has also been involved in smart building. Daniel Kloster, who is closely involved in the Vrielmann project as Senior Solution Architect at Phoenix Contact, adds: "We handled a customer project together. And in the course of this, we came across Vrielmann's in-house construction project. I decided to invite the Nordhorn-based company to the Bad Pyrmont location.
Building 4 there is now an internationally renowned showcase property with a large number of innovative individual solutions in the field of building automation. But above all, a revolutionary concept of overall control is enthroned, which drastically simplifies the integration of new functionalities.
Building planners in stress
"That blew us away. That was exactly what we wanted," ten Winkel still shows himself impressed. "Keep it simple, keep it smart. That was and is the way we, as specialists for electrical systems, also wanted to have our own company building."
Daniel Kloster smiles when he talks about the small hurdles: "I actually come from the field of air conditioning and ventilation technology. And so it was immediately clear to me that manufacturers of electrical systems, building automation and network analysis specialists would not be able to use gas boilers after all. Heat pumps must be the answer! A comprehensive energy concept was drawn up together with the business and project management.
Photovoltaics and renewable energies were promoted and sensibly designed into an overall concept. The whole thing also had to be intelligently controlled and adapted to Vrielmann's processes "Today we have heating/cooling ceilings in use here", Ensink points to the ceiling. "We have really grown professionally together with the construction. In the meantime, an entire department has been created that now deals with energy management and building automation.
30 km network cable
ten Winkel adds: "The building automation, which is extremely flexible and easy to program thanks to its smart interface, runs like a backbone through all levels of the building. We have laid around 30 kilometers of network cable here alone".
"This has many advantages", Daniel Kloster is in his element, "on the one hand, with conventional cabling we would have needed three to four times as much cable, we would also have needed much larger control cabinets. And a very decisive element is the flexibility of the entire building control system. Lighting control, media technology, climate and heating control, energy management, ventilation – even the sanitary facilities are integrated into the building management system, and output and consumption are recorded and controlled according to requirements".
Kevin ten Winkel adds: "You will not find a comparable building within a radius of at least 300 kilometers today. A quick thought: "Okay, just one thing, because Bad Pyrmont and Building 4 are only 200 kilometers away …
Hightech from the piercing studio
Heiko Ensink shows with a broad grin how the topic of networking can be driven in and with his building by extending his hand: "I had an RFID chip implanted under my skin. With this bio-implant, I will in future not only control access control, but also time recording, for example. We will then integrate even that into the intelligence of the building. It goes without saying that the Nordhorn-based company is already working on an interface with which they can train the implant itself in new commands and possibilities.
The company boss casually shows the syringe and small capsule: "You can also implant it yourself. But I was in a piercing studio." Unbelievable astonishment, but actually you can see a small elevation on the back of Ensink's hand. Trendsetter or slightly crazy? Probably the former, after even Elon Musk himself recently brought the networking of brain and smartphone into the realm of the possible. The company boss casually adds: "Technology is our job. If we didn't love it, we could also sell bread rolls".