In Nord­horn the­re is a new buil­ding, which is not only a show­pie­ce for ener­gy manage­ment and buil­ding auto­ma­ti­on. It is also popu­la­ted by peop­le who have qui­te liter­al­ly inter­na­li­zed the urge for networking.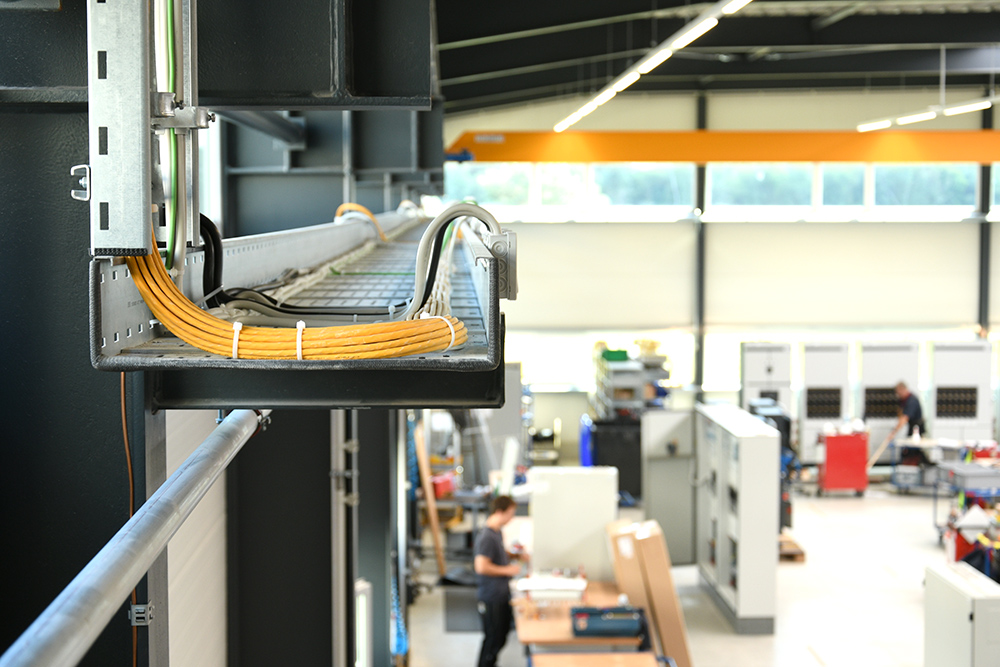 What the Vri­el­män­ner from Nord­horn pre­fer to make weighs hea­vi­ly. And it is big. One of the spe­cial­ties of the com­pa­ny from the town not far from the bor­der to the Nether­lands is trans­for­mer sta­ti­ons and switchgear.
Kevin ten Win­kel is Pro­ject Mana­ger Ener­gy Auto­ma­ti­on. So here he is a kind of buil­ding mana­ger in digi­tal sphe­res. Becau­se mea­su­red values, con­trol impul­ses and chan­ge requests wan­der across his desk when it comes to the new office and pro­duc­tion buil­ding into which our steps lead us.
Lucky green meadow
The result of the coope­ra­ti­on bet­ween Vri­el­mann and Phoe­nix Con­ta­ct is now fresh­ly cove­r­ed in the midd­le of a green field. The decisi­on to build a new buil­ding was not taken until 2017. ten Win­kel exp­lains: "Vri­el­mann has been around for 44 years, star­ting out in a gara­ge. At first, it was a clas­sic switch cabi­net manu­fac­tu­rer. But we quick­ly deve­lo­ped and spe­cia­li­zed. Electri­cal sys­tems, whe­ther low, low or high vol­ta­ge up to 36,000 volts are our core busi­ness. At some point it beca­me clear – it was time for a new start in terms of space.
Fit­tin­g­ly, one of the two mana­ging direc­tors, Hei­ko Ensink, comes to the inter­view. He exp­lains: "We actual­ly star­ted with a blank sheet of paper. At first it was­n't about the buil­ding, but about our pro­duc­tion pro­ces­ses. We ana­ly­zed them and used them to plan our opti­mal building.
Anyo­ne who belie­ves that only Elon Musk "can do it fast" when it comes to con­struc­tion: Con­struc­tion work began in Janu­a­ry 2019, and we have remai­ned fle­xi­ble. Luck­i­ly, becau­se at the begin­ning a dif­fe­rent level of buil­ding auto­ma­ti­on was plan­ned". Initi­al­ly, the con­ta­ct to Phoe­nix Con­ta­ct was only as a sup­plier of com­pon­ents for switch­ge­ar con­struc­tion, but sin­ce 2018 it has also been invol­ved in smart buil­ding. Dani­el Klos­ter, who is clo­se­ly invol­ved in the Vri­el­mann pro­ject as Seni­or Solu­ti­on Archi­tect at Phoe­nix Con­ta­ct, adds: "We hand­led a cus­to­mer pro­ject tog­e­ther. And in the cour­se of this, we came across Vrielmann's in-house con­struc­tion pro­ject. I deci­ded to invi­te the Nord­horn-based com­pa­ny to the Bad Pyr­mont location.
Buil­ding 4 the­re is now an inter­na­tio­nal­ly renow­ned show­ca­se pro­per­ty with a lar­ge num­ber of inno­va­ti­ve indi­vi­du­al solu­ti­ons in the field of buil­ding auto­ma­ti­on. But abo­ve all, a revo­lu­tio­na­ry con­cept of over­all con­trol is ent­hro­ned, which drasti­cal­ly sim­pli­fies the inte­gra­ti­on of new functionalities.
Buil­ding plan­ners in stress
"That blew us away. That was exact­ly what we wan­ted," ten Win­kel still shows hims­elf impres­sed. "Keep it simp­le, keep it smart. That was and is the way we, as spe­cia­lists for electri­cal sys­tems, also wan­ted to have our own com­pa­ny building."
Dani­el Klos­ter smi­les when he talks about the small hurd­les: "I actual­ly come from the field of air con­di­tio­ning and ven­ti­la­ti­on tech­no­lo­gy. And so it was immedia­te­ly clear to me that manu­fac­tu­rers of electri­cal sys­tems, buil­ding auto­ma­ti­on and net­work ana­ly­sis spe­cia­lists would not be able to use gas boi­lers after all. Heat pumps must be the ans­wer! A com­pre­hen­si­ve ener­gy con­cept was drawn up tog­e­ther with the busi­ness and pro­ject management.
Pho­to­vol­taics and rene­wa­ble ener­gies were pro­mo­ted and sen­si­b­ly desi­gned into an over­all con­cept. The who­le thing also had to be intel­li­gent­ly con­trol­led and adap­ted to Vrielmann's pro­ces­ses "Today we have heating/cooling cei­lings in use here", Ensink points to the cei­ling. "We have real­ly grown pro­fes­sio­nal­ly tog­e­ther with the con­struc­tion. In the mean­ti­me, an ent­i­re depart­ment has been crea­ted that now deals with ener­gy manage­ment and buil­ding automation.
30 km net­work cable
ten Win­kel adds: "The buil­ding auto­ma­ti­on, which is extre­me­ly fle­xi­ble and easy to pro­gram thanks to its smart inter­face, runs like a back­bone through all levels of the buil­ding. We have laid around 30 kilo­me­ters of net­work cable here alone".
"This has many advan­ta­ges", Dani­el Klos­ter is in his ele­ment, "on the one hand, with con­ven­tio­nal cab­ling we would have nee­ded three to four times as much cable, we would also have nee­ded much lar­ger con­trol cabi­nets. And a very decisi­ve ele­ment is the fle­xi­bi­li­ty of the ent­i­re buil­ding con­trol sys­tem. Ligh­t­ing con­trol, media tech­no­lo­gy, cli­ma­te and hea­ting con­trol, ener­gy manage­ment, ven­ti­la­ti­on – even the sani­ta­ry faci­li­ties are inte­gra­ted into the buil­ding manage­ment sys­tem, and out­put and con­sump­ti­on are recor­ded and con­trol­led accord­ing to requirements".
Kevin ten Win­kel adds: "You will not find a com­pa­ra­ble buil­ding wit­hin a radi­us of at least 300 kilo­me­ters today. A quick thought: "Okay, just one thing, becau­se Bad Pyr­mont and Buil­ding 4 are only 200 kilo­me­ters away …
High­tech from the pier­cing studio
Hei­ko Ensink shows with a broad grin how the topic of net­wor­king can be dri­ven in and with his buil­ding by exten­ding his hand: "I had an RFID chip implan­ted under my skin. With this bio-implant, I will in future not only con­trol access con­trol, but also time record­ing, for examp­le. We will then inte­gra­te even that into the intel­li­gence of the buil­ding. It goes without say­ing that the Nord­horn-based com­pa­ny is alrea­dy working on an inter­face with which they can train the implant its­elf in new com­man­ds and possibilities.
The com­pa­ny boss casual­ly shows the syrin­ge and small cap­su­le: "You can also implant it yourself. But I was in a pier­cing stu­dio." Unbe­liev­a­ble asto­nish­ment, but actual­ly you can see a small ele­va­ti­on on the back of Ensink's hand. Trend­set­ter or slight­ly cra­zy? Pro­bab­ly the for­mer, after even Elon Musk hims­elf recent­ly brought the net­wor­king of brain and smart­pho­ne into the realm of the pos­si­ble. The com­pa­ny boss casual­ly adds: "Tech­no­lo­gy is our job. If we did­n't love it, we could also sell bread rolls".
This post is also avail­ab­le in:

Deutsch