If you read the few lines you find about Dirk Gör­lit­zer, you might think he is a typi­cal repre­sen­ta­ti­ve of a care­er in a flash: uni­ver­si­ty, employ­ment, top manage­ment. Not so! An exci­ting inter­view with one of the new faces in the manage­ment of Phoe­nix Contact.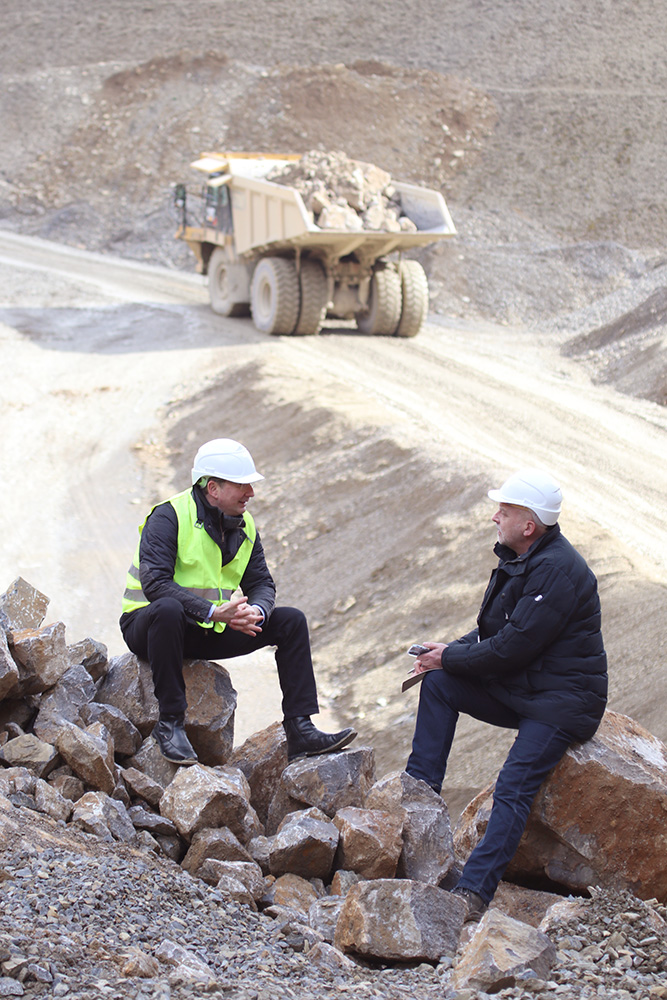 UPDATE: Mr. Gör­lit­zer, sin­ce August 2020 you have been one of the "new­co­mers" on the manage­ment board of Phoe­nix Con­ta­ct. What is new for you in your area of respon­si­bi­li­ty as a mem­ber of the Board?
What is real­ly new for me? Get­ting to know the hig­her-level con­trol func­tions of our com­pa­ny, such as the advi­so­ry board or the share­hol­der group, which I know as peop­le, of cour­se, but not yet in terms of their mecha­nisms of action – that's new and exci­ting for me.
UPDATE: Does this also con­cern new tasks in the inter­na­tio­nal field?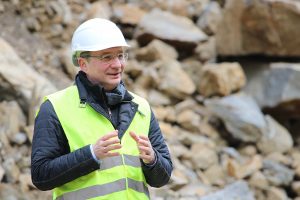 I have always been very inter­na­tio­nal, and the ICE busi­ness area was also very inter­na­tio­nal from the very begin­ning. One of my first par­al­lel tasks to my func­tion as Divi­si­on Pre­si­dent at the time was to take respon­si­bi­li­ty for our plant in Poland from the over­all Group per­spec­ti­ve.
India fasci­na­tes me; I built up shared ser­vice con­cepts the­re. And now, as a mem­ber of the Board of Manage­ment, I have been given over­ar­ching respon­si­bi­li­ty for three major mar­kets – Chi­na, Rus­sia and India. We want to deve­lop the­se defi­ned mar­kets into cen­ters of com­pe­tence with inde­pen­dent decisi­on-making powers. The chal­len­ge will be to pro­mo­te this inde­pen­dence and thus align the orga­niz­a­ti­ons fle­xi­b­ly and agi­le­ly, while at the same time not losing the con­nec­tion to our head­quar­ters and thus syn­er­gies in a glo­bal con­text.
I'm usual­ly on the road three times a mon­th, but often com­mu­ni­ca­te suc­cinct­ly via short mes­sa­ge ser­vices or make pho­ne calls. So I'm very clo­se to our pro­ces­ses in the inter­na­tio­nal are­na as well, even if I can't always be on site.
I come from a clas­sic working-class and craftsman's family.

Dirk Gör­lit­zer,

COO

Phoe­nix Contact
UPDATE: Aren't the­re still a few exci­ting coun­tries mis­sing, such as the tiger eco­no­mies of Sou­the­ast Asia?
Stra­te­gy is also the cou­ra­ge to do without. (laughs) When we talk about Cen­ters of Com­pe­tence, we are tal­king about com­pre­hen­si­ve value chains, sales, deve­lo­p­ment and pro­duc­tion. We can­not set up pro­duc­tion and deve­lo­p­ment in all regi­ons of the world at the same time; that would also overstretch our resour­ces. You should walk befo­re you run. We are now star­ting to estab­lish this stra­te­gy in the coun­tries descri­bed, paying atten­ti­on to our strengths and syn­er­gies, and in per­spec­ti­ve we will also inclu­de other zones in this concept.
UPDATE: Are you actual­ly an East Westphalian?
(deci­ded) No! I am a Lower Saxon. I come from a very clas­sic working-class and craftsman's fami­ly, first com­ple­ted an appren­ti­ce­ship and worked as an electri­cal machi­ne buil­der. So an aca­de­mic care­er was not in my crad­le. I did stu­dy in Lem­go, but in a kind of self-stu­dy. During the day, I was often invol­ved in my job and fami­ly, so the­re was often only time for stu­dy­ing in the evenings. And as a young fami­ly man on a tight bud­get, I worked at the who­le­sa­le flower mar­ket on wee­kends. During the semes­ter breaks, I actual­ly worked in the quar­ry, main­tai­ning and repai­ring equip­ment like this one.
That still pays off for me. Today, when I go to the con­trol panel shop, talk to the workers about their pro­blems, who often have very direct and honest com­mu­ni­ca­ti­on, I under­stand that world. I can talk to the peop­le at the work­bench just as I can to my col­leagues who are in mana­ge­ri­al posi­ti­ons in the office.
UPDATE: How did you join Phoe­nix Contact?
During my stu­dies, I had the oppor­tu­ni­ty to take addi­tio­nal semi­nars. The­re was a semi­nar on "Sales and Mar­ke­ting", which was held by repre­sen­ta­ti­ves of various com­pa­nies. And I found the part held by Phoe­nix Con­ta­ct extre­me­ly posi­ti­ve, both in terms of con­tent and in human terms. That was the basis for me to sub­mit my app­li­ca­ti­on the­re. That was 26 years ago now.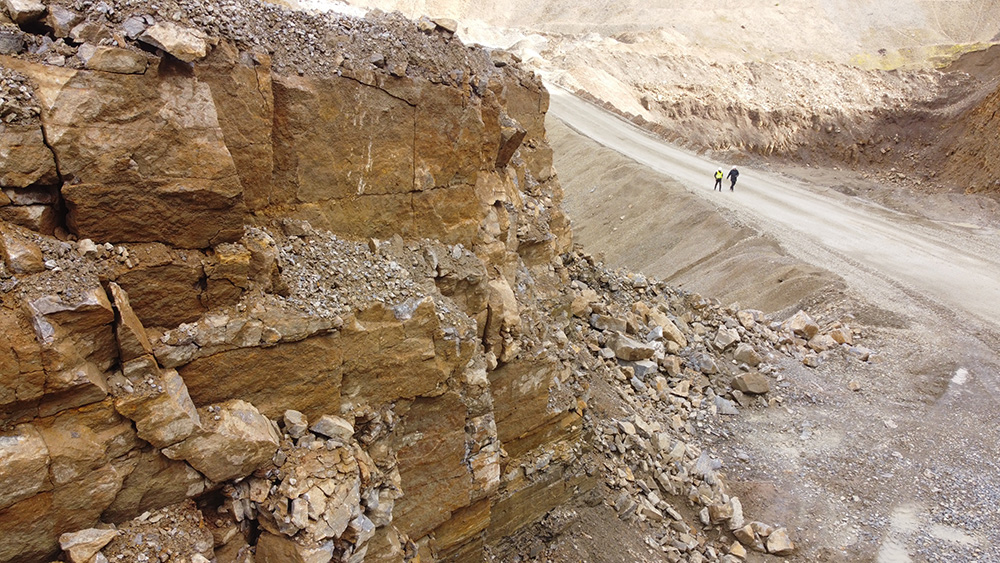 UPDATE: What were your begin­nings at Phoe­nix Contact?
I star­ted in 1994 as a pro­duct mana­ger for the good old ter­mi­nal block. At that time, the com­pa­ny was still much smal­ler. It was the pha­se when we estab­lis­hed a matrix orga­niz­a­ti­on. The­re was a lot of exci­te­ment, a very exci­ting time. The­re were three employees in char­ge of the rail-moun­ted ter­mi­nal block divi­si­on, who were respon­si­ble for and desi­gned ever­ything. One of them was me. Very small, super fami­li­ar. In the begin­ning, I was sup­po­sed to bring some­thing to the pneu­ma­tic tube, so I thought they were pul­ling my leg as the new guy. Until I rea­li­zed that the­re was actual­ly still a pneu­ma­tic tube here.
That was exact­ly the time when peop­le were alrea­dy pre­dic­ting the near end of the ter­mi­nal block. It was the time of field buses, the­re was a theo­ry that field buses would replace ter­mi­nal blocks. Qui­te a mista­ke (smirks).
I then had dif­fe­rent tasks, deve­lo­ped into a group lea­der. In 1999, I then beca­me a BU lea­der, then a divi­si­on lea­der and then a BA lea­der. Sounds line­ar, but it was always "spi­ced" with spe­cial tasks, espe­cial­ly in the inter­na­tio­nal area. And sin­ce August of last year, I have been a mem­ber of the Manage­ment Board.
UPDATE: Now you do not beco­me qua­si by senio­ri­ty after 26 years auto­ma­ti­cal­ly mana­ging direc­tor. What defi­nes the lea­ders­hip per­so­na­li­ty of Dirk Görlitzer?
I have a desi­re for suc­cess, for the com­pa­ny and also as a per­son. I don't mean that in its nega­ti­ve sen­se, but as a posi­ti­ve deve­lo­p­ment. I have always enjoy­ed working. To shape some­thing, to build it up, to see it grow – that's what I like. The final reward is to per­so­nal­ly expe­ri­ence the posi­ti­ve voices of cus­to­mers at tra­de shows.
As Busi­ness Area Pre­si­dent, I'm natu­ral­ly in the right posi­ti­on – on the one hand, main­tai­ning an over­all view, but at the same time being able to sup­port my col­leagues in their direct work is some­thing I con­si­der a gre­at advantage.
UPDATE: You have got­ten to know many sides of Phoe­nix Con­ta­ct, expe­ri­en­ced a lot of chan­ge. How has the col­league Gör­lit­zer hims­elf chan­ged on his way?
I am always direct and honest. It's cer­tain­ly inten­se to work with me. Wher­eby I have cer­tain­ly chan­ged my style a lot over the years. Aut­ho­ri­ta­ri­an is the wrong word, but in the begin­ning I had very clear ide­as about my tar­get image. I wan­ted to build a sys­tem out of the ter­mi­nal block. It was clear to me that this was a task that would take a good ten years. And when you'­re pur­suing such a long-term pic­tu­re, you'­re not very wil­ling to make short-term com­pro­mi­ses.
But the big­ger and more com­plex the tasks and orga­niz­a­ti­on beco­me, the more you have to chan­ge. Manage­ment styles break down when the per­son at the top can no lon­ger mana­ge two things: com­ple­xi­ty and agi­li­ty. The old manage­ment styles based on naked asser­ti­ve­ness and hier­ar­chy will no lon­ger lead to suc­cess.
Hier­ar­chies should be very per­me­ab­le. And col­leagues should and can also dare to approach me with their issu­es. As a human being, you see the peop­le around you.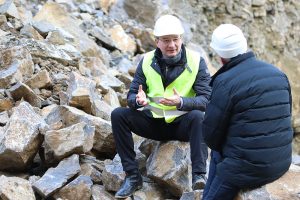 UPDATE: In the glo­bal­ly ope­ra­ting medi­um-sized com­pa­ny Phoe­nix Con­ta­ct, a lot of impor­t­ance is atta­ched to the cor­po­ra­te cul­tu­re. How do you want to influ­ence this cul­tu­re in the future?
As a mana­ger, I have three ele­ments to deve­lop simul­ta­ne­ous­ly: Our busi­ness models, the inter­na­tio­nal orga­niz­a­ti­on and, of cour­se, the peop­le with their dif­fe­rent per­so­na­li­ties and skills. The more respon­si­bi­li­ty you are given, the more the balan­ce shifts. Empowe­ring the peop­le of the next genera­ti­on, pre­ser­ving our own iden­ti­ty are of cour­se essen­ti­al key tasks. We can't just wri­te down our cor­po­ra­te cul­tu­re, we have to pass it on in a living way. We shape our busi­ness models and inter­na­tio­nal orga­niz­a­ti­on with and in the spi­rit of this cul­tu­re. The­se are three equal poles of a sys­tem – with the cus­to­mer at the center.
UPDATE: Are you more of an engi­neer or a sales­man at the bot­tom of your heart?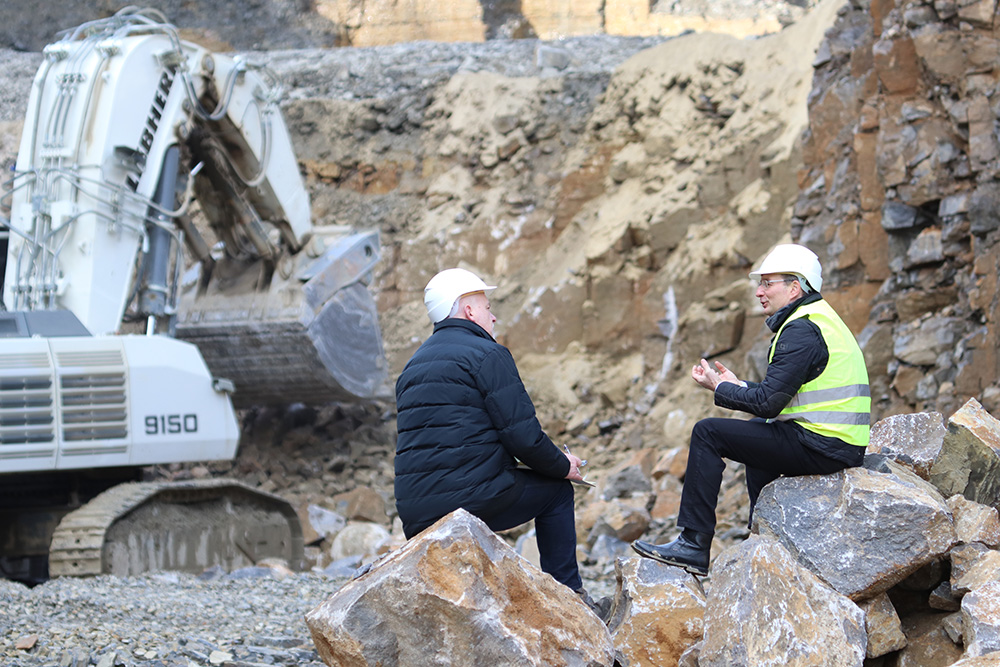 I am more of a gene­ra­list and am inte­res­ted in all func­tions. That inclu­des sales, tal­king direct­ly to cus­to­mers, as well as pro­duc­tion and deve­lo­p­ment. Howe­ver, my hob­by­hor­se is still pro­duct mar­ke­ting and deve­lo­p­ment – the heart cham­ber for our offe­rings to the cus­to­mer. In my role, I am con­stant­ly taking advan­ta­ge of all the oppor­tu­nities to learn. My aspi­ra­ti­on is to be able to ask the right ques­ti­ons in any func­tion and at any time.
UPDATE: You are a suc­cess­ful Busi­ness Area Pre­si­dent in an orga­niz­a­ti­on that acts and is expec­ted to act very inde­pendent­ly. At the same time, you and the other two BA pre­si­dents Lei­de­cker and Janwle­cke are to struc­tu­re the role of their own Are­as in their func­tion as a mem­ber of the manage­ment to the extent that they fit into the over­all stra­te­gy. Is that not a con­tra­dic­tion and balan­cing act?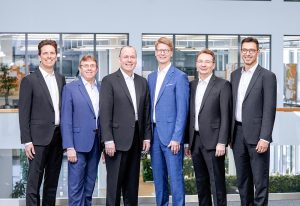 I belie­ve that ever­yo­ne is well advi­sed to always con­si­der the requi­re­ments of the com­pa­ny in addi­ti­on to their own objec­ti­ves and to prio­ri­ti­ze the­se more high­ly. It's always important to dis­tin­guish bet­ween short-term fun and long-term plea­su­re (laughs). With this in mind, I am of cour­se very awa­re of the arc of ten­si­on. But in today's inte­gra­ted world, an iso­la­ted stra­te­gy can never work. It's not a ques­ti­on of size. All func­tions such as logistics, IT, and also too­ling and mecha­ni­cal engi­nee­ring are key suc­cess fac­tors for the busi­ness are­as. Being joint­ly respon­si­ble with col­leagues here is an incredi­ble advan­ta­ge. Long-term plan­ning is made much easier, and all units can rely on each other and flourish.
UPDATE: Inqui­red again: Three suc­cess­ful top mana­gers, three strong lea­ders­hip per­so­na­li­ties with very dif­fe­rent approa­ches – how does that har­mo­ni­ze in the management?
True, we are very dif­fe­rent, also in our busi­ness models. But we have known each other for many years, inclu­ding our dif­fe­rent approa­ches, and we value each other as peop­le and mana­gers. And we are con­stant­ly loo­king for syn­er­gies in our exch­an­ges. This tou­ches on tech­no­lo­gi­cal topics as well as orga­niz­a­tio­nal ele­ments, which always lead to posi­ti­ve dis­cus­sions.
The inde­pen­dence of the busi­ness are­as is one of the rea­sons for our suc­cess. The cus­to­mer per­spec­ti­ve is at the heart of our diver­si­fi­ca­ti­on. The busi­ness models are orga­ni­zed accord­ing to how we can best satisfy the­se requi­re­ments of our cus­to­mers. A cus­to­mer who wants us to pro­vi­de a solu­ti­on for con­trol­ling a wind­mill has dif­fe­rent requi­re­ments than a cus­to­mer who needs a sys­tem for power sup­plies. As tech­ni­ci­ans, we natu­ral­ly under­stand the worlds of the other two busi­ness are­as as well, which is a gre­at advantage.
Humor is a major key.
UPDATE: How do you deal with fric­tion in the­se voting processes?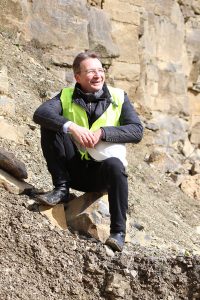 I like the con­cept of dis­pu­te, which is an important con­cept in my BA and which I also try to cul­ti­va­te. It's about taking dif­fe­rent per­spec­ti­ves, exch­an­ging argu­ments, even in an inten­se dis­pu­te, and after weig­hing all the argu­ments, the­re is always a clear decisi­on-making pro­cess. Fric­tion and dis­pu­te have a posi­ti­ve con­no­ta­ti­on for me. I repre­sent my opi­ni­on, but I also allow the opi­ni­on of the other per­son. I am very open. And humor is an important key. I real­ly appre­cia­te being able to bring a smi­le to tho­se around me.
UPDATE: Would you descri­be yourself as a per­son who acts rather con­trol­led and also often self-reflects and questions?
Yes. In my view, self-awa­reness is part of fur­ther deve­lo­p­ment. You can't deve­lop if you don't see yourself, if you don't admit your own mista­kes. In my view, honest self-reflec­tion is a key cha­rac­te­ris­tic of good manage­ment. This app­lies in our work as mana­gers, but also as people.
UPDATE: What do you think about the mis­si­on state­ment of the All Electric Society?
I am deeply con­vin­ced that this visi­on is right as a pic­tu­re of the future. It is a beau­ti­ful bridge to the future for all Phoe­nix Con­ta­ct sta­ke­hol­ders. For our cus­to­mers, the elec­tri­fi­ca­ti­on of the world cau­ses a huge growth cycle of one or two deca­des. It is now in our hands to show that the­re is no con­tra­dic­tion bet­ween eco­no­my and eco­lo­gy. Our indus­try is at the cen­ter of the trans­for­ma­ti­on – I'm real­ly loo­king for­ward to that.
UPDATE: The ter­mi­nal block was long con­si­de­red an old-fashio­ned dis­con­ti­nued model. How do you see this tech­no­lo­gy against the back­ground of the visi­on Empowe­ring the All Electric Society?
Whe­ther rene­wa­ble ener­gy genera­ti­on or ener­gy sto­rage with power-to‑X tech­no­lo­gies, pro­ducts and tech­no­lo­gies from BA ICE will always be used. Con­nec­ting, swit­ching, pro­tec­ting, ener­gy genera­ti­on, ener­gy con­ver­si­on, ener­gy mea­su­re­ment – the­se are the clas­sic core are­as that Phoe­nix Con­ta­ct has hel­ped to estab­lish over the last 100 years. In an All Electric Socie­ty, the­re are fan­tastic, almost infi­ni­te pos­si­bi­li­ties – espe­cial­ly for the good old and still top-fit modu­lar ter­mi­nal block.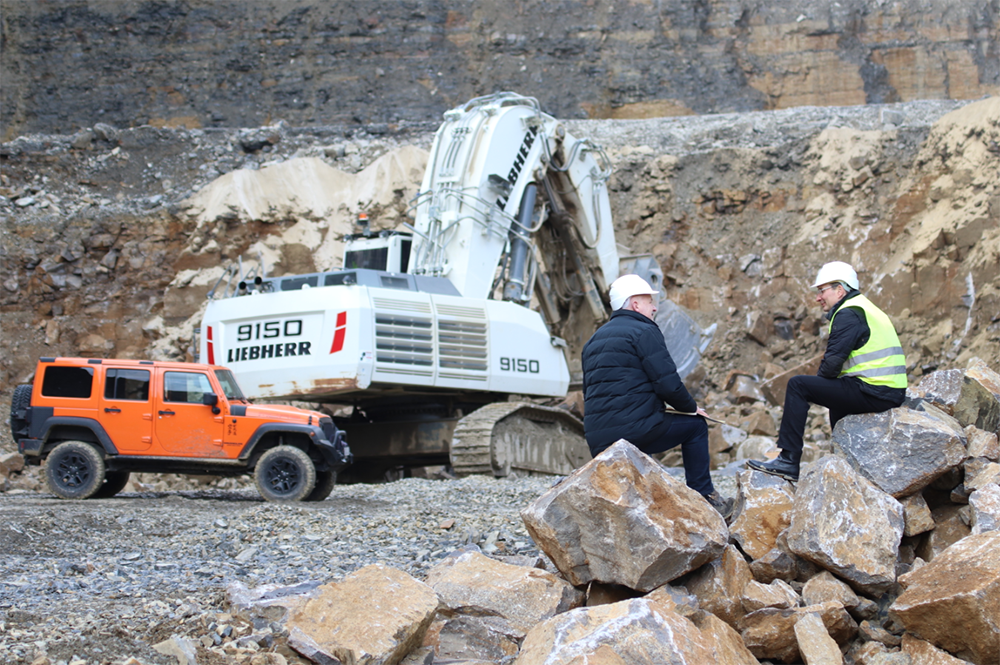 This post is also avail­ab­le in:

Deutsch