When Mother Earth dis­co­vers her archaic natu­re, man beco­mes very small. Ear­th­qua­kes are an ele­men­ta­ry for­ce of natu­re against which hard­ly any pro­tec­tion is pos­si­ble. It is the­re­fo­re all the more important that tho­se affec­ted are war­ned as ear­ly as pos­si­ble and can get to safe­ty. In Cas­trop-Rau­xel, North Rhi­ne-West­pha­lia, an ear­ly warning device has been deve­lo­ped that can ensu­re the cru­cial time nee­ded for this.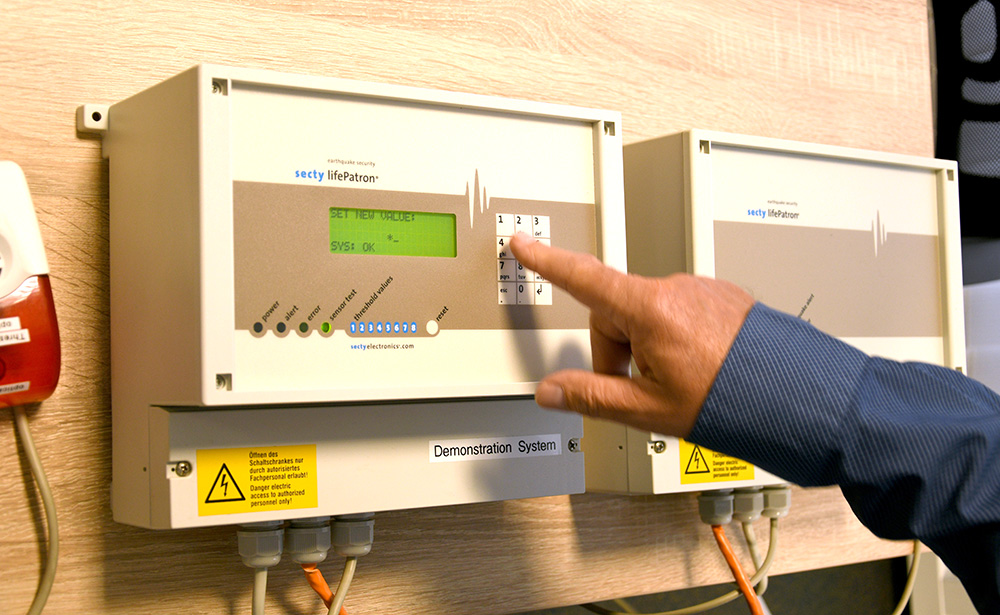 When it comes to ear­th­qua­kes, one thinks of huge cata­stro­phes, tidal waves and col­li­ding earth pla­tes. Our planet's inte­rior is much less explo­red than, say, the sur­face of the Moon, Mars or other distant celesti­al bodies. If the Earth's crust, which is per­cei­ved to be so safe, moves all at once, it cau­ses panic at the mil­dest, and hund­reds of thousands die at the worst. And pre­dic­ting such an event is con­si­de­red impossible.
In search of the com­pa­ny Sec­ty elec­tro­nics, I dro­ve and wal­ked past the buil­ding three times. Expec­ting a lar­ge rese­arch cen­ter or at least an impo­sing start-up with glass and marb­le, I smooth­ly over­loo­ked the door­bell but­ton on a side street in the Ruhr­pott town of Cas­trop-Rau­xel. With a friend­ly hel­lo, the door is ope­ned and I am pre­ven­ted from loo­king any fur­ther. And poof, I find mys­elf in the heart of a glo­bal com­pa­ny that can save mil­li­ons of lives and still does­n't exceed the foot­print of an average two-room apartment.
Two incon­spi­cuous-loo­king basic modu­les of the "sec­ty life­Pa­tron" are wai­t­ing on the table in the mee­ting room. As its deve­lo­per and com­pa­ny boss Jür­gen Przy­by­lak exp­lains to me, this is the main con­trol unit that houses the ent­i­re intel­li­gence with the mathe­ma­ti­cal algo­rithm of ear­th­qua­ke detec­tion, dis­tri­bu­t­ed bet­ween mas­ters and sub­mas­ters. But befo­re we get to the devices, Przy­by­lak first exp­lains the basics of ear­th­qua­ke science:
Ear­th­qua­kes warn of itself
"Every ear­th­qua­ke con­sists of a pri­ma­ry and a secon­da­ry wave. The­se wave move­ments of the earth's sur­face occur when ten­si­ons in the earth's crust are released, whe­ther by con­ti­nen­tal pla­te move­ments, vol­ca­nic erup­ti­ons, explo­si­ons or even col­lap­ses of lar­ge cavi­ties. The pri­ma­ry wave, the so-cal­led p‑wave, always runs ahead. It is not per­cep­ti­ble to humans. Only the secon­da­ry or s‑wave that fol­lows has the dest­ruc­ti­ve poten­ti­al. The p‑wave tra­vels twice as fast as the s‑wave, so it always reaches the respec­ti­ve loca­ti­on first. The time dif­fe­rence bet­ween the appearan­ce of the harm­less p‑wave and the dest­ruc­ti­ve s‑wave depends on the distance to the place of ori­gin, the epi­cen­ter and the depth of the quake."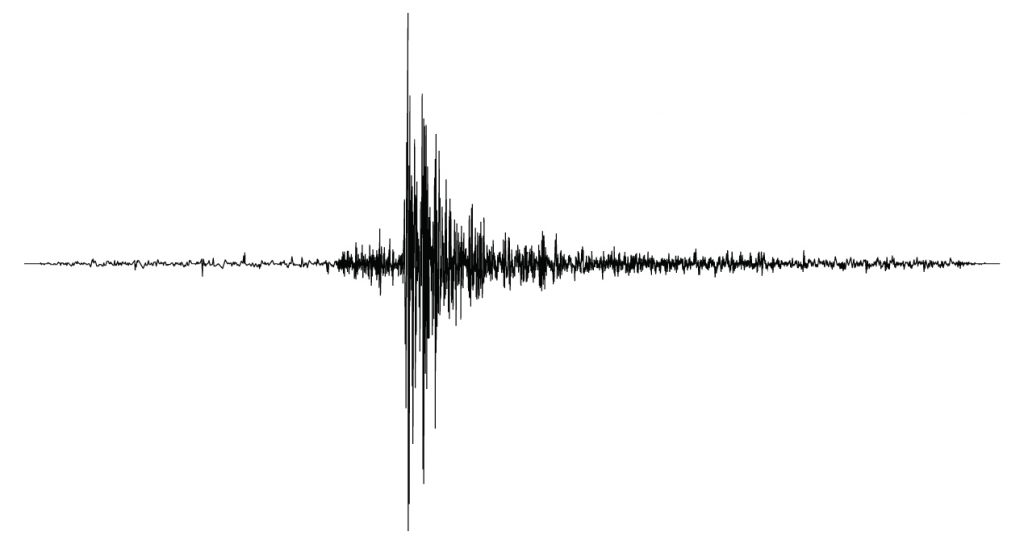 You can tell that the 62-year-old tech­ni­ci­an is a well-tra­v­eled expert who is used to loo­king at initi­al­ly inc­redu­lous faces. "Ever­yo­ne always expects at least one pro­fes­sor when I pre­sent our solu­ti­on," he smi­les mischie­vous­ly. The down-to-earth glo­be­trot­ter has long sin­ce stop­ped being afraid of an audi­ence: "After all, I know about the qua­li­ty of our pro­duct." Przy­by­lak is a con­vin­cing ambassa­dor of the Sec­ty lifePatron.
At first, the pure warning times are not very impres­si­ve. "At about 40 kilo­me­ters from the epi­cen­ter, the dif­fe­rence bet­ween p- and s‑waves is 8 to 12 seconds. At 120 kilo­me­ters, the time grows to 24 to 36 seconds." But tho­se seconds make the dif­fe­rence bet­ween death and devas­ta­ti­on or safe sur­vi­val. "In count­less expe­ri­ments and stu­dies, it has been found that peop­le take bet­ween 10 and 16 seconds to even rea­li­ze that a major ear­th­qua­ke has struck. Only then do they try to run to safe­ty. And that's while the s‑wave is having its dest­ruc­ti­ve effect, becau­se the p‑wave was not perceived."
Every second counts
This is exact­ly whe­re the "Sec­ty life­Pa­tron" comes in: "We can reli­ab­ly detect and ana­ly­ze the p‑wave. Reli­able means that we can fil­ter out sources of error such as trucks rumb­ling past. And we can use the p‑wave to pre­dict whe­ther the fol­lowing s‑wave will actual­ly be dan­ge­rous. No other device in the world can do that. As a result, peop­le trust our sys­tem – if an alarm is trig­ge­red, then it's real­ly serious. So we give peop­le the most valu­able thing they need: Time."
But still only a few seconds. "That's what the Ger­man ambassa­dor in Kazakh­stan said, too." Jür­gen Przy­by­lak remem­bers it well: "That was my first tra­de show in 2005; I was invi­ted to an evening din­ner at the time. I then just asked him how long it would take him to reach the next door out now." The smi­le on the diplomat's face gave way to an inte­res­ted expression.
Przy­by­lak draws atten­ti­on to a cru­cial fea­ture: "And during this time, auto­ma­tic safe­ty sys­tems can, for examp­le, shut off the gas sup­ply, secu­re ele­va­tors, release door sys­tems. A lot of dama­ge does­n't occur until after the ear­th­qua­ke, with esca­ping gas trig­ge­ring explo­si­ons or power lines being des­troy­ed, making uti­li­ties unusable."
Deve­lo­p­ment from pigeon racing
But how is the p‑wave mea­su­red? And how does a tech­ni­ci­an from the Ruhr area get his hands on a tech­no­lo­gy that could be vital for mil­li­ons of peop­le? Jür­gen Przy­by­lak smi­les: "By chan­ce. We had deve­lo­ped sen­sors for inter­na­tio­nal pigeon racing, in which the fly­ing high-per­for­mance ath­le­tes trig­ge­red a timing sys­tem when they came into con­ta­ct with a perch. Then in 2003, the Helm­holtz Zen­trum Pots­dam, Ger­man Geo­sci­ence Rese­arch Insti­tu­te approa­ched us with the ques­ti­on of whe­ther we could also mea­su­re a com­ple­te­ly dif­fe­rent form of vibra­ti­on with our sen­sor. Pots­dam pro­vi­ded us with the algo­rithm for ana­ly­zing the p‑wave for this pur­po­se. And from this, we deve­lo­ped the Sec­ty life­Pa­tron in coope­ra­ti­on with the scientists."
At the time, the trai­ned elec­tro­nics tech­ni­ci­an was affec­ted by the chan­ge in the coal­field. As an employee of the cen­tral tes­ting depart­ment, he was offe­red the chan­ce to lea­ve the Ruhr­koh­le com­pa­ny with a sever­an­ce packa­ge. He took the risk, used his know-how and con­ta­cts and actual­ly found the right com­pon­ents for an ear­ly warning system.
From the Pütt into the world
"The deal was that the sci­en­tists would con­tri­bu­te their exper­ti­se in p- and s‑waves, and we would deve­lop the sen­sor tech­no­lo­gy. For examp­le, it was known that strong ear­th­qua­kes have a fre­quen­cy of 0 to 15 hertz; anything abo­ve that is harm­less. Other fac­tors such as acce­le­ra­ti­on and inten­si­ty make it pos­si­ble to ana­ly­ze the p‑wave. In 2005, we had the first pro­to­ty­pe rea­dy, which we paten­ted. The dis­tri­bu­ti­on was and still is with us. The result is a device that can not only detect ear­th­qua­kes. But abo­ve all, it is also capa­ble of NOT trig­ge­ring when vibra­ti­ons are cau­sed by pas­sing trucks, for examp­le. Becau­se fal­se alarms are dan­ge­rous. They cau­se peop­le to beco­me deadened."
The first devices were still recor­ded with a mix­tu­re of asto­nish­ment and dis­be­lief. In the mean­ti­me, the fore­warning sys­tem has been deco­ra­ted with nume­rous awards and, of cour­se, fur­ther deve­lo­ped. The first instal­la­ti­ons took Jür­gen Przy­by­lak to Paki­stan and Afgha­ni­stan, direct­ly into Tali­ban strong­holds. But: "No mat­ter whe­re we go, we are always trea­ted with respect. Anyo­ne who has ever expe­ri­en­ced an ear­th­qua­ke knows how ter­ri­ble it can be. So ever­yo­ne is gra­te­ful if a litt­le help is given."
Today, the­re is hard­ly a ear­th­qua­ke-pro­ne regi­on on this pla­net that Przy­by­lak has not tra­v­eled to. "Our sys­tems run ever­y­whe­re, are now adap­ted to the most adver­se envi­ron­men­tal con­di­ti­ons, extre­me cli­ma­tes and, thanks to their fool­pro­of ope­ra­ti­on, are in per­ma­nent use even in are­as with very low levels of edu­ca­ti­on. The aim is to install a sys­tem that will run in the long term. This does not only inclu­de the tech­ni­cal instal­la­ti­on. We are often on site several times to train the popu­la­ti­on – for examp­le, to imple­ment test and trai­ning drills befo­re, during and after an earthquake."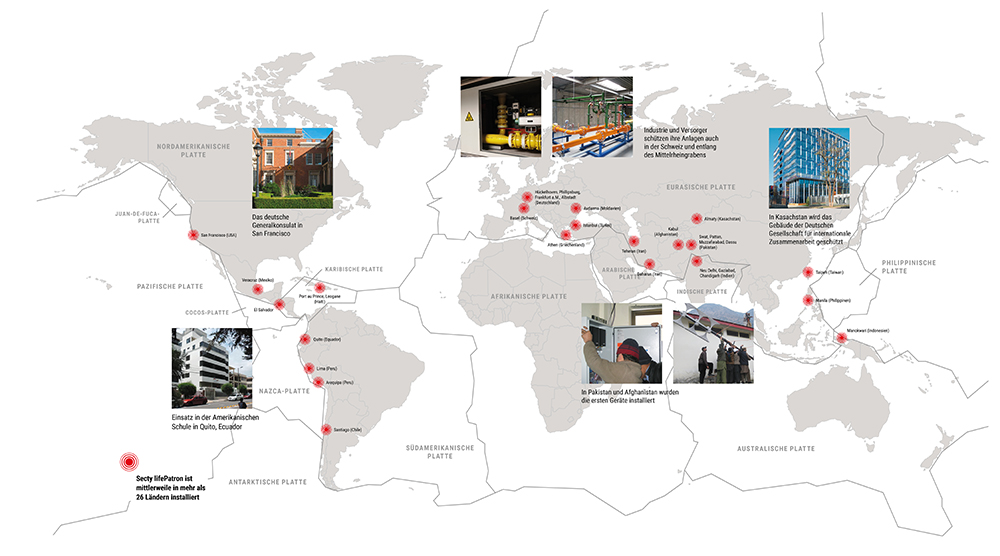 Today, howe­ver, the sys­tem is of litt­le inte­rest to the sci­en­ti­fic com­mu­ni­ty. Alt­hough the device would not have had a basis without the sup­port of the Geo­for­schungs­zen­trum Pots­dam, Przy­by­lak sums up, "the life­Pa­tron is pre­cise­ly not a sci­en­ti­fic device, but desi­gned for prac­ti­cal use in the field and also a com­mer­cial success."
Use in buil­ding management
The Sec­ty life­Pa­tron can be ope­ra­ted as a stand-alo­ne solu­ti­on, i.e. only with the mas­ter and a second unit cal­led sub­mas­ter. "The­se two units per­ma­nent­ly moni­tor each other to rule out fal­se alarms cau­sed by rough con­ta­ct, for examp­le," exp­lains Jür­gen Przy­by­lak. "The sys­tem works with a 12/24 V DC or a 110/230 V AC power sup­ply as well as a red­un­dant bat­te­ry emer­gen­cy power sup­ply. The only important thing is that the units are moun­ted on con­cre­te foun­da­ti­ons. The sys­tem is expan­da­ble to cover lar­ger buil­dings or areas."
In addi­ti­on to direct use to warn peop­le, the sys­tem can of cour­se also be used in buil­ding ser­vices and indus­tri­al plants. For examp­le, Sec­ty life­Pa­tron pro­tects the gas sup­ply of Stadt­wer­ke Basel by auto­ma­ti­cal­ly clo­sing soleno­id val­ves the­re with the sys­tem. Or the con­trol cen­ter of a power plant, whe­re the sup­ply ven­ti­la­ti­on is swit­ched off in the event of an alarm.
Jür­gen Przy­by­lak is con­vin­ced of his sys­tem: "We have had to avoid many pit­falls. But the demand for our device is huge. Becau­se Mother Earth never sleeps very deeply. And when she awa­kens, every second counts."
This post is also avail­ab­le in:

Deutsch