Simi­lar­ly to a velo­ci­rap­tor in the jung­le of pri­me­val times, our dis­ruptor sweeps through the elec­tro­nic and mecha­ni­cal under­growth of his ter­rito­ry. Always on the loo­kout for an app­li­ca­ti­on that he can incor­po­ra­te. Always rea­dy to track down estab­lished pro­ces­ses and turn them into some­thing com­ple­te­ly new.
Et voi­la, Frank Schrö­der comes around the cor­ner. Frank "Buil­ding Tech­no­lo­gy" Schrö­der, he adds, grin­ning. Actual­ly, the 49-year-old ope­ra­ti­ons engi­neer is not sca­ry at all. Rather, he is open and warm-hear­ted. And cap­ti­vat­ing. Becau­se when it comes to "his" buil­ding tech­no­lo­gy, Frank Schrö­der can­not and does not want to hide his enthu­si­asm for his work­place.
Schrö­der has been here sin­ce day one. At the Bad Pyr­mont site, at least. "I com­ple­ted my appren­ti­ce­ship as an ope­ra­ti­ons tech­ni­ci­an at Phoe­nix Con­tact in Blom­berg and was the­re for a total of ele­ven years befo­re I was given the chan­ce to be at the fore­front here on the green­field site." In 1996, Schrö­der star­ted with just one col­league and the respon­si­bi­li­ty for the faci­li­ty manage­ment of a sin­gle buil­ding. "Back then, Phoe­nix Con­tact was deve­lo­ping the pro­duc­tion of prin­ted cir­cuit boards here in Bad Pyr­mont. I said at the time that this would be the future."
The zero-cur­rent win­ner
The new site grew rapidly, and Frank Schrö­der and his team grew with it. But how did a "com­ple­te­ly nor­mal" mas­ter ope­ra­ti­ons tech­ni­ci­an and faci­li­ty mana­ger beco­me "Buil­ding Tech­no­lo­gy Schrö­der"? Schrö­der can name his "moment of enligh­ten­ment" imme­dia­te­ly: "2013, at and during the Wave Tro­phy." Tog­e­ther with his col­league Frank Knaf­la, he for­med the "Frank & Frank" team. And he did­n't just win the ral­ly, but also an inten­si­ve insight into soci­al media chan­nels such as Face­book, Twit­ter, and You­Tube. Sin­ce then, the robust East West­pha­li­an romps through all net­wor­ker levels.
"That is when I rea­li­zed the impor­t­an­ce of net­wor­king, of working tog­e­ther on big­ger goals." It was­n't just tech­ni­ci­ans invol­ved in the ral­ly, but mem­bers of the sales, mar­ke­ting, and deve­lop­ment teams as well. A look out­si­de of the box, the inte­rest in new topics, the over­co­m­ing of indi­vi­du­al bar­ri­ers – "sin­ce then I have been a man of the new media".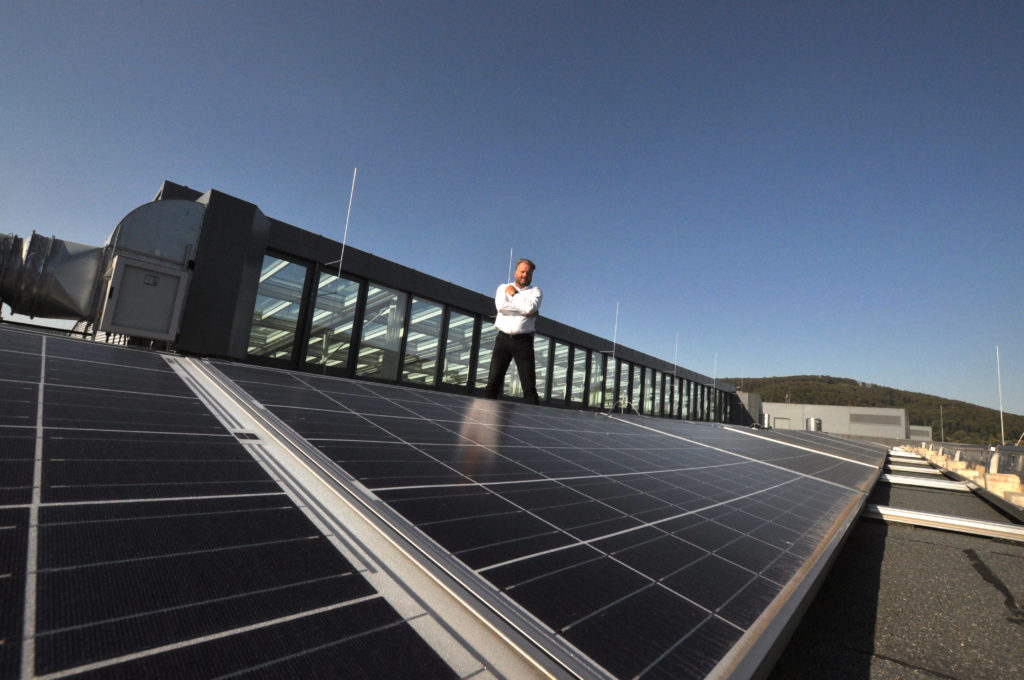 Frank Schrö­der dis­co­ve­r­ed an ide­al part­ner and kind­red spi­rit in Bern­hard Til­mans, who has been respon­si­ble for the deve­lop­ment of the Buil­ding Auto­ma­ti­on Busi­ness Unit in Sales Ger­ma­ny sin­ce 2015. "Tog­e­ther, we are now pushing through pro­jec­ts and deve­lo­ping ide­as." The once rather publi­ci­ty-shy Schrö­der beca­me a much-sought-after speaker who can easi­ly inspi­re a hall full of 150 experts with his talks.
From tool­box to lap­top
"I have been co-mana­ging and invol­ving mys­elf in our Buil­ding 4 from the very first sket­ches sin­ce 2015", Frank Schrö­der says, and not wit­hout pri­de. And he has a right to be proud, becau­se the buil­ding is burs­t­ing with inno­va­tions, whe­ther in ener­gy effi­ci­en­cy, ven­ti­la­ti­on and air con­di­tio­ning, buil­ding auto­ma­ti­on, mobi­le net­wor­king with its own app, right through to rain and ser­vice water manage­ment. Aug­men­ted rea­li­ty is used as a part of the ope­ra­ti­ons tech­no­lo­gy, and in the open-plan buil­ding, sea­ting groups with ful­ly auto­ma­tic ligh­t­ing dis­tri­bu­ti­on and seat reco­gni­ti­on invi­te guests to lin­ger. The PV sys­tem on the roof feeds rene­wa­ble ener­gy into a sys­tem to which, among other loads, the char­ging sta­ti­ons for elec­tric vehi­cles are con­nec­ted. "Natu­ral­ly, with auto­ma­tic occup­an­cy dis­plays and bil­ling." adds Schrö­der.
Inno­va­ti­on in the team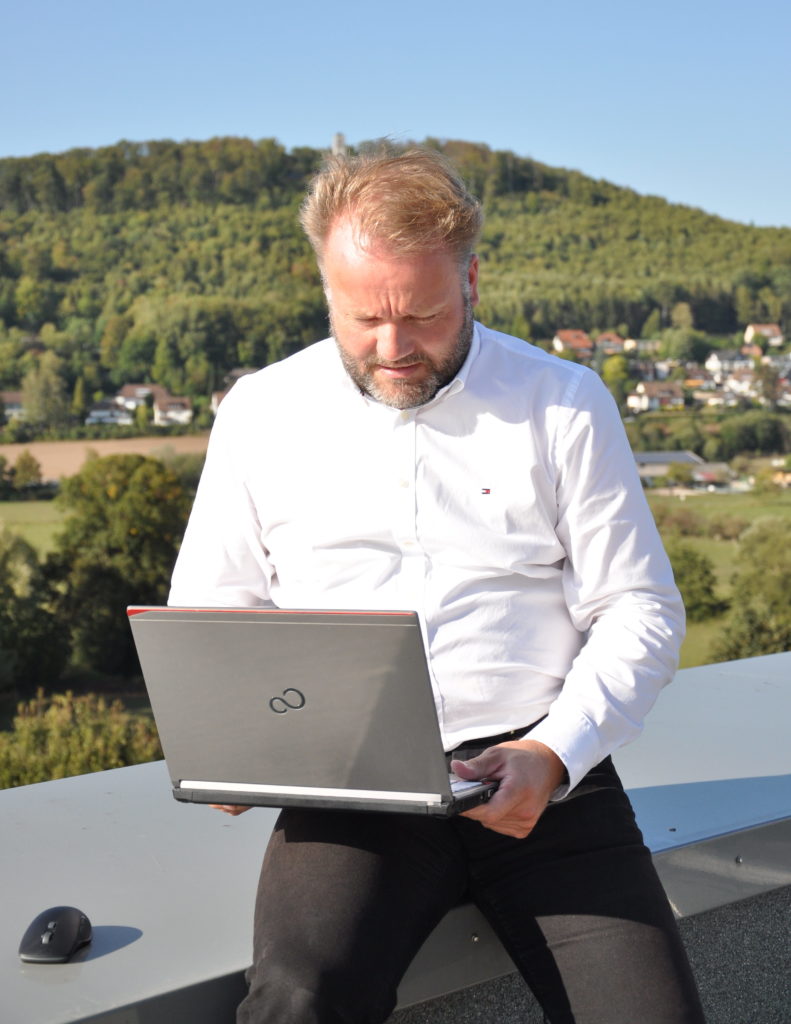 But whe­re does a faci­li­ty mana­ger come across
infor­ma­ti­on on such tech­no­lo­gies and their
poten­ti­al app­li­ca­ti­ons in buil­dings? Why is
Schrö­der so clo­se to the deve­lo­pers and the
pro­duct port­fo­lio, in who­se 60,000 pro­duc­ts –
in his own words – he "prac­ti­cal­ly swims" and
makes use of?
A visit to Frank Schröder's depart­ment makes it clear just how extra­or­di­na­ri­ly well this ope­ra­ti­ons tech­ni­ci­an under­stands his area of respon­si­bi­li­ty. Here, tech­ni­ci­ans and the department's own soft­ware deve­lo­pers sit, working tog­e­ther to install the company's own hard­ware and soft­ware pro­duc­ts in the buil­dings. "We are sys­tem inte­gra­tors wit­hin our own com­pa­ny. "You will not find what we do and what we are allo­wed to do here any­whe­re else."
Having said that, when you look at the events to which Schrö­der is invi­ted as a speaker, it can be assu­med that his examp­le may very well be set­ting a pre­ce­dent. This is becau­se Frank Schrö­der does not only link the company's own pro­duc­ts to pro­fi­ta­ble new and unex­pec­ted tasks wit­hin the buil­ding.
He and his Buil­ding Auto­ma­ti­on team are giving new impe­tus to the ent­i­re field of indus­tri­al
archi­tec­tu­re. Fur­ther­mo­re, this dis­ruptor is prac­ti­cal­ly revo­lu­tio­ni­zing the job descrip­ti­on for
ope­ra­ti­ons and buil­ding tech­ni­ci­ans.
This post is also avail­ab­le in:

Deutsch