Dr. Gun­ther Kegel is CEO of Pepperl+Fuchs AG and pre­si­dent of the Ger­man Elec­tri­cal and Elec­tro­nic Manu­fac­tu­rers' Asso­cia­ti­on, ZVEI. And thus, qua­si auto­ma­ti­cal­ly, a sup­por­ter of an All Elec­tric Socie­ty. In an inter­view with Ange­la Josephs, Head of Cor­po­ra­te Com­mu­ni­ca­ti­ons at Phoe­nix Con­tact, he out­lines how this visi­on can be imple­men­ted.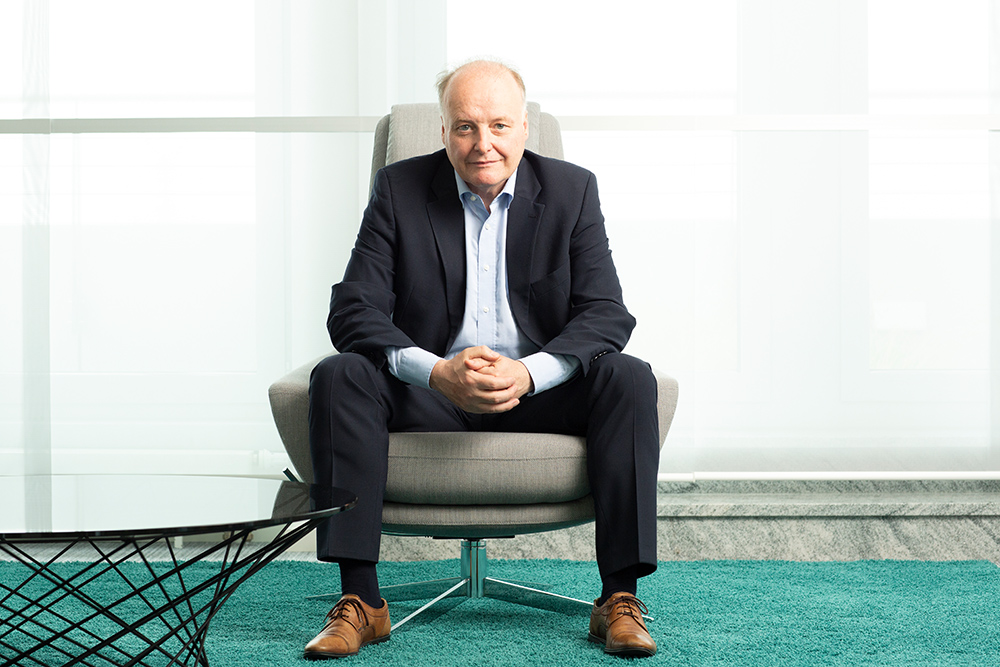 The auto­ma­ti­on expert belie­ves that a world who­se motor is elec­tri­ci­ty is also future-pro­of for future genera­ti­ons. The pre­si­dent of the ZVEI was a par­ti­ci­pant in this year's Digi­tal Days, the vir­tu­al tra­de fair event at the Han­no­ver Mes­se. This was whe­re we met the trai­ned engi­neer and top mana­ger.
UPDATE: The ZVEI has laun­ched a cam­pai­gn cal­led "Inno­va­ti­on pro­tec­ts cli­ma­te". How does that work – how can inno­va­ti­on pro­tect the cli­ma­te?
In fact, this is a big issue for us and we as an indus­try have a lot to say about it. Today we are facing the big­gest chal­len­ges in human histo­ry – name­ly cli­ma­te pro­tec­tion and glo­bal war­ming. We need a cli­ma­te that, in the long term, must make the lives of around ele­ven bil­li­on peop­le pos­si­ble.
UPDATE: Are you expec­ting that the use of fos­sil fuels will be stop­ped com­ple­te­ly?
We will use the­se ener­gy sources dif­fer­ent­ly, for examp­le to pro­du­ce plastics or medi­ci­nes. They will remain indis­pensable. After all, natu­ral gas has long sin­ce beco­me not only an ener­gy source for the che­mi­cal indus­try, but also the basic mate­ri­al for many pro­duc­ts. >.
UPDATE: Eco­no­my in the ser­vice of eco­lo­gy – is that now, pro­vo­ca­tively asked, the green coat of an indus­try ?
No, rather the oppo­si­te. We must accept that the most power­ful instru­ment for chan­ge is the mar­ket eco­no­my sys­tem. For the entre­pre­neur, it must be sen­si­ble and pro­fi­ta­ble to invest in decar­bo­ni­za­ti­on, then he will do it. And for the indi­vi­du­al per­son it must also be finan­ci­al­ly attrac­tive to enga­ge in CO2-free things. In this way I am put­ting the eco­no­my at the ser­vice of eco­lo­gy. Only if we mana­ge to pro­vi­de this incen­ti­ve will ever­yo­ne ral­ly behind it. Other­wi­se I will only reach the idea­lists who take respon­si­bi­li­ty out of them­sel­ves. But that is only 10 or 20 per­cent, not the decisi­ve mass.
UPDATE: Attrac­tiveness for indi­vi­du­als and com­pa­nies means, howe­ver, that poli­tics must crea­te the frame­work con­di­ti­ons for this.
They are the only ones who can crea­te the­se frame­work con­di­ti­ons. One examp­le is the need to pri­ce CO2. This must be the decisi­ve stee­ring ele­ment with which we work. This makes it worthwhile to think and act away from CO2 and towards rene­wa­ble ener­gies.
You would­n't have to invent new taxes for that. Tho­se that alrea­dy exist would have to be balan­ced in such a way that future tech­no­lo­gies would be pro­fi­ta­ble and com­pe­ti­ti­ve more quick­ly. We are still not doing this con­sistent­ly enough today. The­re is still too much resis­tan­ce on the grounds of alle­ged pro­tec­tion of trust or invest­ment. But the necessa­ry soci­al chan­ge is also enor­mous.
UPDATE: Are the chan­ges and the rela­ted dis­rup­ti­ons in tech­no­lo­gy and eco­no­my too slow?
This is always the ques­ti­on of what time sca­le you are using. When you say today that it will take ano­t­her 20 years, it sounds pain­ful­ly slow. If you look around you in 20 years, you will see that no stone has been left untur­ned. That is alrea­dy power­ful­ly dis­rup­ti­ve. For a soci­al sys­tem, for a socie­ty, 25 years is a very short time. You can hard­ly com­ple­te any trans­for­ma­ti­on in that time wit­hout the­re being severely dis­ad­van­ta­ged peop­le. And we abso­lute­ly have to avo­id that this trans­for­ma­ti­on leads to a rup­tu­re in socie­ty and that the­re are lar­ge groups of peop­le who beco­me losers as a result.
UPDATE: Sci­ence has been poin­ting out this pro­blem for deca­des. Has the eco­no­my overs­lept and ther­e­by made the pro­blems big­ger?
You can see it that way. It took time for the idea of cli­ma­te pro­tec­tion to deve­lop out of schools and uni­ver­si­ties. In the years from 2000 to 2007, we had a peri­od wit­hout a tem­pe­ra­tu­re increa­se. All the fore­casts implo­ded becau­se they were all wrong. That's why it took a long time for the con­vic­tion to pre­vail that cli­ma­te chan­ge had begun. The­re are still very influ­en­ti­al poli­ti­cal figu­res in the world today who deny this chan­ge.
UPDATE: Then why doe­s­n't a much ear­lier and more ener­ge­tic imple­men­ta­ti­on hap­pen ?
In the ear­ly pha­se of the dis­cus­sion, the theo­ry of con­sis­tent ren­un­cia­ti­on was the wrong approach, becau­se it was clear from the begin­ning that it would not work. For far too long, cli­ma­te pro­tec­tion and ren­un­cia­ti­on have been cou­pled. If we had made it clear from the out­set that we had to sol­ve the pro­blem tech­no­lo­gi­cal­ly, we would be much fur­ther along today.
UPDATE: So cli­ma­te pro­tec­tion recei­ves a com­ple­te­ly dif­fe­rent con­sen­sus, also in the busi­ness world ?
Yeah, that's right. In the begin­ning the cli­ma­te pro­tec­tors, today's Greens, were a reser­voir of phan­toms. But after a few years, the Greens were the only ones who unders­tood a sustainab­le, long-term and intel­li­gent­ly con­struc­ted envi­ron­men­tal and ener­gy poli­cy, which then con­ti­nued on and on for many many legis­la­ti­ve peri­ods.
Today we are at about 55 per­cent of the power genera­ti­on from rene­wa­ble ener­gies. This would not have been pos­si­ble wit­hout the Greens and their clear stra­te­gic, sustainab­le approach. After all, we have not only aban­do­ned nuclear ener­gy, but have mas­si­ve­ly ent­e­red the ener­gy of rene­wa­bles.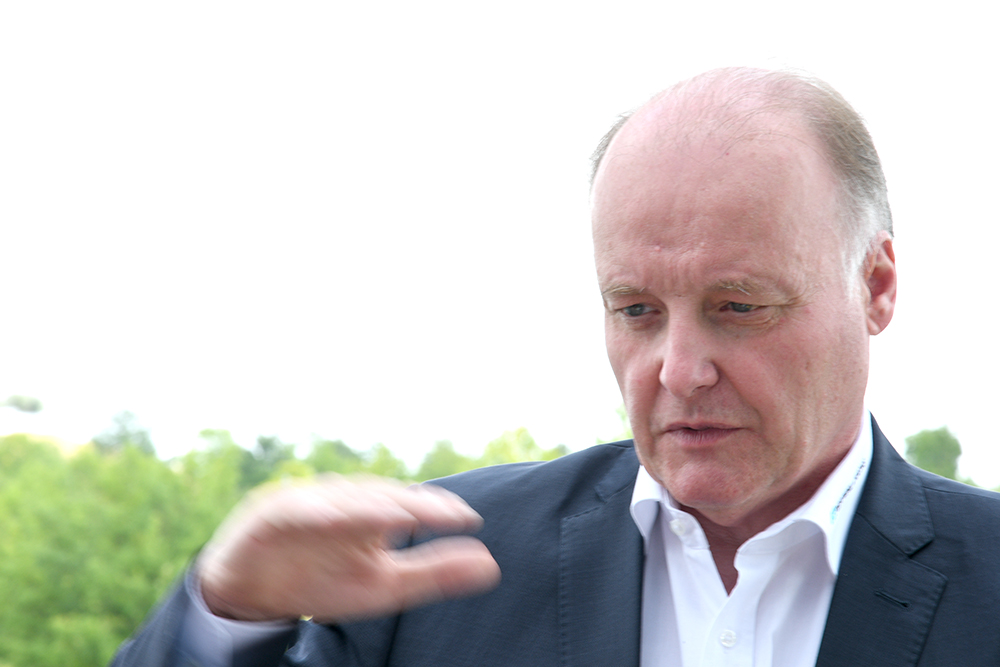 UPDATE: But don't we have to step on the gas at exac­t­ly this time, right now?
Of cour­se. And if the sta­te wants to set impul­ses, then it must set them exac­t­ly the­re. When I think of the Upper Lusa­tia regi­on, for examp­le, and its struc­tu­ral chan­ge, I would go the­re with lar­ge refi­ne­ries to pro­du­ce syn­the­tic fuel. With 30 per­cent of all fuel pro­du­ced for Ger­man mobi­li­ty, many pro­blems would be sol­ved imme­dia­te­ly. Jobs in this regi­on, tech­no­lo­gi­cal lea­dership and also a much clea­ner tech­no­lo­gy than the ent­i­re sur­face and under­ground mining indus­try today.
But I still don't see this wil­ling­ness to take risks. Even if the­re is no alter­na­ti­ve. We need to arri­ve at the­se new tech­no­lo­gi­cal con­cepts.
Phoe­nix Con­tact
Zen­tral­ver­band Elek­tro­tech­nik Elek­tro­in­dus­trie ZVEI
Pepperl+Fuchs
This post is also avail­ab­le in:

Deutsch