We will change as well
CEO Frank Stührenberg announced Phoenix Contact's entry into the 2° Foundation in March 2021. A short interview about the background …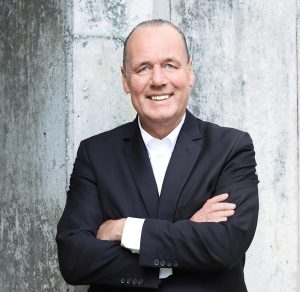 UPDATE: Inquired: What is behind the commitment of the Blomberg world market leader?
Our self-image. As a family business, we traditionally think sustainably. And of course, due to the size of the company, but also due to our own attitude, we feel an increasing social responsibility. All the more so against the backdrop of the greatest challenge facing us and future generations – climate change.
UPDATE: What does Phoenix Contact contribute?
Our technology, of course. We are in the fortunate position of being able to develop and produce exactly the products that are necessary for a climate-neutral economy and life in the future. And our vision of Empowering the All Electric Society, which clearly demonstrates that technology is part of the solution. This approach is still new and very exciting for many decision-makers in business and politics.
UPDATE: And where can we use help and incentive from Berlin?
In communication into the decision-making levels beyond the industry and industry associations. We are very well known and present in our markets and organizations, but the possibilities and opportunities of regenerative energy generation, intelligent network technology and sector coupling, and the impact on society as a whole, need access to a broader public.
There is an intensive exchange of CEOs at the 2° Foundation in particular, which functions completely across industries and includes dialog with politicians. Not only is there plain talk, the ideas outlined there naturally also have an effect back in the companies, including through my person back on Phoenix Contact.
UPDATE: How do we avoid the risk of being seen as greenwashers?
Through our actions. We, too, must and will undergo a transformation within our company, such as drastically increasing our own production of renewable energies. Of course, we cannot change some processes overnight. We have too great a responsibility for that, especially toward our employees. But we are already researching, engaging and investing in areas where our technology can be used in a meaningful way to contribute to a climate-neutral society in the future. In this way, we can make a substantial contribution to achieving the Paris climate targets.