When it comes to sports and fun, a win that's fixed from the out­set is boring. But when it comes to indus­tri­al secu­ri­ty app­li­ca­ti­ons, a safe bet gets the heart racing. Is the new Smart Came­ra Box just such a winner?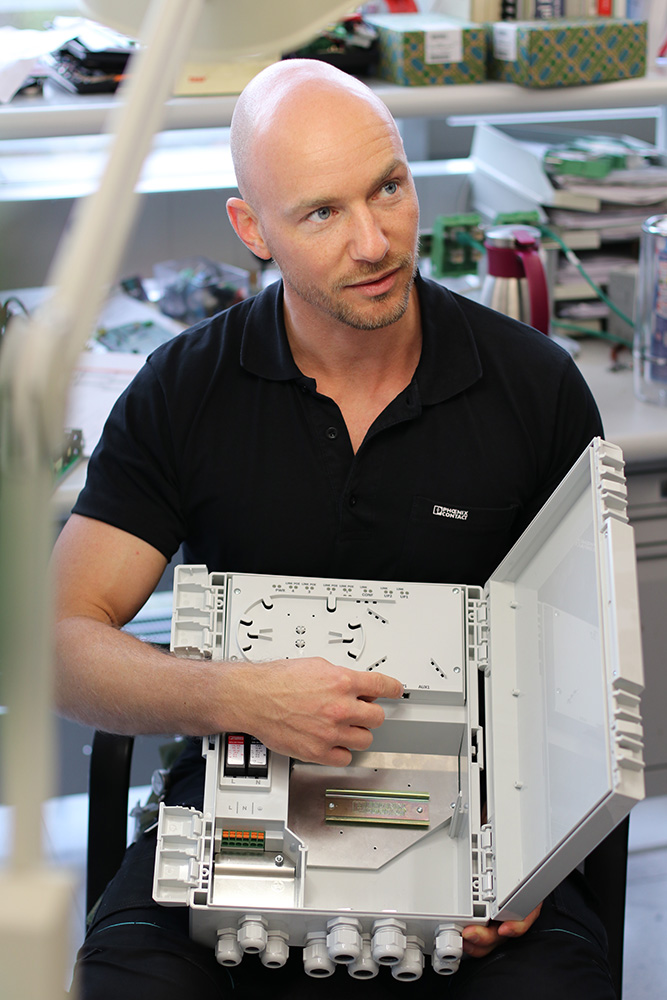 The tele­pho­ne in the edi­to­ri­al office rang up a storm a few weeks ago. On the other end, a col­league asked, "The next issue is about secu­ri­ty, isn't it? We've got some­thing real­ly gre­at." Aha, some­thing real­ly gre­at, is what this wri­ter thinks. "Yes, a video box for image-based sur­veil­lan­ce sys­tems." Dear col­league, what's so exci­ting about a video ter­mi­nal box? You can find wild­life sur­veil­lan­ce came­ras for 50 euros on Ama­zon. They even have Wi-Fi. "But this is qui­te dif­fe­rent. Why don't you meet with one of the col­leagues who deve­lo­ped the box?"
Indus­try needs it tangible
No soo­ner said than done – a few days later, we meet with Pro­duct Mana­ger Tom­my Göring for an on-site appoint­ment. But befo­re we get a demons­tra­ti­on of the advan­ta­ges of the han­dy gray box in the out­side world, the expert has to brief­ly exp­lain how Phoe­nix Con­ta­ct stumb­led upon the topic of video. "It's not hard at all. We've been acti­ve in equip­ping Ether­net net­works for a long time. And from time to time, we recei­ved inqui­ries about whe­ther our media con­ver­ters weren't also sui­ta­ble for giga­bit data trans­mis­si­on. But the auto­ma­ti­on engi­neer doesn't real­ly need that with his small amounts of data. So we loo­ked at what was actual­ly being trans­mit­ted. And deter­mi­ned that high-qua­li­ty video came­ras also have an RJ45 socket for stan­dard Ether­net. And that's whe­re the requests came in."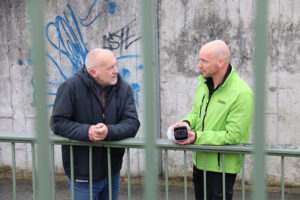 The rese­arch quick­ly reve­a­led that video came­ras them­sel­ves are not a field for Phoe­nix Con­ta­ct, as the tech­no­lo­gy is extre­me­ly fast-moving. "Howe­ver, with our Smart Came­ra Box, we've estab­lis­hed a con­nec­tion bet­ween the came­ra and the video cen­ter. Future-pro­of and com­ple­te." The expert for the Indus­tri­al Com­mu­ni­ca­ti­on Inter­face divi­si­on empha­si­zes that nor­mal­ly, extra con­trol cabi­nets have to be built for the came­ras in a video sur­veil­lan­ce sys­tem, equip­ped with indi­vi­du­al solu­ti­ons from various manu­fac­tu­rers, and then instal­led by two technicians.
"We can do bet­ter. So we star­ted deve­lo­ping our solu­ti­on about a year and a half ago." Tom­my Göring opens the box. "First of all, it is pro­tec­ted accord­ing to IP65 and IP67, so it will remain leak-pro­of for years. And in tem­pe­ra­tures from ‑40°C to +70°C, near­ly ever­y­whe­re." The smart box is powe­red by a 230 V con­nec­tion, which is then for­war­ded to the came­ras via Power over Ether­net, a com­bi­ned power and data cable.
Con­nec­tions abound
The elec­tro­nic inte­rior and the con­nec­ted came­ra are pro­tec­ted from spon­ta­ne­ous sur­pri­ses from the power grid by means of plug-in and exch­an­ge­ab­le light­ning pro­tec­tion ele­ments from the company's own Trab­tech sur­ge pro­tec­tion pro­duct line. "They also send what is cal­led an SNMP mes­sa­ge to the video cen­ter when trig­ge­red by light­ning or over­vol­ta­ge." If bad guys tam­per with the housing, spe­cial pro­xi­mi­ty sen­sors will ensu­re that ano­t­her alarm is trig­ge­red in the con­trol cen­ter. So the Smart box can communicate.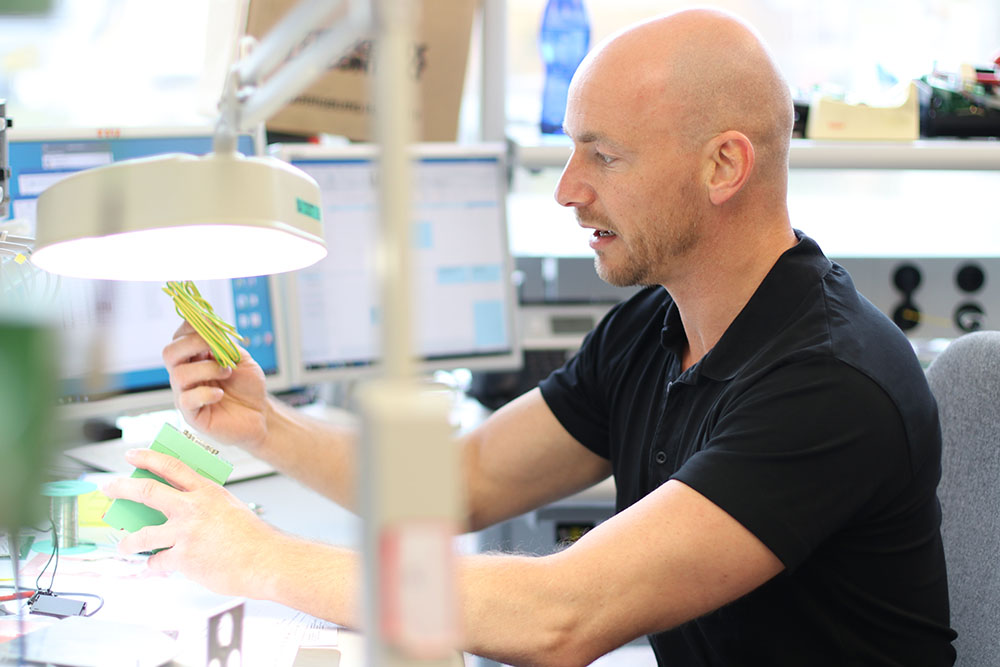 The data usual­ly reaches its reci­pi­ent in the con­trol cen­ter via fiber­glass, par­ti­cu­lar­ly over long distan­ces. "For this pur­po­se, the box has its own light wave spli­ce cas­set­te. Here, fiber­glass can be con­nec­ted and fit­ted with a plug so that the came­ra cable only has to be plug­ged in."
If, on the other hand, the video came­ra is loca­ted clo­se to the con­trol cen­ter, a stan­dard Ether­net cable can also be con­nec­ted. And if the Smart Came­ra Box is to be inte­gra­ted into an exis­ting older net­work, then the pos­si­bi­li­ty of using a two-wire line, such as a coaxi­al cable, to con­nect it to the modern Ether­net world is also being considered.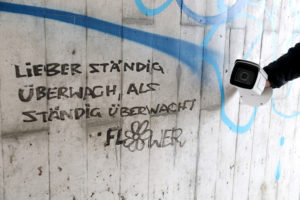 Spea­king of the modern world, "We're tal­king about hig­hend video came­ras. There's a lot more to it than just an opti­cal modu­le. In the mean­ti­me, they have beco­me com­pu­ters them­sel­ves, eva­lua­ting the images while they are still in the came­ra; in other words, they can detect when a per­son approa­ches the fence."
It's not a box, it's a device
"Up to four came­ras can be con­nec­ted to the box. We sup­ply the requi­red ener­gy using the new Power over Ether­net stan­dard IEEE 802.3bt, which per­mits signi­fi­cant­ly hig­her cur­rent strengths. It can also be used to dri­ve motor-dri­ven came­ras." To get a view of every nook and cran­ny. It can even be illu­mi­na­ted if requi­red. "We've also pla­ced a top-hat rail. This is whe­re our Wi-Fi access points or cel­lu­lar rou­ters find their place. A 24 V out­put is pro­vi­ded for the requi­red energy."
The last and decisi­ve trump card in terms of video com­mu­ni­ca­ti­on is then play­ed out onsite. Tom­my Göring grabs a lad­der, holds his box secu­re­ly under his arm, and darts up the rungs. Abo­ve, he demons­tra­tes how easi­ly the box and came­ra can be con­nec­ted and instal­led. "Thanks to our deve­lo­p­ment of a spe­cial mast adap­ter, one instal­ler is suf­fi­ci­ent for the instal­la­ti­on. It's usual­ly a two-per­son job."
The Smart Came­ra Box, accord­ing to its offi­cial name, will be pre­sen­ted at the Han­no­ver Mes­se 2020. And tho­se who need to deal with the topic of video sur­veil­lan­ce should have the pati­ence to wait for the crisp win­ner and its delivery.
And many thanks to the col­league and her per­sua­si­ve­ness. My wild­life sur­veil­lan­ce came­ra can't compete!
www.phoenixcontact.com/videosurveillance
This post is also avail­ab­le in:

Deutsch