Mur­ders do not hap­pen in his gar­den, but things do start to beco­me some­what "tur­bu­lent" behind the Schie­der Trai­ning Cen­ter when Ger­hard Wolff lets the sparks fly or throws his iron shot into the Blood creek.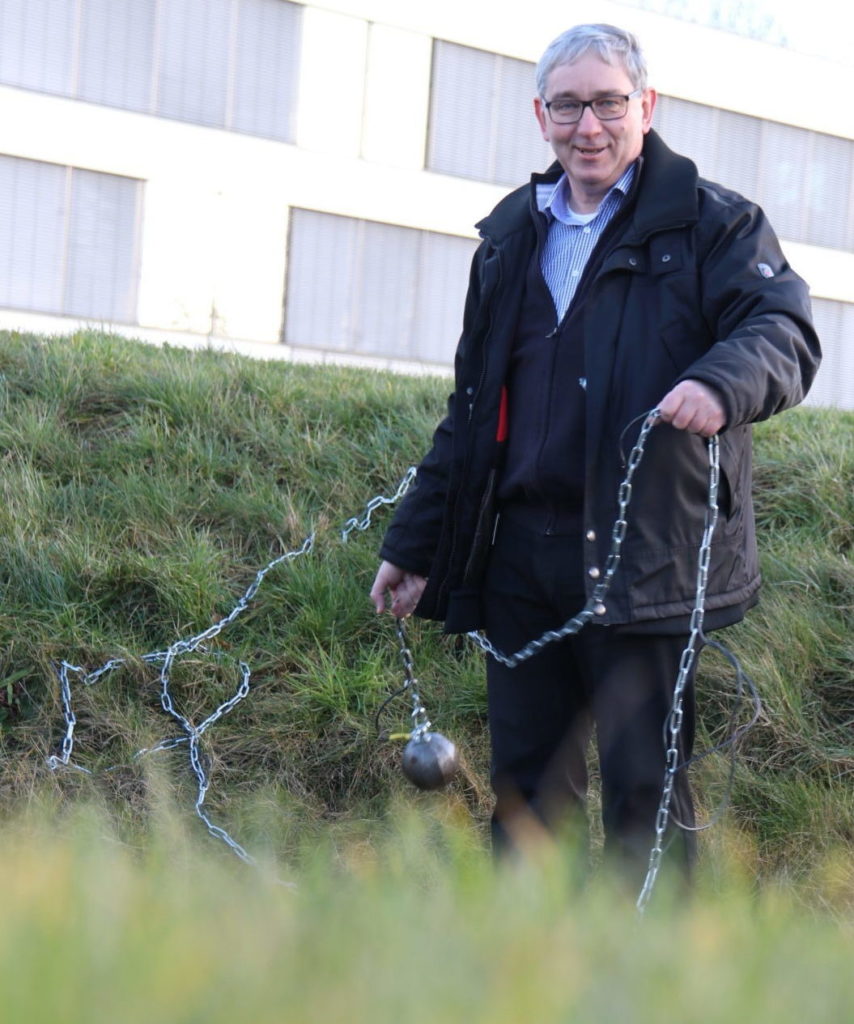 No need to worry! The­re is not­hing sinis­ter about Ger­hard Wolff appearing in his groun­ding gar­den car­ry­ing chains and maces. And the electri­ci­ty gene­ra­ted is safe­ly dis­si­pa­ted via various groun­ding elec­tro­des… or is reflec­ted in the eyes of the pro­té­gé. In the­se cases, howe­ver, the resource­ful and elo­quent engi­neer ensu­res that it is not dis­si­pa­ted, but inten­si­fied instead.
Wolff, 61, has ple­nty of pro­té­gés. This is becau­se his groun­ding gar­den, as his test faci­li­ty is cal­led, is unri­va­led world­wi­de. And no won­der – the­re are more than 30 dif­fe­rent groun­ding elec­tro­des instal­led behind the new­ly built Phoe­nix Con­ta­ct Trai­ning Cen­ter in Schie­der, from groun­ding rods of various lengths, to ring and pla­te groun­ding elec­tro­des, through to sur­face groun­ding elec­tro­des. An addi­tio­nal group of arres­ters, the mobi­le shot groun­ding elec­tro­des, has also been made accessible.
The back­ground to all of this is that Ger­hard Wolff is a man of action. The trai­ned electri­ci­an, who stu­di­ed auto­ma­ti­on tech­no­lo­gy in Lem­go after com­ple­ting his tech­ni­cal diplo­ma, knows exact­ly what the chal­len­ges facing light­ning-pro­tec­tion and electri­cal­ly skil­led per­sons are when it comes to tes­ting groun­ding systems.
Dril­ling holes as a part of training
Groun­ding elec­tro­des are electri­cal­ly con­duc­ti­ve parts which are used to estab­lish electri­cal con­nec­tions reli­ab­ly and per­ma­nent­ly to the sur­roun­ding ground over their ent­i­re use­ful life. Even natu­ral groun­ding elec­tro­des, such as metal parts which were not ori­gi­nal­ly inten­ded for groun­ding, can act as groun­ding elec­tro­des. Examp­les of the­se inclu­de sheet pilings, piping, and metal con­struc­tion ele­ments in buil­dings.
Their task is to ensu­re electri­cal safe­ty through pro­tec­ti­ve groun­ding or func­tio­n­al groun­ding. Of cour­se, this also inclu­des the light­ning pro­tec­tion sys­tems of the building.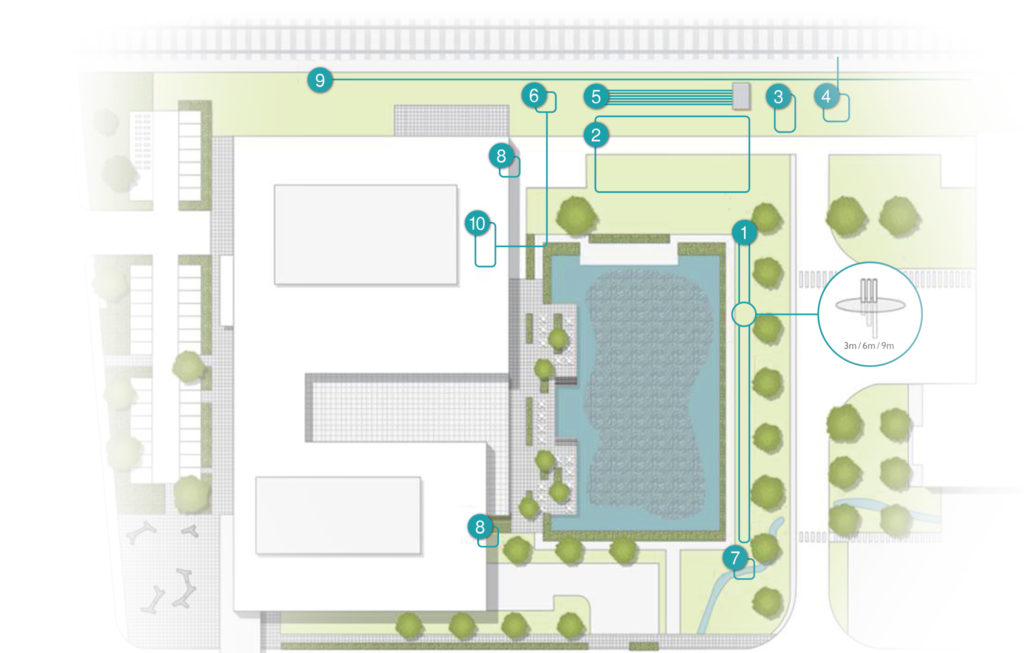 Groun­ding sys­tems are to be con­struc­ted using spe­cial mate­ri­als in spe­ci­fic groun­ding arran­ge­ments. Sur­face groun­ding elec­tro­des or groun­ding rods are main­ly used today. If the inspec­tors of the­se sys­tems do not have a set rou­ti­ne – e.g. regu­lar­ly per­forming groun­ding mea­su­re­ments them­sel­ves – or are not suf­fi­ci­ent­ly fami­li­ar with the mea­su­ring devices, uncer­tain­ties or incor­rect mea­su­re­ments may arise.
And this is not uncom­mon. Wolf is well awa­re that even today, the basics of groun­ding sys­tem con­struc­tion and the mas­te­ring of groun­ding mea­su­re­ments are only touched upon in voca­tio­nal electri­cal engi­nee­ring trai­ning cour­ses. Metro­lo­gi­cal basics are very rare­ly taught. Even expe­ri­en­ced prac­ti­tio­ners would some­ti­mes find it dif­fi­cult to take cor­rect groun­ding measurements.
Against this back­drop, the groun­ding gar­den beco­mes more signi­fi­cant. Wolff and his col­league from indus­tri­al engi­nee­ring, Mat­thi­as Unru­he, were the initia­tors of this unusu­al pro­ject when the site was being rede­ve­lo­ped. After all, among other things, 27 groun­ding rods had to be dri­ven into the ground to a depth of up to nine meters, just 35 cen­ti­me­ters apart and without touching.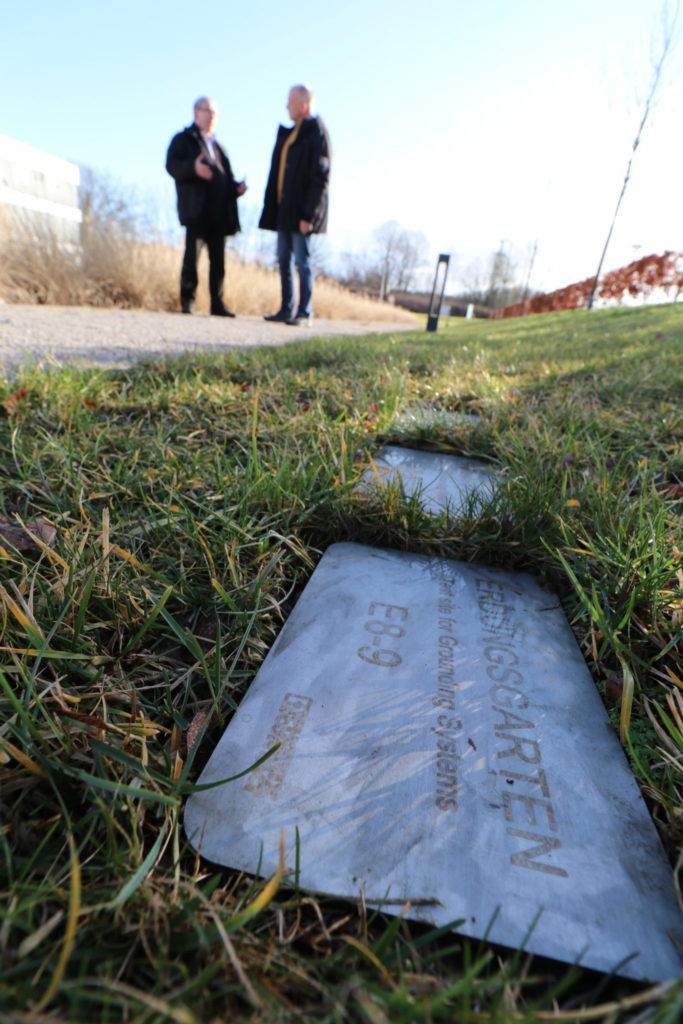 Wolff did­n't shy away from the near­by rail­road embank­ment, eit­her. This should­n't come as a sur­pri­se, becau­se the lon­gest ser­ving mem­ber of the Trab­tech sur­ge pro­tec­tion team ("I am Trab­tech") is, among other things, a mem­ber of the Ger­man Aca­de­my for Rail Sys­tems (VDEI) and trains rail­road engi­neers in light­ning and sur­ge protection.
The rail poten­ti­al of one track of the elec­tri­fied two-track Hano­ver-Pader­born rail line, which pas­ses along­side the pro­per­ty, is rou­t­ed onto the com­pa­ny pre­mi­ses, and is used for various rail­road groun­ding mea­su­re­ment acti­vi­ties. Ori­gi­nal rail­road signal cables are rou­t­ed par­al­lel to the track in shiel­ded and unshiel­ded ver­si­ons, and made acces­si­ble for taking con­trol mea­su­re­ments at the respec­ti­ve ends in insu­la­ting mate­ri­al dis­tri­bu­tors on the pro­per­ty of the test facility.
No Indus­trie 4.0 without grounding
Ger­hard Wolff has been working at Phoe­nix Con­ta­ct sin­ce 1983, and has been the Mas­ter Spe­cia­list respon­si­ble for groun­ding, shiel­ding, and mea­su­re­ment sin­ce 2000. Dealing with this sub­ject has left its mark on the engi­neer. "I some­ti­mes find it dif­fi­cult to get on with the high-fly­ers. I always say that without a sound electri­cal infra­st­ruc­tu­re and prac­ti­cal expe­ri­ence, Indus­trie 4.0 is not pos­si­ble. Without groun­ding, the­re is likely to be a crash landing."
His mischie­vous smi­le reve­als that Wolff's pun did not pass him by. If the mis­si­on-dri­ven groun­ding gar­de­ner were to list his roles in the various orga­niz­a­ti­ons ("may­be 10 or 12") he is invol­ved in, even just wri­ting it down would be dif­fi­cult. For examp­le, Wolff is a foun­ding mem­ber of the coor­di­na­ti­on com­mit­tee for the EMC-cer­ti­fi­ca­ti­on body at VdS Scha­dens­ver­hü­tung, a lea­ding inde­pen­dent tes­ting insti­tu­ti­on.
Not without pri­de, Ger­hard Wolff is also a lec­tu­rer at the Han­no­ver-Rick­lin­gen Uni­ver­si­ty of App­lied Sci­en­ces and the VDEI Aca­de­my, among other insti­tu­tes ("from electri­ci­an to uni­ver­si­ty lec­tu­rer"). The sought-after spe­cia­list in groun­ding and light­ning mea­su­re­ment spends around 100 days per year away from his office desk, giving trai­ning cour­ses, lec­tu­ring, or trouble-shooting.
The man with the ax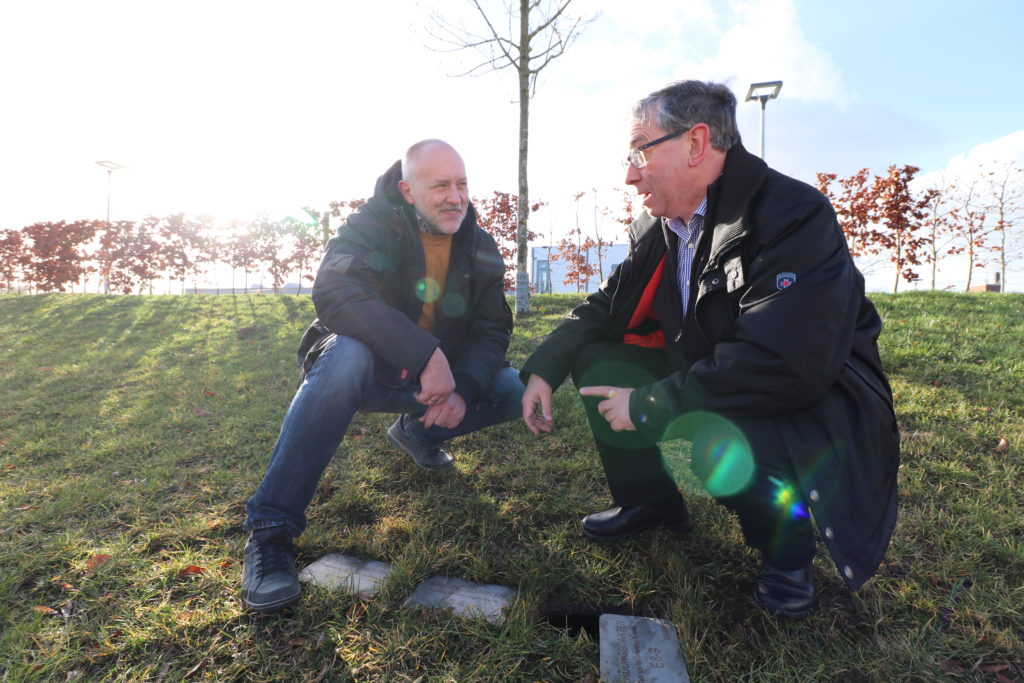 Whe­re­ver he is, Wolff always has his doctor's bag with him ("made of three-mil­li­me­ter thick buf­fa­lo lea­ther"). This does­n't just con­tain mea­su­ring devices that he uses out in the field, but also exo­tic items such as a ste­tho­scope, a surgeon's ham­mer, and a trus­ty ax ("from the DIY store"). He has even regis­tered a patent for this, name­ly as the "paten­ted PEN-dis­con­nec­tor". In expert cir­cles, Wolff is the­re­fo­re known as "the man with the ax". Tal­king of patents, Wolff has filed a num­ber of inven­ti­on app­li­ca­ti­ons at the Patent Office through the in-house patent depart­ment, and around a third of the­se have been gran­ted patents.
Any­bo­dy who thinks that the groun­ding gar­de­ner is over­loa­ded with tea­ching assign­ments, inven­ti­ons, and semi­nars is wrong. When it comes to his groun­ding gar­den, the sparks are not just fly­ing off the ground elec­tro­des: "We'­re only just at the begin­ning. The groun­ding gar­den is a real ans­wer to many of the prac­ti­cal pro­blems out the­re. We are incre­a­sing the avai­la­bi­li­ty of ent­i­re indus­tries with our exper­ti­se, and so we real­ly have to put what we dis­co­ver in the groun­ding gar­den into practice.""
blog.phoenixcontact.com/hr-de/erdungsgarten
This post is also avail­ab­le in:

Deutsch